posted by
cbra
on
Fri, 01/20/2017 - 05:54
California Beverage Retailers Association
P.O. Box 56686
Sherman Oaks, CA 91413
(818) 693-5561
Celebrities in the Industry 2016
Celebrities in the Industry-January 2016
Richard Albert "Dick" Vermeil, retired football coach of the St Louis Rams, Philadelphia Eagles, and Kansas City Chiefs owns Vermeil Wines in Napa Valley. Each year he donates a portion of sales online and from the tasting room to the National Breast Cancer Foundation to provide mammography exams for women. He was the Superbowl winning coach in 1999 with the St Louis Rams. He also coached UCLA for two seasons in 1974-5, taking the Bruins on to win the Rose Bowl. Wines include Chardonnay, Zinfandel, and Cabernet Sauvignon and range in price from $42 to $150.
George Lucas Marin County ranch makes only the best, Skywalker Vineyards Pinot Noir $70. Skywalker Chardonnay ($30) and Skywalker Merlot ($40) are made from Lucas' grapes that are shipped to Francis Ford Coppola's winery to be made into wine. Lucas also makes wines under the Viandante del Cielo label. That's Italian for Skywalker. The choice of Jedi Masters everywhere. May the Force be with you!
Kim Kardashian and Kanye West are renovating a 3 acre vineyard at their Hidden Hills, California estate. They say the wine will be for personal use and not for sale. The project is just part of fixing up the home that resembles a French Chateau. The home has two swimming pools, two spas, two built-in barbecues, a pool house, three fountains, and a thousand foot entertainment pavilion.
Vana Koutsolmitis, the runner up on BBC TV's version of The Apprentice, announced a deal to market a line of wines the day after being eliminated on the show. The wines will be a blend of fruit flavors and rose' wine and low in alcohol (8% ABV). This style of wine has been the fastest growing category in France since 2013. The wines, VinobyVana, will be marketed exclusively through Virgin Wines. Vana has an undergraduate degree from Cornell University and an MBA from Oxford.
Celebrities in the Industry-February 2016
50 Cent and Effen Vodka have forged a marketing partnership. 5O Cent will promote the brand at concerts, with videos, social media, and brand sponsored events. He says "Effen is the perfect example of liquid luxury, and it's taking over." The bottles will carry 50 Cent's signature in gold on the front label.
Villa Sorriso
Alfred and Melanie Tesseron, owners of Bordeaux fifth growth Pontet-Canet, have purchased Robin Williams Napa estate for $22.9 million. The Villa Sorriso estate is 693 acres in the Mayacamas Mountains. 18 acres are planted in Cabernet Sauvignon, Cabernet Franc, and Merlot. Pontet-Canet's French wines are all biodynamic. The same environmental practices may be observed in Napa.
David Beckham and Gordon Ramsay have partnered to open the Union Street Cafe and Bar in London.
Hines Ward, is the all time touchdown receiving record holder for the Pittsburgh Steelers, a Superbowl MVP, and the winner of the Mirror Ball Trophy on Dancing With The Stars Season 12. He also owns Vines Wine Bar in Pittsburgh's Seven Fields district. In January he introduced his "86" 2013 Napa Valley Cabernet. The wine is a blend of Cabernet Sauvignon, Cabernet Franc, Petit Verdot, with a light touch of Zinfandel. It sells for $70 by the bottle. The wine is made from Napa grapes that are shipped to Enginehouse 25 Winery in Pittsburgh.
Robert Redford opened Zoom Restaurant in Park City, Utah back in 1995. It has a top drawer wine list. Selections include Dom Perignon, Liberty School, Beringer, Schramsburg, Jordan, and something called Newman's Own.
Celebrity leaving the industry. Benjamin Flajnik, the Sonoma winemaker that appeared on the 2011 season of The Bachelorette, and his partner Michael Benziger have sold their Envolve Winery to a Canadian firm. Benjamin tried to win Ashley Hebert's heart on the TV reality show. In the first episode he arrived in a limo and presented her with a bottle of Envolve 2010 Sauvignon Blanc. The wine has rated well with critics and is noted for it bright, fresh, citrusy flavor.
Diane Keaton put together a team to make her dream wine, a chilled red bend. She found Bruce Hunter, Managing Director at Shaw-Ross Importers and winemaker Bob Pepi. Together they make The Keaton, a blend of Petite Sirah, Syrah, and Zinfandel. She insisted that the wine have a twist off cap. It is suitable to pair with any food, is served over ice, ans sells for $15. It was introduced at a fundraiser held at UCLA's Hammer Museum.
Celebrities in the Industry-March 2016
Rapper Drake has announced on Instagram that he is launching his own Bourbon. It will be "Virginia Black Whiskey." The Canadian rap singer will join other rappers that have their own brands including Snoop Dogg, P Diddy, Jay-Z, and Ludacris.
Former NBA basketball star, Yao Ming, has been shipping his Napa Cabernet Sauvignon to China since 2011. According to tour guides, the number one question from Chinese tourists is "Where is Yao Ming's Vineyard?" Now he has opened a tasting room at the vineyard. Plans are underway to open a second tasting room in Shanghai.
Following the Superbowl three former NFL personalities boarded the Napa Valley Wine Train to pour their wines for a special Big Game Train. Dick Vermeil (previously profiled here) poured his Calistoga Wines. Rick Mirer, former quarterback for the 49ers and the Raiders has made wines under the Mirror Wine label in Napa Valley since 2008. Varieties include Cabernet Sauvignon, Sauvignon Blanc, and Chardonnay. Terry Hoage played for the Georgia Bulldogs and the 49ers. He poured his TH Estate Wines which are made from Rhone varieties grown in Paso Robles.
Celebrities in the Industry-April 2016
Peter Work, winemaker at Ampelos Cellars, who makes wine with Kurt Russell, Kate Hudson, and Matthew Bellamy, says he gets lots of inquiries from celebrities that want their own wine blend. The reasons include 1) They have a passion for it, 2) they want to make money from it, 3) they want to see their own names on the label, 4) they are creative and want to make a blend of their own.
Chinese superstar comedian, Guo Degang, has 64 million followers on Chinese website Weibo. Now he plans to monetize that by putting his label on a Australian wine. He has partnered with Mount Duneed Estate to ship 800,000 bottles of Shiraz for sale back home. The first 15,000 bottles sold out in less than one hour. He is listed in Forbes as one of the 100 richest Chinese celebrities.
Retired UK newspaper editor, Piers Morgan, said in an article in the London Daily Mail that Prince William drank wine from an early age with the permission of Princess Diana. He says he had a private lunch with the Princess and the then 13 year old Prince who asked "Can I have some wine, Mummy?"
Sister Moon, a Tuscan wine, made on an estate owned by Sting and his wife Trudie Styler has been listed by Wine Spectator as one of the top 101 best wines of Italy. It is produced at Tenuto di Palagio, a 16th century estate the couple purchased in 2000. The wine is named for one of his popular songs.
Celebrities in the Industry-May 2016
Kevin Plank, the CEO and founder of Under Armour has his own whiskey. Sagamore Spirit Rye will be released on May 21 in conjunction with the Preakness.
Retired LA Rams quarterback, Vincent Ferragamo, produces wine with his wife, Jodi, at their Tenuta di Ferragamo Winery. They have been tending Cabernet Sauvignon and Sangiovese vines since 2010. The grapes are blended into a California Super Tuscan. The wine was met with a lawsuit from clothier, Salvatore Ferragamo. The suit is filed in New York and alleges trademark infringement. Salvatore Ferragamo produces his own wine named Il Borro in Tuscany.
Actor, Kyle MacLachlan, has been in this column before with his Washington State Pursued By Bear Wine. Now he's added Blushing Bear, a rose' made from Cinsault and Grenache grapes. He says it's dry, light, and has good minerality. $28.
Roger Daltrey of the singing group, The Who, now has his own Champagne. Champagne Cuvee Roger Daltrey will be $138 per bottle and will have The Who's logo and artwork. Limited Edition The Who ice buckets are also available at $940. Proceeds from the Champagne and buckets will go to his charity, Teen Cancer America.
Singer, Dave Mathews, of the Dave Mathews Band owns Blenheim Vineyards near Charlottesville, Virginia. He produces white wines including Chardonnay and Viognier.
Prices range from $17 to $25.
AOL co-founder, Steve Case and his wife Jean, own Early Mountain Vineyards in Madison, Virginia. Wines are Cabernet Franc, Pinot Gris, white and red blends. Prices are from $22 to $30.
Actor, Kelsey Grammer, who starred in Cheers, is opening Faith American Brewing Company in upstate New York.
Actress, Drew Barrymore has added a Rose' ($18) to her wine portfolio. Other wines she already offers are Pinot Noir and Pinot Grigio.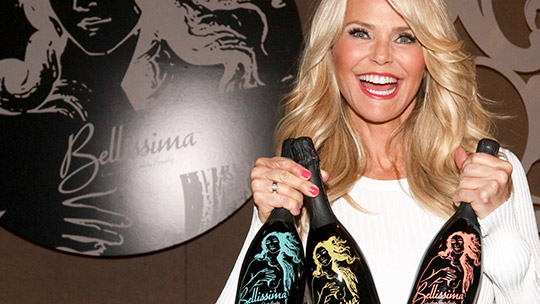 Super Model, Christie Brinkley, likes Prosecco so much that she decided to have her own. Her Bellissima Prosecco sells for $20. The 62 year old model credits drinking 3 glasses a day for her youthful looks.
Celebrities in the Industry-June 2016
Daren Metropoulos, CEO of Metropoulos and Co. has bought the Playboy Mansion. The purchase price was not disclosed. It was offered at $200 million. Metropoulos lives next door. Part of the deal is an agreement to allow 90 year old Hugh Hefner to remain in the mansion for the rest of his life. The Metropoulos family has owned, revitalized and sold numerous brands such as Pabst Blue Ribbon Beer, Hostess, Perrier Jouët Champagne, Ghirardelli Chocolates, Bumble Bee Tuna, Chef Boyardee, Duncan Hines and many others.
Cheech Marin has his own liquor, Tres Papalote Mescal, $60. He introduced it at a party in New York's Black Barn restaurant. Among the guests were Tommy Chong and Geraldo Rivera. Watch his promotional video at https://youtu.be/XltcwxsK6xw.
The rock group, AC/DC, will be introducing their own Tequila as part of a summer concert tour. Thunderstruck Tequila is being bottled for them by Fabrica de Tequilas Finos. It will be available in Silver, Reposado, and Añejo. Prices range from $29.99 to $39.99.
D J Khaled, founder of We the Best and star of the internet, is partnering to promote Champagne Luc Belaire. He says it has notes of honeysuckle, peach, apricots, and citrus. His new signature breakfast is a bowl of fruit and Champagne.
Celebrities in the Industry-July 2016
Some things seem to go on forever. A Rancho Mirage home that belonged to Victor Jules Bergeron, Jr., aka Trader Vic, is for sale at $4 million. Trader Vic owned a chain of restaurants in major West Coast cities and manufactured bar supplies and cocktail mixes sold to the industry through the '50s and '60s. Bergeron died in 1984 and the home has changed hands several times since then, but this desert property was a perfect home for the inventor of the Mai Tai. The 13,908 foot home that sits on nearly 3 acres, was originally built by Marion Davies, mistress of William Randolph Hearst. Included are a tennis court, pool, spa, a pond big enough to paddle a boat, an indoor/outdoor shower planted with ferns, and a kitchen made to look like a subway car.
Channing Tatum owns Born & Bred Vodka bottled in Driggs, Idaho.
Novak Djokovic, the world's #1 tennis player, has bought 5 hectares(about 12 acres) of land for a vineyard and winery in his native Serbia. The land was a vineyard at one time and is now overgrown and abandoned. It is being cleared and will be planted next spring. A winery will be built in 2017 or 2018.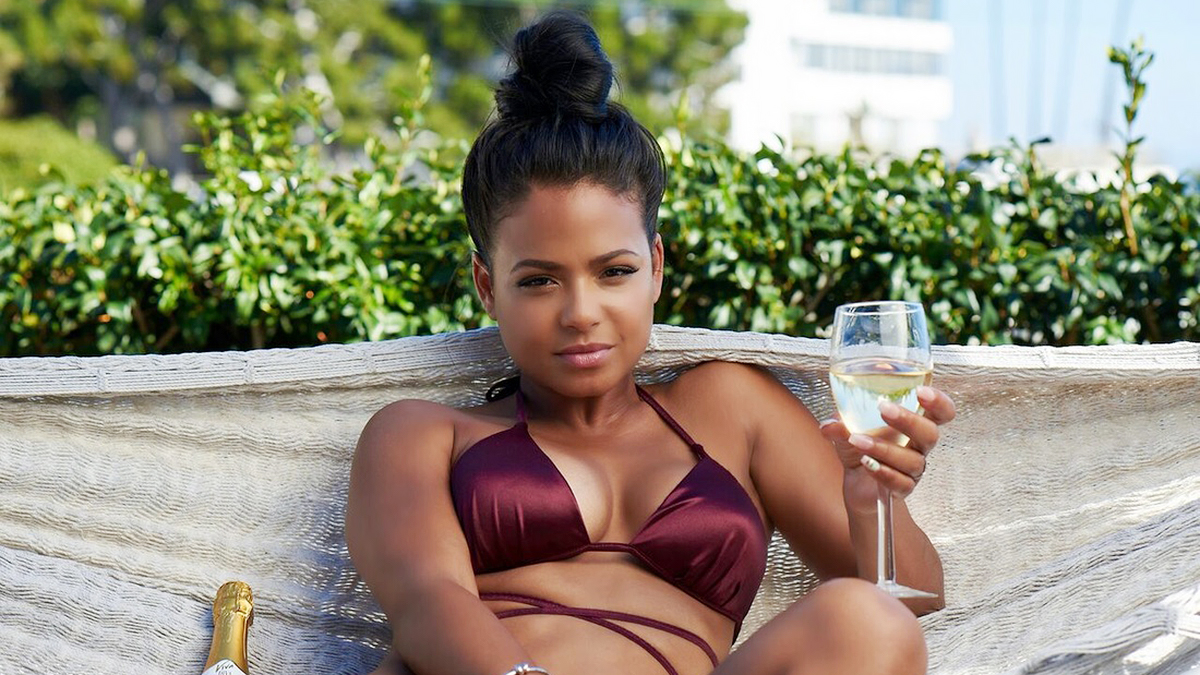 Singer, Christina Milian, started on The Voice and moved on to Dancing with the Stars. Meanwhile she sold the Viva Diva line of fruit flavored Moscatos. Now she is selling Prosecco (16.99) and Moscato di Asti ($19.99).
Singer, Cliff Richards, has put his Adega de Cantor Winery in Spain up for sale. The asking price is $10.6 million for 600 acres, a 3 bedroom home, tennis court, and swimming pool. He has made his Vina Nova Wines there for the last 15 years. He said "It hasn't been profitable. To be honest it has cost us. But it has been a good expensive hobby."
Les Claypool, bassist for the band known as Primus, has been making wine at his Claypool Cellars in Sonoma County since 2007.
Drew Bledsoe, former All-Pro Quarterback, and his wife Maura planted their own vineyard in 2003 and make Doubleback Cabernet Sauvignon in Walla Walla, Washington.
Race car driver, Scott Pruett owns Pruett Vineyards with his wife, Judy. The winery produces Cabernet, Pinot Noir, Syrah, and red blends. Prices range from $29 to $100. He has been previously voted Race Magazine's Road Racer of the Year. The two also write children's books.
Game of Thrones actor Hafþór Júlíus Björnsson has launched his own brand, Icelandic Vodka, in his native Iceland. He has won Iceland's Strongest Man 5 times, Europe's Strongest Man twice, and is currently rated the second strongest man in the world. His Vodka is regular strength at 80 proof.
Roman Burtzev is appearing in Russian Vodka commercials. Roman who? His claim to fame is that he could double for Leonardo di Caprio. The ad for Pyat Ozer Vodka (Five Lakes Vodka) starts out viewing him in a rear view mirror. As the camera pans down, you see he is not di Caprio and the voice over says that he is a "fake Di Caprio" driving a "fake BMW," talking on a "fake iPhone" next to his "fake girlfriend." The only thing that is real is the Vodka. Watch it at https://youtu.be/vUMr7ueA1Hw.
Celebrities in the Industry-August 2016
Alright, alright, alright!
Matthew McConaughey will be the Ambassador and Creative Director for Wild Turkey. His first project is a short film detailing the brand's position in a unique American industry.
Heavy Metal band, GWAR, has its own Vodka. It's potato Vodka, distilled 4 times, bottled by James River Distilling in Richmond, Virginia.
Singer Dave Mustane of the band, Megadeth, has sold Mustane Vineyards Cabernet bottled by Fallbrook Winery since 2014. Now he's getting into the beer business with a Belgian style ale from Unibroue in Quebec, Canada. The brew is named A Tout Le Monde.
The electronica rock group New Order has released a 4.2% ABV golden ale named Stray Dog. The brewery deal was negotiated by agent Renegade Music.
The rock group, Iron Maiden, is introducing their own Trooper Red 'n Black a 6.8% ABV porter that will be available September 1. This is the third in the series. First there was a beer named Trooper. Second came Trooper 666, a strong bitter. They have sold more than 13.5 million bottles so far.
Former Toronto Blue Jays, LA Angels, and New York Yankees outfielder, Vernon Wells is making wine with Seattle Mariners catcher, Chris Iannetta. Their Jack Winery Cab is made from grapes grown at Diamond Mountain and Howell Mountain. The just released 2013 vintage sells for $100.
Actor, Max Thierot, stars in the A&E thriller, Bates Motel. He owns Senses Wine with two partners. They grow the grapes on spare land in his parents vineyard property in Occidental, California. The vineyard is planted in Pinot Noir and Chardonnay. Max grew up in the Northern California wine industry and his family has been here for generations. His great great grandfather co-founded the San Francisco Chronicle with other relatives. When you see family dinner scenes of Bates Motel, look closely. That's Senses Wine on the table. The wines are sold privately to a select list twice a year.
Game of Thrones strongman Hafþór Júlíus Björnsson stars in a new laugh filled ad for his own vodka brand. View it at https://youtu.be/c19HRM0x-lA
 
Some celebrities are in the business even though they don't drink. First among them,
actor and rap singer, 50 Cent, explains "I know a big opportunity when I see one, which is why I decided to partner with Effen last year. We're going to show the world why Effen is the next big player in vodka."
Gene Simmons from the band, Kiss, has promoted a line of wines from Chardonnay to Zinfandel. He doesn't drink for religious reasons. A set of 5 bottles each etched with one of the band's pictures originally sold for $260. Only 80 sets were made.
James Hetfield from Metallica is a teetotaler. He had no problem handing out 91,000 cans of Bud that had one-time special Metallica labels. These collectible cans now sell for up to $130 a 24 pack.
Celebrities in the Industry-September 2016
Francis Ford Coppola is releasing a special limited bottling of wines to celebrate iconic movies he admires. They are Jaws, a 2015 Chardonnay; King Kong, a 2014 Cabernet Sauvignon; and Wizard of Oz, a 2014 Merlot. Each bottle has a movie poster label.
Last year Irish talk show host, Graham Norton, teamed with Invivo, a New Zealand winery, to make a Sauvignon Blanc that was sold in the UK, Ireland, New Zealand, and Australia. The wine has sold 500,000 bottles already. This October they will be releasing a Shiraz.
The rock group AC/DC has a line of wines named after their hits. They include Thunderstruck Chardonnay (Australia $14.99), Hells Bells Sauvignon Blanc (New Zealand $14.99), Back in Black Shiraz (Australia $17.99), and Highway to Hell Cabernet Sauvignon (Australia $17.99).
Singer, Cliff Richards, has four wines bottled for him in the Algarve region of Portugal. Vida Nova Branco (white), Vida Nova Reserva (red), Vida Nova Rose', and Vida Nova Espumante. The Espumante is a Rose' methode Champenoise made from 100% Syrah grapes, after the secondary fermentation it is aged 9 months before disgorging. The wines are sold only in Europe.
The Rolling Stones have a Mendocino Merlot named Forty Licks. It's vintage dated and sells for $15.99
Celebrities in the Industry-October 2016
The industry and the country mourn the passing of Arnold Palmer. One of the greatest golfers of all time; he also was in the wine and the beverage business. He invested in Luna Wines in Napa Valley and produced a Chardonnay ($18) and a Cabernet Sauvignon ($15) that bear his name. His biggest success in beverages came from a drink he made up to cool off after a round of golf. He and his wife mixed iced tea and lemonade at home. Liking the mix, he took a thermos of it when he golfed. On the road, he ordered it. The drink gained wider appeal when a woman heard him ordering it at a Palm Springs restaurant. She said "I'll have what he ordered." From that moment it was called an Arnold Palmer. In 2002 he sold the recipe and right to use his name to Arizona Ice Tea for $100 million. Annual sales of the drink have exceeded that number since 2010.
Angelina Jolie has filed for divorce from Brad Pitt. This will be Pitt's second and Jolie's third divorce. The question is: Who gets the winery? Ch. Miraval in Provence is one of the region's top rated wines. The couple first rented the property, then purchased it in 2012 for $60 million. It produces a rose', two whites, and a red. 90 acres are planted. The main house has 35 rooms. They were married there in 2014. The Rose' is a blend of Grenache, Syrah, Cinsault, and Rolle. It sells for $15 to $18.
The metal band, Deftones, is releasing an IPA brewed by Belching Beaver Brewery in San Diego. The beer is named Phantom Bride after a track on their latest album. It is made with a blend of four different hops concocted by frontman Chino Moreno.
Two years ago Wild Turkey offered Mathew McConaughey a spot in two commercials. He counter-offered to become the creative director for the brand. Since then he has filmed a documentary about visiting the distillery and two commercials. You can watch them at Wild Turkey 1 & Wild Turkey 2. He has two more commercials on the drawing board.
The remaining members of the heavy metal rock group, Motorhead, have teamed with Camerons Brewery to make two beers to commemorate the band members that have passed away. The beers are named for hit tunes: The Road Crew and Ace of Spades.
Roger Daltrey frontman for rock band, The Who, is releasing a special Champagne to commemorate the band's 50th anniversary. Cuvee Roger Daltrey is produced by Champagne Charles Orban. The Champagne will sell for about $140. A matching pewter ice bucket will cost $1,000. Proceeds will go to Teen Cancer America.
Andrea Pirlo, Italian Soccer star, who also played in the UK and now the U.S. owns Pratum Coller vineyard (Meadow Hill in Latin) in Brescia, Italy. The vineyard produces 20,000 bottles a year of 2 reds, a rose', and a white. (also see Popular Culture below)
Bill Murray's son has a new restaurant, 21 Greenpoint, in New York. Bill decided to help start things off right. He did a shift as bartender. He served straight shots and mixed drinks as reporters snapped pictures and ordered rounds just to see him at work. Murray clowned and danced to Rolling Stones music as he poured Tequila and Vodka.
Celebrities in the Industry-November/December 2016
Actor Sam Neill owns Two Paddocks Vineyard in New Zealand's southernmost wine growing area. He jokes "The next stop after my vineyard is Antarctica." His favored grape is Pinot Noir. The Two Paddocks Pinot Noir Central Otego The Last Chance Earnsleugh Vineyard Proprietor's Reserve 2013 sells for $79.
Race driver, Kevin Buckler, has won the Porsche World Cup. He's also the owner of Adobe Road Wines in Petaluma. His wines include several reds, whites, and a rose' that range in price from $26 to $125.
British actress Trudy Styler and husband, Sting, were at the New York wine experience to show off their Il Palagio Sister Moon 2011. In a surprise performance he took the stage and sang "Message in a Bottle."
Canadian rap star, Drake, has two big hits. His album, "Views", streamed more than 245 million plays in the U.S. during its first week of release. Now his Virginia Black Decadent American Whiskey is a hot seller in his native Canada. The Ontario Liquor Control Board reports first day sales of 1,779 bottles on September 30 and 4,650 bottles sold in the province for the first two weeks. Price CN$39.95 each.
Actor Jared Padalacki has starred in horror films House of Wax, Cry Wolf, and Friday the 13th. Now he's hunting monsters on the TV show Supernatural. He wanted to make his own wine and decided to call on fellow actor Stephen Amell who plays Green Arrow on the TV show Arrow and is a partner in Washington winery Nocking Point. The wine they came up with is a sparkling Chardonnay made from New Mexico grapes at Nocking Point. Sold as a two pack of 750 ml bottles for $60.
Patrick Harten, the air traffic controller who helped Captain Sully Sullenberger safely land his plane on the Hudson River has joined the industry. He founded the Long Beach Brewing Company and is making craft beers.
Former baseball major league hitter, Rusty Staub, has held a charity wine auction every year since 1991. This year's auction raised $1,524,350 for the Rusty Staub Foundation to help kids in need.