posted by
cbra
on
Tue, 02/23/2016 - 16:29
California Beverage Retailers Association
P.O. Box 56686
Sherman Oaks, CA 91413
(818) 693-5561
Celebrities in the Industry 2014
Celebrities in the Industry-January 2014
Boz Scaggs has recorded dozens of singles and 21 music albums. Now he is making Rhone style wines at Scaggs Vineyards in Napa Valley. He and his wife, Dominique, make 400 cases of organically certified wine a year from their 2 ½ acre estate.
Tom Seaver and his wife, Nancy, produce Cabernet Sauvignon at their GTS Vineyards on Napa Valley's Diamond Mountain. This is a third career for Seaver. He was named to the Baseball Hall of Fame as pitcher for the Mets. Later, he worked as a sportscaster. This is coming home for Seaver. He was born in 1944 in Fresno.
Robert De Niro was impressed with Chef Nobu Matsuhisa's Nobu Restaurant in Beverly Hills. He partnered with the chef and movie producer Meir Teper to open 27 Nobu Restaurants during the last 10 years. They opened the Greenwich Hotel in New York in 2008, the Nobu Hotel Caesar's Palace in 2013, and will open the Nobu Hotel Ridyadh in Saudi Arabia in Spring 2014. Nobu Restaurants feature a high quality Japanese menu complemented by an extensive wine list with selections from $36 to $16,000.
Celebrities in the Industry-February 2014
Charles Woodson, Oakland Raiders free safety, owns a 7 acre vineyard near Calistoga in the Napa Valley. He produces Merlot, Cabernet Sauvignon, and Sauvignon Blanc. The wines are priced up to $150 a bottle. Woodson became interested in wines when the Raiders came to Napa for spring practice. He saw the vineyards and people enjoying wine with their meals and decided to look into the business. In college Woodson led Michigan to a national championship in 1997 and won the Heisman trophy.
Rapper Sean "Diddy" Combs has partnered with Diageo to buy luxury DeLeon Tequila. The tequila is currently available in 20 marketing areas and has types that range in price from $120 to $1,000 per bottle. He is a rapper, singer, and record producer. Combs also appears on stage as "Puff Daddy" and "P. Diddy." Separately, Diageo also bought Peligroso Tequila this month.
Adult movie star Savanna Samson, who has appeared in more than 90 sexually explicit films, is producing a wine in Brunello, Tuscany. She was voted Best Actress twice by Adult Video News. Her real name is Natalie Oliveros. There are 2 types of wine; Sangiovese and Merlot from La Fiorita Vineyard. Each is labeled with a picture of the winemaker in a bathing suit.
Celebrities in the Industry-March 2014
Emilio Estevez
Movie Director, Emilio Estevez and his fiance Sonja Magdevski, have operated Casa Dumetz Vineyards at their home in Malibu since 2004. They have 800 Pinot Noir vines of 3 clones planted on the estate. The winemaking is handled primarily by Sonja. The grapes are vinified in Buellton and sold through a tasting room in Los Alamos. Casa Dumetz is named for Fr. Francisco Dumetz, a Spanish Missionary, who also lent his name to Point Dume.
Frank Zappa
Grape vines suffer from the bacteria that causes acne in humans. It is the only known case of a disease being passed from humans to a plant. It was transmitted to grapevines about 7,000 years ago and currently affects every grape vine in existence. Why is it in our celebrities column? A new mutation of the bacteria is particularly weird and scientists have named it Propionbacterium acnes type Zappa after that weird guitar player Frank Zappa. So far research has not shown what effect it has on the vines and what they would be like without the infection.
Celebrities in the Industry-April 2014
Golf Pro, Ernie Els, has been producing wines in his native South Africa since 1999. The winery is situated in Stellenbosch, the home of some of South Africa's greatest wines. Whether on the links or in the vineyard, Els always shoots for the best. Whites are Chenin Blanc and Sauvignon Blanc. Reds are Shiraz, Syrah, Cabernet Sauvignon, Merlot, and several proprietary blends. If you plan to visit the winery, make it on the last Friday or Saturday of the month. Ernie hosts a chipping contest from the tee near the main house.
Kathie Lee Gifford has launched her own wine line. She says the wines are not acid, or bitter, or have an aftertaste, or are "interesting." They just easy to drink. There is Gifft Chardonnay and Gifft Red Blend. Both wines sell for $20 and are produced by Sheid Family Wines in Monterey County. She says 10% of the profit will be donated to charity.
Celebrities in the Industry-May 2014
Producer and Director, James Cameron, who is credited for Titanic, Aliens, The Terminator, and Avatar has joined the wine industry. He purchased Beaufort Vineyard on Vancouver Island in British Columbia. The property is 84 acres with 6 acres currently planted with wine grapes. He will be producing organic wines. Cameron is a vegan and promotes sustainable agriculture. He also has a biodynamic farm in Santa Barbara and another in New Zealand.
Vineyard at Robin Williams Estate
Robin Williams Napa Valley estate, Villa Sorriso, is still for sale after 2 years. Now marked down to $29.9 million from the original $35 million. The property is 630 acres of which 18 acres is currently planted. The Italian still villa has a theater and a wine cellar.
Princess Kate and Prince William toured Amisfield Vineyard in Queenstown, New Zealand during a visit to the country. Vineyard owner, John Darby, said "She seemed quite knowledgeable in the pruning of the vines." During the tour they were told that the estate uses helicopters to stir the air during frosts. Prince William commented "If you ever need a spare pilot, I'm here." They are shown here enjoying a glass of Amisfield Pinot Noir 2011 before a lunch that included beet cured salmon at the winery's Lake Hayes Bistro. Amisfield produces Pinot Noir, Riesling, Pinot Gris, Fume Blanc, and Sparkling Wine. Later they attended a tasting put on by 30 local wineries. California price of Amisfield Pinot Noir is $40-$70.
Richard Branson is buying Mont Rochelle Hotel and Mountain Vineyard in South Africa through his Virgin Limited Edition luxury retreat business. The hotel is a 22 room property set on a 96 acre private estate surrounded by vineyards. The hotel will be closed until August for repairs and updating. The top room has a private terrace and pool and rents for ₤564 a night.
Celebrities in the Industry-June 2014
Lisa Vanderpump's Pump Lounge
Lisa Vanderpump, star of Real Housewives of Beverly Hills and Vanderpump Rules owns Sur and Villa Blanca has now opened the P.U.M.P. Lounge. You can order a "Pinky Pump Burger" or a Shepherd's Pie while people watching celebrities. The chef is Penny Davidi from Food Network Star. The upscale watering hole is located at Robertson and Santa Monica in West Hollywood.
Maynard James Keenan
Maynard James Keenan, the lead singer in the group Tool and songwriter for A Perfect Circle, is dissolving his partnership in the Arizona Stronghold Winery. He will be taking the vineyard in southern Arizona and renaming it. His partner will be taking another vineyard in Mesa Verde. The partners reportedly have not spoken in 2 years.
Celebrities in the Industry-July 2014
Hall of Fame basketball player, Dennis Rodman, has partnered with Premier Brands to make his own Bad Ass Vodka. He is touring and promoting the brand. Earlier this year Rodman traveled to North Korea and made a gift of a case of the liquor to dictator, Kim Jong Un. Rodman says he could bring peace between the U.S. and North Korea if he can get the leaders of the two countries to toast with his vodka. Sure thing.
Maksim Chmerkovskiy, of Dancing with the Stars, used to promote Svedka and Three-O Vodkas. Apparently, he liked the gig. Now he is on tour promoting his own Denim Vodka. There are major events at the Taj Mahal in Atlantic City and other locations. But you might just run into him making an appearance at a local liquor store.
David Beckham and Diageo have partnered to create a Scotch for "those who have always wanted to try whisky."
Kurt Russell has opened a new tasting room called "The Wine Saloon" at his Gogi Winery in Los Alamos. Russell specializes in Pinot Noir. Gogi is a nickname he had as a kid.
Antonio Banderas has owned 50% of the Bodega Anta Natura in Ribera del Duero, Spain since 2009. The winery was renamed Anta Banderas at the time. It was founded in 1999 by Federico and Teodoro Ortega who retain 50% ownership. The winery produces 1.5 million bottles a year. The partners plan international expansion of distribution. Recently, Banderas separated from Melanie Griffith, his wife of 18 years.
Celebrities in the Industry-August 2014
Country Singer Miranda Lambert owns her own wine company, Red 55 Winery. She releases new wines in conjunction with albums. Varieties include Kerosene, white table wine; Country Road 233, Merlot; White Liar, Chardonnay. Her recent tour was sponsored by Crystal Light. For the tour she created Randa-Rita, made from Bacardi Light, Raspberry Lemonade Crystal Light, and Sprite Zero. Don't feel like a drink? Then choose Miranda Lambert Coffee.
Grace Hightower DeNiro founded Coffees of Rwanda to help Rwandan farmers create a sustainable growing system. She pays higher than fair-trade prices for the beans. She and her team are in the process of redesigning the product package. It has been renamed Coffee of Grace.
Vita Coco, the #1 coconut water in the U.S., owes part of its growth to celebrity investors Madonna, Matthew McConaughey, Alex Rodriguez, and Rihanna. The stars participate in ad campaigns and have a piece of the action.
Celebrities in the Industry-September 2014
Jay Z works with Bacardi distributing and selling D'usse Cognac (pronounced "dew-say"). It's being promoted as "a bold new expression of Cognac designed to dare Cognac drinker's palates like never before." D'usse sells for about $45 a bottle. Jay Z reportedly is worth about $520 million.
Kenny Chesney is touring the country promoting his Blue Chair Barbados Rum. The rum is available in Barbados White, Coconut flavored, Banana flavored, and Coconut Spiced.
Celebrities in the Industry-October 2014
Retired NFL Quarterbacks, Dan Marino and Damon Huard, are partners in a Washington State winery. Their Passing Time 2012 Cabernet Sauvignon will be released next spring.
Retired NFL Quarterback, Drew Bledsoe, has named his wine Doubleback. His vineyards are on the South facing mountain slopes outside Walla Walla, Washington. The combination of heavy rain, soil, and sunshine produce a rich berry-like Cabernet Sauvignon. His first vintage in 2007 has been rated as a classic.
Actor, Kyle MacLachlan, has starred in Sex & the City, Twin Peaks, and Desperate Housewives. Along with winemaker, Eric Dunham, he makes 400 cases a year of a Cabernet blend. The wine is sold under the Pursued by Bear label. The name comes from a stage direction in Shakespeare's A Winter's Tale; "Exit, pursued by bear."
Italian Designer, Alberto Allessi, has a vineyard on the hills of Eastern shore of Lake Orta in Lombardy. Through research he found that grapes had been grown there in the 9th century. When he bought the property the land was overgrown and fallow. He cleared the area and planted Pinot Noir and Chardonnay, aiming to produce great burgundies outside of France. His wines are sold under the name La Signora Eugenia e il passero solitario (Madame Eugenia and the lonely sparrow). A designer by trade, Allessi has designed the label, bottle, packing, and everything associated with his wine. It will only be sold in Italy.
Celebrities in the Industry-November 2014
Jack Nicklaus has licensed several beverages to use his name or likeness (as well as clothing items). There is Nicklaus Water by Aquahydrate, Golden Bear Lemonade by Arizona, and Nicklaus Cabernet by Terlato. The Cabernet sells for $60 and has moved about 10,000 cases a year since 2010. Nicklaus has a net worth of more than $250 million and doesn't have to lend his name. He says he does it "Because it's fun to walk into a restaurant and order your own wine."
Tiger Woods is entering the industry as a restaurateur. He will be opening The Woods Jupiter Sports and Dining Club in Jupiter, Florida this December. It is located in the Harbourside Place, a downtown development. With a lot of PGA stars living in the area, it's expected to become a hotspot.
Singer, Justin Timberlake, is partnering with Sauza Tequila with specialty Sauza 901 Tequila. It is named for the exact minute "when the evening ends and night begins." It's a very smooth filtered Blanco.
Singer, Pitbull, has his Voli Vodka that is made in Cognac, France. It comes in a clouded glass bottle with a QR code that consumers can use to get low calorie recipes. Pitbull is also known as "Mr. International."
Do you need a sommelier? William Shatner will fill the bill. He knows all about wine, or at least says he does, on his web TV program "Brown Bag Wine Tasting." Each episode features a guest star who tastes the wine along with Shatner. Then he has his guest describe the wine "in their own words." Finally, the bag is opened and the wine revealed. Guests have included LeVar Burton and Miss South Carolina.
George Clooney was married to Amal Alamuddin in a highly publicized ceremony in Italy. It must have been some bash. He shipped 50 cases of his Casamigos Tequila over for the event. (The U.S. importing rights for Casamigos were given to Sidney Frank Company earlier this year.) The wedding and weekend party were held at the Belmond Cipriani Hotel on Giudecca Island, across the lagoon from Venice. The hotel was founded in 1958 by Giuseppe Cipriani, the owner of Harry's Bar. Wedding guests had a choice of Bellinis, Goodnight Amigos, or Italian Margaritas (see recipes below). The menu included stuffed zucchini flowers with tagliolini pasta and truffles, prosciutto and figs, polenta with wild mushrooms, lemon risotto with sea bass and lobster. The Champagne was from Alain Navarre, a small Domaine of 6 hectares. It was specially labeled AG for Amal and George. It is a rich, fruity style wine made from 30% Pinot Noir, 30% Chardonnay, and 40% Pinot Meunier. The cost of the wedding weekend: $1.6 million.
Celebrities in the Industry-December 2014
While filming music videos on location in Brazil, Snoop Dogg, gained an appreciation for the country's native liquor, cachaḉa. He found a favorite brand in Cuca Fresca and bought stock in the company. He is now partnering with the company to combine the Brazilian lifestyle with his own "cool" reputation to promote it in the run up to the 2016 Olympics in Rio. Cachaḉa is made from sugar cane like rum. But by a totally different process yielding a different liquor.
Sean Diddy and Diageo formed a joint venture that bought Deleon Tequila in January. Line extensions will be released soon in the luxury end of the market. Platinum and Reposado will start at $60 a bottle.
Nascar driver, Kevin Harvick, won the Sprint Cup on November 16. Sponsored by Budweiser, he and his team celebrated in the only way that made sense: they drank 80 cases of their sponsor's product.
David Beckham reportedly bought a vineyard as a gift for his wife, Victoria, in 2008. The wine is not offered commercially and the vineyard is only identified as being "in the Napa area." The Beckhams have the property farmed and managed for them by professionals.
Rapper, Jay Z, has bought the rights to Armand de Brignac Champagne from Sovereign Brands. A spokesperson for Sovereign said he "made us an offer we simply couldn't refuse." Previously Jay Z had a stake in the Champagne valued at $50 million. His financial statement values his total net worth at $520 million. The Champagne sells for $300 a bottle and has become the preferred brand at many night clubs worldwide.
Robin Williams' Belvedere
Robin Williams Mt. Veeder estate and 18 acre vineyard is back on the market. It had originally been offered for $35 million, then was reduced to $29.9 million last April. He died in August. The new listing price is $25.9 million. The house includes a belvedere that is reached from the master bedroom. A belvedere is a bell tower without a bell that serves as a lookout. This one has a seating area and has a view of the Napa Valley.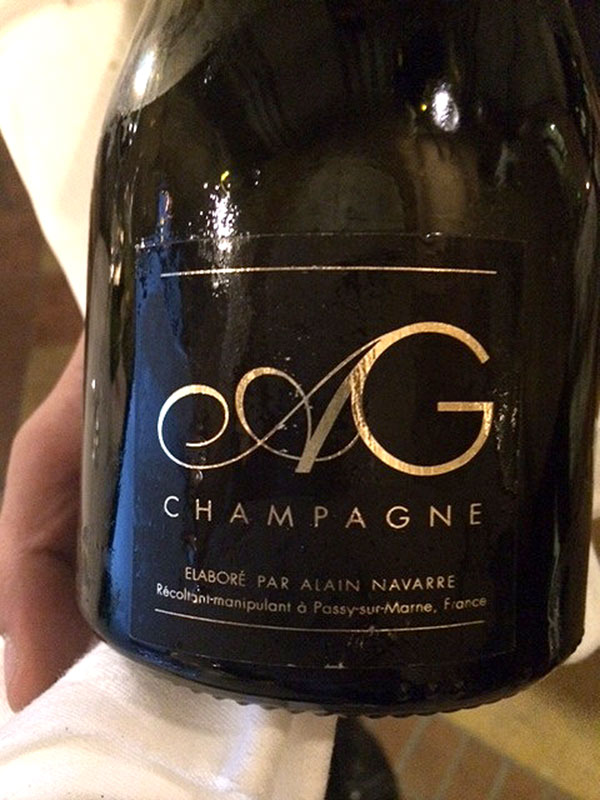 Singer Sheryl Crow partnered with Chateau St. Jean in the "Notes of Hope" program to raise money to fight breast cancer. The winery donated $1 for every bottle sold during October. Consumers got exclusive Sheryl Crow videos along with bottles they purchased from the winery's website. Chateau St Jean is owned by Treasury Wine Estates.
We previously profiled Kathy Lee Gifford's wine named GIFFT. Currently, she is touring and making liquor store appearances to promote the line. Pictured here she chats with a customer.
Singer, Nikki Minaj, has Myx Moscato. She markets her wine in several flavors that include Regular, Mango, Coconut, and Peach. A 4 pack of 6.3 ounce sells for $9 and a single 375ml sells for $4. Nikki is known for her wild music videos.