posted by
cbra
on
Tue, 10/24/2017 - 15:35
California Beverage Retailers Association
Beverage Bulletin
P.O. Box 56686
Sherman Oaks, CA 91413
(818) 693-5561
Ron Ziff, Editor
Ben Ziff, Assistant Editor & Publisher
October 2017
A statue of General Vallejo in Sonoma was wearing a mask and was marked with a sign of the times. The signs were posted all over the city this month. "The love in the air is thicker than the smoke," the signs read, "Sonoma Proud."
In this month's edition:
●Headline News Stories - Bartender Takes Jeopardy by Storm, Wildfires Sweep Wine Country, Wineries Damaged by the fire, Lending a Hand, En Espanol, After the Fires
●Celebrities in the Industry – Jimmy Buffet
●Books - The Death of an HeirTV & Movies - Scandal
●Popular Culture – Peyton Manning, NPR
●Politics - Grape Picker Housing, Parliamentary Gin, One Foot Out the Door
●Wine - Grape Heists, Chinese Lafite, Economic Impact of Wine, Sleep in a Wine Barrel, Esprit Nature, Amazon Must Choose, Blue Wine is Here, Largest Beaujolais Estate Sold, Napa Wine Fraud, Fuzzy Wine Critic, Tanker Theft, Wine and Lingerie Pairing, A product whose time has come
●Beer - Taking Craft Beer Back, Nun with a Chainsaw, Once A Year, Crayfish Do It, Festival Canceled, World's Best Restaurant, Sports Beer, No More Bad Hair Days, Hanukkah Beer is Here
●Cider - New Cider Standards
●Spirits - Rare Kentucky Bourbon, Artificial Alcohol, Amazon Pop Up Bar, WWII Whiskey, Record Whiskey Price, Hennessy Goes Musical, World's Top 100 Bars,
New Use for Vodka, Drinks Were on the House, LA's Vintage Bartender, Isis Flag, You've Been Warned
●Other Foods and Beverages - Fair Food, Food For Champions, Huge Grocery Merger?, Meal Kits, Best Hot Dogs, Restaurant Workers in Need, Record Restaurant Sales, California's Haunted Hotels and Restaurants, Best Sushi, Only in California
●The Changing Market - Price Shift in Retailing, Walmart Tests New Service, Amazon Tests New Service, Changes at Whole Foods, Grocery Stores of the Future, California Demographics
●Recipes - New Drinks, Hot Mulled Cider
●Health - Pairing Wine with DNA
...and as always Tasting Notes and the Industry Calendar
Headline News Stories
Bartender Takes Jeopardy by Storm
New York bartender, Austin Rogers, was one of the most entertaining champions ever on quiz show, Jeopardy. In a 12 day winning streak this quirky contestant won $411,000. He was the fifth biggest winner in the show's history and did it in the shortest time.
Wildfires Sweep Wine Country
Massive wildfires swept through northern California killing at least 42 people and damaging more than 7,000 residences and other buildings, according to authorities. As of this writing more than 240,000 acres have been burned by more than 15 fires. Insurance Commissioner Dave Jones announced preliminary data provided by eight California insurers processing claims for tens of thousands of policyholders. Numbers are expected to climb, as more claims are filed and processed. The preliminary data reflects $1.045 billion in losses
"Personally, I think this will be one of the worst natural disasters in California history," Sonoma County Sheriff Robert Giordano said at a town hall in Santa Rosa.
The explosive failure of power lines and other electrical equipment has regularly ranked among the top three singular sources of California wildfires. In some cases people are blaming utility company, PG&E. At least one lawsuit has been filed against the utility by a couple that lost their home.
Here's what we know:
The death and destruction included parts of the city of Santa Rosa.
Damaged cell towers created communication problems throughout the fire zone.
The Napa Valley Vintners Association (NVV) estimated that 90% of grapes were picked before the fires started. Wineries that were able to assemble crews and safely get to their vineyards were continuing to harvest grapes."It is too soon to tell how the fires and related challenges will impact this year's vintage overall. What we do know is that of the grapes remaining on the vine, it is almost all Cabernet Sauvignon. Our winemakers report that this thick-skinned variety, fully-developed and ready to be picked for the 2017 harvest, is not expected to be impacted by the smoke from the fires."
Wineries Damaged by the fire
Napa
Darioush – Some vineyard damage.
Hagafen – Crush pad and about 1 acre of vineyard burned.
Helena View Johnston – A total loss.
Segassia – Winery has burned.
Signorello – Winery and residence both burned completely.
Stag's Leap – Winery is saved, outer buildings burned.
Vin Roc – Winery and home destroyed.
White Rock Vineyards – One of Napa's oldest. Winery destroyed.
William Hill – Minor damage
Paras Vineyard, Roy Estate, Pulido-Walker's Estate Vineyard, Sill Family Vineyards and Patland Estate Vineyards in Napa were extensively damaged, while Backbone Vineyard & Winery lost their winery and wine inventory when the former Cole Bailey Winery, which they had taken over, burned in Redwood Valley.
Sonoma
Ancient Oak Cellars – House, 2 barns, and tasting room burned.
Chateau St Jean – Limited damage to some outbuildings.
Gundlach Bundschu – Winery saved. Some damage to vineyards.
Mayo Family Wineries – The house burned, but the winery was saved.
Nicholson Ranch – Minor damage.
Paradise Ridge – Winery burned down.
Sky Vineyards – Some damage.
Mendocino
Frey Vineyards – Winery destroyed.
Golden Vineyards – Vineyards scorched but not ruined.
Oster Wine Cellars – Winery destroyed
Lending a Hand
Joseph E. Gallo, chief executive officer of the E. & J. Gallo Winery, announced today that the family-owned company is donating $1 million to aid the fire recovery effort. The money will be divided among the American Red Cross California Wildfires Relief Fund, the Community Foundation of Sonoma, and the Napa Valley Community Foundation. In addition, Gallo will match employee donations two-for-one.
Tech companies Google, Apple, and Facebook have pledged a combined total of $2.5 million to help.
If you want to help, donations can be made to one of these organizations:
United Way of the Wine Country, Community Foundation of Sonoma County, Napa Valley Community Foundation, Red Cross, Napa and Sonoma County Fire Relief Go Fund Me, Redwood Empire Food Bank, Redwood Credit Union
En Español
As fires were starting to spread, Spanish speakers had only one place to turn for emergency information — KBBF-Radio 89.1 FM, a bilingual community radio station serving the region. On the morning of Oct. 9, Hugo Mata went on-air for his weekly, one-hour show about the environment, Nuestra Tierra. Hugo Mata is an environmental educator, but on that day, he was the go-to source for wildfire information.
"I had my show ready, but when I got [to the radio station], I started getting a lot of phone calls," Mata says. "They wanted to know the status of the fires. So everything that I had ready for the show was completely changed, and we opened the mics. There's a local radio station that was basically 24/7 fire information in English, but there was nobody else providing information in Spanish. So KBBF just started doing that on Monday morning," Mata says. Staff hit the phones and called authorities to determine the location and direction of the fires, available shelters and other vital information for its Spanish-speaking listeners."Many of those fires were so unexpected," Mata says. "Some callers said that they only had like two or three minutes to react because there was no time for them to gather anything. So it was almost immediate. A lot of people lost their houses and they didn't take anything with them."
After the Fires
Experts predict that an increase in the frequency and magnitude of wildfires will double the rates of sedimentation in one-third of the West's large watersheds, reducing reservoir storage and affecting water supplies.
Celebrities in the Industry
Jimmy Buffet has parlayed his Margaritaville recording into an empire. He sells and franchises a vast array of things under the name. Tequila, Rum, Ready-to Drink Cocktails, drink mixes are just the start. There are over 50 restaurants, 9 resorts, tortilla chips, blenders, salad dressing, and salsa. And that's just a portion of the $1.5 billion revenue. Now as his fans are aging, he is building Margaritaville retirement communities.
Books
The Death of an Heir
by

Philip Jett, St Martin's Press

, 320 pages, $27.99.

Adolph Coors III and the Murder That Rocked an American Brewing Dynasty

.

The Death of an Heir

is Philip Jett's chilling true account of the Coors family's gilded American dream that turned into a nightmare when a meticulously plotted kidnapping went horribly wrong. In the 1950s and 60s, the Coors dynasty reigned over Golden, Colorado, seemingly invincible. When rumblings about labor unions threatened to destabilize the family's brewery, Adolph Coors, Jr., the septuagenarian president of the company, drew a hard line, refusing to budge. They had worked hard for what they had, and no one had a right to take it from them. What they'd soon realize was that they had more to lose than they could have imagined.

TV & Movies

Scandal

The TV series, Scandal, has a number of scenes related to wine. In Season 1 Episode 3, Olivia finds out that Amanda Tanner is pregnant with the President's child. Stephen comes to console her and brings a bottle of California Oak Shiraz. The two drink several glasses of it in Episode 4. In Season 2 Episode 1, Olivia drinks Red Wine and eats pop corn. Season 3 Episode 2, Olivia and her Dad reconcile over dinner and Red Wine. Season 4 Episode 1, Olivia and Jake escape to a desert island off Zanzibar. When they arrive, supplies are delivered. The first thing Olivia goes for is, of course, the Wine. "We got the '94 du Bellay," she says. "Did they send the beer?" Jake asks. Ignoring him, Olivia says, "the '94 du Bellay. Only one hundred bottles ever made and now we have five. This will change your life." Season 5 Episode 3, First Lady, Mellie shows Olivia a jar of Moonshine she has hidden in a closet. Season 6 Episode 12, Cyrus has a Wine Cellar installed under the White House. He takes Fritz there. They down a "damn fine" bottle and decide to open another. "Something lighter this time?" Rowan suggests, "Maybe a pinot noir. No, no, no. A grenache!" He looks through some bottles and a certain one excites him. "I can't believe that the United States government has an '87 Andre," he exclaims. "Gift from the French PM," Cyrus explains.

Popular Culture

Peyton Manning

Peyton Manning quarterbacked for the Colts for 14 seasons and led them to 115 wins from 2000-2009, two AFC championships, and a win in Superbowl XLI. He retired in 2016. This month the Colts unveiled a bronze statue of him outside Lucas Oil Stadium; retired his number 18; and most importantly, honored him with the release of a limited edition Ring of Honor Red Wine. The wine is from the Columbia Valley region, and is described as a medium-bodied red wine blend with flavors of blackberries, cherries, and spice. Available online or in stores $19.95.

NPR

National Public Radio (NPR) has created a wine club to take advantage of its more sophisticated audience. Listeners can order a case of assorted labels of red, white, or mixed plus with each order get 3 bonus NPR labeled wines: NPR Uncorked Merlot, NPR Weekend Edition Cabernet Sauvignon, and NPR All Grapes Considered Malbec.

Politics

Grape Picker Housing

Governor Jerry Brown signed AB 317 by Assemblymember Cecilia Aguiar-Curry. The bill provides Napa County with permanent, annual funding to support the three farm worker housing centers totaling 180 beds. Beginning in the next budget cycle, the Napa County Housing Authority will receive $250,000 in matching dollars each year. The bill was promoted as public-private partnership for farm worker housing by Napa County.

Parliamentary Gin

The Conservative Party in the UK will be selling its own Gin. The liquor will be blended and bottled by the City of London Distillery. The plan was revealed by MP Graham Brady at a "Gin & Tories" event and is meant to promote the idea of holding the line on raising alcohol duties. The bottles will be label "1922 Gin" in honor of a very conservative group within the party.

One Foot Out the Door

The Spanish state of Catalonia voted for independence from Spain. The vote was non-binding, but no one knows what effect it will have. In a move of caution, both Freixenet and Codorniu have plans to relocate their headquarters to Rioja if necessary.

Wine

Grape Heists

The meager 2017 harvest in France has led to another problem: stolen grapes. Four vineyards in Bordeaux were stripped of their crop in daylight hours. Ch. Montviel (Pomerol) and Ch. Haut Gravette (Lalande de Pomerol) were among them. In one case the owner toured his vineyard at 8 AM. When he returned at 11 AM, the grapes were gone. How did it happen? President of the Winegrowers Union, Xavier Piton, explained "You get ready for a day's work, as a normal harvester, with your cutters and equipment and trucks, and then you find a likely target. Unless the owner happens to walk past, no one will notice." Piton estimates that it took a crew of 8 a couple of hours to steal the grapes that would have made 6,000 bottles. Overall, the harvest in the area is down 30% to 40%. In Gennisac 6 1/2 tons of grapes were stolen and in Pomerol thieves first stole the grapes and then uprooted 500 vines. In Burgundy vineyard owners hired security to watch over ripening grapes. Meanwhile police on horseback patrolled the vineyards of Champagne.

 
The EU Department for Agriculture and Rural Development has announced that wine grape harvests throughout the EU will be down 36% this year.
Chinese Lafite
Lafite will release its first wine from the Lafite China Project next year. It is the product of a joint venture with Chinese company, CITIC. The wine comes from 25 hectares in Domaine de Penglai in Shandong Province. The vineyard is planted with Cabernet Sauvignon 55%, Cabernet Franc 15%, Syrah 10%, Marselan 10%, and Merlot 10%. Production is about 20,000 bottles which will gradually be increased to 120,000 bottles through additional plantings. It is anticipated that most will be sold within China.
Economic Impact of Wine
WineAmerica, reports that the national economic impact of the wine industry across 50 states will generate US$219.9 billion in 2017.
Sleep in a Wine Barrel
You can spend the night in a wine barrel in Walla Walla Washington. The 1,000 gallon barrel has been scrubbed and turned on its side; a door and window added. It serves as an extra bedroom when you rent the cottage nearby.
Esprit Nature
Henri Giraud Champagne will add the designation "pesticide free" to it labels starting in January 2018. The vineyard is not organic, but has not used pesticides for 30 years. In French it will be Esprit Nature Cuvee.
Amazon Must Choose
Analysts, speculate that Amazon may have to choose between selling wine through Whole Foods in the brick-and-mortar stores or through Amazon.com online. Amazon is expected to choose to continue selling wine through Whole Foods as that is so much more lucrative. Several states, including California, prohibit retail licensees from taking payments from wineries.
Blue Wine is Here
Eden will be the first French Blue Wine. It is a Sparkling Wine made from Chardonnay Grapes grown in Provence. At a dosage of 38g/L it is sweet enough to serve over the rocks.
Largest Beaujolais Estate Sold
Chateau de la Chaize, Beaujolais largest estate has been sold for the first time in 300 years. The property has been held by the founding family since the 1670's. It was sold to the Maia Group for an undisclosed sum. The estate is planted in Gamay grapes. 50% of the vines are more than 40 years old.
Napa Wine Fraud
Wine collector, Jeffrey Gundlach is suing a retailer for $1 million. The lawsuit accuses Napa Valley retailer, Soutirage, of false advertising, breach of contract, and operating a criminal enterprise. A similar lawsuit was also filed against Soutirage's founders, Aimee and Chadwick Meyer and Matthew and Ashley Wilson accusing them of fraud and negligent misrepresentation. Gundlach is the founder of investment firm DoubleLine Capital. He is reputedly worth an estimated $1.6 billion. He claims that he learned the wines were fakes in August 2015 when he arranged to have bottles inspected by a "world-renowned expert in wine sourcing and provenance." When the inspection was complete, he says that more than 60 bottles of prized rarities—including Latour 1928, Haut-Brion 1945, Cheval-Blanc 1947, Lafleur 1947, Lafite Rothschild 1953, Mouton-Rothschild 1959, Pétrus 1961, and others—were declared fake. He estimates his loss is more than $1 million.
Fuzzy Wine Critic
Drinky Bill is a Koala that has been stopping in at Lane Vineyard in Australia for a sip of Chardonnay. The winery staff consider him an important wine critic and are pleased that he likes the current vintage.
Tanker Theft
A 52 year old tanker driver was arrested in Carcassone, France for stealing wine from his employer. On each tanker run, he would make an unauthorized stop at his parent's home where he would siphon off wine into buckets in their basement. Then he would top off the tank with water, so the missing gallonage wouldn't be noticed. When the police arrived, they found him with a hose going into the basement. More than one hundred buckets of wine were there containing over 3,000 liters.
Wine and Lingerie Pairing
The Boisset Collection and Journelle Lingerie are having a sweepstakes contest. One winner will get round trip coach are by air, ground transportation, 3 nights hotel in Napa Valley for 2, and VIP visits and tours of 5 Boisset properties. The properties are Raymond Vineyards, St Helena; Buena Vista, Sonoma; Deloach Vineyards, Santa Rosa; JCB Tasting Salon & Atelier, Yountville; JCB Lounge, Ritz Carlton San Francisco. The prize is valued a $4,500. Enter until 11:59 PM January 5, 2018 at http://win.shopjournelle.com/hautecouture.
A product whose time has come
...and finally. A new drink holder that is designed to hold anything from Champagne flutes to coffee mugs. American start up SipCaddy has invented a cup-holder that can hold wine glasses, beer cans, bottles and cups. It has its own suction cup, making it the ideal accessory for any bathroom. The SipCaddy, which was designed using 3D printing technology, can stand up to seven pounds of pressure when applied to a smooth surface like glass, mirror, or bathroom tiles. There are few finer things in life than a relaxing shower or bath; or a good glass of wine, but the two rarely mix well. Now they have finally come together.
Beer
Taking Craft Beer Back
The Brewers Association has launched a "tongue-in-cheek" crowfunding campaign to "take craft back." They are asking for contributions to raise $213 billion to buy AB/Inbev. The association represents 5,700 small brewers. The point of the campaign is to spotlight the current controversy over craft beers. Is a craft beer still a craft beer when it is owned by AB/Inbev? The campaign immediately garnered two responses. From AB/Inbev spokesperson Gemma Hart, "We can take a joke! While the fake money for this campaign 'piles' up, we will keep focusing our donations on giving back to communities across our country". From Miller/Coors "If the Brewers Association does buy AB InBev, will it allow its beers, such as Budweiser and Bud Light, to carry its craft beer seal?"
Nun with a Chainsaw
Sister Margaret Ann has been teaching at Archbishop Coleman Carroll High School in Miami for the past 30 years. She made the news this month when she was seen cleaning up from Hurricane Irma. Now she has been honored with a beer. Due South Brewing in Miami is bottling Nun with a Chainsaw Beer.
Once A Year
In 1810 King Maximilian Joseph of Bavaria invited his subjects to celebrate the marriage of his son, Ludwig, to Therese of Saxe-Hildburghausen. 40,000 people gathered outside the city to watch horse races and drink beer. The event was such a success that it was repeated in 1811 and 1812. After a brief time it was decided to do it again in 1819 and annually thereafter. The celebration has been repeated every year since with the exception of years of war or epidemics. By 1887 the wedding anniversary and horse races became a thing of the past and the participants settled down to serious beer drinking. From then on the celebration has been known as Oktoberfest.
Crayfish Do It
The Protivin Brewery in the Czech Republic is using crayfish to monitor the purity of its water supply. The crayfish are fitted with bio-sensors and kept in a tank that has water from its source flowing into the tank. The crayfish are sensitive to changes in the water. If their body temperature, pulse, or movements suddenly change; the brewers know to check the water used for brewing.
Festival Canceled
Maylasia has canceled and banned Better Beer Festival saying that it would turn Kuala Lumpur into the "largest vice centre in Asia." "The beer festival ...is against our country's culture and we will be strict in denying entry to these events," said the country's Immigration Department Director-General, Datuk Seri Mustafar Ali, at a press conference. Travelers scheduled to attend were given a Not To Land notice at the airport and were not allowed to enter the country.
World's Best Restaurant
The Black Swan Pub in Olstead, Yorkshire, UK has been named the "World's Best Restaurant" by TripAdvisor. This modest, out of the way, establishment is run by 28 year old chef, Tommy Banks. "It's a huge honour to win this award, but what makes it really special is that it's been awarded because of feedback from our customers," Banks said. Most of the fruits and vegetables used at the pub are grown right on the property or at his parents farm nearby.
Sports Beer
The sport of Curling, where teams slide heavy stones across ice with brooms, has come of age. The Nebraska Brewing Company will be making Sliding Stones Scotch Ale in time for the Olympic Trials in November. The trials will determine which Americans compete at the 2018 Winter Olympics in South Korea. Curling originated in Scotland.
No More Bad Hair Days
Portsmouth Brewery co-owner, Joanne Francis, has been making beer for the past 26 years with her partner, Peter Egelston. 6 years ago she started a project to make a beer for women in menopause. The result is Libeeration, which contains Lemon Balm and Chamomile. Says Francis, "After consulting with women health practitioners and herbalists, our team came up with ingredients believed to relieve symptoms like sleeplessness, hot flashes, and mood swings. And, we want to shift the mentality from focusing on the negative aspects of this stage in life, to celebrating the liberating aspects! Fun, crazy, wildly different: that was our goal to reach women who truly know what it means to be hot!"
Hanukkah Beer is Here
The Schmaltz Brewing Co. will be releasing its annual Hanukkah Beers. Chanukah, Hanukkah is a golden strong ale brewed with cocoa nibs that takes additional inspiration from the holiday by using eight malts and eight hops to create an 8 percent ABV beer. "The fluffy white head releases notes of honey, chocolate, and harkens back to memories of Holiday gelt coins," the brewery explains. As for the flavor, the malts and hops "balance biscuit and toast with light peach smoothly dancing with the chocolate from the cocoa nibs and a hint of vanilla on the finish."
This year is Jewbelation 21. Even though this is meant to celebrate Shmaltz Brewing's 21st birthday, with the brand originally launching back in 1996. The brewery says this doubly special brew is "a big beautiful bouncing barelywine" at 12.1 percent ABV – that "essentially stands as a triple brown ale" featuring flavors of "bing cherry, raisins, currants, and figs" as well as "notes of pumpernickel and dark chocolate, coffee roast and cherry wood dance with pounds and pounds of hops leading with citrus and stone fruit up front melding into a grassy earthiness on the finish."
Cider
New Cider Standards
The U.S. Association of Cider Makers has set guidelines for the description of Cider. With their new lexicon the industry can speak in common terms. It is a 5 page document and can be downloaded here.
Spirits
Rare Kentucky Bourbon
Kentucky Governor, Matt Bevin, signed HB100, a new law that will free up a lot of Vintage Bourbon that is stashed in closets around the state. Kentucky has had a 3 tier system since Prohibition. As of January 1 retailers and restaurants can buy bottles from any person. There are literally thousands of bottles of rare Whiskies that residents have purchased at the distillery or were able to obtain when working there. In some cases these rare bottlings have been passed down through generations. Now bars and stores will be able to offer things that will make the state even more of a tourist attraction. The Kentucky Bourbon Trail already attracts more than a million visitors a year.
Artificial Alcohol
Professor David Nutt at Imperial College London has been experimenting with 80 compounds over the past decade to find a substitute for alcohol. He has developed a blend of 5 ingredients that he says mimic the liberating effects of alcohol but do not leave the drinker with a hangover. He calls his liquid "Alcorelle." His next step is to get UK government agencies to approve it as safe. Our prediction: While it may turn out to be safe for human consumption, it won't be cleared for sale until the government finds a way to tax it.
Amazon Pop Up Bar
Amazon is testing a pop-up bar in Tokyo's Ginza district. The bar will be open from October 20 through the 31st. It will serve Beer, Wine, Spirits that are available through its website.
WWII Whiskey
Scotch whiskey producer Gordon & MacPhail has released a 'Private Collection Glenlivet 1943 by Gordon & MacPhail' in Hong Kong, that has been matured in a first-fill Sherry hogshead since the Second World War at the Speyside Distillery. Only 40 bottles were released at a price of HK$395,000 (U.S. $50,561 each).
Record Whiskey Price
A single cask of Macallan 1987 Single Malt Scotch Whiskey sold for a record $374,839 at a Hong Kong auction. The cask contains enough to fill 228 bottles which translates to a value of $1,302 per bottle. The cask is currently stored at the distillery.
Hennessy Goes Musical
Hennessy VS is bringing together artists of different genres for a "Masters of Potential" series. The first two artists are Mancunian soul singer JP Cooper and musical poet, Kojey Radical. The two were brought together for a live recording session at Abbey Road Studios to produce "musical and cultural magic." According to Hennessy Marketing Director, Julie Nollet, "It just felt so natural, obvious almost."
World's Top 100 Bars
TimeOut has named the Top 100 Bars in the World. Three of them are right here in California.
Trick Dog, San Francisco. 3010 20th Street. Open 7 days 3PM-2AM.
ABV, San Francisco. 3174 16th Street, between Albion and Guerrero. Open Daily 2PM-2AM
Tommy's, San Francisco. Features 240 kinds of Tequila. 5929 Geary Blvd between 23rd & 24th. Open noon-11PM closed Tuesday.
New Use for Vodka
Having trouble with mold in your kitchen or bathroom? There are lots of products that say they'll do the job. Many are loaded with chemicals. But, there's an easier way. Use Vodka. Make a mixture of one cup of Vodka and 1 cup of distilled water. The mixture will clean the area, kill the mold, and absorb odors.
Drinks Were on the House
Norwegian Cruise Line was forced to cut cruises short because of Hurricane Irma. The liners could not safely return to Miami and many passengers had no way of getting earlier air and hotel reservations because of the cancellation. Norwegian did the best thing possible. The ships put out to sea and moored out of the storm's path. They allowed the passengers to stay on board with unlimited food and drinks.
LA's Vintage Bartender
LA's longest serving bartender, Ruben Rueda, is still going strong. Reuben has been mixing and pouring at Musso & Franks in Hollywood since 1967. He started there at the age of 17. His patrons included Raymond Burr, Gore Vidal, and Steve McQueen. Does he remember a customer's drinks? Sure! Vidal drank Black Label double. McQueen had Lowenbrau. What was the strangest drink he ever made? One customer ordered a Bloody Mary made with Kahlua instead of Vodka. He had four that night. Rueda says "You know, I like this place. When I came here I found a home. And we had a lot of fun. And when it got busy...my god."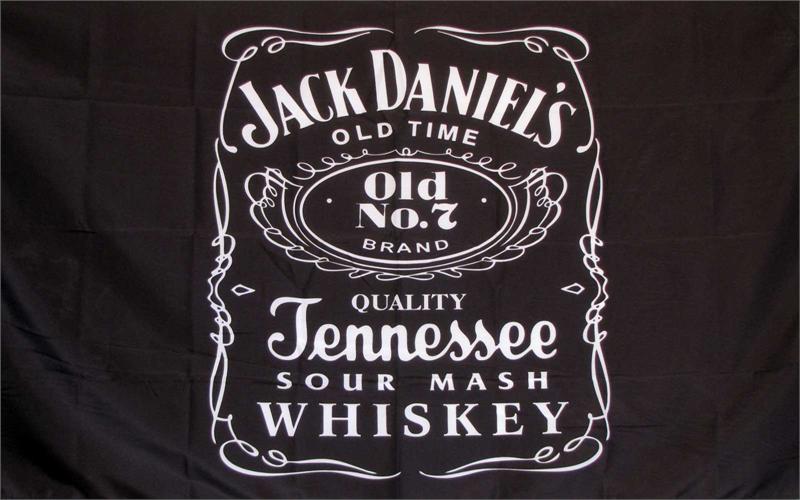 Isis Flag
...and finally. A 29 year old man in Regendorf, Switzerland was accused of being an Isis sympathizer after he put up an "Isis flag" outside his home. The offensive flag was really a Jack Daniels banner he had ordered on the internet.
You've Been Warned
...and really finally. Bryant Johnson was arrested for public intoxication in Casper, Wyoming. He insisted that he was a time traveler from 2048. He was here to warn of an alien invasion in 2018. The aliens had filled his body with alcohol and beamed him back. He said their machine had just malfunctioned and sent him to 2017 instead of 2018.
Other Foods and Beverages
Fair Food
The Fresno County Fair is over and it's time to count the numbers. Fair goers ate Cinnamon rolls made of 15,000 pounds of cream cheese, 6100 pounds of butter, and 39,000 pounds of flour; 5,000 bags of Kettle Corn; 10,000 dried bugs at the Bug-Ology booth; 1,000 Krispy Kreme and Chicken Ice Cream Sandwiches. The big number was 45,000 Corn Dogs; healthier people ate 150 Tofu Corn Dogs (well, there weren't a lot of them).
Food For Champions
Dodger Stadium Executive Chef Ryan Evans had his own mission: score a home run with some 55,000 fans by cooking up some great new meals for the post season. "We all have high hopes. It just feels right this year," said Evans. Among the new concession foods: fries topped with marinated pork and waffle fries slathered in buffalo sauce. Also returning is the Cheet-O-Lote, a twist on Mexican street corn. The spicy corn on the cob, covered in crushed Flamin' Hot Cheetos, was offered as a limited menu special during the regular season. It did so well, Evans brought it back for the National League Division Series. Fans devoured 600 over the two home games. "People will try anything if it looks good and smells good," said Evans, previously the chef de cuisine at Angel Stadium.
Huge Grocery Merger?
Rumors are swirling that Kroger and Ahold/Delhaize are in merger talks. The incentive a possible $1.7 billion in annual savings. The push: both companies are under pressure from a range of competitors including Walmart, Aldi and Lidl, and Amazon.
Meal Kits
Blue Apron burst on the national food scene earlier this year with meal kits that are delivered to consumers who are short on time, space, or cooking skills. The company jumped to prominence with 5,000 employees and an IPO. The category rocketed to $5 billion a year in sales and now seems to have stalled with over saturation. Meanwhile, Amazon, Walmart, Kroger, and Albertsons have entered the market with their own meal kits. Blue Apron has now laid off 14 recruiters and 300 employees less than a year after its IPO.
Best Hot Dogs
Food and Wine Magazine has named the best hot dogs in the country. Here in California they picked:
Pinks in Los Angeles. No surprise. Pinks has been a favorite since 1939. Although it's 78 years old, this place stays up-to-date. Current offerings include The Martha Stewart (topped with relish, onions, bacon, chopped tomatoes, sauerkraut and sour cream) and one honoring the LA Philharmonic's Gustavo Dudamel (topped with guacamole, American and Swiss cheese, jalapeño slices and tortilla chips) More info at pinkshollywood.com.
4505 Meats in San Francisco. Actually a butcher shop, 4505 has stands at farmers markets in the Bay Area. The favorite: Ham-and-Cheese dog, a bacon-studded frank that is smoked and topped with ham, cheddar-beer sauce, pickled jalapeños and chopped green onions. More info at 4505Meats.com.
Oki-Dog, in West Hollywood. The famous recipe was brought back from Okinawa after World War II. It's two dogs wrapped in a tortilla with chili and pastrami. Oki-dog.com
Dog Haus, Pasadena. A big fat hot dog with hot pastrami. Mozzarella, mustard, and pickles. Doghausdogs.com.
Restaurant Workers in Need
It's about time somebody thought about the hardworking people in our state's bars and restaurants. The Golden Rule Foundation has been helping workers in need of emergency crisis grants for the past 3 years. It could be for something like medical, food, shelter, or transportation. Even the little things can be overwhelming, Golden Rule Charity will also make joyful grants. A prom dress for that special young lady, Thanksgiving dinner for a family who would otherwise go without, a cub scout uniform so that everyone has the opportunity to get involved. Judy Walker is the founder and President. Golden Rule is based in Orange County. www.goldenrulecharity.org or
(949) 310-5839.
Record Restaurant Sales
The National Restaurant Association predicts that industry annual sales will reach $799 Billion in 2017. The industry currently employs 14.7 Million people. California is on pace to lead the nation with restaurant sales of $82 billion for this year.
California's Haunted Hotels and Restaurants
Hotel Del Coronado in San Diego has a guest that never left. Her name is Kate Morgan and she checked in one night in 1892. Her lover was supposed to meet her there, but stood her up. The next morning she was found in front of the hotel, shot to death. Her ghost is often seen in front of the hotel throwing things at guests.
Patrick's Roadhouse, Santa Monica. The Roadhouse's last owner, Bill Fischler, is said to have publicly argued with customers who complained about the food. He also berated employees who didn't do things the way he wanted. He is said to drop in on occasion just to "check how things are going." One chef quit after Fischler's ghost stood glaring at him in the kitchen.
The Queen Mary, Long Beach. More than 50 people have died aboard the ship. Their ghosts are reported to be wandering the decks. Leonard Horsborough was the chef on the ship's last voyage. He died of heart trouble and was buried at sea. Crew members report seeing him appear from time to time going about his duties in the kitchen.
Best Sushi
TimeOut has named the 50 best sushi restaurants in the U.S. Here are their picks for California's:
Urasawa, Los Angeles. Among L.A.'s many sushi bars, Urasawa is at the top of the heap. Flown in daily, the fish is prepared by chef Hiroyuki Urasawa, who trained under Masa Tamayaka from NYC's Masa, and one assistant. Meals stretch to 20-plus artfully prepared courses, ranging from snapper to toro to mackeral sashimi. Booking is imperative (there are no walk-ins) and an early-evening slot is best: if you arrive at 8pm, each course will arrive as soon as you've finished the previous bite. You'll be dropping a lot of money at Urasawa (it has been named, time and time again, one of America's most expensive restaurants) but, for a sushi fanatic, it's well worth it.
Kusakabe, San Francisco. This upscale restaurant serves omakase (chef's choice) only: $98 for seven courses or $165 for ten. The carefully calibrated progression of dishes is designed to achieve a distinctive balance of tastes, colors and cooking methods (roasting, steaming, frying, simmering and served raw). Mitsunori Kusakabe, an alum of Nobu Tokyo, New York and Miami Beach, oversees the sushi bar. After leaving Miami, Kusakabe honed his skills at Sushi Ran, the revered Sausalito sushi restaurant. He is an expert in traditional Edomae sushi techniques, as well as a certified blowfish butcher—order accordingly.
Omakase, San Francisco. This Michelin-starred fish haven is headed by chef Jackson Yu, a local restaurateur and longtime Bay Area resident who has been honing his skills in the preparation of traditional Edomae-style sushi for two decades. The restaurant offers two fixed-price tasting menus, the Hideaki omakase (two appetizers, one sashimi, ten pieces of nigiri and one owan for $150) or the Yamato omakase (two appetizers, two sashimi, one yakimono, 12 pieces of nigiri and one owan for $200). Nearly all the fish is flown from Tokyo's Tsukiji Fish Market—shipments arrive three times a week and even the Gen-emon porcelain dishware is imported. Splurge on the sake pairing, with is served in handcrafted Seikado pewter cups and pitchers.
Sushi Tsujita, Los Angeles. Hear the name Tsujita and you'll probably think of the popular ramen spot on Sawtelle. But Sushi Tsujita, another Sawtelle triumph, warrants just as much attention. Chef Kato leads the way here, offering omakase and a la carte sushi in an elegant setting. An omakase meal ranges from $140 to $180 and includes upwards of 15 courses. Pair your pieces of snapper, tuna, mackerel and more with beer, wine or sake.
Only in California
And finally... Only in California. The X'tiosu restaurant in Boyle Heights serves Mexican/Lebanese food. The menu includes chicken shawarma tacos; made with tahini, green chiles, and pickled turnips and falafel made with black beans and epazote. The restaurant reflects the multi-cultural experience of the Santiago Brothers who run it. The menu is a combination of the Mexican foods they grew up with and the Lebanese cuisine of the kitchen where they got their training; X'tiosu means "thank you" in the Zapotec language of Indians native to central Mexico.
The Changing Market
Price Shift in Retailing
Off-price retailers will remain among the top performers in the U.S. retail industry during the next 12 to 18 months according to a new report from Moody's Investors Service. The outlook is not as positive for department stores, which will continue to struggle as they seek to level the playing field with both off-price and online vendors. Moody's expects operating income in the off-price sector to grow 6.9% in 2017 and 5.4% in 2018. Department stores will see operating income decline 9.3% this year and 2.7% in 2018. Among the winners; Ross is on track to add nearly 100 new stores this year.
Walmart Tests New Service
Walmart is testing a new delivery system for groceries. The customer orders online. When the delivery person arrives they ring the bell. If no one is home they enter a one-time access code into a smart lock and carry the groceries inside. The customer's home monitors the process with a security camera. The perishables are put in the refrigerator, dry goods on the counter. The delivery person leaves and locks up. The system is being tested in a few homes in Silicon Valley.
Amazon Tests New Service
Amazon is testing its own delivery system. The program is dubbed "Seller Flex" and bypasses UPS and Fedex. Packages are picked up at 3rd party seller's warehouses, sorted, and delivered to the customer. The system will reduce congestion in Amazon's warehouses, reduce costs, and give Amazon total control of the package from end to end. Seller Flex has already been in use in California for several months.
Changes at Whole Foods
Whole Foods reported a 17% increase in foot traffic the first week after being taken over by Amazon. Amazon had announced a price cut on a limited number of high volume items. Thanos reports that exit polls at Whole Foods stores indicated the customers came mostly from Walmart, but also were regular shoppers at Kroger, Costco, Trader Joe's, Sprouts, and Target. The bad news: although foot traffic was up 17%, sales were only up 7%. Indications are that the customer counts are returning to normal after the initial surge. That could mean that the customers were just trying out Whole Foods, buying the items with reduced prices, and returning to their normal shopping patterns. At this point it's too early to tell what the outcome will be and what measures Amazon will take to increase sales over time.
Grocery Stores of the Future
Although we can't predict what the food industry will look like in the future, stock market investors are doing their own predicting. Traditional supermarket and wholesaler stocks were down 15% or more since January 1. Kroger is leading the collapse at -40%. Meanwhile Walmart (#1 food retailer) is up 13% and the long range outlook for Amazon is completely positive. The stock market as a whole is up 12%-13% in the same 9 months.
California Demographics
At least 220 languages are spoken in California, and 44% of residents speak a language other than English at home.
Recipes
New Drinks
Bartenders have reached new heights in creating drinks. We list a few here without comment.
Eat the Acorns - 60 ml Ketel One infused with Jabugo Ham, 
2 bar spoons apricot and Earl Grey chutney, 10 ml dry white port, 
2 drops of green lemon bitters.
Asparagus Negroni - Gin
 and Asparagus Vodka, Campari
 and Sweet Italian Vermouth served on the rocks with an orange wedge and a baby asparagus spear.
Popcorn Espresso - 150ml cold brew coffee, 35ml vodka
 and 15ml popcorn syrup.
PB&J - 35ml Tito's Handmade Vodka
, 
15ml lemon juice
, 25ml peanut butter & honey syrup, 25ml apple juice and a dash of chocolate bitters, topped up with cloudy lemonade and garnished with a strawberry twizzler.
Patron Echo - Patrón Silver, two drops of green Tabasco cooled by a homemade cordial made from cucumber, zucchini and chives.
Hot Mulled Cider
Ingredients
1 gallon apple cider

3/4 cup dry white wine

1/4 cup honey

2 quince—peeled, cored and finely chopped

One 4-inch rosemary sprig

Two 3- to 4-inch cinnamon sticks, broken

4 cloves

1 star anise

1/2 teaspoon grated lemon zest
Combine the cider, wine, honey, quince, rosemary, cinnamon, cloves, star anise and lemon zest in a large saucepan and simmer over low heat for 45 minutes. Strain the mulled cider and discard the solids. Serve the mulled cider warm.
Health
Pairing Wine with DNA
Vinome will profile a consumer's wine preferences by using his DNA and tell him what kind of wine to buy. The company partners with the internet based platform, Helix, that sequences the customer's genome from a sample of saliva. For $80 the customer learns about his sleep patterns, ancestry, health and nutrition, and what wine he will like.
Tasting Notes
Each month we are out there looking for wines that "over deliver"; wines that offer more than others in their category and price level. We search out the wines that you can buy to help build your business; wines that make customers happy and keep them coming back. These are wines we rate as good buys and best buys. Check our notes. The opinions in the reviews are our own and unsolicited. We receive no compensation from wineries or brokers. This month there were several wine tastings that showed some very nice wines available at reasonable prices. The prices shown are approximate retails.
The Wine Warehouse Fall Tasting showed an overwhelming offering of fine wines and spirits. We just don't have enough space to list them all! Here are a few of the best. Contact your Wine Warehouse representative.
Jacquart continues to produce elegant Champagnes are affordable. Brut Mosaique NV
dry, fresh, light yeast, fine bubbles, $45. Brut Rose' NV dry, elegant, light yeast, light pink color, $55. Blanc de Blanc 2006 dry, good warm yeast tones, fine bubbles, elegant, $65. Brut Cuvee Alpha 2006, dry, minerality and character, from the northern area of Champagne, $149.
Pedroncelli Winery. We rate these as best buys. Friends Red Blend (Merlot, Zinfandel, Petite Sirah, Syrah) Good nose, rich ruby color, balanced, good food wine, $12.99. Friends White Blend (Gewurtztraminer, Sauvignon Blanc) semi-dry, good nose, clean, clear, good food wine, $12.99. Sauvignon Blanc Dry Creek 2016, semi-dry, clean, clear, fruity, good nose, $15.99. Merlot Dry Creek 2015, 100 year old vines, full body, deep ruby, good nose, $14.99. Zinfandel Mother Clone Dry Creek 2015, vines from 65 to 108 years old, 10% Petite Sirah, dark ruby, good nose, full body, $18.99.
WX Winery Exchange. These are good solid every day table wines. Our Daily Red vegan, organic, non-detectable sulphites, a blend of Cabernet Sauvignon and Carignane, $8.99. Our Daily Zinfandel 2015, slightly tannic, good nose, ruby, $9.99. Our Daily Chardonnay 2015, central valley, good nose, clean, clear $9.99.
Industry Calendar
10/1 Wines of the Andes - SFO
10/2 WineWise – LA
10/2 Farm Wine Imports – LA
10/3 Chambers Italian - Oakland
10/4 Wines of South Africa – Marina del Rey
10/4 Chambers Italian – Santa Rosa
10/10 Wine & Spirits Top 100 - SFO
10/11 Chambers Sparkling – SFO
10/16 Girasole – Los Gatos
10/17 North Berkeley – St Helena
10/22 Skurnik Champagne - Napa
10/23 Mosaic – Palm Desert
10/23 Skurnik Champagne - SFO
10/23 Girasole – SFO
10/24 Skurnik Champagne - LA
10/30 New Zealand in a Glass – LA
10/31 San Francisco Gold - LA
11/9 Bordeaux Wine Council – SFO
11/10 Chambers Iberian – SFO
11/13 Austrian – SFO
11/13 Chambers Iberian - LA
Promotional Calendar
October
October National Applejack Month
October 4 National Vodka Day
October 9 National Pizza and Beer Day
October 14-15 National Kegger Weekend
October 15 National Red Wine Day
October 16 National Liqueur Day
October 19 National Gin & Tonic Day
October 21 National Mexcal Day
October 27 American Beer Day
October 31 Halloween
November
November 7 National Gin Day
November 8 National Harvey Wallbanger Day
National Shot Day
November 12 National Happy Hour Day
November 18 National Apple Cider Day
November 23 Thanksgiving Day
November 24 Black Friday
November 27 Cider Monday
December
December National Egg Nog Month
2nd Week Lager Beer Week
December 2 (1st Saturday in December) Bartender Appreciation Day
National Rhubarb Vodka Day
December 5 Repeal of Prohibition Day
December 10 National Lager Day
December 14 National Screwdriver Day
December 20 National Sangria Day
December 24 National Egg Nog Day
Christmas Eve
December 25 Christmas Day
December 31 National Champagne Day
New Year's Eve
January 1 National Bloody Mary Day
New Year's Day
New Legislation for 2018
Our industry has more laws controlling it than most industries. The State
Legislature and the ABC give us license privileges and can take them away. New alcoholic beverage laws were passed that will be effective in 2018. Many critical issues are pending. Do you know about them and are you prepared for the changes. Is your business safe? Members are encouraged to look through the Legislative Bulletin. If there is a new law that is a problem for your business, call the association office now. The CBRA is your voice in Sacramento. If you are not a member, join today. The CBRA is your only voice when it comes to new beverage laws.
Brands and Comments
The CBRA Newsletter has not accepted any payment from any of the brands mentioned
in this edition. The editor, Ron Ziff, welcomes comments at ron@cbraliquor.org
CBRA Membership Remains Open
Now, more than ever, access to your industry is important. The CBRA is California's
only statewide association of licensed retailers, and our membership continues to be
open for the first time in 20 years.
At CBRA we deal with licenses and regulations that affect the beverage business on a
daily basis. That's why CBRA offers practical solutions, unique products, services,
information, and timely advice for both large and small beverage businesses. With
reasonable fees, superior service, and associates that are easy to reach, CBRA helps you
to run your business better and easier. One of the most valuable services we offer is that
call to the ABC to ask your question. We can ask that question and keep you anonymous. That's something you just can't do yourself.
Join or renew your valuable membership today. You can't afford to delay.
California Beverage Retailers Association – California's Only Statewide Association of Licensees. We're #1!
If you would like to be removed from this email list, please email to
ron@cbraliquor.org with UNSUBSCRIBE in the subject line.