posted by
cbra
on
Mon, 11/28/2016 - 11:29
California Beverage Retailers Association
Beverage Bulletin
P.O. Box 56686
Sherman Oaks, CA 91413
(818) 693-5561
Ron Ziff, Editor
Ben Ziff, Publisher
October 2016
In this month's issue:
Headline News Stories - Presidential Wine, Cuban Rum Restrictions Relaxed, Big Beer is Taking Over the World, Retailers Want to Sell Nationwide, Drought Update
Celebrities in the Industry - Arnold Palmer, Angelina Jolie, Brad Pitt, Deftones, Mathew McConaughey, Motorhead, Roger Daltrey, Andrea Pirlo, Bill Murray
Popular Culture - $81,000 for What?, Not my Color!
Books - Champagne Conspiracy, Eggnog Murder, Beer Bites, The Year of Drinking Adventurously, The World of Wine and Food, Movies, Beerituality
Politics - Looking Presidential, A Beer Wall, It's Hu-u-uge! Getting Back to Basics
Wine - Calendar Time, Royal Visit, Amerine Collection, Sonoma School Wine, A Bad Year for Burgundy, Global Warming in Bordeaux, Bollinger 1914, Problem in Lebanese Vineyard, Siberian Wine, World's Oldest Winery, UC Davis to Sell Wine
Chinese Space Wine, Red Wine for Health
Beer - Jane Austen's Beer, Beer Button, Two New Records, Teenager Rescues Dad with Beer, Beer Yeasts Dated to 1600's, When Beer Doesn't Taste Like Beer, Suds and Psalms, Beer Better than Milk
Spirits - World's Best Bartender, Best Whiskey, Constellation Buys High West, Distillery Robbed, 200 Year Old Pub Found, Shipwrecked Whisky Bottles, Ginvent Calendar, Which is It?
Other Foods and Beverages -Restaurant Prices in SFO, Best Diners, In-N-Out in London, Restaurant Sales Slowing, Four Major Trends, Vote with Java - New Menu Items, Enough is Enough!
The Changing Market - What is the Most Expensive Retail Street in the World? Store Closings, Carnegie Deli Closes, A Bit of History, Amazon Grocery Stores, Walmart Grocery Stores, Kroger Bidding for Whole Foods?
Health - Soda Tax, New Blood Alcohol Test
...and as always Tasting Notes and the Industry Calendar
Vermouth is like cheap perfume. A little goes a long way.
- Ellen DeGeneres
Headline News Stories
Cuban Rum Restrictions Relaxed
The Obama Administration has announced changes in U.S./Cuba relations that will allow more Cuban Rum and Cigars to be brought into the country. Restrictions still hamper unlimited travel to Cuba. The relaxation of rules allows the travelers that do make their way to the island to bring back Cuban products in their suitcases. Trade restrictions still prohibit importers from shipping most products to the U.S. This further complicates Bacardi's dispute with the U.S. Patent Office over the rights to the Havana Club brand.
Presidential Wine
President and Mrs. Obama hosted their final State Dinner in the White House on October 18. The evening honored guest Italian Prime Minister Matteo Renzi and his wife. Almost 400 celebrities joined them. The dinner was prepared by Chef Mario Vitali, White House Executive Chef Cris Comerford, and Pastry Chef Susan Morrison. It was served under a tent on the White House lawn. Guests entered through an arbor in the First Lady's vegetable garden. Food included a variety of dishes that featured vegetables and herbs grown in the garden. The menu was chosen by the First Lady and previewed in a private tasting at Chef Vitali's Manhattan restaurant, Babbo. The wines served were from California; Palmina Vermentino "Santa Ynez" 2015, Villa Ragazzi Sangiovese 'Napa" 2012, Ridge Vineyards Zinfandel "East Bench" 2014.
Big Beer is Taking Over the World
Well, not exactly. But the deal to take over #2 SAB/Miller has been completed. It cost AB/Inbev more than $110 billion. It was the biggest beer deal of all time. AB/Inbev's market share is 28% worldwide and 45% in the U.S.
Retailers Want to Sell Nationwide
Retailers are looking to get the same ability to ship interstate that wineries enjoy now. Some states allow this now, others don't. Wineries got the right through the 2005 Supreme Court decision in Granholm v. Heald. A lawsuit, Lebamoff Enterprises et al v. Rauner et al was filed in Illinois on September 1. A similar suit is in preparation in Missouri.
Drought Update
The Sacramento Bee reports that 2,500 new wells were drilled in the San Joaquin Valley in 2015. That's 5 times the average. 904 were in Tulare County alone. More than 5,000 were dug at a cost of up to $300,000 each from 2012 to 2015. Some of the drilling is a race to the bottom. Farmers with shallower wells have to dig deeper so others don't leave them high and dry. This year $300 million will be spent on pumping.
Celebrities in the Industry
The industry and the country mourn the passing of Arnold Palmer. One of the greatest golfers of all time; he also was in the wine and the beverage business. He invested in Luna Wines in Napa Valley and produced a Chardonnay ($18) and a Cabernet Sauvignon ($15) that bear his name. His biggest success in beverages came from a drink he made up to cool off after a round of golf. He and his wife mixed iced tea and lemonade at home. Liking the mix, he took a thermos of it when he golfed. On the road, he ordered it. The drink gained wider appeal when a woman heard him ordering it at a Palm Springs restaurant. She said "I'll have what he ordered." From that moment it was called an Arnold Palmer. In 2002 he sold the recipe and right to use his name to Arizona Ice Tea for $100 million. Annual sales of the drink have exceeded that number since 2010.
Angelina Jolie has filed for divorce from Brad Pitt. This will be Pitt's second and Jolie's third divorce. The question is: Who gets the winery? Ch. Miraval in Provence is one of the region's top rated wines. The couple first rented the property, then purchased it in 2012 for $60 million. It produces a rose', two whites, and a red. 90 acres are planted. The main house has 35 rooms. They were married there in 2014. The Rose' is a blend of Grenache, Syrah, Cinsault, and Rolle. It sells for $15 to $18.
The metal band, Deftones, is releasing an IPA brewed by Belching Beaver Brewery in San Diego. The beer is named Phantom Bride after a track on their latest album. It is made with a blend of four different hops concocted by frontman Chino Moreno.
Two years ago Wild Turkey offered Mathew McConaughey a spot in two commercials. He counter-offered to become the creative director for the brand. Since then he has filmed a documentary about visiting the distillery and two commercials. You can watch them at Wild Turkey 1 & Wild Turkey 2. He has two more commercials on the drawing board.
The remaining members of the heavy metal rock group, Motorhead, have teamed with Camerons Brewery to make two beers to commemorate the band members that have passed away. The beers are named for hit tunes: The Road Crew and Ace of Spades.
Roger Daltrey frontman for rock band, The Who, is releasing a special Champagne to commemorate the band's 50th anniversary. Cuvee Roger Daltrey is produced by Champagne Charles Orban. The Champagne will sell for about $140. A matching pewter ice bucket will cost $1,000. Proceeds will go to Teen Cancer America.
Andrea Pirlo, Italian Soccer star, who also played in the UK and now the U.S. owns Pratum Coller vineyard (Meadow Hill in Latin) in Brescia, Italy. The vineyard produces 20,000 bottles a year of 2 reds, a rose', and a white. (also see Popular Culture below)
Bill Murray's son has a new restaurant, 21 Greenpoint, in New York. Bill decided to help start things off right. He did a shift as bartender. He served straight shots and mixed drinks as reporters snapped pictures and ordered rounds just to see him at work. Murray clowned and danced to Rolling Stones music as he poured Tequila and Vodka.
Popular Culture
$81,000 for What?
You've got to be kidding! Justin Beiber was spotted eating at a London pub before a show. He drank a glass of milk. That's no news. What's news is his used milk glass (not washed) is being offered on eBay for $81,000. If you're looking for a bargain; his used water glass (also not washed) is offered for only $125.
Not my Color!
Nike is selling Andrea Pirlo Soccer Shoes. Pirlo is known for soccer and his Andrea Pirlo Wines. The shoes come in one color; Merlot.
Books
Champagne Conspiracy: a Wine Country Mystery, by Ellen Crosby, Minotaur, 368 pages, $25.99. The 7th book in the series. Winemaker Lucie Montgomery connects the death of a wealthy philanthropist with the mysterious death of another winemaker's grandmother during Prohibition. The story is as fine as Lucie's wine and will intrigue the reader to the last drop. Released in November.
Eggnog Murder, an anthology with stories by Leslie Meier, Lee Hollis, and Barbara Ross, Kensington, 320 pages, $25. The three tales all take place in Maine during the holiday season. Each features an eggnog that is poisonous in its own way. Eggnog Murder, Death by Eggnog, and Nogged Out will each keep you so involved in the Maine food and wine scene that you won't see the murder coming until it's too late. Released in November just in time for the holiday season, but then, you may never drink an eggnog again.
Beer Bites by Christian DeBenedetti and Andrea Stonecker, Chronicle Books, 168 pages, $24.95. 68 recipes from around the world that range from snacks to main dishes. Beer pairings to go with the dishes range from the mass produced to the esoteric. A guide of the finer points of matching beer and food in this best of all times for beer drinkers.
The Year of Drinking Adventurously by Jeff Cioletti, Turner Publishing, 352 pages, $19.95. A long-time beverage editor, writer, and expert guides readers through fifty-two weeks of drinking and discovery to ultimately demystify the liquor aisle. As editor at large of Beverage World magazine, creator of the website, The Drinkable Globe, and host of the web series, The Drinkable Week, Jeff Cioletti has been responsibly imbibing his way around the world. Jeff's tenure in liquid literacy has exposed him to some of the best libations the world has to offer and given him access to the producers and purveyors of such fine refreshments. He combines his love of drink with a passion for travel and one usually involves the other. When he's not writing about or traveling for beverages, he's making films about them. Jeff is also a frequent speaker on drinks-related topics at industry and public events and has offered his insights in print, on TV and on the radio.
The World of Wine and Food by Don Philpott, Rowman & Littlefield Publishers, 484 pages, $100. This comprehensive review of wine and food offers the information needed so that people will feel empowered and ready to experiment with their wine selections and then be able to pair them with the right foods for a memorable taste experience. Every major wine producing country in the world is covered, the wine producing regions within those countries, grapes used, and the styles of wines made. Every major cuisine of the world is covered including many of the most popular dishes. The reader is then shown how to marry the right wine with the right food. Easy and accessible, this reference belongs on the shelves of any true oenophile as well as the novice wine lover.
Movies
Beerituality a comedy set in the world of craft beer, by writer/producer/director Jeff Cioletti. In the town of Brewster, few places are as popular as the Abbey Normal Beer Bar--at least until the country's most infamous anti-alcohol zealots, Reverend Jimmy Patrick arrives. The prohibitionist preacher maneuvers his way into the mayor's chair and wastes no time in launching a referendum to ban all alcohol. The charismatic holy roller manages to eke out narrow passage of the referendum, thus putting Abbey Normal out of business. However, the pub's owners find a loophole in the local ordinance--a special allowance for alcohol served during religious services--and cleverly transform the bar into St. Abbey the Normal, The Church of Beer. (It's not so far fetched. See Suds and Psalms below)
Politics
Looking Presidential
Blue Point Brewery in Patchogue, Long Island released a beer the day of the first Presidential Debate at nearby Hofstra University. The beer is made according to George Washington's own recipe. Brewmaster, Dan Jansen, found the 260 year old recipe in a 1757 military journal of Washington's at the New York Public Library. The brew is made from corn, oats, wheat, and white molasses. The beer made from this pre-Revolution recipe is called Colonial Ale.
A Beer Wall
As the election nears we're still getting beverage related politics! Tecate joined the fray this month with its own version of the wall at the border with Mexico. This ad pokes fun at Donald Trump and aims at selling beer to millenials. See it at https://www.youtube.com/watch?v=g0Mi9Ofx6Ls
It's Hu-u-uge!
Donald Trump, Rudy Giulani and several others dropped in at the Versailles Restaurant in Miami's Little Havana. Trump ordered a cup of Cuban coffee, ham croquettes, and guava pastry. Trump has bragged that he never drinks coffee. Is this the long awaited pivot? All told, the crew's bill came to $17. Trump plunked down a $100 bill and said "keep the change." That's an $83 tip. That's hu-u-uge! This must be a change in strategy!
Getting Back to Basics
Ellen DeGeneres wanted to help Michelle Obama reintegrate into normal life. So she took the First Lady on a shopping trip at a Southern California CVS. Amazed at boxed wine, a confused Obama asked "Wine in a box — how does this work? How do you get it out of here?" She was astounded that the wine lasts for six weeks after the box is opened. Later they had paper cups of wine from the box.
Wine
Amerine Collection
Maynard Amerine (1911–1998) "was a pioneering researcher in the cultivation, fermentation, and sensory evaluation of wine. His academic work at the University of California at Davis is recognized internationally. His 16 books and some 400 articles contributed significantly to the development of the modern (post-Prohibition) wine industry in California; to the improvement of wine cultures in Europe, South America, and Australia; and to the professional standards for judging and tasting wine." (from Wikipedia). One of the things Amerine did was collect wine labels. He left a legacy of over 5,200 labels dating back to the 19th Century. Now UC Davis is asking the public to help catalog and index this vast collection. Want to help? Log into the LabelThis website.
Sonoma School Wine
Eighth grade middle school students at Adele Harrison school in Sonoma harvested grapes in the school vineyard. The vineyard was planted with Zinfandel grapes in 2011 and is expected to yield about 1/2 ton. Becky Larson of Larson Family Winery supervised the harvest. She will return later in the school year to teach the students how to prune and tie the vines. Science teacher, Shirley Austin Pekke, teaches a year long class that includes growing wine grapes. About 30 cases of wine will be made at Larson's winery from the grapes. Proceeds will fund school garden projects. The students will have to wait 9 years until they are old enough to sample their own work.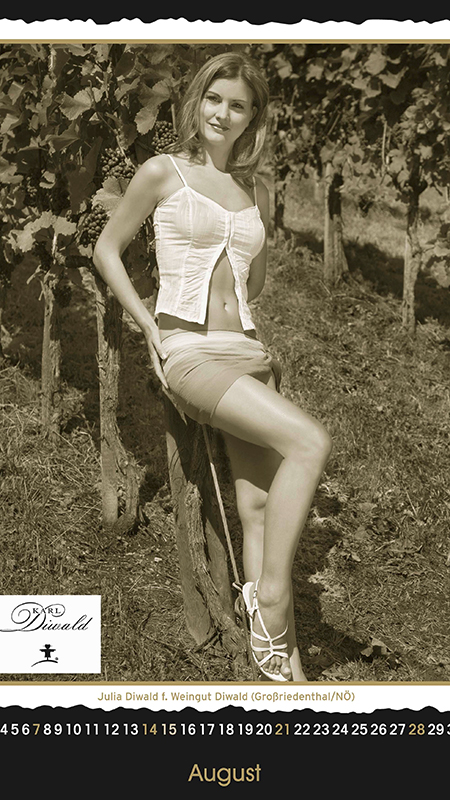 Calendar Time
It's that time of year again. Vineyards across Austria are harvesting Gruner Veltliner grapes and the 2017 Jungwinzerinnen Kalender (Young Female Winemakers Calendar) has been released. Each month features a winery worker or family member in a revealing lingerie pose. Pictured above is Miss August, Julia Diwald of Weingut Diwald. You can order your own calendar for only $30 at Kreativ Consulting.
A Bad Year for Burgundy
Vineyard owners throughout Burgundy have had a bad year. They had rains during bloom, scorching heat waves in the summer, hailstorms before harvest. Some are down to 20% of a normal crop. Now they face a new threat. Grape thieves; both pro and amateur. The professional thieves have been hitting the vineyards and stripping the vines during the night. The amateurs are tourists that visit the vineyards and eat their fill. The owners are chasing hundreds of tourists out of the fields daily.
Global Warming in Bordeaux
Global warming continues to be a threat to grape growing in Bordeaux. But, for now it has worked to the advantage of French Vintners. The hotter summers have made grapes ripen earlier and moved the harvest from October to September. The earlier picking gets the grapes off the vines before autumn rains and hailstorms. The riper grapes have a higher sugar content so there are no bad years. That's for now. Looking ahead, there is less rain and groundwater is depleting. The future doesn't look bright.
Bollinger 1914
The staff at Bollinger recently discovered a secret room in the cellars that had been sealed since the start of World War II. 600 bottles dating from 1830 to 1939 were hidden there to keep them from the Nazis. A bottle of Vintage 1914 will be auctioned by Sotheby's in New York on November 19. It is expected to bring in at least $10,000.
Problem in Lebanese Vineyard
Lebanon's Chateau Musar had to put a $45,000 fence around the vineyard because local women were stripping the leaves off the vines to make stuffed grape leaves.
Siberian Wine
Russian, Vladimir Vagner, has partnered with French winemakers to plant 12,000 grape vines in the world's coldest inhabited place; Siberia. Although the winters are extremely cold, the summers are short and hot. 20 varieties that are cold resistant were tested. Finally, they were narrowed down to 6 types including Pinot Noir and Muscat. Eventually, Altai Winery is expected to produce thousands of cases of wine for domestic Russian consumption.
World's Oldest Winery
In Areni, Armenia National Geographic and UCLA are studying a cave. This cave is a very special place. It houses the oldest winery ever found; 6,100 years old. In the cave are a grape press, fermenting vats, and clay jugs. How old is this stuff? Wine was made here before the wheel was invented, before language was written, and 1,000 years before the first Egyptian tombs. The grapes were probably wild. What made it work was that grapes and the yeast on their skins ferment to make wine. It happens every time. What was important was that drinking wine was an intoxicating experience. It became a part of celebrations and religion.
UC Davis to Sell Wine
Governor Jerry Brown signed a bill authored by Senator Lois Wolk (D-Davis) that will allow UC Davis to sell wine made by students. The Department of Alcoholic Beverage Control will issue a special non-profit license to the University. Proceeds from the sale of wine will go to the Department of Viticulture and Enology. Previously wine made by students was dumped.
Royal Visit
Their Royal High Highnesses, the Duke and Duchess of Cambridge, visited the Taste of British Columbia festival. During the event they tasted locally produced wines.
Chinese Space Wine
China has sent grape vines into space. The idea is to see if mutations somehow occur in space and create something new and great that will grow in China. Tiangong-2 carried Cabernet Sauvignon, Merlot, and Pinot Noir grapes.
Red Wine for Health
...and finally. Canadian Jack Ballantyne proved again that red wine is good for your health. The nature lover had hiked to a comfortable spot to enjoy a meal with a bottle of red wine and a view. Suddenly, a bear came out of the brush, hit him, and sent him flying. As the bear moved in to attack, Jack fought it off with the only weapon available; his wine bottle. A hit square on the bear's nose sent it running.
Beer
Jane Austen's Beer
In a letter that was recently found, Jane Austen wrote to her sister, Cassandra, that she was busy brewing beer. In Austen's time it was common to drink beer because it was safer than water. It was the woman's job to do the brewing.
Beer Button
Molson Coors has developed a system that allows customers to order beer by clicking a button. The system is being tested with Carlings. The button attaches to the customer's refrigerator with a magnet. When programmed, the customer just presses the button. The button communicates with a choice of retail stores via the internet and automatically adds beer to the customer's next online grocery order and gets it ready for pickup.
Two New Records
The Bristol Motor Speedway was the scene of the Tennessee-Virginia Tech football game that set an NCAA record for attendance at 156,990. There is no final word on beer consumption at the game. But, here are the figures. You judge for yourself how much brew was actually downed. The organizers stocked up with 545,000 tall boy cans of Budweiser and Bud Light. That's a record too. It was estimated that about 100,000 were too young to legally buy beer. That left about 57,000 attendees to deal with more than a half million double size cans. Burp! By the way, the final score was Tennessee 45 Virginia Tech 24.
Teenager Rescues Dad with Beer
When a home invader broke into the house in Salem, Oregon, the homeowner tackled him but was having trouble subduing the man. 14 year old Jesus Vega came to his father's aid and hit the burglar over the head with a 24 pack of Bud. That seemed to do the trick and he waited quietly until the police came to arrest him.
Beer Yeasts Dated to 1600's
Researchers at Ghent University in Belgium have found that yeasts used in alcoholic fermentation, brewing in particular, were domesticated by the 17th century. They analyzed the genomes and fermentation characteristics of 157 industrial yeasts used today in wine, beer, and bread making. Their report says "Our analyses reveal that today's industrial yeasts can be divided into five sublineages that are genetically and phenotypically separated from wild strains and originate from only a few ancestors through complex patterns of domestication and local divergence."
When Beer Doesn't Taste Like Beer
New Belgium Brewery and Red Robin Restaurants have linked up to produce Red Robin Grilled Pineapple Golden Ale. The beer isn't made to go with the restaurant's hamburgers; it is made to taste like hamburgers.
Grumpy Doughnuts in Sydney, Australia has teamed with Wayward Brewery to make two doughnut flavored beers. The beers are chocolate cookie crumble doughnut beer and pink lemonade-glazed doughnut beer.
Suds and Psalms
Father Tom Plant of St. Michael's Church in Camden, England has applied for an alcohol license. He is converting the site into a live music venue featuring a bar, a stage and a lighting and sound system. He plans on hosting gigs at the church four nights a week. "It's not a place to come and get drunk, but we're not a church that shies away from alcohol. Jesus turned water into wine for a reason...St Michael's is a glorious place but it is faded glory,"
Not one to be outdone, Father Rob Wickham, the Bishop of nearby Edmonton , England is setting up a craft brewery in its crypt to help fund youth work. He helped sample some of the first brews as the plan was given approval from leading church. Bottles of beer will now go on sale at St Mary's in Primrose Hill, as the church looks to raise £50,000 to cover the costs of two full-time youth workers, while some of the ale will be sold in shops and pubs.
Beer Better than Milk
...and finally. PETA is running a campaign that claims beer is healthier than milk. The group refers to a study conducted by Harvard School of Public Health, which says that beer can strengthen bones and extend life, whereas milk is linked with obesity, diabetes and cancer. "The verdict is in, and even beer beats milk hands down," says PETA Executive Vice President Tracy Reiman. "Alcohol in moderation can be good for you, but there's no way to consume dairy foods responsibly when they harm our health and cause billions of cows to suffer. Beer on the other hand, can prevent bones from going brittle as well as lowering the risk of heart attack, strokes caused by clotting, and death from a number of cardiovascular causes. In addition, moderate drinking may help prevent gallstones and type 2 diabetes."
Spirits
World's Best Bartender
\Jennifer Le Nechet was named the World's Best Bartender at Diageo's 8th annual competition. 10,000 bartenders entered the contest. Finalists from 56 countries were flown to Miami for the four day event. Ms Le Nechet is the bartender at Paris' Cafe' Moderne and the first woman to win the coveted title. She said "I'm completely blown away – it's such an honor to take home the title of World's Best Bartender – especially when competing against such talent from around the world. This week has inspired me to continue pushing the boundaries of flavors and to explore how all the senses can be engaged through cocktails. I can't wait for the experience ahead!"
Best Whiskey
Booker's Rye by Jim Beam won the title of World's Top Whiskey for 2016 from Jim Murray's Whiskey Bible. A panel of judges tasted 1,240 whiskies to come to this decision. Booker's Rye is aged 13 years and retails at $300 a 750ml.
Constellation Buys High West
Constellation Brands has purchased High West Distillery. The sale includes all of High West's operations and brand portfolio. The company sells 70,000 cases a year of specialty Bourbon, Rye, and other Whiskies.
Distillery Robbed
The gift shop at Tullibardine Distillery in Perth, Scotland was targeted by thieves. Five high end bottles were stolen. The most expensive was a bottle of single malt worth ₤12,000. The police are following up on leads. The distillery is well known as a spot where King James IV stopped by in 1488 to wet his whistle. Duly impressed, he later granted it a royal charter.
200 Year Old Pub Found
A construction crew in Manchester, England was excavating for a new building when they discovered the remains of the Astley Arms Pub buried on the site. Among the discoveries were mugs and dishes monogrammed in 1821 with owner, Thomas Evans, name on them and more than 200 bottles of brandy still full and ready to pour.
Shipwrecked Whisky Bottles
Not so lucky, was the SS Wallachia. The ship left Glasgow and was bound for the West Indies in 1895. Before getting past the Scottish Isles, it was rammed by a Norwegian freighter. It lay in 100 feet of water until 1980. Divers pulled up 7 bottles of whiskey and a stone flagon of stout. Sadly, it is all undrinkable. The bottles will be auctioned this November. The estimate is ₤400 for the whiskey and ₤40 for the flagon of stout.
Ginvent Calendar
The Gin Foundry, in England, has released a "Ginvent Calendar". The gift item is similar to Advent Calendars given to children to celebrate the approach of Christmas. Those have a sweet chocolate for each day as the calendar progresses. The Ginvent Calendar is for adults and has 24 30cl bottles of a variety of Gins. The final bottle is a special Christmas Gin. The whole package sells for ₤125.
Which is It?
and finally...Grace Jones, of Worcestershire, England, just celebrated her 110th birthday. She attributes her long life to a shot of Famous Grouse Scotch every night. She started the practice on her 50th birthday and has had a shot every day since. Mable Jackson in Suffolk disagrees. She is 100 years old and drinks 6 gin & tonics a day. "I have two at lunchtime, one at tea time with a biscuit and then three more during the evening while I do my knitting, I swear the gin keeps me young!" Mable uses a bottle a week. She calculates that she has consumed 4,264 bottles since she started.
Other Foods and Beverages
Restaurant Prices in SFO
San Francisco is noted for its unique and sometimes expensive food. This year's SF Chronicle survey found the rarest and priciest choices. A dinner in the city by the bay could include a Fog Point Martini, infused with SF fog ($43); a Hyogo Kobe Japan Wagyu Beef Steak at Alexander's Steakhouse ($165); a Rossini Burger at Macy's Union Square Burger Bar ($50); a tasting menu of 15 items at Saison ($398); a pizza at Tony's Pizzaria in North Beach ($100); finish with a cup of Port of Mokha Coffee at Blue Bottle ($16) with a free cookie on the side.
Best Diners
Food and Wine Magazine listed America's Best Diners. 5 of the 22 are right here in California. Who made the list? Fremont Diner in Sonoma, Harry's Coffee Shop in La Jolla, Hopscotch in Oakland, Nickel Diner in LA, Plow in SFO.
In-N-Out in London
In-N-Out Burger hosted a 4 hour pop up restaurant in London. How popular was it? 300 were waiting in line when it opened. The line quickly grew to over a mile long.
Restaurant Sales Slowing
There is a sales slowdown in the restaurant industry. The experts say it's caused by distractions from economic uncertainty, poor weather in parts of the country, a contentious presidential election, and even civil unrest, domestic terrorism, or the past summer Olympics. Analyst, Andrew Strelzik, says it's caused by the deflation in commodity grocery prices. Consumers now find the marginal price of food far cheaper than eating out. The effect is large enough to be felt by restaurateurs. It could become a major problem if the trend continues.
Four Major Trends
There are a number of trends going on in food and beverage sales and consumption, but only four underlying themes. Here are the sea changes: 1) Reading package labels. 54% of Millenials read package labels. 68% of Baby Boomers are reading the labels. The are looking for healthier choices. 2) Quality. Eating out has to be quality. The diners are looking for foods that are "fresh", "real", and "simple". This is the reason "fast casual restaurants" have grown at the expense of "fast food." In simple terms; Alice Waters was right. 3) 89% of Americans are eating organic or natural products at least some of the time. 4) 90% of consumers are snacking throughout the day. Eating a number of small meals instead of 3 big ones has shifted from an occasional experience to a way of life.
Vote with Java
7-11 is offering an extra large cup of coffee for $1.89 until election day. Customers can get their coffee in a Republican red cup, a Democrat blue cup, or a Speak Up purple cup. The sales/election results can be seen online in real time at www.7election.com/results/
New Menu Items
New flavors are showing up on restaurant menus and plates. They include fresh vegetables, herbs, and greens: celery, fennel, mint, radish, specialty peppers, specialty greens, and fresh fruits of all types are finding their way into bar cocktails.
Enough is Enough!
Paul Stenson, owner of the White Moose in Dublin, has standards. Business is good and people wait in line to get in. But Stenson has had it with special diets. If you're going to order gluten-free you have to have a doctor's note. On his Facebook page he told vegans to give 24 hours notice of their special needs." Insulted vegans attacked him on Facebook. Stenson struck again. Now vegans are banned from the restaurant.
The Changing Market
What is the Most Expensive Retail Street in the World?
What is the most expensive retail street in the world? The #1 street for retail rents is 5th Avenue, New York at $3,500 a square foot in 2015. #2 was Causeway Bay, Hong Kong at $2,399. #3 Champs Elysee, Paris at $1,372. #4 New Bond street, London at $1,321. #5 Via Montenapoleone, Milan at $1,035. If you guessed Rodeo Drive, Beverly Hills; you were wrong. Rents there are 2nd in the U.S.; but a mere $800 a square foot.
Store Closings
As the country's commerce continues a shift to mass merchandisers and e-commerce, brick and mortar retailers are retrenching or shutting down completely. Kmart and Sears will be closing 64 more stores. Liquidation sales started September 22 and will continue until the stores close sometime in December. Macy's will be closing 100 of its 675 stores. Walmart is closing 269 stores. Sports Authority is in bankruptcy and all 460 of its stores will be closed.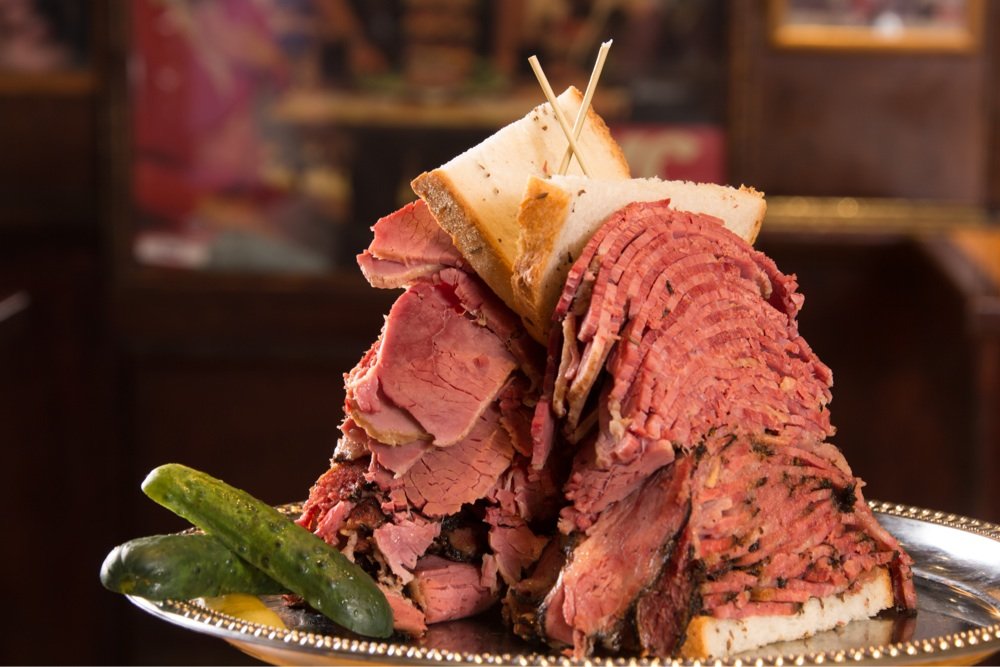 Carnegie Deli Closes
Owner, Marian Harper, announced the closing of New York's Carnegie Deli this coming December 31. The deli is famous for serving 4 inch high pastrami sandwiches that are named "Woody Allen's" and described as excessive. The deli has been open since 1937 and Harper's family has owned and operated it since 1976.
A Bit of History
The first recorded coupons were used in 1887 when Asa Candler gave out printed coupons for a free glass full of his new drink, Coca- Cola. It worked out well for Candler. In 1909 C.W. Post decided the promotion with coupons was a good idea and gave out 1 cent coupons good on his new cereal, Grape Nuts. It worked again. Today the use of printed coupons is holding at a steady number. But, the use of digital coupons delivered to Smart phones is growing exponentially.
Amazon Grocery Stores
Wall Street Journal reports that Amazon is also planning a chain of members only grocery centered concept brick and mortar stores. Customers will order groceries online and drive to the stores to pick up their purchase. Perishables will be available in a convenience store alongside the pick up area. The first two stores are planned for Sunnyvale and Seattle. Others are already in the pipeline. An AmazonFresh membership will be required. Cost: $180 a year.
Walmart Grocery Stores
Walmart is already there. Walmart's Neighborhood Market chain has 700 stores and is adding 90 more before year end. The chain has had 22 straight quarters of same store sales growth. 400 of the stores already have online ordering with pick up at a kiosk in the store parking lot.
Kroger Bidding for Whole Foods?
Rumors abound that Kroger is considering a $40 per share bid to take over Whole Foods. The total price would be $13 billion.
Health
Soda Tax
The World Health Organization has called for higher taxes on sugary drinks. The agency says that an increase of 20% will reduce consumption and fight obesity, Type 2 Diabetes, and tooth decay worldwide.
New Blood Alcohol Test
Joseph Wang and Patrick Mercier at UC San Diego, have developed a patch that tests blood alcohol content non-invasively in three rapid steps. It induces sweat by delivering a small amount of the drug pilocarpine on the skin. An enzymatic reaction leads to the electrochemical detection of the alcohol content. And a flexible electronic circuit board transmits the data via a Bluetooth connection to a mobile device or laptop. It takes less than 8 minutes to do. In addition it can be connected to vehicles' ignition interlock systems, or be a simple tool for bartenders or law enforcement to use.
Tasting Notes
Each month we are out there looking for wines that "over deliver"; wines that offer more than others in their category and price level. We search out the wines that you can buy to help build your business; wines that make customers happy and keep them coming back. These are wines we rate as good buys and best buys. Check our notes. The opinions in the reviews are our own and unsolicited. We receive no compensation from wineries or brokers. This month there were several wine tastings that showed some very nice wines available at reasonable prices. The prices shown are approximate retails.
At the Vinity Wine Company tasting we had the opportunity to taste a wide range of wines from regions throughout Italy. Caprili Rosso di Montalcino 2014, ruby color, good nose, medium to full body, full berry flavors, we rate this as a best buy at $29. Malaspina Patros Pietro 2012, good color and nose, medium body, 100% Magliocco grapes, a good buy at $29. Valle dell'Acate Cerasuolo di Vittoria 2014, good color and nose, Nero d'Avola/Frappato, well balanced wine, a best buy at $27. I Favati Taurasi Riserva 2007, good color and nose, medium body, elegant, will stand alone, a good buy at $69. Oasi degli Angeli Kurni 2012, good color and nose, full body, soft, elegant, 100% Montepulciano grapes, limited availability, a wine to be enjoyed by itself, $119. Contact Dino Capriotti at dino@vinitywinecompany.com or (510) 601-6010.
James Suckling presented an outstanding tasting of Wines of the Andes. The wines hailed from Argentina on the Atlantic side and Chile on the Pacific side of the Andes. The wines all had ratings of 90 and more from Suckling. We found all his choices excellent. It was a great opportunity to taste a vast array of wines that will surely make their mark on our industry. On our own value scale, we found some wines that over-delivered at their price tag. Although there were well over a hundred good to great wines, we only have space to review a few below.
El Enemigo Cabernet Franc Mendoza 2011, dark color, full body, 100% Cabernet Franc, 93 points, $60. Soft and full, this was a rare chance to taste wine from a grape that is usually used for blending. In this presentation, it was easily a good variety to stand alone.
Melipal Malbec Mendoza 2014, 100% Malbec from vines planted in 1923 and 2002, soft and full, dark color, good nose, 92 points, a good buy at $17. Contact owner/sales manager Irene Aristi at irenearisti@bodegamelipal.com or (+54 9 261) 5680934.
Bodega Norton Mendoza Privada 2014, full body, dark color, good nose, 60% Malbec 20% Cabernet Sauvignon 20% Merlot, 93 points, a good solid standard at a good price $24.99. Contact Daniel Lyons, Vice President of Sales at Guarachi Wine Partners dlyons@guarachiwinepartners.com or (415) 710-0450.
Bodegas Piedra Negra Malbec Valle de Uco Reserve 2015, 12 months in new French oak, good color and nose, lots of tannins, needs more time, 93 points a good buy at $20. Bodegas Piedra Negra Pinot Gris Valle de Uco Alta Colleccion 2016, clean, clear, slight acidity, good minerality, good food wine, 91 points, a best buy at $12.99. Contact Rebecca Powelson at rpowelson@atlasimports.com or (312) 840-4830.
At the Wine Warehouse fall tasting we found several wines of note. Contact your Wine Warehouse representative.
Tinga Sauvignon Blanc 2014, Chile, clean, clear, semi-dry, flowery, a very good buy at $12. Don Rodolfo Torrontes 2015, Argentina, dry white, creamy texture, great nose, a very good buy at $13. From Cabernet Corporation through Wine Warehouse.
Champagne Jacquart. Brut Mosaique NV, 45% Chardonnay, 35% Pinot Noir, 20% Petit Meunier, 48 months on the lees, one of the very best at a very reasonable $45. Through Wine Warehouse.
Pedroncelli Vineyards Cabernet Sauvignon 2012 Wisdom, 90% Cabernet Sauvignon, 10% Malbec, soft, full body, a big wine, a very good buy at $39. Pedroncelli continues to produce top wines at reasonable prices. Through Wine Warehouse.
Steele Wines Sauvignon Blanc 2014 Shooting Star, semi-dry, clean, clear, good nose, a good buy at $15. Steele Wines Malbec 2014 Writers Block, dry, full body, soft, dark ruby color, good nose, a very good buy at $18. Contact Kamlin Fasano, sales manager at kamlinfasano@hotmail.com or (707) 279-9475. Through Wine Warehouse.
Industry Calendar
10/1 Mutual Trading Tasting – Pasadena
10/1-3 Coffeefest – Anaheim
10/3 Youngs Market – SFO
10/6 Wine House Ltd Burgundy - SFO
10/5 Jetro(Japanese Export) – LA
10/10 Wine & Spirits Top 100 - SFO
10/8 Bordeaux Under One Roof – SFO
10/10 Wine & Spirits Top 100 - SFO
10/17 Epic Wines – SFO
10/24 Mosaic Wines – Palm Desert
10/25 Wines of Portugal - SFO
10/26 Simply Italian Great Wines – Beverly Hills
10/26 Chambers & Chambers – Oakland
10/27 Chambers & Chambers – Cupertino
10/31 Halloween
11/ TBA In Pursuit of Balance Final Tasting – SFO
11/3 Whiskey Extravaganza - LA
11/4-7 Garagiste Festival – Paso Robles
11/6 Daylight Savings Ends
11/11 Veterans Day
11/12 LA Beer Festival - LA
11/13-20 San Diego Bay Wine & Food Festival
11/15 Spain's Great Match – SFO
11/17 Spring Mountain – SFO
Promotional Calendar
10/1-31 Merlot Month
10/4 Vodka Day
10/7 National Frappe' Day
10/8-9 National Kegger Weekend
10/15 Red Wine Day
10/16 National Liqueur Day
10/19 International Gin & Tonic Day
10/20 National Brandied Fruit Day
10/21 National Mezcal Day
10/27 American Beer Day
10/31 Halloween
11/3 International Stout Day
11/6 Daylight Savings End
11/8 Election Day
11/8 National Harvey Wallbanger Day
11/8 National Shot Day
11/11 Veterans Day
11/12 National Happy Hour Day
11/18 National Apple Cider Day
11/19 Carbonated Beverage with Caffeine Day
11/24 Thanksgiving
11/25 Black Friday
11/28 Cyber Monday
New Legislation for 2017
Our industry has more laws controlling it than most industries. The State
Legislature and the ABC give us license privileges and can take them away. New alcoholic beverage laws were passed that will be effective in 2017. Many critical issues are pending. Do you know about them and are you prepared for the changes. Is your business safe? Members are encouraged to look through the Legislative Bulletin. If there is a new law that is a problem for your business, call the association office now. The CBRA is your voice in Sacramento. If you are not a member, join today. The CBRA is your only voice when it comes to new beverage laws.
Brands and Comments
The CBRA Newsletter has not accepted any payment from any of the brands mentioned
in this edition. The editor, Ron Ziff, welcomes comments at ron@cbraliquor.org
CBRA Membership Remains Open
Now, more than ever, access to your industry is important. The CBRA is California's
only statewide association of licensed retailers, and our membership continues to be
open for the first time in 20 years.
At CBRA we deal with licenses and regulations that affect the beverage business on a
daily basis. That's why CBRA offers practical solutions, unique products, services,
information, and timely advice for both large and small beverage businesses. With
reasonable fees, superior service, and associates that are easy to reach, CBRA helps you
to run your business better and easier. One of the most valuable services we offer is that
call to the ABC to ask your question. We can ask that question and keep you anonymous. That's something you just can't do yourself.
Join or renew your valuable membership today. You can't afford to delay.
California Beverage Retailers Association – California's Only Statewide Association of Licensees. We're #1!
If you would like to be removed from this email list, please email to
ron@cbraliquor.org with UNSUBSCRIBE in the subject line.