posted by
cbra
on
Thu, 01/05/2017 - 07:50
California Beverage Retailers Association
Beverage Bulletin
P.O. Box 56686
Sherman Oaks, CA 91413
(818) 693-5561
Ron Ziff, Editor
Ben Ziff, Publisher
November-December 2016
In this months issue
Headline News Stories - Who Really Won the Election?, 2016 Vintage Down,
Drought Update
Celebrities in the Industry-Sam Neill, Kevin Buckler, Trudy Styler, Sting, Drake, Jared Padalacki, Stephen Amell, Patrick Harten, Rusty Staub
Popular Culture-Bill Murray, the Cubbies, and Champagne, Harmony of the Seas
Books-My Beer Year, Whisky Japan, Spritz: Italy's Most Iconic Aperitivo Cocktail,
The Thinking Girl's Guide to Drinking, Cocktails at Seven-Apocalypse at Eight,
Cocktails for Ding Dongs, Paris Cocktails, New York Times Book of Cocktails, New Single Malt Whiskey, The Spirit of Gin, The Drunken Botanist, Vintage Cocktails
Movies-Burgundy: People With a Passion for Wine, Bitter Grapes – Slavery in the Vineyards
Politics-What Color is Your Coffee Cup?, Constellation Stock Down, Presidential Drinks
Popular Culture-FIFA World Cup Soccer Tournament
Wine-Earliest Wine Shipment, BYO Glass!, French Convicted for Phony Wine Labels, Napa Man Arrested for Phony Wine Labels, Kansas Man Arrested for Stealing Cal Wine, Canadian Winery Vandalized, Champagne Producer May Be Sold, Emmy Wine, Vin de Lune, My Wine or My Wife?, Phyloxera Attacks in Napa, 2016 Nightmare in Champagne, Vineyard Moved 100 miles, Rare Wine Glass Auctioned
Beer-Grrrrreat!, Ancient Brew, Under the Influence, Men Arrested with Stolen Beer, Craft Brewing Vocabulary, A Historic Pub Trek
Spirits-Ask for Angela, Sherry Lehmann Goes West, Irish Whiskey Growth, UK to Set Minimum Alcohol Prices, Scotch Leaks into River, World's Best Bartenders,
Top Cocktails from Movies and TV, One for the Books
Other Foods and Beverages-Michelin Stars for SFO, Sales Decline and Shake Up at Whole Foods, Andronico's Sold, World's Best Coffee, Papa John's Comes Through
The Changing Market-Soda Tax Voted, Bag Ban Voted, Self Driving Vehicles, Holiday Shopping Off to Late Start, Walmart Tests New Delivery System
Recipes-Singapore Sling
...and as always Tasting Notes and the Industry Calendar
It was May 1783. George Washington and his staff were arranging the British surrender of New York. William Smith recorded in his diary "Washington pulled out his watch and observing it was near dinner time, offered wine and bitters." Washington was one of the earliest Americans to break for a cocktail hour. Remember, it is always 5 o'clock somewhere.
Washington also set the stage for taxation of alcoholic beverages. In 1789 as part of the compromise leading to the adoption of the Constitution the federal government was given the right to tax whiskey. A tax of 6 to 18 cents a gallon was voted in Congress. Pennsylvania farmers mobilized to oppose the tax in what was called The Whiskey Rebellion. President Washington marched troops from Wilmington Delaware to rural Pennsylvania to quiet the farmers. According to revenue records in 1798 Washington was the single biggest distiller in the country. He reported and paid tax on 11,000 gallons of whiskey. His tax bill was $660.
Headline News Stories
Who Really Won the Election?
Drinkers did, that's who! According to online alcohol delivery service, Drizly, alcohol deliveries were up 86% for the day over a normal Tuesday and peaked as the night wore on. Apparently the voters agreed on something. What did people order? Wine 48%, Spirits 30%, Beer 22%. The top 10 items were Tito's Vodka, Oyster Bay Sauvignon Blanc, LaMarca Prosecco, Kim Crawford Sauvignon Blanc, Bud Light, Stella Artois, Alamos Malbec, Apothic Red Blend, Bulleit Bourbon, Jack Daniel's. The top three spirits were all American; Tito's, Bulleit, Daniel's. It doesn't get much more patriotic than that!
2016 Vintage Down
The International Organisation of Vine and Wine reports that the 2016 vintage showed a drop of 5% in wine production worldwide making it one of the three lowest yielding vintages in 20 years. The biggest drops were in France -12%, Italy -2%, Germany -4%, Portugal -20% all caused by a continued drought across Europe. In the Southern Hemisphere Argentina was -35%, Chile -21%, Brazil -50%, South Africa -19%. These were offset by increases elsewhere. The U.S. production was +2%, Spain +1%, Australia +5%, New Zealand +34%.
Drought Update
Is the drought over? Maybe. Maybe not. Southern Cal is still having a dry time. Northern Cal has had 400% of normal rain up to this point. Three of eleven Northern Cal reservoirs are at normal level. The rest are still below normal. Most of the rain is soaking into the dry ground.
According to Politico a spending bill in Congress might include drought relief money for California. It would be attached to a water relief bill for the continuing drinking water crisis in Flint, Michigan.
Celebrities in the Industry
Actor Sam Neill owns Two Paddocks Vineyard in New Zealand's southernmost wine growing area. He jokes "The next stop after my vineyard is Antarctica." His favored grape is Pinot Noir. The Two Paddocks Pinot Noir Central Otego The Last Chance Earnsleugh Vineyard Proprietor's Reserve 2013 sells for $79.
Race driver, Kevin Buckler, has won the Porsche World Cup. He's also the owner of Adobe Road Wines in Petaluma. His wines include several reds, whites, and a rose' that range in price from $26 to $125.
British actress Trudy Styler and husband, Sting, were at the New York wine experience to show off their Il Palagio Sister Moon 2011. In a surprise performance he took the stage and sang "Message in a Bottle."
Canadian rap star, Drake, has two big hits. His album, "Views", streamed more than 245 million plays in the U.S. during its first week of release. Now his Virginia Black Decadent American Whiskey is a hot seller in his native Canada. The Ontario Liquor Control Board reports first day sales of 1,779 bottles on September 30 and 4,650 bottles sold in the province for the first two weeks. Price CN$39.95 each.
Actor Jared Padalacki has starred in horror films House of Wax, Cry Wolf, and Friday the 13th. Now he's hunting monsters on the TV show Supernatural. He wanted to make his own wine and decided to call on fellow actor Stephen Amell who plays Green Arrow on the TV show Arrow and is a partner in Washington winery Nocking Point. The wine they came up with is a sparkling Chardonnay made from New Mexico grapes at Nocking Point. Sold as a two pack of 750 ml bottles for $60.
Patrick Harten, the air traffic controller who helped Captain Sully Sullenberger safely land his plane on the Hudson River has joined the industry. He founded the Long Beach Brewing Company and is making craft beers.
Former baseball major league hitter, Rusty Staub, has held a charity wine auction every year since 1991. This year's auction raised $1,524,350 for the Rusty Staub Foundation to help kids in need.
Popular Culture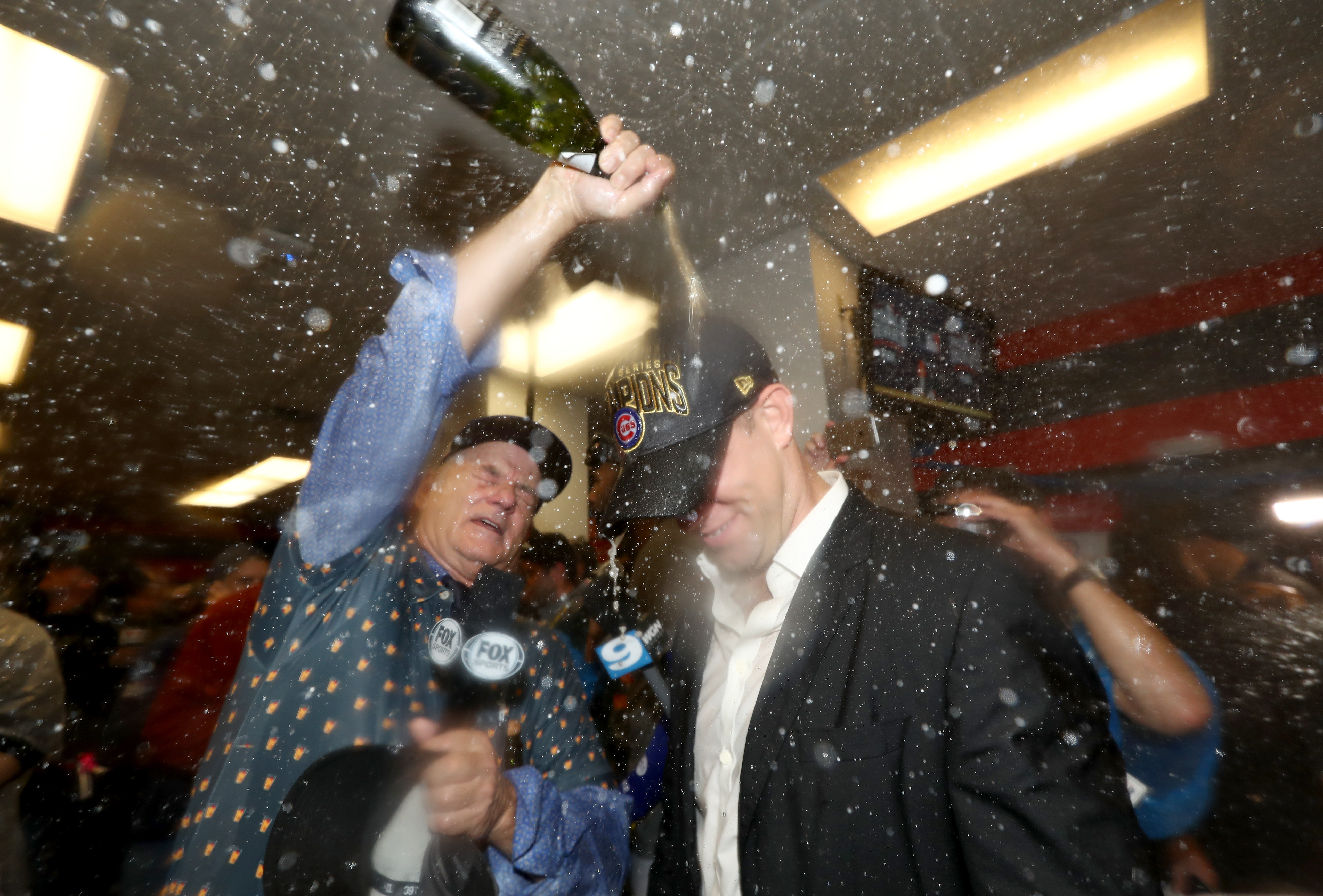 Bill Murray, the Cubbies, and Champagne
Bill Murray followed the Chicago Cubs throughout their historic World Series. During the series Murray led the stadium in singing Take Me Out to the Ball Game and is seen here pouring Champagne over Cubs General Manager Theo Epstein.
Harmony of the Seas
The Royal Caribbean cruise ship Harmony of the Seas is the world's largest with 16 decks and the capacity of carrying more than 6,000 guests and 2100 crew. The ship will be sailing from Fort Lauderdale for the winter. The ship has a number of theme night clubs and bars. The Bionic Bar features two robot bartenders that can mix 2 drinks a minute and serve over 1,000 a day. The Rising Tide Bar raises and lowers over three decks. The on board bars feature 127 proprietary cocktails.
Books
The holiday season is upon us and there's a basket full of books out to give as gifts to your friends, associates, and customers. Here are a few of the hottest reads.
My Beer Year by Lucy Burningham, Roost Books, 288 pages, $16.95. Adventures with Hop Farmers, Craft Brewers, Chefs, Beer Sommeliers, and Fanatical Drinkers as a Beer Master in Training. As journalist, Lucy Burningham, developed a thirst for knowledge and beer, she traveled to hop farms, attended rare beer–tasting parties, and visited as many taprooms, breweries, and festivals as possible. With this as her introduction, Lucy decided to take her relationship with beer to the next level: to become a Certified Cicerone. As Lucy studies and sips her way to becoming an expert, she meets an eclectic cast of characters, including brewers, hop farmers, and others. She tells it all here.
Whiskey Japan by Dominic Roskrow, Kodansha YSA distributed by Oxford University Press, 288 pages, $34.95. The full story of Japanese whiskeys that emulate and sometimes exceed their Scottish brethren. The most comprehensive book ever on this sometimes esoteric subject. Includes 500 pictures and diagrams, profiles of the categories personalities, and over 100 years of history. It even includes a travel guide of how to visit the distilleries and where to stay and eat in the area.
The Thinking Girl's Guide to Drinking by Ariane Resnick and Btittini Rae, Regan Arts, 272 pages, $24.95. A recipe book with more than 100 recipes for cocktails and mocktails that will keep a girl happy, healthy, sexy, and fabulous.
Spritz: Italy's Most Iconic Aperitivo Cocktail, with Recipes by Talia Baiocchi and Leslie Pariseau, Ten Speed Press, 176 pages, $18.99. A narrative of the Spritz Cocktail with history, both old and new recipes, and everything you ever wanted to know about bubbly wine cocktails.
Cocktails at Seven, Apocalypse at Eight by Don Bassingthwaite, ChiZine Publications, 260 pages, trade edition $16.99. Several supernatural stories, without zombies, werewolves, or magic. Remember, "The only proper place for ice is in cocktails."
Cocktails for Ding Dongs by Dustin Drankiewicz and Alexandra Ensign, Curbside Splendor Publishing, 200 pages, trade cloth edition $24.95. A collection of cocktail recipes and comedy.
Paris Cocktails by Doni Belau, Cider Mill Press, 272 pages, $19.95, Bring the romance and elegance of Paris into your home with cocktail recipes from leading French mixologists and the signature drink recipes of Parisian hot spots.
New York Times Book of Cocktails by Steve Reddcliffe, Cider Mill Press, 480 pages, $29.95. The author is the writer of the NYT column The Quiet Drink. In this book he gives 350 new and old recipes with information and trivia about them.
New Single Malt Whiskey by Clay Risen, Cider Mill Press, 624 pages, $35. 325 brands from 197 distilleries in 25 countries. Risen is the author of several books on whiskey and the recipient of more than 150 awards in the industry. This book is a definitive guide to Single Malt in all its forms from all over the world.
The Spirit of Gin by Matt Teacher and Greg Jones, Cider Mill Press, 364 pages, $24.95. A tour of Gin hot spots around the world. History, distilling process, botanicals, and miscellany about Gin.
Vintage Cocktails by Laziz Hamani, Assouline Publishing, 140 pages, $50. Gin Fizz, Gimlet, French 75, Brandy Alexander, Pisco Sour, Singapore Sling, Sidecar, Dark and Stormy, Caipirinha, Margarita, Matador, Bloody Mary, White Russian, Vesper, Greyhound, Kamikaze, Missouri Mule, Pimms Cup, Fuzzy Navel, Kir Royale, Sazerac, Presbyterian, Man O War . . . Assouline's Vintage Cocktails explores the lost art of mixing the perfect drink with elegance and simplicity. With just a few ingredients and the right pour, this is the first and only book every host should stock in his or her bar.
The Drunken Botanist by Amy Stewart, Algonquin Books, 400 pages, $19.95. Sake began with a grain of rice. Scotch emerged from barley, tequila from agave, rum from sugarcane, bourbon from corn. Thirsty yet? In The Drunken Botanist, Amy Stewart explores the dizzying array of herbs, flowers, trees, fruits, and fungi that humans have, through ingenuity, inspiration, and sheer desperation, contrived to transform into alcohol over the centuries.
Movies
Burgundy: People With a Passion for Wine
Videographer Rudi Goldman wrote, directed, and produced this delightful documentary that shows many aspects of life and the wine industry in Burgundy, France. The photography, color, and scenery are outstanding. The film takes us through grape growing, harvest, blending, and cellaring of wines with some of the world's most prominent vintners who share their views on the art of winemaking, terroir, quality, and wine pairing. Along the way we watch barrel makers and share in the auction and celebrations at Hospices de Beaune where the year's vintage debuts. All in all this is a film well worth watching. Available on iTunes in January.
Bitter Grapes – Slavery in the Vineyards
Danish filmmaker, Tom Heinemann, produced the documentary Bitter Grapes – Slavery in the Vineyards about the lives of vineyard workers in South Africa. In the film he interviews farm workers and exposes widespread violations of the country's labor protection laws. The violations include wages below minimums, failure to pay overtime, poor working conditions, working with pesticides without protective equipment or training, deducting as much as 80% of wages for company housing and food. The top two wineries Leeuwenkuil and Robertson were examined. According to Heinemann the situation amounts to virtual slavery. When the film was shown in Denmark it triggered consumer protests and the removal of South African wines from store shelves. An investigation is underway in South Africa.
Politics
What Color is Your Coffee Cup?
Throughout the election campaign 7-11 has been selling coffee in the customers choice of Red or Blue. Starting November 9 the coffee cups sold were green for unity.
Constellation Stock Down
Constellation Brands stock fell 8% on the news of Trump's victory amid fears that he will enact protectionist policies. Constellation bought the U.S. rights for Grupo Modelo in 2013 for $4.75 billion and became the largest U.S. importer of Mexican beer. A wall between the U.S. and Mexico could harm relations. Deportation of 11 million immigrants could send Corona and Modelo drinkers home to Mexico. The two beers account for 53% of the company's sales and 63% of its profits.
Presidential Drinks
We will have to wait to see what our new President drinks but we do know a lot about former presidents preferences.
Thomas Jefferson is considered the father of wine drinking in the U.S. He liked top French Bordeaux, Sauterne, Burgundy, Italian Piedmont wines, and the sweet Tokaji of Hungary. His favorite was White Hermitage. He said it was 'the first wine in the the world without single exception'.
JFK enjoyed Champagne. Jackie Kennedy's favorite was Veuve Clicquot. The president liked to open the bottles himself and did his best to make them pop, spray, and foam. It is said that Champagne flowed like the Potomac during his presidency.
Richard Nixon liked top Bordeaux. Chateau Margaux was his favorite. His guests at dinner were served lesser wines. A napkin wrapped around the bottle hid the label as he was poured the best.
Ronald Reagan enjoyed good French labels, but didn't bother to order them himself. His aide, Michael Deaver, tempted him with his own preferred labels. Reagan couldn't resist the choices.
George W. Bush was known to drink but he reportedly became a teetotaler after his 60th birthday party where Silver Oak Napa Cabernet Sauvignon at $60 a bottle was poured liberally. Afterward, he was appalled at the what he called "a colossal bar tab."
Barack Obama favored wines from the U.S. He often served Finger Lakes Riesling or red wines from Napa or Sonoma.
Popular Culture
The FIFA World Cup Soccer Tournament for 2022 will be held in the Muslim country of Qatar. Qatari officials have announced that the country's laws prohibit the public consumption of alcohol and the laws will not be relaxed. They are considering banning alcohol in the soccer stadiums. Foreigners are allowed to buy licenses that allow alcohol use in private. Drinks are only sold to licensed foreign nationals in hotels.
Wine
Earliest Wine Shipment
The Israeli Antiquities Authority has recovered a strip of papyrus that contains an order for Jordan Valley wine to be shipped to Jerusalem. The order was placed by the king's maidservant. The document has been dated to the 7th Century B.C. At the time the kingdom was divided in three and it is unknown which king was to get the wine; Menashe, Amon, or Josiah. Dr. Etian Klein says the document shows that Jerusalem was the government center, that women were an important part of the administration, and the importance of wine in the culture.
BYO Glass!
A free wine dispensing fountain has been installed in the town of Caldari di Ortona in Abruzzo, Italy. The fountain is provided by the Dora Sarchese Winery as a gift to quench the thirst of pilgrims taking the Cammino di San Tommaso (Road of Saint Thomas). Thousands pass through every year. The city's cathedral is reputed to hold the remains of the apostle St. Thomas which were brought to the church from the Greek island of Chios in 1258. There is a long history of providing wine to pilgrims that goes back to the time of Charlemagne. The travelers were welcomed local at monasteries where they were given a meal and beaker of wine.
French Convicted for Phony Wine Labels
Eight men made court appearances in Bordeaux for falsifying wine and non-payment of taxes. Francois-Marie Marret had inherited five chateaux and a negociant business from his uncle. The properties were in disrepair and the yields were low. Marret bought cheap wine from other vineyards and falsified it as coming from his own. The wine had been shipped at night to avoid detection. In 2012 French authorities had seized enough wine of his to make 91,000 cases. Marret was sentenced to a prison term of 2 years, 10 years restriction of activity in the industry, and $8.7 million in fines. The two other defendants received suspended sentences. More than 1 million bottles of wine were ordered destroyed.
Napa Man Arrested for Phony Wine Labels
Jeffrey Hill has been arrested by federal authorities and charged with mail and wire fraud. He sold wine through his Hill Wine Company that was mislabeled "Napa Cabernet Sauvignon." He is alleged to have falsified records and moved wine between three facilities in order to cover up its actual source and variety and selling more than $1.5 million worth to customers. Each violation could result in 20 years in prison. Hill had previously filed bankruptcy and had not paid for $8.6 million worth of wine purchased from other wineries. In 2014 he served a year in jail for stealing $50,000 worth of wine from a winery he managed. He is now charged with four counts each of mail and wire fraud.
Kansas Man Arrested for Stealing Cal Wine
James Allen Hall has been arrested by authorities in Kansas for grand theft and selling alcoholic beverages without a license. Hall had ordered wine from several California wineries, stored it in an abandoned warehouse and was in the process of selling it when he was apprehended. Hall has a history of grand theft convictions for various types of fraud. More than $70,000 worth of wine was recovered at the warehouse.
Jackson Family Buys Winery
Jackson Family Wines has quietly purchased Field Stone Winery in Alexander Valley. The purchase price was not disclosed. Jackson had previously purchased three boutique wineries; Copain, Penner-Ash and Siduri.
Canadian Winery Vandalized
Pelee Island Winery in Kingsville, Ontario, Canada was vandalized near the end of October. Someone entered the winery on a Sunday night and dumped 250,000 liters of red and white wine worth about CN$3.3 million. Police are asking anyone with information to come forward.
Champagne Producer May Be Sold
French Champagne maker Laurent Perrier's owners are reported to be considering the sale of all or part of the company.
My Wine or My Wife?
The Co-op surveyed 1,010 wine drinking adults in the UK. They found the top five wine preferences are Pinot Grigio 11%, Merlot 10%, Chardonnay 10%, Sauvignon Blanc 8%, and Rioja 7%. They found that 52% of wine drinkers stick with one grape for at least 10 years. Most stayed with one grape longer than they stayed in a relationship.
Emmy Wine
Ferrari Trento was the official sparkling wine of the Emmys. The brand encouraged viewers to throw their own Emmy party using the Trentodoc after it was named as"World Champion Blanc de Blancs" at the Champagne & Sparkling Wine World Championships.
Vin de Lune
The French term "Vin de Lune" (Moon Wine) originated in the middle ages. It referred to grapes harvested at night by peasants to avoid paying taxes.
Phyloxera Attacks in Napa
The Phyloxera louse is back. In the late 19th century the pest devastated the vineyards of Europe. It lives in and eats the grape vine roots and can travel through vineyards rapidly. The solution was to graft European vines onto American root stock which was immune to the bug. The same practice has allowed European varietals to be grown here in California. Now the bug, actually an aphid, has somehow mutated and can attack the American vine roots. It has already infected some Napa vineyards.
2016 Nightmare in Champagne
Regis Camus, the chef de cave at Piper Heidsieck, says 2016 was "a nightmare." There was snow and frost in April that killed many vines; rain in May, June, & July which led to mildew; August was hot. The result was small grapes that tended to dry out. Pinot Noir and Meunier ripened early. Chardonnay came in on schedule. Production was down 33%. "It will be an interesting challenge trying to put the pieces of the puzzle together and make our Cuvée Brut from the 2016 vintage." He went on to say that consumers were looking for wines that are dryer but had freshness. Because of that, he will be lowering the dosage to to get wine with 6 g/l of sugar.
Vineyard Moved 100 miles
Stephen Selman planted a Chardonnay vineyard in Thiele, England in 1999. He produced sparkling wine there from 2002 to 2015. When the landlord refused to renew his lease in 2016 to use the land for something else, Selman did the only thing he could. He moved the vineyard 100 miles to Devon. Each vine was carefully dug up while dormant. Then it was packed in a burlap bag with enough soil to keep the roots moist. The vines were trucked to their new home and re-planted by hand.
Rare Wine Glass Auctioned
A rare ram shaped wine drinking vessel will be auctioned this month by Chiswick Auctions in London. It dates from the 18th century and is a copy of an ancient piece that was used in the 13th century BC. It is expected to draw bids of up to ₤6,000.
Beer
Grrrrreat!
Beer and breakfast is taking on a new meaning. Michael Kora and Tim Hohl, brewers at Montevilla Brew Works and Coin Toss in Oregon teamed to make an IPA with Kelloggs Frosted Flakes. The two grew up in Detroit near Kelloggs headquarters before migrating west to brew their dreams. They bonded over a couple of beers and thought of making just 12 barrels of the IPA using 25 pounds of cereal. Drinkers could only get the beer at the breweries and it sold out quickly. Everyone thought it was grrrrreat!
Ancient Brew
Bettina Arnold, an archaeologist from the University of Wisconsin, discovered an a bronze cauldron dating back to 450 BC while excavating near Baden-Wurttemburg in Germany. The cauldron had been buried containing 14 liters of Mead along with a German chieftan. Working with Manfred Rosch and Tanja Kreb she was able to recreate the recipe which included barley and honey. Then at Lakefront Brewery in Milwaukee they made a modern batch of this ancient brew.
Under the Influence
The Battle of Hastings changed the course of English history. The Norman French defeated the Anglo-Saxon English and took over England. King Harold had led his army on a 200 mile march to Hastings and arrived on October 13. William the Conqueror was camped with his army near Hastings. That night Harold's army prepared for battle by staying awake while drinking beer and singing. In those days it was common to give each soldier three gallons of beer a day. William's army slept and prayed for victory at dawn. William of Malmesbury, wrote at the time: "The courageous leaders mutually prepared for battle, each according to his national custom. The English passed the night without sleep, in drinking and singing, and in the morning proceeded without delay against the enemy.…On the other hand, the Normans passed the whole night in confessing their sins, and received the communion of the Lord's body in the morning." On October 14, 1066 the armies met and William the Conqueror won control of England.
Men Arrested with Stolen Beer
Brothers, Byron and Wilmar Arana were arrested at a farm in Dale, Texas. Police sergeant, Maurice Forshee, found a marijuana processing plant, 20 firearms, $100,000 cash, and 719 stolen 12-packs of Dos Equis Beer in their possession. The beer had been stolen from an Austin distributor in September. Police were able to locate the stash when the men offered the Beer for sale online. The men were booked on a misdemeanor charge of selling alcohol without a license. Other charges are pending.
Craft Brewing Vocabulary
Craft Brewing has changed the beer industry. It's interesting to note that the trade has a language all its own. Here is a basic vocabulary, not complete, but enough to get along.
Barrel – A unit of measurement equal to 31 gallons. Also abbreviated as bbl.
Bottle Share or Share – Beer that brewers and collectors take to a gathering to share with others.
Brett - Brettanomyces, a yeast used in fermentation.
Bugs – Bacteria or wild yeast used to ferment.
Bung – The wood stopper used in wooden kegs or barrels.
Cadillac – A fully automated brewery.
Carb – The level of carbonation.
CEs – Case equivalents. A way of measuring sales.
Crash – To lower the temperature to make the yeast go dormant.
Crowler – A growler that is a can.
Crushable – An easy to drink low alcohol beer.
Dank – A beer that is hoppy in character.
D.E.A.D. Time - "Drop Everything and Drink." Just before canning everyone stops what they are doing and tastes the beer as a quality control.
Diacetyl Bomb – A beer that is improperly fermented and tastes buttery.
Drain Pour – A beer that turned out so bad that it has to be poured down the drain.
Drop Yeast – To remove dormant yeast from beer.
Firkin – A 9 gallon cask.
Fish Killer – A machine that puts 6-pack rings on cans.
Flocc – Flocculation is when yeast cells bind together and fall to the bottom of the tank.
Gooseneck – A combination of fittings used to pull lees and hops from the bottom of a tank.
Growler – A half Gallon glass jug that customers use to take home beer from a craft brewer. A growler can be refilled and used again.
Grumbler – A 32 ounce version of a Growler.
Gusher – An over carbonated beer.
High Gravity Beer – Beer with a high alcohol content or high ABV.
Hop Rocket – A device used to extract unwanted flavors from hops.
Hophead – a drinker that prefers hoppy beer.
Hot Water! - This is shouted just before flushing a tank with hot water, so no one accidentally gets splashed.
Juicy – Having a citrus taste.
Keg – A half barrel containing 15.5 gallons.
Lov – Short for Lovibond, a measurement of dark color. A higher Lov is a darker color. It is pronounced the same as love.
Low Fills – Cans of beer that are not completely filled.
Mash In – The grain is mixed with hot water at the beginning of the brewing process.
Mash Out - The spent grain is separated from the wort later in the brewing process.
Mule – A person who waits in line to get a limited release beer for someone else.
Pigtail – A device used to draw a sample from a cask.
Pin – A 4 1/2 gallon cask.
Pitch Yeast – To add yeast to wort to start the brewing.
Sample Cock - A device used to draw a sample from a cask.
Shelf Turd – A common commercial beer.
Spent Grain – The portion of the grain that is left over after Mash Out. It can be used for animal feed or for baking.
Ticking – Trying an ounce or two of various beers and ticking them off your to-do list.
Torpedo - A device used to extract unwanted flavors from hops.
Trub – The sediment or lees left at the bottom of the tank after fermentation.
Whale – A rare beer you may never find. A white whale is the rarest of the rare.
Wort – Liquid from grain that has been boiled with hops, but hasn't yet been fermented.
A Historic Pub Trek
...and finally. An international team of mathematicians did in two years what only mathematicians can do. They plotted the shortest distance to stop at all 24,727 pubs in the UK and return to the starting point without hitting a single pub twice. According to team leader, Professor William Cook the project was used "as a means for developing and testing general-purpose optimization methods, which have wide applications in science, industry and commerce". Sure.
Spirits
Ask for Angela
A poster in the ladies room of a bar in Lincolnshire, England, directs women who might be in compromising situations to seek help from the establishment's staff. The sign reads, "Are you on a date that isn't working out? Is your date not who they said they were on their profile? Do you feel like you're not in a safe situation? Does it all feel a bit weird?"If the answer to any of those questions is yes, one has the option to go to the bar and "ask for 'Angela.' Once a staff member is addressed in this way, he or she will then call you a taxi or help you out discreetly — without too much fuss."
Sherry Lehmann Goes West
New York retailer, Sherry Lehmann, will be opening a west coast branch in El Segundo in early 2017. It will include a 20,000 foot warehouse and fulfillment center and a 12,000 foot store and event area.
Irish Whiskey Growth
2015 Sales 7.8 million cases
10 year growth 2005-2015 131%
Number of Distilleries 2013 – 4
Number of Distilleries 2016 – 16
Number of Additional Distilleries planned – 11
Irish Whiskey is the world's fastest growing spirit. One brand, Jameson, owned by Pernod-Ricard, has 67% of total category sales.
Jameson Sales 2016 – 5.7 million cases
Jameson sales projected 2020 – 9 million cases
Jameson has 78% share of the U.S. market
UK to Set Minimum Alcohol Prices
Scotland's highest court, The Court of Sessions, has ruled that the government can set a minimum retail price floor per unit of alcohol. The price authority was passed by Scotland's Parliament in 2012, but was challenged immediately by the industry. It has been in limbo since. The industry has also filed a complaint with the EU saying that it is a violation of the UK's treaty obligations. Industry observers say the pricing program could spread to other countries. Alcohol Concern, a UK non-profit, said the price program will lower consumption, save lives and cut crime.
Scotch Leaks into River
60,000 liters of Scotch leaked from a tank at Loch Lomond Distillery in Ayrshire, Scotland. The liquid soaked through the floor and most was absorbed into the ground. Enough flowed directly into the Ayr River to prompt an investigation by the Scottish Environmental Protection Agency(SEPA). The SEPA determined that it was not a health or safety issue. The loss was estimated at ₤1 million.
Top Cocktails from Movies and TV
The top 8 cocktails from the Movies and TV:
Vesper and Vodka Martini (shaken, not stirred) from the James Bond Series.
White Russian from The Big Lebowski
Old Fashioned from Mad Men
Cosmopolitan from Sex and the City
Manhattan from Some Like it Hot (Jack Lemmon mixed his in a hot water bottle on the train)
Dry Martini from The Thin Man Series
Sex on the Beach from Cocktail
World's Best Bartenders
Japan's Kenji Tsubokura was named the 2016 World's Best Bartender at the World Cocktail Championship in Tokyo. He won the 'Super Final' with a recipe for a cocktail he called "The Best Scene" made with Gifford's Wild Elderflower Liqueur, Yuzu fruit, fresh lemon juice and Cardammon Bitters.
Japan wasn't the only winner. Finland's Markus Sillanpaä won the After Dinner round with his Vienna Mocha cocktail, made with Giffords Abricot du Roussillon Liqueur, Havana Club Anejo 7 Anos, Mozart Dark Chocolate, Cinnamon, Angostura Orange Bitters, and Fee Brothers Aztec Chocolate Bitters.
One for the Books
...and finally. On November 11 Cleveland's Porco Lounge mixed the world's largest Daiquiri. It took 80 bottles of Appleton Estate Rum, 4 mixologists, and a team of bar backs. They fit it all into a 95 gallon Tiki Mug.
Other Foods and Beverages
Michelin Stars for SFO
Several SFO Bay area restaurants received Michelin stars. These top eateries are Mr. Jiu's, The Progress, Lazy Bear, State Bird Provisions, Quince, Benu, the French Laundry, the Restaurant at Meadowood, Manresa, Saison, Ju-ni, Hashiri, Commis, and Adega (in San Jose).
Sales Decline and Shake Up at Whole Foods
Whole Foods reported a 2.6% sales decline in the most recent quarter. Walter Robb is out as co-CEO and John Mackey resumed the position of CEO. Other executives are retiring and being replaced. Rumors of a stock tender offer and takeover offer by Kroger continue.
Andronico's Sold
Safeway has acquired the 5 store Andronico's chain in the San Francisco Bay area. The stores had been operated by equity firm Renovo Capital since 2011.
World's Best Coffee
The Illy Company moved its annual coffee competition from Brazil to New York where it was held in the United Nations Delegates Dining Room. Coffee from Ahmed Legesse of Sidamo, Ethiopia was named world's best. He beat 27 other producers from 9 countries. His coffee was described as "A medium bodied coffee with a delicate flavor. Its unique floral jasmine notes are mixed with a slight hint of citrus fruit."
Papa John's Comes Through
...and finally. Papa John's Pizza has a reputation for coming through when no one else can. So when hurricane Matthew hit Florida Eric Olsen in Nebraska couldn't reach his grandmother in Palm Coast, Florida for several days because there was no telephone service. The police and rescue workers were overwhelmed and couldn't help. Then Eric did the best thing he could think of. He ordered a Papa John's Pizza delivered to Grandma. The delivery man had instructions to have her call Eric on his cell phone when the pizza was delivered. Right on time, thirty minutes later Eric heard his grandmother thank him for the pizza.
The Changing Market
Soda Tax Voted
Voters approved a one cent per ounce tax on sugared soda beverages in San Francisco, Oakland, and Albany. These cities will be joining Berkeley in charging the tax.
Bag Ban Voted
California voters approved a statewide ban on giving free bags at grocery, drug, and liquor stores. The bags will be given only if the customer pays a charge. Voters also approved a measure that will require the stores to give the money charged for bags to the state for various welfare programs. The method of transfer of funds from the retailer to the state is unclear at this time.
Self Driving Vehicles
We've been reading a lot about self driving cars. But that's not where the new technology is going to have its biggest initial impact. A self driving car on city streets is still a thing of the future. Right now, the opportunity is in long haul trucking. It requires long hours of a driver doing nothing but controlling a vehicle on the open highway. The first real long haul self driving truck hauled a load of Budweiser from Fort Collins, Colorado to Colorado Springs last month. The trip was 2 hours at 55 mph. A driver was on board and monitored the run from the truck's sleeper berth. He was only needed to take the wheel when the truck used the highway on-ramp and off-ramp. The trip was contracted to Otto, the self driving division of Uber. Uber collected $470, the market rate for the haul. Note: the truck's tech system doesn't have a Teamsters Union card.
Holiday Shopping Off to Late Start
The National Retail Federation forecast for the coming holiday season has been clouded by the election. Consumers have been holding back due to a feeling of uncertainty and retailer ads have been squeezed out of all media by political ads. Normally, holiday shopping would have started a month earlier. The spend is still predicted to be $935.58 on average once it gets underway. That's second to 2015 when spending hit $952.58. With a late start to the holiday shopping season, it should be a good year for gifts of alcoholic beverages. An impressive bottle is a solid choice when shopping time is limited.
Walmart Tests New Delivery System
Walmart is testing a new technology for customer pickup. Currently customers can order online and pickup in store. Part of the current system is a bar code and number issued by email to identify the purchase. The new system is handled by a big machine called BOPUS. The customer scans or enters the code into the machine and the machine instantly hands over the purchase.
Recipes
Singapore Sling
The Singapore Sling was invented by Mr. Ngiam Tong Boon sometime between 1910 and 1915 for the Raffles Hotel in Singapore. At one point the recipe was lost. The hotel rediscovered it by asking retired bartenders how they made it. The recipe below is used by the hotel's bar today. You can have one here in the U.S. without traveling to Singapore, the "City of Lions."
Mix 1 1/4 oz Gin, Dash Grenadine, Sweet & Sour Mix. Splash club soda on top. Garnish with an orange slice and top with a cherry.
Tasting Notes
Each month we are out there looking for wines that "over deliver"; wines that offer more than others in their category and price level. We search out the wines that you can buy to help build your business; wines that make customers happy and keep them coming back. These are wines we rate as good buys and best buys. Check our notes. The opinions in the reviews are our own and unsolicited. We receive no compensation from wineries or brokers. This month there were several wine tastings that showed some very nice wines available at reasonable prices. The prices shown are approximate retails.
At this year's Whiskey Extravaganza we spotted a couple of nice bottles of Scotch.
Glengoyne Single Malt 15 year, bright gold color, warm lemony nose, smooth and slightly sweet with a spicy cinnamon finish. $45-$50.
Glengoyne Single Malt 18 year, medium gold color, warm well rounded nose, full bodied, finish is dry warm & nutty. $75-$80.
Glengoyne Cask Strength, 117.6 proof, light gold color, nose is warm rich and fruity, good balance. $80-$100. For all Glengoyne Whiskys contact Serafin Arca at serafinarca@shaw-Ross.com or (818) 399-8757 distributed through Southern Wine & Spirits.
Sia Blended Scotch, golden honey color, citrus & spicy nose, smooth soft and rich, good on the rocks or neat. $45. The first Scotch owned and blended by an American Woman. Contact owner Carin Luna-Ostaseski carin@siascotch.com or (917) 517-9567. Distributed by Wine Warehouse.
The Epic Wines tasting showed a wide range of wines. We picked several that were good to best buys. From Niche Import Co: Lenz Moser Gruner Veltliner, light & dry, a good food wine. $10.99. Schlumberger Sparkling Gruner Veltliner, light dry, delightful, good food or dessert wine. $21. Gerstacker Nurnberger Gluhwein, red spiced wine, meant to be served warm during the winter holidays, a rare treat and very good buy. $8.99.
Peierano Estate Wines from Lodi showed a number of very good wines all at the very reasonable line price of $14.99. Chardonnay 2014, dry, light straw color. Immortal Zinfandel 2013, from 120 year old vines, full bodied, dark color. Old Vine Zinfandel 2014(80 year vines), dark color, full body, good nose. Petite Sirah 2015, very dark color, good nose, a big wine. Tempranillo 2013, soft, good color and nose, full body.
Terra Moretti Trading showed a very good sparkling wine, Contadi Castaldi Franciacorta Brut NV, dry, good bubble structure, good nose and color, 80% Chardonnay, 10% Pinot Nero, 10% Pinot Bianco. $14.99.
Windrun Vintners poured two very nice wines. A San Luis Obispo Pinot Noir 2012, light ruby color, good nose, good flavors, a very good buy at $14.99. A Chardonnay 2013 blended from two vineyards 50% Santa Rita Hills aged in stainless and 50% Alamos aged in oak, good color and nose, good flavors, a best buy at $7.99.
Liber USA poured a Cottanera Barbazzale Rosso 2014 from Mt. Etna, good color, light nose, medium body, smoky mineral notes from volcanic soils, $19.99
Industry Calendar
11/3 Whiskey Extravaganza - LA
11/4-7 Garagiste Festival – Paso Robles
11/6 Daylight Savings Ends
11/11 Veterans Day
11/12 LA Beer Festival
11/13-20 San Diego Bay Wine & Food Festival
11/15 Vinthology Italian - SFO
11/15 Spain's Great Match – SFO
11/17 Spring Mountain - SFO
11/24 Thanksgiving
11/25 Black Friday
11/28 Cyber Monday
12/1 North Coast Wine Industry Expo – Santa Rosa
12/25 Christmas
12/24-1/1 Hannukah
12/31 New Year's Eve
Promotional Calendar
12/3 Bartender Appreciation Day
12/3 National Rhubarb Vodka Day
12/4 Egg Nog Day
12/20 National Sangria Day
12/24-1/1 Hannukah
12/25 Christmas Day
12/31 Global Champagne Day
12/31 New Year's Eve
New Legislation for 2017
Our industry has more laws controlling it than most industries. The State
Legislature and the ABC give us license privileges and can take them away. New alcoholic beverage laws were passed that will be effective in 2017. Many critical issues are pending. Do you know about them and are you prepared for the changes. Is your business safe? Members are encouraged to look through the Legislative Bulletin. If there is a new law that is a problem for your business, call the association office now. The CBRA is your voice in Sacramento. If you are not a member, join today. The CBRA is your only voice when it comes to new beverage laws.
Brands and Comments
The CBRA Newsletter has not accepted any payment from any of the brands mentioned
in this edition. The editor, Ron Ziff, welcomes comments at ron@cbraliquor.org
CBRA Membership Remains Open
Now, more than ever, access to your industry is important. The CBRA is California's
only statewide association of licensed retailers, and our membership continues to be
open for the first time in 20 years.
At CBRA we deal with licenses and regulations that affect the beverage business on a
daily basis. That's why CBRA offers practical solutions, unique products, services,
information, and timely advice for both large and small beverage businesses. With
reasonable fees, superior service, and associates that are easy to reach, CBRA helps you
to run your business better and easier. One of the most valuable services we offer is that
call to the ABC to ask your question. We can ask that question and keep you anonymous. That's something you just can't do yourself.
Join or renew your valuable membership today. You can't afford to delay.
California Beverage Retailers Association – California's Only Statewide Association of Licensees. We're #1!
If you would like to be removed from this email list, please email to
ron@cbraliquor.org with UNSUBSCRIBE in the subject line.