posted by
cbra
on
Thu, 05/25/2017 - 13:10
 California Beverage Retailers Association
Beverage Bulletin
P.O. Box 56686
Sherman Oaks, CA 91413
(818) 693-5561
Ron Ziff, Editor
Ben Ziff, Publisher
May 2017
"Champagne! In victory one deserves it, in defeat one needs it." - Napoleon Bonaparte (See Moet & Chandon Brut Imperial below)
In this month's issue:
Headline News Stories - Menu Labeling Postponed to 2018, Frost Devastates Vineyards Across Europe, Bombay Gin Recalled
Celebrities in the Industry - Elton John, Eric Wareheim, Madonna, Mike Ditka,
Popular Culture - Beetle House Bar
Books - Around the World in Eighty Wines, Adventures with Old Vines, Straight Bourbon, Empire of Booze, A Drink of One's Own
Movies - The Kingsman: Golden Circle, Decanted
Politics - Trump Restaurant to Close, Farm Labor Shortage, Protective Legislation Proposed, Whose Hand is on the Button?, Export Wine Trade, Winery Owner to Run for Governor, Proposed Change in Taxes, Blind Tasting Skills
Wine - Chinese Invest in California Wine Country, Olympic Wine, Winery Sales and Consolidation Continue, Threat to Aussie Wines, The Birds and the Bees, Wine Without Grapes, LA's Top Wine Stores, Wine Product?, Amerine Label Collection,
Counterfeiter Sentenced, Wine Country Castle to be Given Away, Obama and Trentadoc, Blue Wine, -Oil Change, Rotate the Tires, and Put Wine in the Trunk-
Moet & Chandon Brut Imperial, Chardonnay Shortage in Champagne, How Sweet is Your Champagne?, It finally happened!
Beer - Craft Beer Takeovers, AB/Inbev Cuts Off Hops, AB/Inbev U.S. Expansion,
Pub Record, Vegan Guinness, Crowlers for Beer, Lobster Beer, How Much?, Beer to replace Viagra, Suds for Snails & Slugs, New Beer Package
Spirits - Amazon Liquor Delivery, Missing Liquor, Oops!, About that Stain..., And She Isn't 21
Other Foods and Beverages - Taco Tuesday, Changes at Whole Foods, What's the Buzz About?
The Changing Market - Replacing Wine, Costco Sales #1
Recipes - Watermelon Sangria, Wine Smoothie
Health - It's What They're Drinking; Studies: Drinking Prevents ALS, Wine Prevents Brain Diseases, Red Wine Fights Diabetes, Couples Drink Together,
Social Drinking, Drinking for Heart Health, People Smell Better than Dogs
and as always Tasting Notes and the Industry Calendar
Headline News Stories
Menu Labeling Postponed to 2018
The FDA postponed menu labeling compliance by one year to May 7, 2018. The department's statement read in part "We are taking this action to enable us to consider how we might further reduce the regulatory burden or increase flexibility while continuing to achieve our regulatory objectives, in keeping with the administration's policies." The regulations would have affected supermarket, foodservice, and restaurant menus including bar service of cocktails, beer, and wine. Meanwhile, New York City moved ahead with its own regulations requiring posted calorie counts. Mayor Bill di Blasio said "We can no longer wait for federal action, and urge other cities to follow our lead." The regulations cover 1,500 grocers and other retailers serving "restaurant type food." The rules take effect immediately but fines will not be assessed until August 21. Will California be far behind?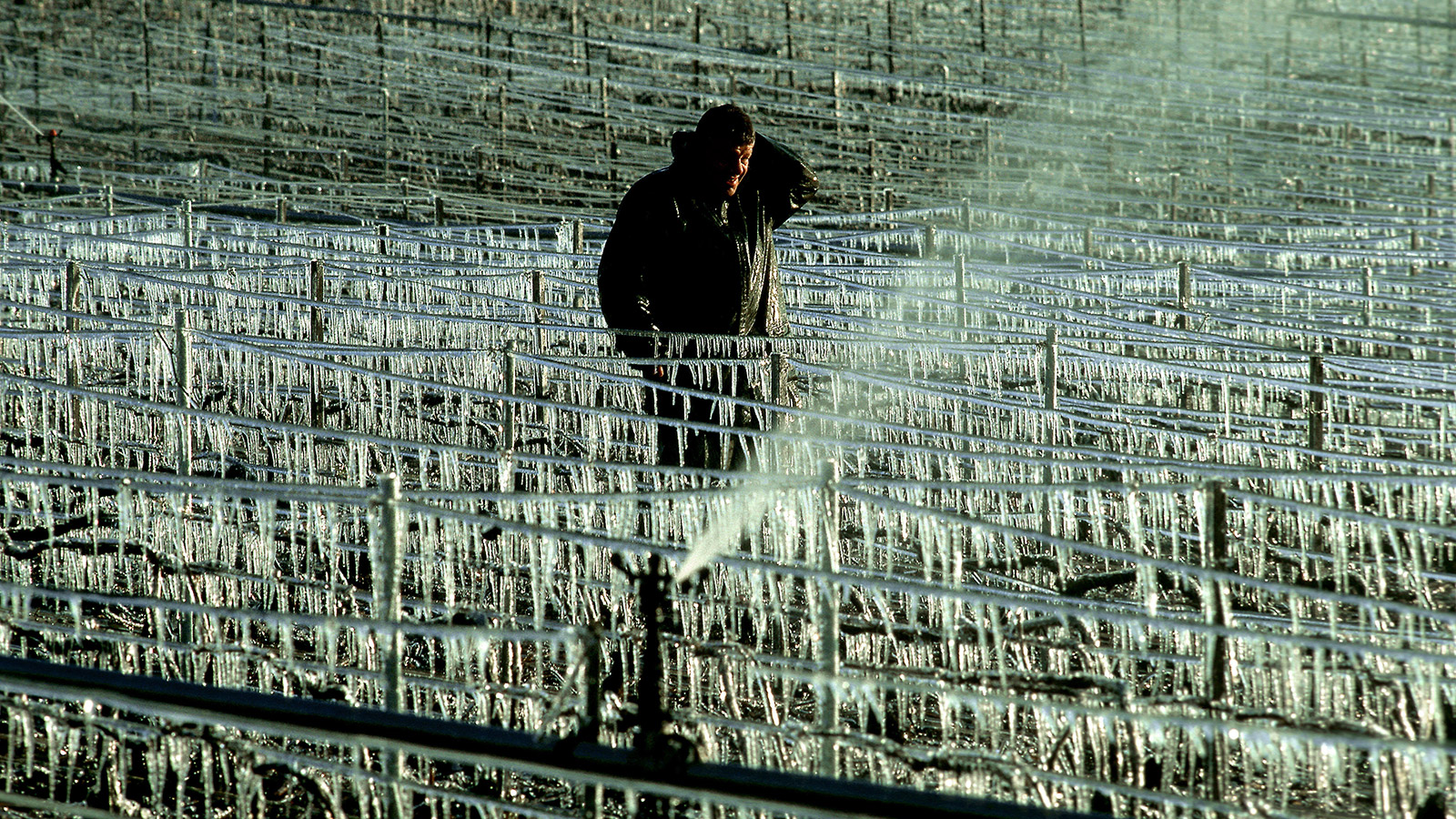 Frost Devastates Vineyards Across Europe
A severe frost hit Ribera del Duero in northern Spain on April 27. Vineyard owners estimate 75% to 80% of the crop was lost in just 5 hours of sub-freezing temperatures. The owners have asked for government loans and grants in the wake of the disaster. On April 28 frost hit in a number of areas in France as temperatures dropped to 27 degrees Fahrenheit for several hours. Damage was reported on the right bank in Bordeaux including Pomerol, St. Emilion, Pessac, Graves, and western Medoc. Further north there was damage in Champagne and Burgundy. In Burgundy a "hail shield" is being employed for the first time. However, installation of 125 generators to protect 42,000 hectares will not be completed until June. The generators heat silver iodide which rise into the clouds and prevent hailstones from forming. Frost also hit the vineyards of southern England where some vineyards counted losses of 50%.
Bombay Gin Recalled
The Canadian Food Inspection Agency has recalled a batch of Bombay Sapphire Gin that is properly labeled 40% ABV (80 proof) but was actually 77% ABV (154 proof). It seems there was a mistake made that allowed the gin to be bottled without cutting it to the proper strength. Consumers are being asked to return the bottles to the stores where they were purchased. It is doubtful many will bring back bottles that contain nearly double what they were supposed to contain.
Celebrities in the Industry
Madonna has lent her name to her father's Ciccone Chardonnay made in the Leelanau Peninsula of Michigan. $30.
Mike Ditka, All American football player, Hall of Fame, and coach has left his partnership with Mendocino Wines and is now launching a new line of imports with Terlato Wines.
Wine glass maker, Riedel, has teamed with Elton John on a new line of wine glasses with rainbow stripes called Fatto a Mano. A portion of the proceeds will be donated to the Elton John AIDS Foundation. The Amadeo Double Magnum Rainbow Decanter crowns the collection. Only 50 of this swan shaped decanter were made. Elton John will auction 5 of them later this year for his foundation.
When Comedian, Eric Wareheim, first hit success, he went to wine tastings dressed in pink as a joke on Rose'. Then he found he liked the wine. Then he met winemaker, Joel Burt. Now the two men have partnered to make Las Jaras (The Arrows) natural wines. The wines are made with little intervention in the natural process.
Popular Culture
Beetle House Bar
Stand By Tim Burton fans. A pop-up bar devoted to the legacy and spirit of the filmmaker is opening in Hollywood this month. The Beetle House Bar will be themed in an eerie and quirky decor to reflect his movies: Edward Scissorhands, Pee-Wee's Big Adventure, Nightmare Before Christmas, and Beetlejuice.
Books
Around the World in Eighty Wines by Mike Veseth, Rowman & Littlefield, 224 pages, $24.95. Inspired by Jules Verne's famous tale, the book follows Phileas Fogg's journey from London; through France, Spain, Portugal, and onward around the world. It makes 80 stops; samples the wine, and tells us about it. To be released November 1, 2017.
Adventures with Old Vines by Richard L. Chilton Jr., Rowman & Littlefield, 256 pages, $24.95. Provides detailed information about buying and storing wine, how to read a wine list, the role of the sommelier, wine fraud, how wine is really made, and how weather patterns can influence the quality of a vintage. A vineyard owner and lifelong wine lover, the author encourages readers to discover wine by tasting, taking notes, and tasting again. To be released November 1, 2017.
Straight Bourbon by Carol Peachee, Indiana University Press. Bill Samuels Jr., Chairman Emeritus of Maker's Mark Distillery said "Carol Peachee has done a magnificent job of capturing the places and processes that most whiskey lovers never see, but need to understand in order to have a true appreciation for the labor of love that goes into every drop of bourbon."
Empire of Booze by Henry Jeffreys, self published digital, 304 pages $32.95. A history of the British Empire filled with trivia that traces the impact of alcohol on British culture and society, literature, science, philosophy and even religion. The book has a series of improbable but true stories of how the world's favorite drinks came to be, with each chapter unveiling a drink that originated during a period in British imperial history.
A Drink of One's Own by Laura Becherer and Cameo Marlatt, Freight Books, 128 pages $14.95. A cocktail book featuring 50 recipes inspired by famous female writers from around the world. From Jane Austen to JK Rowling, this book charts the lives of these influential women and features a cocktail recipe designed to be made at home alongside each biography. The idea for the book came about one night when Becherer and Marlatt were drinking at their regular haunt in Glasgow and discussing how history has misrepresented writers like Zelda Fitzgerald and Mary Shelley, who still dwell in the shadows of their husbands' success.
Movies
The Kingsman: Golden Circle
The Kingsman: Golden Circle is the latest in the Kingsman action movie series and will be released in September. Old Forester Distillery plays a central part in the film. The Kingsman is an elite UK crime fighting organization. In this film they meet their American counterparts, The Statesman. The Statesman operate a distillery in Louisville, Kentucky as a front. The Louisville Convention and Visitors Bureau will be running a Statesman sweepstakes with a trip to Bourbon Country as the prize. Old Forester is releasing a special 95 proof bottling dubbed "The Statesman." The official notes on the whiskey are aromas of devil's food, clove, oak and an undercurrent of raw vanilla. On the palate buttery leather is quickly dominated by a bold flash of pepper, cinnamon bark and sharp citrus. Finish is intense spice and eucalyptus which fade into orange cream and caramel.
Decanted
Decanted, a full length documentary by Director Nicholas Kovacic shows what type of person gets into the winemaking business and what it takes to succeed. He says "The amount of hard work, talent, and luck that goes into the art of winemaking often goes unnoticed, so our goal was to present the world with an accurate depiction of all the hard work that goes into a bottle of wine. My inspiration for the film started with history and legacy. Napa Valley, California, is this place where history and legacy are really starting now to intertwine, creating some lasting effects on global wine."
Politics
Trump Restaurant to Close
The Koi sushi restaurant in the Trump Soho Hotel in New York City is closing in June. The reason: business started declining immediately following the election. It has dropped so much that the restaurant is no longer sustainable.
Farm Labor Shortage
Unemployment is high and open jobs in agriculture would pay at least minimum wage. But workers here illegally are staying away for fear of deportation. Rhetoric coming out of Washington and press coverage of immigration raids fuel the worker's concerns. The shortage affects the Central Valley, but is particularly acute in the North Coast vineyards where Marijuana growers compete for available labor.
Protective Legislation Proposed
California's two Senators, Dianne Feinstein and Kamala Harris, filed a bill that would shield undocumented farm workers from deportation and give them a path to citizenship. Sen. Dianne Feinstein said "Everywhere I travel in California, I hear from farmers, growers and producers from all industries — wine, citrus, fruit and tree nuts, dairy — that there aren't enough workers."Farm labor is performed almost exclusively by undocumented immigrants — a fact that should surprise no one." The proposed Agricultural Worker Program Act has little chance of passing. The law would allow undocumented farm workers that have worked in agriculture for at least 100 days in each of the previous two years to earn a "blue card," which would allow them to work legally. They would later be eligible for a green card with legal permanent residency, which opens the door to citizenship.
Export Wine Trade
President Trump's insistence on renegotiating NAFTA may have an effect on California wine sales in Canada. British Columbia has restricted wine sales to only B.C. Wines. With 330 wineries located mostly in the Okanagan Valley, B.C. has been protectionist. Every candidate in the coming B.C. elections supports continued sales restrictions. Meanwhile the U.S. has filed a complaint with the World Trade Organization. Christy Clark, candidate for B.C. Premier said "Everything that we have done is absolutely allowed in the agreement."
Winery Owner to Run for Governor
Lieutenant Governor, Gavin Newsom has filed to run for governor in 2018. He also released his taxes and a financial history. In 1992 he opened a wine store in San Francisco with the help of the Getty family. Over 25 years he expanded the business as the PlumpJack Group. It controls a network of hotels, bars, restaurants, and Napa Valley wineries.
Whose Hand is on the Button?
President Trump invited a group of reporters into the Oval Office to discuss his first 100 days in office. The reporters noticed a red button on his desk and nervously asked what happened when it was pushed. Trump pushed the button and a White House butler appeared carrying a Diet Coke.
Proposed Change in Taxes
The Craft Beverage Modernization and Tax Reform Act of 2017 has been introduced in Congress. It would lower taxes on all types of alcoholic beverages. The biggest change would affect high alcohol wines. Currently, dry wines below 14% ABV are taxed $1.07 per gallon and $1.57 for wines between 14% and 16% ABV. The higher rate would be eliminated. Critics argue that winemakers will no longer have an incentive to keep alcohol content down.
Blind Tasting Skills
Emmanuel Macron won the French election over Marine Le Pen. Macron's wine tasting skills in blind tastings are well known. He is able to identify many of the wines of Bordeaux by appellation. French magazine, Terre de Vins (Land of Wines) filmed a series of docu-videos showing his skills. Macron says "Wine is an ambassador for our country."
Wine
Chinese Invest in California Wine Country
Chinese have invested in Bordeaux and Napa. Now more Chinese are investing in California wine in Temecula. Several wineries are in operation or in development. The largest, so far is Twelve Oaks scheduled to open in 2019, a 700 acre project with vineyards, multi-million dollar homes, a convention center, and a Marriott Hotel. It's only one of the wine projects underway. The lure: Chinese can get an EB-5 visa with legal U.S. resident status with a $500,000 investment. The upside: Temecula and its vineyards are a potential tourist attraction only 2 1/2 hours from LA.
Spyridon Louis receives Olympic Honors
Olympic Wine
When the Modern Olympics were started in 1896, the marathon was added to the ancient contests. The first marathon followed the same route used by the messenger, Pheidippides, to announce the victory at the battle of Marathon. When Greek runner, Spyridon Louis won that first modern marathon, he was trailing the leaders at the 32 kilometer point. Then he stopped at the village of Piekrmi and drank a glass of wine. After the finishing his wine, he returned to the race and quickly took the lead which he held to the 42 kilometer finish line. He became a national hero and the King of Greece granted him any one wish. Spyridon asked only for a cart to make his water delivery business easier. Up till then he had carried water to his customers. What kind of wine did Spyridon drink? The answer is lost in history.
Winery Sales and Consolidation Continue
In separate deals this month Silver Oak Winery purchased Ovid Napa Valley Winery and Jackson Family Estates purchased Clifton-Brewer Winery in Santa Barbara County.
The Birds and the Bees
Biodynamic vineyards do it with birds and the bees. A bee hive is an integral part of the grape growing process. Grapevines are self pollinating. But growers couldn't grow grapes without bees pollinating the other plants that make a good environment for the vines by fixing nitrogen in the soil. Vineyard owners are finding some of their best helpers are barn owls. Barn owls diet includes vineyard pests; gophers and mice. Since the owls restrict their hunt to small territories, farmers can set out owl houses for them and get resident owls that patrol the vineyards.
Wine Without Grapes
Ava Winery is doing it without grapes. The company is making wine that is chemically identical to wine made from grapes. The water, acids, alcohol, sugars, and other components are all food grade and made synthetically. The company is owned by three partners; two biotechnologists and a sommelier. They say they are making "identical chemical copies of the originals, capturing the same nutritional values, flavors, and textures of their 'natural' counterparts." Reminds us of the food simulator on Star Trek.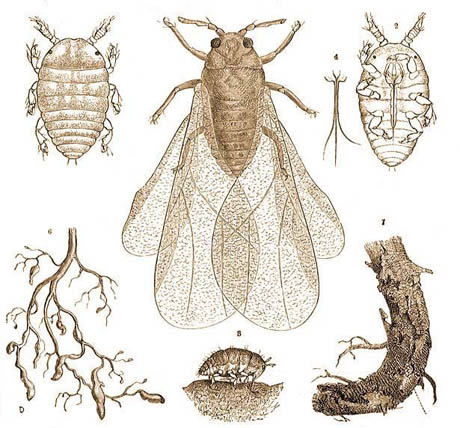 Threat to Aussie Wines
Phylloxera has been slowly spreading through Australia's Yarra Valley vineyards. Inca Pearce, the CEO of Vinehealth Australia said "Phylloxera doesn't respect vineyard boundaries or state borders. We must work together nationally to ensure we stop the spread of phylloxera." Most of Australia's vineyards are planted on their Vitus Vinifera roots and are susceptible to Phylloxera.
LA's Top Wine Stores
Time Out LA has published its list of the top wine stores in Los Angeles. Each offers a broad collection, knowledgeable clerks to help make a selection, and tastings.
Domaine LA - 6801 Melrose Ave LA 90038 (323) 932-0280
Silverlake Wines - 2395 Glendale Blvd Silverlake 90039 (323) 662-9024
Lou Wine Shop - 1911 Hillhurst Ave Los Feliz 90027 (323) 305-7004
Wally's Wine & Spirits - 2107 Westwood Blvd Westwood 90025 (310) 475-0606
Esters Wine Shop & Bar - 1314 7th St Santa Monica 90401 (310) 899-6900
K&L Wine Merchants - 1400 Vine St Hollywood 90028 (323) 464-9463
The Wine House - 2311 Cotner Avenue WLA 90064 (800) 626-9463
Buzz Wine & Beer Shop - 460 S Spring St #C LA 90013 (213) 622-2222
Venokado - 395 Santa Monica Pl Santa Monica 90401 (310) 576-2500
Wine Product?
Some states allow the sale of "Wine Product." Most wine industry pros have never heard of the stuff. What is it? Legally a "Wine Product" is a beverage that contains some wine. It also can contain fruit juice, water, sugar, citric acid, carbonation, flavorings, and other ingredients. It is limited to 6% ABV. It's comes under the same regulations that allow wine coolers. It's sold by stores that otherwise can't sell wine in the states where it's sold. Recently, producers have been adding to consumer confusion by putting it in 750ml bottles and labeling it like wine by naming the grape variety. Consumers can now find bottles that look like wine and are labeled "Merlot Wine Product" or "Pinot Grigio Wine Product."
Amerine Label Collection
We noted recently that UC Davis was looking for help in digitizing Maynard Amerine's collection of wine labels that are now stored there. The collection of over 5,000 labels dates back to the late 19th Century. Winemaker Ron Rubin of Ron Rubin Winery answered the call. Rubin's donation; amount undisclosed, will allow the project to move forward.
Wine Country Castle to be Given Away
The Italian government is giving away the wine country castle pictured here for free. It's located in the vineyard covered slopes of Friuli-Venezia Giulia in the province of Gorizia. The castle dates to the 18th century. The only condition is that the new owner turn it into a tourist attraction to benefit the residents and businesses of the area.
Counterfeiter Sentenced
Russian born, Aleksandr Iugov, was sentenced to 4 years in prison for counterfeiting in a Dijon court. Over a period of years from 2012 ton 2014 Iugov sold more than 400 bottles of fake Domaine de Romanee-Conti. He was also fined $165,000 for fraudulent use of an appellation and $605,000 in damages; including about $165,000 to be paid directly to Romanee-Conti.
Obama and Trentadoc
Former President, Barack Obama, enjoyed Ferrari Maximum Brut Trentadoc at a dinner during the recent Global Food Innovation Summit in Italy. Trentadoc is a sparkling wine that producers put up against its bigger cousin, Prosecco. Trentadoc's advantage is that it can be sold at a much lower price point. Obama said "It was delicious! Wow!"
Blue Wine
Blumond, a 6% ABV blend of Prosecco, Blue Curacao and peach flavoring sales have been small but are growing in the U.S. It is now being introduced in Italy, where it has been met by resistance within the industry. Wladimiro Gobbo, a member of Italy's Sommelier Association said "(it's) an insult to our wine tradition. It's embarrassing. These are not wines but colored liquids, dumb-downed hybrids with a watered-down percentage of alcohol."
Oil Change, Rotate the Tires, and Put Wine in the Trunk
The BP (British Petroleum) station and garage in Pozuelo de Alarcon, a suburb of Madrid sells luxury wines in addition to fixing cars. Open 24 hours a day, the station stocks a cellar of 500 high end wines. In 2016 it sold 17,000 bottles that ranged in price from $96 to $325.
Moet & Chandon Brut Imperial
When Napoleon Bonaparte was in military school at Brienne-le-Chateau a wine salesman called on the school to get an order for his grandfather's Champagne business. The salesman was Jean-Remy Moet getting orders for his grandfather's Moet & Chandon. The two young men became lifelong friends. Napoleon ordered cases of the wine before every major battle except Waterloo. (Big mistake.) His friend Jean-Remy later had a replica of The Grand Trianon at Versailles built on his estate where Napoleon and Josephine stayed on visits. After Napoleon's death his friend changed the name of his best selling Champagne to Brut Imperial. The word "Imperial" for the Emperor Napoleon.
Chardonnay Shortage in Champagne
Demand for Blanc de Blancs Champagne has been growing worldwide creating a shortage of the wine and the Chardonnay grapes used to make it. The price of the grapes has risen exponentially and will have to be passed along to consumers. Less than one third of the traditional areas are planted in Chardonnay, with most of the acreage producing Pinot Noir and Petite Meunier. Some Champagne houses have started looking to the southeast corner of the region in the village of Vitry where the chalky soil makes similar Chardonnay wine that has usually been sold as still wine.
How Sweet is Your Champagne?
Rated in residual grams of sugar per liter (gpl)
Brut Nature 0-3 gpl
Extra Brut 0-6 gpl
Brut 0-12 gpl
Extra Dry or Extra Sec 12-17 gpl
Dry or Sec 17-32 gpl
Demi-Sec 32-50 gpl
Doux or Sweet more than 50 gpl
It finally happened!
… and finally. 56 years in the trade and for the first time there was a wine stain on my shirt. It wasn't just a shirt; it was a brand new dress shirt. It wasn't just any wine; it was a deep dark ruby colored Argentine Malbec. It wasn't just a stain; a woman behind a table managed to knock over a bottle and color my whole left sleeve. How did I get the stain out? See Spirits below.
Beer
Craft Beer Takeovers
Heineken has bought the remaining 50% of Petaluma Brewer, Lagunitas, to take full control. The initial 50% was purchased two years ago.
AB/Inbev's Annheuser Busch has purchased Craft Brewer, Wicked Weed, in Ashville North Carolina.
AB/Inbev Cuts Off Hops
As part of AB/Inbev's merger with SAB Miller last year, the company took control of SAB's hops farms in South Africa. With hops in short supply, some will be sold to local South African brewers. The balance of the production will be reserved for AB/Inbev's own small breweries. It will be sold internally to Goose Island, Blue Point, 10 Barrel Brewing Co., Elysian, Golden Road, Four Peaks, Breckenridge Brewery, Devil's Backbone, Karbach Brewing, and Wicked Weed. The hundreds of craft brewers that previously bought from SAB Hops Farms will be shut out.
AB/Inbev U.S. Expansion
AB/Inbev has announced that it will spend $2 billion over the next 3 years to expand and upgrade its U.S. investment in craft brewers and non-alcoholic beverages.
Pub Record
Bruce Masters holds the world's record for pub visits. Since 1960 he has visited 46,495 of the UK's 52,750 pubs. He hasn't started on other countries. There's such a lot of world to see!
Vegan Guinness
Guinness Stout will be Vegan by the end of 2017. Most beers including Guinness are filtered with isinglass, a substance made from fish. In 2015 the company pledged to find a way to filter without isinglass. Kegs were converted almost immediately. But it took two years to develop the technology to do it with cans and bottles. How do they do it? That's a trade secret.
Crowlers for Beer
The Crowler is the latest thing to hit the Craft Beer segment. It's been introduced on the east coast and is sweeping through the market. A Growler is a 64 ounce glass jug that is refilled for the consumer by the brewer. The Crowler is half the size; a 32 ounce aluminum container. It's easier to handle and can be used while the beer is fresh. A 64 ounce growler can't always be finished in one sitting. What's left goes flat.
Lobster Beer
Oxbow Brewery in Newcastle, Maine is brewing beer flavored with lobsters and sea salt. Saison Dell'Aragosta is only in limited production. The beer has been reviewed as "Light, dry, tart citrus, a touch of funk, finishes with some salinity and a hint of the lobster. Sounds obvious but this is the perfect summer beer to pair with seafood. Really well done." So as not to waste anything, the brewers eat the lobsters following the brewing process.
Not to be outdone The Wild Beer Company, a brewery in Somerset, England has released a beer called Of the Sea. It's their version of a lobster bisque. Each batch is made with live lobsters as well as cockles, foraged kombu and dulse seaweeds, Cornish sea salt, saffron and star anise.
How Much?
Oktoberfest has become so popular among tourists visiting Munich that beer gardens have been accused of taking advantage of the situation. In October 2016 drinkers paid $12 for a one liter stein of beer.
Beer to replace Viagra
Cerne Abbas Brewery in Dorset, England is brewing Watercress Warrior, a beer that is reputed to increase virility. The beer is made from hops, watercress seeds, and spring water. Ancient legend in Dorset has it that watercress increases the male sex drive. The company provides no guarantees, but has distributed 1,800 500ml bottles of the beer.
Suds for Snails & Slugs
Dr Leslie Noble of the University of Aberdeen, advised that a saucer of beer was the best way to eradicate snails & slugs. The pests have a particular preference for the beverage, causing them to investigate and then drown in the liquid."Home brew is the best, but it's quite labour intensive," he said.
New Beer Package
...and finally. There are times a 6 pack of beer just isn't enough. Even a case may not be enough. Keisari Brewery in Finland is producing a 1,000 pack. It sells for a bargain price of €2,149 or $2,343 US.
Spirits
Amazon Liquor Delivery
Amazon has partnered with Mission Wine and Spirits in Southern California to deliver online orders of liquor within 2 hours. The customer orders online; Mission delivers out of it's Glendale store; the customer pays a $7.99 service charge; delivery is free.
Missing Liquor
Last year Indian state, Bihar, banned all use of alcohol. Since then 40,000 people have been arrested and 915,000 liters of alcohol confiscated. But, what happened to the seized liquor? An investigation found two police officers drunk. They were fired. But much more was missing. Rats living in the warehouse had gnawed off the corks and drank the contents.
Oops!
An election campaign is underway in the UK. Foreign Secretary Boris Johnson donned a turban and spoke at a Sikh Temple in Bristol, England. But his speech included a huge mistake. He said "One of the consequences of having so many Sikh relatives is that whenever we go to India, to Mumbai or to Delhi, we have to bring 'clinkie' in our luggage. We have to bring Johnnie Walker or we have to bring whisky because as you know there is a duty of 150% in India on Scotch whisky. Imagine what we could do if there was a free trade deal with India – which there will be. You are talking hundreds of millions of pounds of new exports and more exports is great for a fantastic export city like Bristol." The problem: it is a sin for Sikh's to drink and they were quite upset about the mention of alcohol in a place of worship.
About that Stain...
(Continued from Wine above) I got home with a new dress shirt that had a blue right sleeve and a now purple left sleeve. What to do? I frantically put the question into the internet. The first answer was to dab off the liquid with a rag. Too late for that. The sleeve was already dry. The second answer was to douse it in Vodka. We put the sleeve in a bowl and poured on the Vodka. Rubbed it in and ...the stain faded away and disappeared. After that, we washed it and the shirt came out like new.
And She Isn't Even 21
...and finally. 12 year-old Ananya Vinay won the California State Spelling Bee in Stockton for the 3rd year in a row. The winning word was "dipsomaniac." The Merriam-Webster Dictionary defines a dipsomaniac as someone that has an uncontrollable urge to drink alcohol.
Other Foods and Beverages
Taco Tuesday
Travel and Leisure Magazine has made a list of the best spot for "Cheap Eats" in every state. California's entry is Roast to Go in LA's Grand Central Market. Tacos are a staple throughout SoCal and it usually takes several to fill a hungry diner. The taco at this place is a meal in itself. Choices are include Beef and Carnitas. The price tag; $3.
Changes at Whole Foods
The latest: Whole Foods has changed a majority of its Board. It has also, at least verbally, accepted the changes demanded by Jana Partners. The biggest changes are implementation of central buying and category management throughout the chain in 18 months. No small task with 400+ stores. At present they don't have the staff with this experience. The first step will have to be a change middle management authority. The second step is giving the employees the authority to do their jobs. All very costly changes and a total change in philosophy and products sold. The results remain to be seen.
What's the Buzz About?
Authorities arrested 51 year old Pavel Tveretinov of Sacramento on charges of holding stolen property. He was in possession of more than 30 pallets of bee hives that were found in Fresno. The hives had been stolen at night while the bees sleep over a period of weeks from all over the Central Valley. Bees are in high demand to pollinate orchards of tree fruit and are rented to growers by bee keepers. The market for hives has tightened with the bee die-off of the past few years. Tveretinov is alleged to have been involved in hive thefts for more than 3 years. A tip led to his arrest.
The Changing Market
Replacing Wine
The historic Fetzer Winery was sold to Flow Kana for $3.15 million. The vineyards are being replaced with fields of Cannabis for Marijuana production. The tasting room will be re-purposed as a cannabis education center where consumers can try the product. Mendocino State Senator, Mike McGuire said "Winegrapes and cannabis have coexisted for decades, but we are now starting to see the reach of cannabis into wine country because it is a newly authorized agricultural crop here in the Golden State."
Costco Sales #1
Costco is the top wine retailer in the country. 2016 sales at the chain were $3.1 billion.
Recipes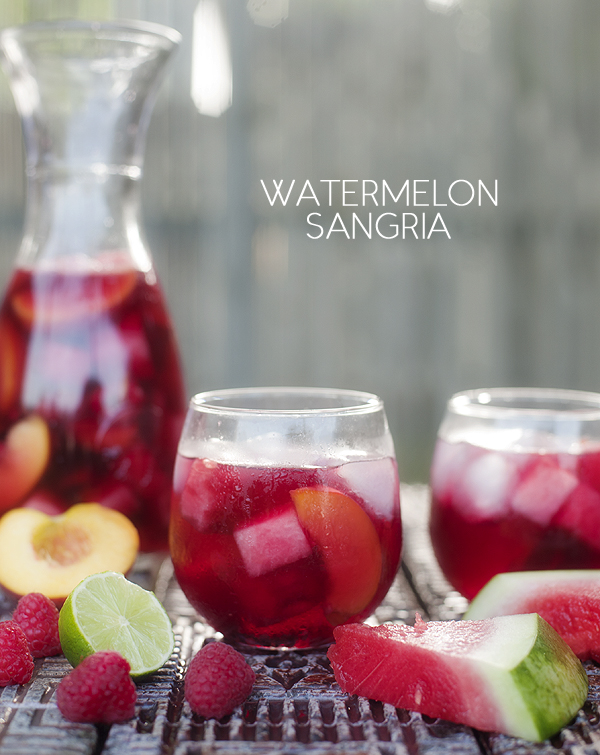 Watermelon Sangria
Ingredients:
2 pounds seedless watermelon, peeled and cubed, plus 1/2 pound watermelon cut into balls with a melon baller and skewered on picks
Ingredients
1 bottle dry white wine

6 ounces vodka

4 ounces triple sec

2 ounces Orange Juice

2 ounces Lemon Juice

2 teaspoons Superfine Sugar

 

Ice
In a blender, puree the watermelon cubes. Pour through a fine strainer into a pitcher. Add the other ingredients. Stir and refrigerate for at least 2 hours. Stir again, then pour the sangria into ice-filled white wine glasses and garnish with the skewered watermelon balls.
Wine Smoothie
Ingredients
1 lb frozen mixed berries
1 3/4 Cups Prosecco
Pour berries and 1 cup of wine into a blender. Start blender at slowest speed. Gradually turn the speed higher while adding the rest of the wine. Pour into wine glasses. Makes 3-4 servings.
Health
It's What They're Drinking
Ella Macleod says she has reached the age of 100 by drinking a glass of Rose' every day. Ella was born in Clydebank, Scotland in 1917 and never left the town. Clydebank's Rose' retailers owe her a lot.
Mariano "Pops" Rotelli is 107 years old. He says "I've had a shot of whiskey in my coffee every morning for 100 years. I went to the doctor three times in 100 years. He's dead. I'm still living." Mariano drinks Jim Beam Black.
Antonio Docampo García, died recently at the age of 107. He drank 250 bottles of red wine a month. Never touched water. He credited his shot of brandy for breakfast for his long life. Antonio produced 60,000 bottles of wine a year at his Bodegas Docampo. He held back 3,000 bottles a year for his personal use.
Study: Drinking Prevents ALS
A 2012 study out of the Netherlands that focused specifically on how smoking and drinking impacts ALS, also known as Lou Gehrig's Disease, found that moderate alcohol consumption correlated with significantly lower incidences of development of the disease. Published in the American Journal of Epidemiology, the study involved more than 2,300 participants, nearly 1,000 of whom had some form of ALS. The scientists found that moderate drinkers were about half as likely to develop ALS as those who didn't drink at all.
Study: Wine Prevents Brain Diseases
A new study led by Dr. Estaban-Fernandez at the Institute of Food Science Research in Madrid published in Frontiers in Nutrition shows how wine protects brain cells and reduces neuro-degeneration. The study found that the chemical processes in the human gut create metabolites. These metabolites stop neurons in the brain from dying as they would in diseases like Parkinson's and Alzheimer's. Dr Fernandez found that the important factors were the wine compounds and the mix of bacteria living in an individual's digestive system. Each of us has a different population of bacteria and that mix affects the metabolites that are created in the process.
Study: Red Wine Fights Diabetes
A study published in the Annals of Medicine showed that drinking red wine could help diabetes patients. The study was done at Ben Gurion University in Israel. 224 non-drinking patients age 45-75 who suffer from type II diabetes were divided into 3 groups. They were assigned to drink water or 5 ounces of red or white wine with dinner. After 2 years the red wine drinkers had 10% more good cholesterol than the other 2 groups.
Couples Drink Together
Dr. Kira Burditt at the University of Michigan studied 2,767 couples that were married an average of 33 years. The study found that the couples that drank together were the happiest. It didn't make a difference how much they drank. What made a difference was doing things together; drinking included.
Social Drinking
Dr. Robin Dunbar at the University of Oxford published a study in the journal Adaptive Human Behavior and Psychology. The study showed that people that frequented their local pub had bigger social networks, were more engaged in their community, and were more satisfied with life.
Study: Drinking for Heart Health
Dr. Imre Jansky led a group study at the Norwegian University of Science and Technology and the Karolinska Institute at Stockholm. The group published their findings in the International Journal of Cardiology and the Journal of Internal Medicine. The study found that people who had 3 to 5 drinks a week had healthier hearts than non-drinkers. The benefits came from relaxing the muscles including the heart and increasing the good HDL cholesterol. The benefits came from wine, beer, or spirits with the maximum benefit at 5 drinks per week.
People Smell Better than Dogs
...and finally. Dr John McGann, a psychology professor at Rutgers University, has published an article entitled "Poor human olfaction is a 19th century myth" in the journal Science. He argues that the idea that the human sense of smell is inferior to other animals is an unproven hypothesis. Tracing what he believes to be a falsely construed work of 19th century neuroanatomist Paul Broca, Dr McGann says that humans are 'in the middle of the pack' in terms of their sense of smell. He says that humans can actually smell some things like bananas or wine better than dogs.
Tasting Notes
Each month we are out there looking for wines that "over deliver"; wines that offer more than others in their category and price level. We search out the wines that you can buy to help build your business; wines that make customers happy and keep them coming back. These are wines we rate as good buys and best buys. Check our notes. The opinions in the reviews are our own and unsolicited. We receive no compensation from wineries or brokers. This month there were several wine tastings that showed some very nice wines available at reasonable prices. The prices shown are approximate retails.
Via Wines/Henry Wine
The Via Wines/Henry Wine Group was held at the Beverly Hills Hotel. It featured wines of Italy, Spain, and Latin America. The wines were a selection of good to excellent bottlings. Here are some of the best.
Acinum Prosecco Extra Dry NV. 100% Glera grapes. Fine bubbles, clean & clear, light nose, good acid balance $15. Soave Classico 2016, 100% Garganega grapes, light straw color, fresh, bright, light acid tones, $12.
Marenco Scrapona Moscato D'Asti 2016, 100% Moscato Bianco, single vineyard, clean & clear, fine bubbles, semi-dry, good balance, 5.5% ABV, $15. Pineto Brachetto D'Acqui 2016, 100% Brachetto, semi-dry, light, fine bubbles, bright fresh red wine, 5.5% ABV, $19.99. Alabarossa Piemonte 2013, 100% Albarossa (a hybride of Barbera and Trebbiano grapes) deep ruby color, full fruit flavor, medium body, spicy and interesting flavor, $15.
Weingut Gottardi Pinot Noir Sudtiroler Alto Adige 2013, 100% Pinot Noir, grown in the Tyrol, the Pinot Noir grape has done something quite different here, This wine is spicy on the nose and the tongue, deep ruby color, 13.5% ABV, $65.
Bodega Noemia Patagonia Malbec Alto Valle del Rio Negro 2015, 80% Malbec, 10% Merlot, 10% Petite Verdot, vineyard planted in the 1990's, grown on the banks of the river bed, light, fresh, deep fruit flavors, 13.5% ABV, $20.
Vinergia Camps d'estels Brut Nature NV, clean, clear, dry, good balance, a very satisfying dry Cava 11.5% ABV, $15. Vinergia Campos de Luz Garnacha old vines Carinena 2015, dark ruby, full body, good nose, elegant, made from vines 38 to 98 years old, good balance, a food wine, $12. We rate this wine as a best buy.
Industry Calendar
5/5 Cinco de Mayo
5/6 Kentucky Derby
5/6-10 WAFC – Palm Desert
5/7 Masters of Taste – Pasadena
5/8 Mosaic Wines – Del Mar
5/10 Elevating Zinfandel - LA
5/10 Mexican Mothers Day
5/13 Central Coast Cider Festival - Atascadero
5/14 Mothers Day
5/15 Santa Barbara Tasting - LA
5/15-21 American Craft Beer Week
5/17 Henry Wine – SFO
5/18 Henry Wine – Beverly Hills
5/18 Tastin' France – SFO
5/20 JFC Sake & Food Expo – Costa Mesa
5/22 Sparkling Wine Tour – Temecula
5/23 Sparkling Wine Tour – Santa Maria
5/24 Sparkling Wine Tour – Paso Robles
5/24 Perspectives on Portugal – Beverly Hills
5/25 Sparkling Wine Tour – Sonoma
5/26 Sparkling Wine Tour – Mendocino
5/27-6/25 Ramadan
5/29 Memorial Day
5/30 Australia Up Close - LA
6/1 Auction Napa Valley – Napa
6/6 Epic Wines – Santa Barbara
6/9-10 Rhone Rangers - SFO
6/10 Taste of Mendocino - SFO
6/10-11 Rhone Rangers – SFO
6/17-18 LA Winefest - LA
6/18 Fathers Day
6/19 Skurnik Wines - SFO
6/20 Skurnik Wines – LA
6/21 Skurnik Wines – San Diego
Promotional Calendar
May 5 Cinco de Mayo
May 6 National Homebrew Day
May 7 National Cosmopolitan Day
May 9 National Moscato Day
May 13 World Cocktail Day
May 14 Mother's Day
May 16 Mimosa Day
May 20 World Whiskey Day
May 15-21 American Craft Beer Week
May 25 National Wine Day
May 30 National Mint Julep Day
June 1 National Moonshine Day
June 4 National Cognac Day
June 10 National Gin Day
June 14 National Bourbon Day
June 18 Father's Day
June 19 National Martini Day
June 30 National Mai Tai Day
July 2 National Anisette Day
July 4 Independence Day
July 10 National Pina Colada Day
July 11 National Mojito Day
July 14 National Grand Marnier Day
July 15 National Strawberry Rhubarb Wine Day
July 19 National Daiquiri Day
July 24 National Tequila Day
July 25 National Wine and Cheese Day
July 27 National Scotch Day
July 27 National Refreshment Day (Beer)
New Legislation for 2017
Our industry has more laws controlling it than most industries. The State
Legislature and the ABC give us license privileges and can take them away. New alcoholic beverage laws were passed that are effective in 2016. Many critical issues are pending. Do you know about them and are you prepared for the changes. Is your business safe? Members are encouraged to look through the Legislative Bulletin. If there is a new law that is a problem for your business, call the association office now. The CBRA is your voice in Sacramento. If you are not a member, join today. The CBRA is your only voice when it comes to new beverage laws.
Brands and Comments
The CBRA Newsletter has not accepted any payment from any of the brands mentioned
in this edition. The editor, Ron Ziff, welcomes comments at ron@cbraliquor.org
CBRA Membership Remains Open
Now, more than ever, access to your industry is important. The CBRA is California's
only statewide association of licensed retailers, and our membership continues to be
open for the first time in 20 years.
At CBRA we deal with licenses and regulations that affect the beverage business on a
daily basis. That's why CBRA offers practical solutions, unique products, services,
information, and timely advice for both large and small beverage businesses. With
reasonable fees, superior service, and associates that are easy to reach, CBRA helps you
to run your business better and easier. One of the most valuable services we offer is that
call to the ABC to ask your question. We can ask that question and keep you anonymous. That's something you just can't do yourself.
Join or renew your valuable membership today. You can't afford to delay.
California Beverage Retailers Association – California's Only Statewide Association of Licensees. We're #1!
If you would like to be removed from this email list, please email to
ron@cbraliquor.org with UNSUBSCRIBE in the subject line.