posted by
cbra
on
Tue, 06/21/2016 - 13:30
California Beverage Retailers Association
Beverage Bulletin
P.O. Box 56686
Sherman Oaks, CA 91413
(818) 693-5561
Ron Ziff, Editor
Ben Ziff, Publisher
May 2016
In this month's issue:
Headline News Stories - French Laundry Burglars Indicted, Drought Update, El Nino Falls Short, LA's Glass Empty, Fetzer Vineyards Installs Water Saving System
Celebrities in the Industry - Kevin Plank, Vincent Ferragamo, Kyle MacLachlan, Roger Daltrey, Dave Mathews, Steve Case, Kelsey Grammer, Drew Barrymore, Christie Brinkley
Popular Culture – Empty Wine Bottle Sets Record Price
Books - The Waldorf Astoria Bar Book, Smuggler's Cove, Tiki With a Twist, Food and Beer, The New Cocktail Hour, Drink Like a Man, Beer Money, Microbrewed Adventures
Movies – Sour Grapes
Politics - Wine Groups Oppose Trump, Trump Golf Course Beer License, How to Eat a Trump Steak, Trump Vodka Seized by Police, Clinton vs. Sanders on Soda Tax
Wine - eBay to Sell Wine, Nazi Wine Cellar Found, Pilot's Wine Collection to be Auctioned, Pommery to Make UK Sparkling, Brexit to Hurt Drinkers, Illegal Passover Wines Seized, Customer Files Class Action in Premier Cru Bankruptcy, Air BnB Chateau, Shipwrecked Champagne to be Sold, Acreage Report, Jackson Buys Penner-Ash, Ste Michelle Buys Patz & Hall, Chinese Buys Canadian Winery, Virginia Dare Plants 400 Year Old Vine, Youngest Sommelier, World's Best Sommelier, Naked Wines Sales Booming, Thieves Steal Cab Vines, Winery Embezzler Convicted, Congress Bill to Reduce Wine Tax, Petite Sirah Group Formed, 2015 Bordeaux Hits the Market, Frost Strikes Burgundy, French Wine Shop Without French Wine Wins Award, Tax Fraud Gang Convicted, French Wine Museum to Open, Deadly Wine
Beer
Brewers Association Adds Categories, News From AB/Inbev, Burger King to Sell Beer, Brewery Takes a Stand on Restroom Laws, Cuban Beer Shortage, Craft Beer Spreads to India, Brewer Can't Sell LSD Beer, Brewer Convicted for Tax Evasion,
Beer Jugs Found in Ancient Tomb, German Law Marks 400 Years, Craft Brewers Use System from Mars Explorer, Beer Faucet Invented
Hard Cider - Cider Company to Make Apple Brandy
Spirits – Rare Spirits Auction, Diageo Forced to Rename Whisky, Mini Theft Turns Out to be Major, In the Mood, Bottle Girls, Some of the World's Strongest Spirits.
Other Foods and Beverages - Ice Cream War, Dole Under Investigation, Bourbon in a Sandwich, Brazil Coffee Futures, Seis de Mayo, Origins of Taco Salad, Completely Natural Food
The Changing Market - Smoking Age Raised to 21, Postal Rates Lowered,
Secret Target Project
Recipes - Coco Lime Margarita
Health - How Resveratrol Works
...and as always Tasting Notes and the Industry Calendar
"No nation is drunken where wine is cheap; it is, in truth, the only antidote to the bane of whiskey." - Thomas Jefferson
There is much talked and written about Thomas Jefferson and wine. Jefferson was a gourmet and the father of much of American cuisine. He brought many vegetables from Europe to this country. Probably his greatest contribution was the introduction of Belgian Pom Frites at a White House dinner. His guests were enthralled with this taste treat they called "French Fries." McDonald's and Burger King owe him eternal thanks.
Headline News Stories
French Laundry Burglars Indicted
Two men have been indicted for the theft of over $300,000 of wine from The French Laundry Restaurant on Christmas Day 2014. Alfred Georgis and Davis Kiryakoz were named in the indictment which detailed the theft and attempted sale of the stolen wine to a North Carolina wine merchant. According to the filing, there were wire transfers of $45,700 from a company to the men. The total paid was to be $150,000 but the buyer stopped payments when the wine appeared to be stolen. The buyer was not identified in the filing but informed sources indicate it may have been Wine Liquidators owned by Ryan Chaland of High Point, North Carolina.
Drought Update
El Nino Falls Short
The rainy season is over and El Nino gave us partial relief. Northern California got somewhat less than average rainfall. Southern California is still very dry. The State Water Resources Board says 90% of the the state is still in drought. We will be entering a busy summer fire season with less than needed reserves. The rainfall was just enough to grow the tall grasses that ignite easily.
LA's Glass Empty
Los Angeles emptied its Silverlake Reservoir several months ago to install new pipes. It would take 400 million gallons to refill it. There is no water available to do this.
Fetzer Vineyards Installs Water Saving System
Fetzer Vineyards is installing a new system to clean wastewater. It can take as much as 14 gallons of water to clean bottles and winery equipment to make one glass of wine. Winery water is usually pumped into holding ponds where it takes weeks to clean. In the system being installed, large bins filled with soil have millions of earthworms that clean the water in as little as 4 hours. The water can be re-used for irrigation immediately and earthworm castings can be used as fertilizer. The system is already in use in Chile. Fetzer is owned by Chilean company Viña Concha y Toro and produces wines under several labels; Fetzer, Bonterra, Five Rivers, Jekel, Sanctuary, and Little Black Dress.
Celebrities in the Industry
Kevin Plank, the CEO and founder of Under Armour has his own whiskey. Sagamore Spirit Rye will be released on May 21 in conjunction with the Preakness.
Retired LA Rams quarterback, Vincent Ferragamo, produces wine with his wife, Jodi, at their Tenuta di Ferragamo Winery. They have been tending Cabernet Sauvignon and Sangiovese vines since 2010. The grapes are blended into a California Super Tuscan. The wine was met with a lawsuit from clothier, Salvatore Ferragamo. The suit is filed in New York and alleges trademark infringement. Salvatore Ferragamo produces his own wine named Il Borro in Tuscany.
Actor, Kyle MacLachlan, has been in this column before with his Washington State Pursued By Bear Wine. Now he's added Blushing Bear, a rose' made from Cinsault and Grenache grapes. He says it's dry, light, and has good minerality. $28.
Roger Daltrey of the singing group, The Who, now has his own Champagne. Champagne Cuvee Roger Daltrey will be $138 per bottle and will have The Who's logo and artwork. Limited Edition The Who ice buckets are also available at $940. Proceeds from the Champagne and buckets will go to his charity, Teen Cancer America.
Singer, Dave Mathews, of the Dave Mathews Band owns Blenheim Vineyards near Charlottesville, Virginia. He produces white wines including Chardonnay and Viognier.
Prices range from $17 to $25.
AOL co-founder, Steve Case and his wife Jean, own Early Mountain Vineyards in Madison, Virginia. Wines are Cabernet Franc, Pinot Gris, white and red blends. Prices are from $22 to $30.
Actor, Kelsey Grammer, who starred in Cheers, is opening Faith American Brewing Company in upstate New York.
Actress, Drew Barrymore has added a Rose' ($18) to her wine portfolio. Other wines she already offers are Pinot Noir and Pinot Grigio.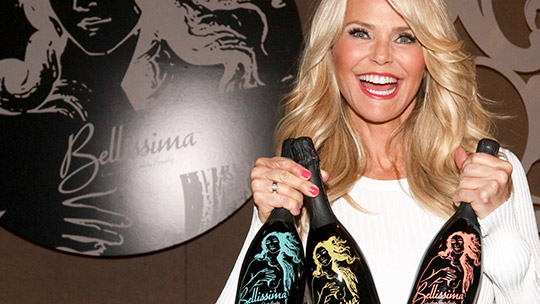 Super Model, Christie Brinkley, likes Prosecco so much that she decided to have her own. Her Bellissima Prosecco sells for $20. The 62 year old model credits drinking 3 glasses a day for her youthful looks.
Popular Culture
Empty Wine Bottle Sets Record Price
Surrealist painter, Rene Magritte, continued painting in 1940-41 despite the Nazi occupation of France. There was no canvas so he painted on empty wine bottles. The female nude on the bottle shown here was auctioned by Christie's New York and went for $725,000. Not bad for an empty Bordeaux bottle. Makes me ask why I've been recycling my bottles!
Books
The Waldorf Astoria Bar Book by Frank Caiafa, Penguin Books, 416 pages, $25. The bar manager of the Waldorf's Peacock Alley mixes hotel history with cocktail recipes. A twist on a Whiskey Sour is the Cole Porter, named for a long time hotel resident. To be released in May.
Smuggler's Cove, by Martin and Rebecca Cate, Ten Speed Press, 352 pages, $30. The founders of San Francisco's famed Tiki Bar highlight more than 100 classic and original recipes and follow the tiki culture from the 1930's to its current revival. To be released in June.
Tiki With a Twist by Lynn Calvo, Ten Speed Sterling Epicure, 192 pages, $14.95. The owner of Lynn's Hula Hut in Montauk, New York gives an array of tropical décor and kitschy accents for her 75 tropical recipes. To be released in this month.
Food and Beer by Daniel Burns and Jeppe Jarnit-Bjergso, with Joshua David Stein, Phaidon, 256 pages, $49.95. Danish beer hangout Torst and Scandinavian restaurant Luksus in Greenpoint are discussed in depth. There are no secrets left untold. To be released this month.
The New Cocktail Hour by Andre and Tenaya Darlington, Running Press, 296 pages, $22. Stirs together the history, trends, and techniques of mixing up cocktails at home.
Drink Like a Man by the Editors of Esquire, 224 pages, $22.95. Takes 83 years of the magazine's drinking wisdom and transforms it into 125 cocktail recipes including the "13 drinks every man should know how to make." To be released in June.
Beer Money: A Memoir of Privilege and Loss by Frances Stroh, Harper, 336 pages, $25.99. Stroh captures the downfall of the brewing empire. From 1984 to 1992 Stroh Brewing Company was on Forbes Top 400 list. By 1999 Miller and Pabst had bought all the parts of the company and plunged the label into obscurity. The firm had already been torn apart by divorce, deceit, and an extravagant lifestyle.
Microbrewed Adventures by Charlie Papazian, HarperCollins, 416 pages, $15.99. Now in the top ten selling food & wine books according to Publisher's Weekly.
Movies
Sour Grapes
We didn't have to wait long for a documentary on Wine Counterfeiter, Rudy Kurniawan. The film, Sour Grapes, from co-directors Jerry Rothwell and Reuben Atlas tells the infamous story from his first emergence on the wine scene to his arrest by the FBI and conviction for fraud. Rothwell said "The film includes appearances by a host of those involved in the story, including collector Bill Koch and his investigator Brad Goldstein, wine writers Jay McInerney and Corie Brown, Burgundy vigneron Laurent Ponsot, sommelier Rajat Parr, various of Rudy's friends and associates, ex-FBI agent Jim Wynne and prosector Jason Hernandez, and those who helped break the story, such as Maureen Downey and Don Cornwell." The film is now making the rounds of film festivals from Montreal to London. If you're looking for Rudy Kurniawan; he is currently serving a 10 year sentence at a Federal prison in California. Address him as Inmate Number 62470-112.
Politics
Wine Groups Oppose Trump
Wine lobbyists are lining up to oppose Donald Trump for President. His policies on immigration and international trade are both the opposite of what they have been advocating for the industry. Both issues may be stalled in Congress, but a Trump presidency might further kill new legislation. Two industry associations, Wine America and Agriculture Coalition for Immigration Reform have been pushing new laws.
Trump Golf Course Beer License
Donald Trump's Turnberry Golf Course in the UK has been granted a license to serve beer at the club house and from a moving golf cart starting daily at 10 AM. The application stirred a local controversy because it included serving until 2 AM which was denied. Beer sales at the course must close at 10 PM.
How to Eat a Trump Steak
What politico's eat and drink is often a subject of concern. Donald Trump is no exception. His butler, Anthony Senecal, was interviewed by The New York Times and told all. He says that Trump prefers his steak so well done that "it would rock on the plate." We all saw him promoting the steaks on TV. Now we know how they should be cooked.
Trump Vodka Seized by Police
Police in Haifa carried out a raid of a local warehouse and seized several hundred bottles of Trump Vodka that were falsely labeled Kosher for Passover. Jews are not allowed to consume anything made from fermented grain during the Passover holiday. The Vodka was produced in the U.S. from 2007 to 2011, when the brand was discontinued for lack of sales. However, it had become popular in Israel. The Israeli importer, Pixel, arranged to have a German distiller use the label. Some variations are Kosher and others are not. This incident clouds the future sales of the brand in the country.
Clinton vs. Sanders on Soda Tax
As Hilary Clinton and Bernie Sanders battle for the Democratic nomination, the beverage industry became the battleground. There is a 3 cent per ounce tax proposed on sugared sodas in Philadelphia. The proceeds would fund work to fight childhood obesity and universal pre-K. Clinton said "I mean, we need universal pre-school. And if that's a way to do it, that's how we should do it." Sanders response was "A tax on soda and juice drinks would disproportionately increase taxes on low-income families in Philadelphia. At a time of massive income and wealth inequality, it should be the people on top who see an increase in their taxes, not low-income and working people."
Wine
eBay to Sell Wine
eBay and Drync are partnering to sell wine. The wines can be found on eBay's website sorted according to varietal, region, and price. Rare bottles are available through an auction system. Drync then arranges for the buyer to pick up the wine at a local store. The project is called eBay Wine and offers more than 10,000 wines from 30 countries and 500 regions.
Nazi Wine Cellar Found
A secret wine cellar was discovered in the Russian town of Tananrog near the border with Ukraine when a worker fell through the floor of a house under repair. The Nazi era cellar was filled with Wine, Brandy, Rum, and German Schnapps all labeled with Swastikas. The workers immediately took a break and opened a few bottles to test the contents. Local official, Igor Tretyakov, said the wines are in perfect condition and would be used for a celebration on the anniversary of the Russian victory over Germany.
Pommery to Make UK Sparkling
Pommery became the second French Champagne house to invest in UK sparkling wine. It is partnering with Hattlingley Valley Winery in Hampshire. In releasing the news Pommery said it may also invest in its own acreage. Last December Taittinger announced it will be making bubbly wine in southern England. The appeal to French Champagne producers is the chalk soils of the area are similar to those in Champagne. The land is far cheaper and climate change is making the area better for grapes.
Brexit to Hurt Drinkers
The UK will vote later this year on a possible exit from the European Economic Union(EU). The process has been nicknamed "Brexit." One possible fallout if the UK leaves the EU is the end of a thriving part of the wine industry. Cruise ships take boatloads of tourists from the UK to France for weekend excursions. The travelers return with loads of French wine. Ordinary table wine can cost about $5 US less per bottle due to lower taxes and currency differences. The trip is called a "Booze Cruise."
Pilot's Wine Collection to be Auctioned
Charterhouse Auctions will be selling off a vast collection of wines and spirits that were owned by an Aer Lingus pilot. His daughter turned the collection over to the auction house for sale when he died. Evidently, the pilot brought back a case of duty free wine on each foreign trip he flew. He enjoyed much of it, but left over 200 case of wine and 60 cases of spirits. When the bottles were removed from his garage, a 1992 auto with only 318 miles on it was under the wine. The car had been won in a employee contest run by the airline.
Illegal Passover Wines Seized
650 cases of illegally imported Kosher Passover wines were seized from a Montreal Synagogue by police and the Societe des alcools du Quebec (SAG). The SAG has exclusive rights for importing all wine and liquor for Quebec. The wines had arrived by ship without permits or documentation.
Customer Files Class Action in Premier Cru Bankruptcy
Several customers have challenged the receiver's plan to sell the retailer's stock of wines and divide the proceeds among creditors. Their claim is that some of the wine was theirs, having been paid for but not delivered. Now, one of them has filed a class action to stop the sale. This will further complicate the court proceedings.
Air BnB Chateau
Chateau Paveil de Luze is available as a rental through Airbnb. While staying at the chateau you will be hosted by a member of the Luze family; have breakfast, lunch, and dinner prepared by the in house chef; and enjoy the swimming pool and other facilities. The Luze family has owned the Chateau in Margaux since 1862.
Shipwrecked Champagne to be Sold
A bottle of Heidsieck Monopole 1907 that was salvaged from a shipwreck in 1999 is up for auction by Bonhams London. Another bottle from the same shipwreck recently sold for about $15,000 in Paris.
Acreage Report
The California Department of Agriculture reported that 38,000 acres of wine grapes were removed in 2015. Bearing acreage down 1%. Non-bearing acreage down 4%.
Jackson Buys Penner-Ash
Jackson Family Wines has purchased Penner-Ash Winery in Oregon. The winery produced 18,000 cases of high quality Pinot Noir in 2015. This will be Jackson's sixth winery.
Ste Michelle Buys Patz & Hall
Washington's Ste Michelle Wine Estates has acquired Patz & Hall Winery in Sonoma. Patz and Hall consists of a brand vinted in leased facilities in Sonoma. The winery buys grapes and owns no vines of its own. It produces 35,000 cases a year sourced from 30 different growers.
Chinese Buys Canadian Winery
A Chinese buyer has purchased the Sundial Vineyard in Vancouver. The vineyard dates back to 1988 and the Free Trade Agreement with the U.S. It was originally planted because the Canadian government wanted European Vinifera wines to sell in the U.S.
Virginia Dare Plants 400 Year Old Vine
Francis Ford Coppola's Virginia Dare Winery in Geyserville celebrated Earth Day by planting a cutting from the "Mother Vine." The Mother Vine is a 400 year old Scuppernong Muscadine grape vine growing on Roanoke Island, Virginia, the birthplace of Virginia Dare, the first child born to English colonists.
Youngest Sommelier
Seventeen year old Erika Fritz of Austin, Texas, became the youngest person in the United States to receive the International Wine & Spirits Guild Certification of Wine Sommelier. Erika said "I have grown up in the family vineyards and wineries and that is where my passion is." At age eight, she was planting vines and helping in the vineyards, and by twelve she was working in the winery as a "cellar rat". Over the last year she has taken on the role of Promotion Liaison and is heavily involved in speaking engagements, wine presentation, and the complicated area of International wine relations. She will study International Business at University in Texas and in Italy.
World's Best Sommelier
Swedish sommelier Arvid Rosengren was named the Best Sommelier in the World after during the four day Concours du Meilleur Sommelier du Monde competition in Mendoza, Argentina. He topped 61 competitors for the title.
Naked Wines Sales Booming
Online platform, Naked Wines, continues crowd funding expansion with over 300,000 investors that support 100 independent winemakers in 14 countries. In the exchange the investors get access to exclusive labels and deals; the winemakers get financial support and consumer feedback. The platform acts as an agent for both the investors and wineries. Sales over the past holiday season were reported to be 29% higher than a year earlier.
Thieves Steal Cab Vines
Thieves struck Chateau Mazails in Bordeaux during the night and stole 400 newly planted Cabernet vines worth $2300 from 2 1/2 acres that had just been planted. Owner, Phillippe Chacon, thinks the theft was to fill an order for vines by another grower.
Winery Embezzler Convicted
Susan Jean Moore was convicted for embezzling more than $220,000 from Scarecrow Winery owned by JJ Cohn Estate and Coco Lopez. She stole the money by making out checks to herself and making false Quikbook entries showing the checks were made to Scarecrow's suppliers. She pleaded no contest to a felony count and will pay $50,000 in restitution and serve 1 year in jail.
Congress Bill to Reduce Wine Tax
Congressman, Mike Thompson (D) St Helena has introduced a bill that would reduce taxes on still and sparkling wines. He teamed up with Congressman, Dave Reichert (R) Washington to introduce this bipartisan law to help the industry.
Petite Sirah Group Formed
P.S. I Love You is a new organization that has been formed in California to promote Petite Sirah. It is a 105c(6) corporation, meaning it is a non-profit dedicated to educating people on a particular subject. Reading its info you will find that there are 11,000 acres of Petite Sirah planted worldwide. 9,974 of those acres are in California. For more info contact Jo Diaz at http://www.wine-blog.org.
2015 Bordeaux Hits the Market
The first releases of 2015 Bordeaux wines are being marketed at about 10% higher prices than last year's release. 2015 wines from Burgundy are extremely high in alcohol due to the unusually hot summer. Some reached as much as 15% ABV instead of the normal 11-13%.
Frost Strikes Burgundy
For three nights at the end of April France was hit by a spring frost. Areas affected were Loire, Chablis, and Cote d'Or. In Burgundy the frost was the worst since 1981. It snowed briefly in Champagne. Damage to Chardonnay and Pinot Noir leaf buds was reported.
French Wine Shop Without French Wine Wins Award
The Soif d'Ailleurs wine shop in Paris has been named the #1 wine store in France; and it doesn't even sell French wine. The store is the undisputed specialist of imported wine with 450 wines of 150 varieties from 41 countries. Wines from Australia, Spain, Croatia, Italy, Greece, Germany, South Africa, Portugal, the U.S., and 32 other countries are offered. Owner, Mathieu Wehrung, toasted his victory with Miolo Sparkling Wine from Brazil.
Tax Fraud Gang Convicted
A criminal group in Southeastern England was convicted in late April of defrauding the government of ₤15 million. They had sold alcohol in the UK and indicated it was exported to France after taking it out of bonded warehouses through several sham companies. They used fake documents to show that they had paid duty and VAT on the bottles. They were originally apprehended by police with piles of cash in a car.
French Wine Museum to Open
The Cite du Vin Wine Museum will open in Bordeaux on June 1. It is described as "an immersive and cultural journey into the heart of the living and universal heritage of wine", the attraction will be a major part of the city's tourism landscape. The curving and fluid exterior of the building is reminiscent of the swirl of wine in a decanter or glass.
Deadly Wine
Some famous people who have died with wine.
Alexander the Great died in 323 B.C. At age 32. He is thought to have died from wine that was poisoned with a toxic plant.
George Plantagnet died in 1478 at age 28. He was the brother of English Kings Edward IV and Richard III. His brother Edward had him executed in the Tower of London by drowning in a vat of Malmsey wine. It was his favorite.
Grigori Rasputin died in 1916 at age 47. He was given poisoned wine. When that didn't work, he was shot.
Jimi Hendrix died in 1970 at age 27. He drowned in red wine according to the doctor that tried to save him. The doctor went on to say it could have been murder. He was out drinking in London's Mayfair district that night with Gary Farr, Jimmy Cregan, and Eric Clapton.
Charmayne Maxwell, R&B singer died in 2015 at age 46. She fell while holding a wine glass which shattered and cut her neck.
Beer
Brewers Association Adds Categories
The Brewers Association has added several new categories to beer. Gose is a new salty-sour beer similar to the original Leipzig-Style Gose. Breslau-Style Pale Schöps and Breslau-Style Dark Schöps; Finnish-Style Sahti; and Swedish-Style Gotlandsdricke all are derived from traditional European styles: Schöps (Shups) are wheat-based beers, where as Sahti (Sa-h-tee) and Gotlandsdricke (Got-lands-dreek-a) are notable for including juniper. European-Style Dark Lager was the last new category added to distinguish it from lighter Lager styles.
News From AB/Inbev
AB/Inbev had a weak first quarter as sales in its second biggest market, Brazil, fell by 10%. The company's Budweiser Beer will have its name changed to "America" from Memorial Day to Election Day. The can will also have "Home of the brave" and "Liberty and Justice for all" in script.
AB/Inbev has sold Grolsch, Peroni, and Meantime brands to Asahi. This is a unique opportunity for Asahi to grow its business. The Japanese market has matured and is stagnant. The company has also offered to sell SAB/Miller's brands in the Czech Republic, Romania, Hungary, Poland, and Slovakia to satisfy European regulators concerns over the impending merger. In South Africa the company has offered to set up a fund of 1 billion Rand ($69 million U.S.) to support local beer companies.
As it continues to move into the Craft Beer category, AB/Inbev bought Devil's Backbone Brewing in Nelson County, Virginia.
Burger King to Sell Beer
Burger King has been granted a license to serve beer at its Waterloo Station restaurant making it the first fast food chain in the UK to sell beer. The license had specific conditions. Beer can only be served from 11AM to 8PM, in plastic containers, with food, and consumed on premises. In addition, there are record keeping requirements, closed circuit TV, staff training, and increased management supervision mandated. At the same time applications for beer service at Paddington and Victoria Stations were turned down.
Brewery Takes a Stand on Restroom Laws
Wedge Brewing Company in Ashville, North Carolina has taken a stand against that state's anti-LGBT restroom law. Printed on the bottom of each can is the brewery code which now reads "F*CK HB2". The HB2 is the number of the new law. The brewery's Facebook page says "Let's keep our community open and welcoming to all. The Wedge is a proud supporter of 'Don't Be Mean to People.'"
Cuban Beer Shortage
As American tourists return to the streets of Havana, Cuba they are creating a new shortage in the island's troubled economy. There isn't enough beer! The state run bars and cafes are continually running out of the two brands made in the state run breweries. Cristal and Bucanero have become so scarce that they can't be found for days.
Craft Beer Spreads to India
The Craft Brewing craze having spread from the U.S. to Africa and Asia is now sweeping India. Brewpubs are springing up in Bangalore, Mumbai, and other major cities. Some cities have as many as 25 competing establishments.
Brewer Can't Sell LSD Beer
Indeed Brewing Company had its application for a label turned down. The company wanted to label its Lavender Sunflower Date Honey Ale as LSD. The Alcohol Tobacco Tax & Trade Bureau said the label would imply that it contained drugs.
Brewer Convicted for Tax Evasion
Jules Whiteway-Wilkinson, owner of London Fields Brewery, has been charged with tax evasion and his brewery put up for sale. The charges are that he did not pay VAT, Income Tax, and a student loan. The total is over ₤1 million.
Beer Jugs Found in Ancient Tomb
A Swedish team from the University of Lund has uncovered a 3,400 Egyptian tomb containing beer jugs. The tomb was the burial place for Pharaoh Thutmose III. The site was not richly decorated like other tombs, but contained the Pharaoh's possessions. Evidently the monarch enjoyed his suds.
German Law Marks 400 Years
Last month marked the 400th anniversary of the Reinheitsgebot. The 1516 edict was issued by Wilhelm IV of Bavaria and mandated that beer could only be made from Water, Barley, and Hops. At the time the rule also set the price of beer. One of the motivations was to keep the price of wheat and rye lower so bakers didn't have to compete with brewers to buy grain.
Craft Brewers Use System from Mars Explorer
NASA has developed a system that will allow astronauts to live and breathe on Mars. It involves breaking down Mars atmosphere which is 96% Co2. Now Pioneer Energy has adapted that system to help microbrewers make beer. Usually the carbon dioxide produced during fermentation is allowed to escape into the air. The beer is then carbonated with Co2 that is bought in tanks. In the Pioneer Energy system it is captured and stored to be used to carbonate the beer toward the end of brewing. A small and efficient set up will give the brewer enough Co2 to make up to 60,000 barrels a year.
Beer Faucet Invented
And finally... a Russian beer drinker has a dream come true in his kitchen. Pictured above is the beer tap that delivers fresh beer from the craft brewery downstairs.
Hard Cider
Cider Company to Make Apple Brandy
Sonoma Cider has expanded its line with an Apple Brandy similar to Calvados. This is Sonoma's only craft spirit. The company also makes Hard Ciders labeled: The Hatchet, The Anvil, and The Washboard. The company was named the 2015 Cider Producer of the Year at the New York International Beer Competition.
Spirits
Rare Spirits Auction
A bottle of pot still Irish Whisky from 1916 is being auctioned. It is thought to be the oldest unopened bottle of Irish in existence. The auction price is estimated at $15,000. McTear's Rare & Collectible Whisky Auction in Glasgow is also selling a bottle of "Pre-War Strength" Chivas Regal distilled in 1908. One of the rarest items is a mini bottle of "Nippy Sweetie" Scotch that is expected to bring in $300-$500 US. It was bottled by Douglas Laing & Co. in the 1970's. The mini's were sold at performances of British comedian, Billy Connolly, by a lady vendor who moved through the audience selling ice cream and whisky. Her products helped liven the crowd for him. It is thought to be the only bottle still in existence.
Diageo Forced to Rename Whiskey
Diageo has settled a lawsuit from the Scotch Whiskey Association by renaming two of its biggest selling brands. McDowell's and Bagpiper are produced in India. McDowell's sells over 25 million cases a year, eclipsing Johnnie Walker which sells only 19 million cases. Almost all of the two brands is sold in India. The renaming will only apply to the small portion that was exported. The suit claimed the whisky was being confused with Scotch. The new name for McDowell's has not been chosen. Bagpiper will no longr be exported.
Mini Theft Turns Out to be Major
Rachel Trevor, a flight attendant for Endeavor Air, was indicted for stealing more than 1,000 mini-liquor bottles and taking them from a plane. She was caught when she tried to sell them on Craigslist.
In the Mood
The Seratonin Cafe in Australia is promoting mood enhancing cocktails. The Happiness Cocktail is made with Belvedere Vodka and strawberries, lemon, tomatoes, cherries, basil, and black pepper. It brightens the day by increasing endorphins. The Relax Cocktail is made with Tanqueray, chamomile, lavender, lemon, and cardamom. Focus Cocktail is made from aperitif, coffee beans, hazelnut syrup, and bitters.
Bottle Girls
L.A.'s Sunset Strip has given birth to a new job category: "Bottle Girls." The attractive Bottle Girls wait on tables serving Hollywood's high rollers and wannabes. A table check can often run $10,000 to $15,000. The girls are dressed as if they were in a Victoria's Secret catalog and tips put them in a pay category that tops what lawyers get.
Some of the World's Strongest Spirits.
Spirytus – 192 proof (96%) Made in Poland. Sold in New York State.

Everclear Grain Alcohol – 190 proof (95%) Made in the US

Golden Grain – 190 proof (95%) Made in the US

Bruichladdich X4 Quadrupled Whisky – 184 proof (92%) Single Malt, distilled 4 times, aged in new oak casks. Made in Scotland.

River Antoine Royale Grenadian Rum – 180 proof (90%) Pot Still Rum. Made in Grenada.

Hapsburg Gold Label Premium Reserve Absinthe – 179 proof (89.9%) Made in the Czech Republic.

Pincer Vodka – 177 proof (88.8%) Botanical Vodka has Wild Elderflower and Milk Thistle essence. Made in Scotland.

Balkan 176 – 176 proof Vodka (88%) Made in Bulgaria.

J.B. (John Crow Batty White Rum) – 160 proof (80%) Made in Jamaica.
10) Bacardi 151 – 151 proof (75.5%) Made in Puerto Rico
11) Absinth – 140 proof (70%) Made in the Czech Republic. Flavored with wormwood thujone. Causes hallucinations. Banned in the US because it is addictive.
12) Clarke's Court Spicy Rum – 138 proof (69%) Made in Grenada.
Other Foods and Beverages
Ice Cream War
Pasadena has become ground zero for an ice cream confection war. After Ice Cream offers a Milky Bun: a doughnut stuffed with ice cream. The choice of flavors: Coffee, Milk Tea, Churro, and Blue Cookie Monster. Competitor, Benjees Ice Cream Crafters has a Creamy Bun. That's a Cronut (a Croissant shaped like a doughnut and frosted) filled with ice cream. The choice of flavors: Pistachio, Espresso, Sesame, Horchata, and Taro. Which is better? In the interests of science, try them both.
Dole Under Investigation
The Justice Department has launched a criminal investigation of Dole Foods over a Listeria outbreak. In January Dole had issued a voluntary recall of all salad products produced at its Springfield plant. The recall was in response to a listeria outbreak that had sickened 33 people in the U.S. and Canada. Four of them had died. An early investigation revealed that Dole had found positive samples of the bacteria in its products from the plant as early as July 2014.
Bourbon in a Sandwich
Arby's has a new menu labeled "The best Bourbon is Sandwich Bourbon." It includes Bourbon Bacon Turkey, Bourbon Bacon Steak, and Bourbon Bacon Brisket. Each sandwich has a toasted roll, the featured meat with brown sugar bacon, melted cheddar cheese, crispy onions, and is topped with a tangy Bourbon Dijon Sauce.
Brazil Coffee Futures
Brazil is in the midst of a drought. Look toward rising prices on coffee and other agricultural products imported from Brazil.
Seis de Mayo
If you overindulged on Cinco de Mayo, New York Mexican Restaurant, El Original, served up a "Seis de Mayo" hangover cure. What could be better than a 7 pound breakfast taco? It contains a pound of sausage, a pound of potatoes, one pound of bacon, one pound of refried beans, one pound of Fajita vegetables, twelve eggs, 8-ounces of pico de gallo, 4-ounces of queso fresco and 8-ounces of salsa wrapped in a 12 inch flour tortilla.
Origins of Taco Salad
Did you ever wonder where taco salad originated? It's certainly not Mexican. It started out as a "Tacup" with ground beef, beans, sour cream, and cheese, all served in a small bowl made of Fritos. It was the invention of Elmer Doolin, owner of Fritos, and was sold at Casa de Fritos in Disneyland starting in 1955. It was so popular that the restaurant started making them bigger and a Taco Salad was born. Incidentally, Doritos also were first served there. Credit to the book Taco USA: How Mexican Food Conquered America by Gustavo Arellano.
Completely Natural Food
… and finally, the restaurant's promo reads"Enter a secret Pangea-like world, free from phones, electric lights and even clothing (optional) and revisit the beginning where everything was fresh, free and unadulterated from the trappings of modern life." The Bunyadi restaurant in London will offer dining in the buff. Patrons will have a changing room where they can take off their clothes before sitting down to dinner. Is this a little too extreme? Evidently not, the restaurant hasn't even opened and there are already 6,500 on the waiting list for reservations.
The Changing Market
Smoking Age Raised to 21
A new law goes into effect June 9, which raises the legal age for sale of tobacco and tobacco products from 18 years of age to 21. The bill was authored by Senator Ed Hernandez (D) West Covina and signed into law by Governor Jerry Brown. California becomes the second state to raise the smoking age. Hawaii put a similar law into effect in April. The ban includes tobacco for smoking, chewing, dipping, and vaping.
Postal Rates Lowered
The Postal Commission has ordered the US Postal Service to lower its rates for the first time since 1919. Letter rates were reduced from 49 cents to 47 for first class, 1/2 cent lower if it's metered and to 34 cents from 35 for post cards. Package rates were not changed. The reduction took effect April 10. The commission had ordered the end to an "exigency surcharge." The Postal Service had argued that it is still losing money and the rates should not be lowered. Remember that roll of 49 cent Forever Stamps you bought to save money in case of an increase? They are now worth 47 cents. You lose again.
Secret Target Project
Target is working on a new retail project that "will disrupt the way people shop." It has a team of 60 techies working in Sunnyvale, CA and a team of 10 marketing people moving from Minneapolis to California. The project is highly secretive and code named "Goldfish."
Recipes
Coco Lime Margarita
Combine in a blender:
1 1/2 Cups Cream of Coconut
1 Cup Silver Tequila
2/3 Cup Triple Sec
1/3 Cup Freshly Squeezed Lime Juice
Blend until smooth. Add 2 Cups Shaved Ice and blend. Pour into glasses with salted rims and top with toasted coconut. Serves four.
Health
How Resveratrol Works
Until now scientists knew resveratrol in red wine reduced heart disease but didn't know how it works. Now a study released in the journal, mBio published by the American Society for Microbiology shows how resveratrol fights heart disease. According to the study, it inhibits the production of a chemical produced by microbes in the human gut. That compound, trimethylamine-N-oxide, is a contributor in atherosclerosis or hardening of the arteries.
Tasting Notes
Each month we are out there looking for wines that "over deliver"; wines that offer more than others in their category and price level. We search out the wines that you can buy to help build your business; wines that make customers happy and keep them coming back. These are wines we rate as good buys and best buys. Check our notes. The opinions in the reviews are our own and unsolicited. We receive no compensation from wineries or brokers. This month there were several wine tastings that showed some very nice wines available at reasonable prices. The prices shown are approximate retails.
Chateau Palmer
The Tour des Deux Rives by Maisons Marques & Domaines (MMD) in Los Angeles was the most exciting tasting so far this year. The wines poured were truly of impeccable provenance. The wines hailed from Chateaux in St. Estephe, Pauillac, St. Julien, Margaux, Pessac-Leognan, Pomerol, and St. Emilion. The wines all showed the elegance that can only be tasted in the world's greatest wines.
Ch. Ducru Beaucaillou 2012. Good color, nose, soft and warm and full bodied, $150. The second label Croix de Beaucaillou 2012 did not show quite the finesse and will take a few years to open up. That said, it is a bargain at $50.
Ch. Haut-Bailly, was founded in 1630, the vines average 35 years in age, had deep color, good nose, and full body. The '07 ($99) will still age well for years. The '10 ($210) needs more time to age. And the 2012 ($110)is very full with a hint of ripe cherries and will drink well now. The 2007 is by far the best buy.
Ch. Certan de May 2011 was soft and full with good color and nose, $115.
Ch. Hosanna 2008 was one of our favorites, the vines vary from 25 to 50 years in age, it was soft with good color, nose, and a medium full body, $210. The owner, Christian Mouiex, has also owned Dominus in Napa since 1968.
Ch. Mouton Rothschild 2012 had good color and nose, medium full body, legs, $625.
Ch. de Pez 2011, good color and nose, full body, a best buy at $45.
Ch. Pichon Longueville Comtesse de Lalande '06 good color and nose, has many years ahead of it, $200. '10 is a big wine, good color and nose, full body, many years ahead of it, $300.
Ch. Palmer average age of the vines is 40 years, 2007, deep color, good nose, soft and full, needs years to open up, $300. 2011, deep color, good nose, soft and full, $350. This wine stood out as our favorite in the tasting.
Duckhorn Tasting
The Duckhorn wines were magnificent as always. But, did you know there was a second label? These wines don't reach the level of Duckhorn, but the Decoy wines are a fantastic buy.
Decoy Sonoma County Sauvignon Blanc 2014, bright, clean, dry, lots of character, pale lime-straw color, light nose, 13.5% ABV, 100% stainless, $20.
Decoy Sonoma County Chardonnay 2014, fresh, bright, straw color, light nose, light oak tone, 75% stainless, 25% oak, 13.5% ABV, $20.
Sonoma County Pinot Noir 2014, good color and nose, true Pinot Noir flavors, 9 months in oak, 13.5% ABV, $25.
Sonoma County Zinfandel 2014, 91% Zinfandel, 9% Petite Sirah, good color and nose, medium body, good with food or will stand alone, 13.9% ABV, $25.
Savour Australia Tasting
There a number of very good wines shown by Australian vintners at this tasting. Australian wines and winemakers have come a long way in just a few years. The current exchange rate makes these wines excellent buys.
Robert Oatley Vineyards. Sauvignon Blanc 2013, fresh, aromatic, good color and nose, good finish, $14.99. Chardonnay 2014, fresh, bright, light straw color, citrus notes, $14.99. Shiraz 2013, good nose, dark ruby color, full body, $18.99. Cabernet Sauvignon 2013, good color and nose, full body, berry flavors, $18.99. Distributed by Young's Market.
Plan B! Wines. A List Sauvignon Blanc 2014, clear, dry, good nose, good finish, 12.9% ABV, $16. A list Chardonnay 2015, 30% used oak barrels, 70% stainless, straw color, good nose, crisp finish, 13.0% ABV, $16. Contact Joe Bernard joe@screwtopimports.com or (917) 747-6339.
Epicurean Wines. Flegenheimer Paisant Grenache Shiraz 2014, Grenache 85%, Shiraz 15%, beautiful blend, good color and nose, full body, 15.6% ABV, $17. Eskadale Winner's Tank Shiraz 2014, dark color, good nose, full body, soft, 14.8% ABV, $17. Contact Mackenzie Nichols mackenzie@epicureanwines.com.
Wakefield Wines. Estate Riesling 2015, crisp, clean, clear, good nose, good finish, $18. Contact Matthew Sharp at Seaview Imports, msharp@seaviewimports.com.
Beresford Wines. Chardonnay 2013, good color and nose, crisp, stainless, $19.99. Cabernet Sauvignon 2013, good color and nose, full body, berries, aged 12 to 14 months in French and American Oak, $24.99. Contact Chris Risdon chris.risdon@vok-usa.com or (310) 351-8935.
Industry Calendar
5/16 World of Wine - SFO
5/16 Chambers & Chambers – SFO
5/17 Chambers & Chambers - Redwood City & Oakland
5/17 World of Wine – Beverly Hills
5/18 World of Wine – San Diego/Carlsbad
5/18 Chambers & Chambers – LA & San Diego
5/18-20 Craft Beverage Expo – Oakland
5/19 Chambers & Chambers – West LA
5/21 San Francisco International Beer Festival – SFO
5/21 Rioja Wine and Tapas Festival – LA
5/22 Santa Rita Hills Road Trip – Ventura
5/22 Gregory Condes Wines - SFO
5/23 Regal Wine – Westlake Village
5/25 Meet the Women of the Vine – Temecula
5/30 Memorial Day
6/6-7/5 Ramadan
6/7 Bordeaux Under One Roof
6/9 Sparkling Soiree – Santa Maria
6/11 Rhone Rangers - SFO
6/18 Pinot Days – SFO
6/19 Fathers Day
6/20 Republic of Georgia Wines – TBD
6/24-26 Russian River Valley Experience - Sonoma
6/25-26 LA Winefest – LA
Promotional Calendar
5/5 Cinco de Mayo
5/6 National Beverage Day
5/6 International Sauvignon Blanc Day
5/6-13 World Cocktail Week
5/7 National Homebrew Day (First Saturday in May)
5/7 Beer Pong Day (First Saturday in May)
5/13 World Cocktail Day
5/16 Mimosa Day
5/21 World Whiskey Day
5/25 National Wine Day
5/30 National Mint Julep Day
New Legislation for 2016
Our industry has more laws controlling it than most industries. The State
Legislature and the ABC give us license privileges and can take them away. New alcoholic beverage laws were passed that will be effective in 2016. Many critical issues are pending. Do you know about them and are you prepared for the changes. Is your business safe? Members are encouraged to look through the Legislative Bulletin. If there is a new law that is a problem for your business, call the association office now. The CBRA is your voice in Sacramento. If you are not a member, join today. The CBRA is your only voice when it comes to new beverage laws.
Brands and Comments
The CBRA Newsletter has not accepted any payment from any of the brands mentioned
in this edition. The editor, Ron Ziff, welcomes comments at ron@cbraliquor.org
CBRA Membership Remains Open
Now, more than ever, access to your industry is important. The CBRA is California's
only statewide association of licensed retailers, and our membership continues to be
open for the first time in 20 years.
At CBRA we deal with licenses and regulations that affect the beverage business on a
daily basis. That's why CBRA offers practical solutions, unique products, services,
information, and timely advice for both large and small beverage businesses. With
reasonable fees, superior service, and associates that are easy to reach, CBRA helps you
to run your business better and easier. One of the most valuable services we offer is that
call to the ABC to ask your question. We can ask that question and keep you anonymous. That's something you just can't do yourself.
Join or renew your valuable membership today. You can't afford to delay.
California Beverage Retailers Association – California's Only Statewide Association of Licensees. We're #1!
If you would like to be removed from this email list, please email to
ron@cbraliquor.org with UNSUBSCRIBE in the subject line.