posted by
cbra
on
Wed, 07/26/2017 - 17:13
California Beverage Retailers Association
Beverage Bulletin
P.O. Box 56686
Sherman Oaks, CA 91413
(818) 693-5561
Ron Ziff, Editor
Ben Ziff, Publisher
June 2017
In this month's edition:
Headline News Stories-George Clooney & Partners Sell Casamigos for $1 billion,
Amazon Buys Whole Foods, Two New Laws
Celebrities in the Industry-Foo Fighters, Neil deGrasse Tyson, Daniel Ricciardo, Sir Patrick Stewart
Popular Culture-Fake Wine
Books-Masters of Craft, The Sommelier Prep Course, Wine Folly
Movies-Paris Can Wait, Brewmore Baltimore, Dreaming of Wine
Politics-Smirnoff, FBI Shaken Not Stirred, UK with Foam on Top, Obamas in Italy
Wine-Humble Start on Life's Journey, Frost Damage, Watered by Watson, UK Vineyards Expand, Sugar?, Vineyard Accident, La Tache, California Wines Set Records, Summer Concerts, Oldest Bottle of Wine, Purple Heart, Knight, Frosting on the Cake, Wine in the Sky, Corkage Fees, WineLeather, Wine Pens, Tanks for the Wine, A Peacock Walked into a Liquor Store
Beer-Beer Pipeline, Beer Spilled, This Bud's Not Bud, Cinema Suds, The True Spirit of London
Spirits-Goop!, Robot Bar, A Bottle That Says Hello, Lucky Bottle, Utah Drivers DUI Sooner, Spirits Numbers Up, Lookalike?, Brown-Forman Takeover?, Unspirited Spirit, A Rainy Day in Jalisco, Pocky, Billion Dollar Candy
Other Foods and Beverages-Donuts!, Hot Guacamole, Walmart System Restocks the Pantry, Lidl Enters U.S. Market, Coffee Still #1, Hollywood Icon Comeback!,
Take Me Out to the Ballgame, Only in California, How Now Brown Cow
The Changing Market-Sales Tax Changing, Chinese in the Vineyards, Online Shopping Takes Its Toll, Nike Goes Online, Retail Losses Up in 2016
Recipes-Flat Champagne Collins
Health-Hangover Cure
...and as always Tasting Notes and the Industry Calendar
"Things didn't work out the way I planned. Long walks in the woods. ...Chardonnay helped a little too." - Hilary Clinton
Headline News Stories
George Clooney & Partners Sell Casamigos for $1 billion
George Clooney and his partners, Mike Meldman and Rande Gerber, sold Casamigos Tequila to Diageo for $1 billion. Not bad for a brand that's only 4 years old. The brand will join Diageo's other tequila brands Don Julio, Peligroso, and DeLeon. The purchase price is broken down into an initial payment of $700 million and $300 million based on continued growth of the brand. Casamigos is set to sell 170,000 9-liter cases this year. The brand has been growing at an annual rate of 40% to 50%. Retail pricing is $45 to $55. Diageo Chief Executive Officer Ivan Menezes said in the statement. "With the global strength of Diageo we expect to expand the reach of Casamigos to markets beyond the U.S. to capitalize on the significant international potential of the brand." According to Rande Gerber "We just started this to drink our own Tequila. We thought if we could sell a few bottles; OK. Selling it for a billion dollars; we were shocked. We'll continue running the company."
Amazon Buys Whole Foods
Amazon has purchased Whole Foods Market for $13.7 billion. The natural food retailer has been under pressure from competitors adding natural foods to their offerings. But far more costly is that Whole Foods has grown exponentially, never seemed to develop the systems and controls needed to run a company with 450 stores and 91,000 employees. Recently, it has been rumored to be a takeover target for Kroger and Albertsons. Sales have declined while labor and occupancy costs have remained. Previously, Whole Foods had committed to rolling out a loyalty program, category management, and cutting costs by $300 million. The change in category management practices would require changes in personnel practices. So far there is no apparent indication that any such changes are underway. Whole Foods offers wine in 250 of its U.S. stores and wine bars in 85. One thing is certain; Amazon will have to make changes to restore WF to profitability. Those changes are certain to cause major waves in the wine industry.
The deal sets the stage for a titanic struggle between the nation's two biggest retailers; Amazon and Walmart. Meanwhile, the rest of the food, beverage, and retail industry will face major disruption and loss of market share. The two are looking more like each other day by day. Recently, Walmart bought Jet in order to get deeper into online business. Then, Walmart.com offered two million items with free shipping and free shipping on everything ordered for pickup at the store. Amazon is now offering free Prime membership to customers on food stamps. The purchase of Whole Foods puts Amazon into direct competition with Walmart for food sales. Walmart is currently the number one food retailer in the country; selling one out of every four packages of food in the country. Online food sales represents a new challenge for both Amazon and Walmart. With the exception of South Korea, UK, France, and China; no other country's online market has gone beyond 1% of total food sales.
Other possible effects of the deal: In the more mature UK market, online sales of food are 5% of total and 8% in more dense London. If U.S. sales reached 10% penetration, that's an $80 billion opportunity. Whole Foods now represents a huge portion of Instacart's business at $200 million a year. The WF/Instacart contract goes for four more years. Will Amazon substitute its own delivery service or buy Instacart? Sprouts has been mentioned as another takeover target. Will Sprouts be sold to Walmart? UNFI is totally dependent on the business it does as Whole Foods primary supplier. UNFI will come under pressure as WF ships through Amazon or opens its own warehouses. UNFI might also be acquired by Amazon. Look for price and sales pressure against Costco, Kroger, Target, and others as Amazon and Walmart battle it out. If $80 billion is taken online and out of the retail food and beverage industry, most brick & mortar stores will not survive. Hard to believe? How many department stores are left after only 10 years of online competition?
Two New Laws
Two new laws have been introduced in the California State Senate and Assembly. One will affect how alcoholic beverages are delivered to consumers. Whether you deliver them yourself or use an outside agency it can affect your business. The other law would protect the rights of immigrant workers in the vineyards. How will the new laws affect you and your business? CBRA members are encouraged to contact the association office now before these bills become law.
Celebrities in the Industry
The rock group, Foo Fighters, headlined the BottleRock Napa Valley over Memorial Day weekend. They had a pop-up wine store that sold Foo Fighters Wine, wineglasses, and corkscrews.
Ashville Brewing is releasing a Belgian Style Beer called Bier Lemongrass Tyson in honor of celebrity astrophysicist Neil deGrasse Tyson.
...and finally. Daniel Ricciardo won the Canadian Formula 1 Grand Prix. Sir Patrick Stewart celebrated with him by drinking Moet out of Ricciardo's sweaty boot. Ricciardo said "If the sparkling wine is cold, then it tastes good. If it's warm then you might get the sweat through it, but the cold taste kills the bad stuff… so it's delicious."
Popular Culture
Fake Wine
Darby Stanchfield plays Abbey Whelan, the President's Chief of Staff on the ABC TV show Scandal. . In a recent interview she revealed the truth about the wine she and other characters drink on the show. At first they tried grape juice, but it was too sweet and sugary. Now they use hibiscus tea. "it's very light and beautiful to drink so you can drink it for hours and not feel loopy. And your teeth don't end up with little sweaters on them."
Books
The Sommelier Prep Course by Michael Gibson, Wiley, paperback 480 pages, $35.
A comprehensive, must-have guide to beverage service including wine, beer, and spirits.
The Sommelier Prep Course is the ultimate resource for any aspiring sommelier, bartender, or serious wine lover. It includes sections on viticulture, Old World and New World wines, beer and other fermented beverages, and all varieties of spirits. Review questions, key terms, a pronunciation guide, maps, and even sample wine labels provide invaluable test prep information for acing the major sommelier certification exams.
Wine Folly: The Essential Guide to Wine, by Madeline Puckette and Justin Hammack, Avery, paperback 240 pages, $25. Red or white? Cabernet or merlot? Light or bold? What to pair with food? Drinking great wine isn't hard, but finding great wine does require a deeper understanding of the fundamentals. Wine Folly: The Essential Guide to Wine will help the reader make sense of it all in a unique infographic wine book. Designed by the creators of WineFolly.com, which has won Wine Blogger of the Year from the International Wine & Spirits Competition, this book combines sleek, modern information design with data visualization and gives readers pragmatic answers to all their wine questions.
Masters of Craft: Old Jobs in the New Urban Economy, by Richard E. Ocejo, Princeton University Press, 358 pages, $29.95. How educated and culturally savvy young people are transforming traditionally low-status manual labor jobs into elite taste-making occupations. In today's new economy—in which "good" jobs are typically knowledge or technology based—many well-educated and culturally savvy young men are instead choosing to pursue traditionally low-status manual labor occupations as careers. Masters of Craft looks at the renaissance of four such trades: bartending, distilling, barbering, and butchering
Movies
Paris Can Wait
Eleanor Coppola, wife of Francis Ford Coppola, directed Paris Can Wait. Wine played a central role in the story line as the main characters eat and drink their way across France. Maria Helm Sinskey of Robert Sinskey Vineyards was employed to make authentic wine and food pairings. Featured in the movie were: Rack of Lamb with Cotie-Rotie; Red Mullet with Pouilly Fume; and Prosciutto and melon with Chateauneuf du Pape.
Brewmore Baltimore
Brewmore Baltimore chronicles the rich history of the beer industry nationally and locally through the eyes of Baltimore, its history as a brewing empire and its vision to reclaim the past.
Dreaming of Wine
Priorat or Dreaming of Wine is a documentary or "rockumentary". The movie is the story of wannabe rock star Rene Barbier. He and his group, Magnificent Five, have one hit album but can't get bookings or any recognition. When they arrive in Priorat, Spain they find the poorest area of the country with vineyards that have gone to ruin. In a change of direction, Barbier decides to become a winemaker. He sets his sights on making wine "better than the Burgundies." Soon he develops a following of other twenty-something winemakers who produce rich reds that satisfy the tastes of the day. As director, David Fernandez de Castro, put it "As storytellers, we found the challenge exciting to explain how some hippies arrived in a wine region in decay and, without money at all, they put it on the map of important world wine regions,"
Politics
FBI Shaken, Not Stirred
Bars across the country opened early for a nationwide round of "watch parties" as Ex-FBI Director, James Comey, testified before a U.S. Senate committee about his firing by President Trump. Many offered specials on Stolichnaya Vodka in reference to the Russia investigation. The problem: in the industry we know Stoly comes from Latvia. LA bars offered breakfast and Irish Coffee. One DC bar served FBI Sandwiches; Fried Chicken, Bacon, Iceberg Lettuce.
UK with Foam on Top
Theresa May surprisingly lost ground in UK's snap election. Could it be the fault of craft brewer, BrewDog? BrewDog offered a free pint of its signature IPA to everyone that took a selfie in front of their polling station and showed it to a BrewDog bartender.
One result of the UK election is more uncertainty about Brexit. Theresa May had planned on a hard Brexit leaving both the Customs Union and the Common Market. The Labour Party had argued for a softer approach. One thing appears certain; the price of wine will increase. 90% of wine in the UK is imported and 55% comes from the Common Market. Consumers will be hit by import taxes and the Pound Sterling sharply devalued. Meanwhile the WSTA (Whisky and Spirits Trade Association) is arguing for a slow transition which it feels is best.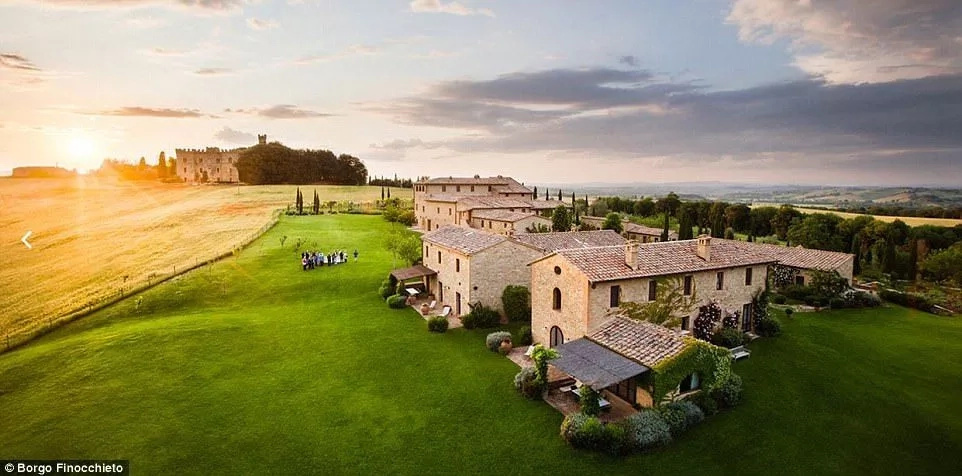 Villa where the Obamas vacationed.
Obamas in Italy
Italian wine educator, Filippo Bartolotta, was called on to set up an evening tasting and dinner for Barack and Michelle Obama on their vacation in Tuscany. The dinner was prepared by 3 Michelin star chef Massimo Bottura. The wines were picked for years significant to the Obamas; Oddero Barolo 1961, for his birth year; Col d'Orcia Brunello 1964, for hers; Sassicaia 2009, for his Nobel year.
Wine
Humble Start on Life's Journey
Pippa Middleton and James Matthews were married in Bucklebury, England in a small ceremony that was followed by a reception with 350 guests. The guests were served a top of the line catered meal that cost ₤70,000. They washed the food down with 233 magnums of Ruinart Blanc de Blanc Champagne at a cost of ₤9,320. The Champagne was served on silver trays by waiters personally vetted by Pippa. Each guest had a personal password for entry in order to keep out wedding crashers. How much did the wedding cost? The estimate is $1.5 million. That kind of dwarfs the cost of the honeymoon: $155,000,
Frost Damage
Last month we reported on frost damage across Europe. The word coming out of Spain is that Rioja was hit very hard. Some vineyards lost up to 50% of their crop. Now shippers are talking about re-introducing red and white generic blends as the only way to keep customers supplied with reasonably priced wines. Bordeaux shippers say their prices could increase as much as 20% this year due to the frost.
Watered by Watson
You may have seen TV ads from IBM about its Watson supercomputer helping make wine. Here's the back story. Gallo had been using satellite technology to maximize water use in 20,000 acres of vineyards. But the results only allowed decisions down to 10 acre plots. By working with IBM, it was possible to monitor the health of individual vines and use less water while customizing the flow at each vine. The system now manages water vine by vine at 10 acres of Cabernet Sauvignon. Gallo will expand it as needed. IBM plans to use the system worldwide to maximize food production in countries short of water.
UK Vineyards Expand
UK vintners plan to plant more than 1 million grapevines in 625 acres this year. Wine production has become the UK's fastest growing agricultural sector. Stephen Skelton, wine consultant, said "Producers have seen demand soar, both at home and abroad, and are planting for the future."
Sugar?
How much sugar is there in a glass of wine? Winemakers often add sugar to wine to give it better sugar/acid balance. But, if it's a California wine; the answer is none. California law forbids the adding of sugar to wine.
Vineyard Accident
Matthew Ciancio, crashed and died after taking a jump with the Lodi Parachute Center, about 30 miles south of Sacramento. Ciancio jumped from 13,000 feet and released his parachute at about 4,000 feet. His parachute failed to open properly. Then he failed to deploy his back up parachute and fell into a Lodi vineyard. The Federal Aviation Administration is investigating the accident.
La Tache
A Methuselah of La Tache 1999 sold at auction in Hong Kong for $94,839.
California Wines Set Records
Figures from the Wine Institute show California wine shipments were at all time highs up 2% for 2016 with 238 million cases. Dollar value of U.S. sales was up 4.6% to $34.1 billion.
Napa Cabernet Sauvignon futures are selling at record highs. The price point for the coming harvest is already $7,000 a ton.
Summer Concerts
California Wineries are hosting concerts for the summer. Some offer picnic meals. All feature top music talent. Prices start at free. Call for more information.
Halter Ranch, Paso Robles. June 16, July 14, August 25.
Robert Mondavi, Napa Valley. July 1, July 8, July 22.
Edna Valley Vineyard, July-August.
Rodney Strong, Healdsburg, July-September.
Vina Robles, Paso Robles. June 15, 24, 25, August 16, 22, 27, September 2.
Wente Vineyards, Livermore. July-September.
Oldest Bottle of Wine
The oldest known bottle of wine dates to 325 A.D. It was found in 1867 in a Roman burial near Speyer, Germany. The bottle has been on display for more than 100 years at the Histrorisches Museum der Pfalz. The bottle is still sealed with olive oil and wax and predates the invention of the cork. The contents are still liquid, but do not appear to be drinkable.
Purple Heart
Janice and Peter Mondavi, Jr. gave a $10,000 check to the Purple Heart Foundation as profits from their Purple Heart Wines. The Purple Heart Foundation provides services and counseling to military veterans and their families.
Knight
James Suckling was made a Knight by the Italian Republic. Suckling said "I am honored to receive a knighthood from the Italian Republic today in Hong Kong. Viva l'Italia!"
Frosting on the Cake
UK retailer, Lakeland, is now selling private label Prosecco flavored frosting. The ads advise "The fizz of Prosecco in frosting form – what's not to like?"
Wine in the Sky
Japanese airline, ANA, has introduced red and white wines custom blended by its sommelier Ned Goodwin. The wines are designed to offer passengers a good tasting experience despite the changes in taste and bouquet at higher altitudes.
Corkage Fees
Think twice before taking your own bottle of wine to a Hong Kong restaurant. Corkage fees there are among the highest in the world. Lung King Heen and Caprice both at the Four Seasons Hotel charge HK$750; that's $96 U.S., and you are limited to bringing 2 bottles. If that's too much you could consider taking your bottle to Felix at the Peninsula. It will only cost HK$700 or $90 U.S. to open it there; and there's no bottle limit.
WineLeather
Gianpiero Tessitore, an architect in Milan, has started a company called Vegea to manufacture and distribute designer goods made from his invention "Wineleather." Wineleather is a vegan substitute for leather made from pomace; the grapes solids, seeds, and stems left after the grapes are crushed.
Wine Pens
Casa Mariol Wine in Spain is giving wine pens. They have sent out order forms to buyers with pens that are filled with Cabernet Sauvignon instead of ink. The pens really write and hopefully the orders will be bigger.
Tanks for the Wine
Denbies Vineyard in the UK made a rare discovery while discing a row of grapevines. There was a buried metal object down there. More digging and the removal of 20 Pinot Noir vines revealed a World War II vintage tank. The tank had been used for target practice by Canadian Army units stationed nearby as they prepared for the D-Day invasion at Normandie. The tank is being restored and will be on display for visitors to the vineyard.
A Peacock Walked into a Liquor Store
...and finally. "A peacock walked into a liquor store." It really happened in Arcadia, California. A female peacock walked into the Royal Oaks liquor store. When store manager, Rani Ghanem tried to catch it, the bird jumped to the top shelf of the fine wine section. By the time animal control officers were able to catch the bird, $500 worth of Champagne and top Bordeaux lay broken on the floor.
Beer
Beer Pipeline
A 4 mile long pipeline has been laid under fairgrounds in Germany ahead of the Wacken Open Air Festival. The pipeline will carry beer directly from the brewery to the festival to serve 40,000 heavy metal music fans this coming August. The pipeline will have a number of advantages. Bartenders will be able to pour 6 beers per second; there will be no need to deal with hundreds of full and empty kegs; beer trucks will no longer leave muddy ruts through the fairgrounds.
Beer Spilled
A truck loaded with Budweiser, a tour bus, and a tow truck collided near Desert Center on Highway 10 in the early morning hours of June 4. Only minor injuries were reported. However, there was a large quantity of good beer lost.
This Bud's Not Bud
A brewery in China was shut down in May for producing counterfeit Budweiser. Bud cans were hand re-filled and then machine sealed. Production was more than 600,000 cases a month. The fake brewers were exposed when a video showing the operation went viral on the internet.
Cinema Suds
Alamo Drafthouse Cinema is opening soon in Downtown LA. The movie chain is noted for showing quirky films, serving top chef menus, bars that feature craft beers and micro-brews.
The True Spirit of London
...and finally. When terrorists drove through a crowd at London Bridge people ran to get away from the melee. In this picture that went viral, a man was seen in what was called "the true spirit of London." While everyone else ran, the man at the right can be seen calmly walking away carrying his pint and not spilling a drop.
Spirits
Goop!
A tank containing 2000 tons of molasses at the Antigua Distillery in the West Indies overflowed and spilled a river of the sticky stuff. The problem started as a thick layer of foam formed and leaked through vents at the top of the tank. The molasses then flowed through the building and down the road. A crew battled for two days to stop the leak and clean the roadway. A molasses spill could be a serious danger to sea life if it reached the ocean. The most serious molasses spill in history took place on January 15, 2017 at the Purity Distilling Company in Boston, Mass. A tank burst and released a wave of molasses that hit the streets at 35mph killing 21 and injuring 150. Nearly a century later the streets still smell like molasses on warm days.
Robot Bar
The Tipsy Robot Bar is opening in Las Vegas Miracle Mile Mall. The bar is manned by robots that mix drinks to customer's specs. The machines are guided by customer orders typed into tablets. They will shake or stir as requested, slice a lime, and pour the libation before customers eyes. Humans are on hand just in case anything goes wrong. We were assured that "Hal" from 2001 a Space Odyssey is not on the staff.
A Bottle That Says Hello
Medea Vodka, distilled in Holland, is bottled in a unique patented bottle that shows a message in moving lights. It comes pre-programmed with a choice of 6 messages: "Happy Birthday", "Happy Anniversary", "Congratulations", "Merry Christmas", "Happy New Year", "I Love You", or it can be customized with Blue Tooth and a cell phone.
Lucky Bottle
Louis Renault, the founder of the car company, had wanted to sail on the Titanic's maiden voyage. Fortunately, at the last minute he was not able to get on the ship. When he missed the boat he still wanted to share as much of the experience as possible. Marie Brizzard had made a special 1912 bottling of Danzig Gold Liqueur to be served to the passengers on board. Louis tracked down and bought a rare bottle that had also not made the trip. When he died in 1944, the bottle had never been opened. It was sold at auction in 1988. The current owner loaned it to this year's VinExpo where it was on display in a glass case.
Utah Drivers DUI Sooner
The state of Utah has passed a law reducing the level of blood alcohol for a driving under the influence (DUI) from .08 to .05. This will make Utah the strictest state in the country on DUI.
Spirits Numbers Up
Spirits consumption in the U.S. increased 2.6% in 2016. The rise was caused mainly by increases in Cognac (18.8%), Tequila (7.5%), and Bourbon (6.4%).
Brown-Forman Takeover?
Rumors are circulating that Constellation Brands made an offer to buy Brown-Forman Distillers. Brown-Forman reportedly said it wasn't interested.
Unspirited Spirit
Seedlip, the first non-alcoholic distilled spirit, is being poured in 75 top bars across the U.S. California watering holes include Napa's The French Laundry and LA's Walker Inn. The advantages of the new drink are that it isn't taxed, can be sold without a license, is sold on a website for home delivery, and can be served to designated drivers. Investors in the brand include Diageo.
A Rainy Day in Jalisco
The Mexico Tourist Board partnered with LAPIZ to create a cloud that rains Tequila. It is on display at a Berlin art gallery where it is synced with the local weather. When it rains outside, the Tequila cloud rains Tequila inside.
Pocky
Those little boxes of chocolate covered Japanese pretzels called Pocky will be coming in a new flavor "Otona No Kohaku." The translation is "Adult Amber." The new Pocky will be flavored with Whisky.
Billion Dollar Candy
...and finally. Sugarfina in LA has teamed with George Clooney's Casamigos Tequila to make Tequila infused Gummy Bears. The candy comes in three flavors: Blanco, Reposado, and Aňejo. If you're not into gummy bears, the company also makes a rich dark chocolate sphere filled with liquid Casamigos Aňejo Tequila called "Give it a Shot."
Lookalike?
Diageo is suing Deutsch Family Wine and Spirits for infringing on its trademarked bottle shape and label on Bulleit Bourbon. Diageo claims the Redemption Whiskey package takes advantage of Bulleit's prestige and reputation. What do you think?
Other Foods and Beverages
Hot Guacamole
Sgt. John Franchi of the Ventura County Sheriff's Department announced that three men had been arrested for stealing $300,000 worth of avocados from their employer, Mission Produce. "They were looking to make money," Franchi said. A box of avocados sells for about $50. The men were selling the stolen boxes for $20 to $30.
Walmart System Restocks the Pantry
Walmart has applied for a patent on a system that will track the use of grocery products after customers get them home. The system will tell Walmart when something a customer bought is running low. Then Walmart can remind the customer to re-order or even set the item for automatic re-order and have it ready when the customer comes to the store.
Lidl Enters U.S. Market
Deep discount German grocery retailer Lidl intends to open 100 stores across the country. The first 4 are set to open this month on the East Coast. Lidl's approach is to build an upscale image with quality private label at bare bones pricing. Wine is a big part of that quality image. The company entered a range of private label wines in last month's Indy Independent Wine Competition in Indianapolis. The wines won 104 medals including a "Sparkling Wine of the Year" honors for an exclusive Prosecco.
Lidl described the Indy competition as "the nation's largest independent and scientifically organized wine competition in the United States," at which it came away with 104 medals including 5 best of class trophies, 6 double gold, 17 gold, 64 silver and 17 bronze medals. This followed a performance at the 2017 LA International Wine Competition, where Lidl was also the top performing retail exhibitor, with 101 medals earned. Separately the company is partnering with super model Heidi Klum on a high fashion, low cost clothing line. Also partnering on gourmet food promotions will be culinary celebrity Amanda Freitag, author of "The Chef Next Door."
Donuts!
The LA area is the donut center of the U.S. There are 680 donut shops here; 200 more than New York and double the number in Chicago. Most are run by immigrants from Cambodia. L.A.'s donuts can be identified anywhere by the distinctive pink box. Boxes of other colors are used in other parts of the country. The word is that some movie buffs can spot mistakes because a film that is supposed to be set in New York or Boston will have donuts in a pink box.
Coffee Still #1
Coffee is the world's favorite beverage. 2.5 billion cups are brewed every day. New Yorkers drink 7 times as much as people in other cities.
Hollywood Icon Comeback!
The Formosa Café on Santa Monica Boulevard in Hollywood, closed last year. It will be restored and reopened summer of 2018. The Chinese restaurant was known for its questionable food, famous clientele, and appearances in films including "L.A. Confidential."
Take Me Out to the Ballgame
It's baseball season again and time for another silly season of ball park food. Here are four new items on the menu at Texas Rangers games. Popcornoplis Pita: Smoked Brisket and macaroni & cheese on a pita bread topped with caramel popcorn. $27 Atomic Burger, a 1 pound hamburger patty with Bacon and Ghost Pepper Sauce. TamArlington Dog, a hot dog stuffed into a tamale and covered with chili and cheese. N.E.Q. Sandwich, a Philly cheese steak with fried jalapeno slices, onion rings, waffle fries, and mozzarella sticks.
Only in California
After daily fasting as part of the holy month of Ramadan, dozens of local Muslims joined their Latino neighbors on a Saturday night in the parking lot of the new Islamic Center of Santa Ana to take part in the inaugural event of "Taco Trucks at Every Mosque."
How Now Brown Cow
...and finally. The Innovation Center for Dairy surveyed 1,000 adults and found that 48% were not sure where chocolate milk comes from; while 7% knew it comes from brown cows. In addition, 29% use their kids as an excuse to buy chocolate milk for themselves.
The Changing Market
Sales Tax Changing
The LA County sales tax rate increases by 1/2 cent on July 1 due to Metro Measure M voted last November. Be sure to reset your POS systems to collect at the new rate.
Chinese in the Vineyards
Chinese investors have been buying California wineries. But little known is that this is the second wave of Chinese in the vineyards. In the late 1800's Northern California's vineyards were planted and historic winery buildings built by Chinese laborers who stayed on after building the Trans-Continental Railroad. The city of Sonoma is planning to build a Chinese pavilion to commemorate the founding of the wineries. Much of the funding is coming from modern day China.
Online Shopping Takes Its Toll
Internet shopping continues to take its toll on brick & mortar stores as Ascena Retail Group announced it will close up to 667 Ann Taylor and Lane Bryant stores. The two chains sell clothing for women. The company bought Ann Taylor stores only two years ago for $2 billion. Gymboree entered bankruptcy and will close 450 stores. 25% of malls are expected to close within 5 years. Internet sales of clothing are now 17% of total; expected to be 35% by 2030.
Nike Goes Online
Nike has announced that it will begin selling its sports clothing lines factory direct to consumers through Amazon. Nike products are already sold through Amazon by third party sellers. This will cut out all the middle men. It will also cut out lots of sales through brick & mortar stores.
Retail Losses Up in 2016
Retail Inventory Shrink increased as loss prevention departments faced tight budgets. Losses for 2016 48.8 billion or 1.44% of sales; 2015 45.2 billion or 1.38% of sales. The reasons remained the same: shoplifting, internal theft, accounting error, vendor fraud or error.
Recipes
Flat Champagne Collins
by Aaron Polsky at Harvard & Stone
He uses flat Champagne to make a Champagne simple syrup, which he mixes with gin, lemon and muddled white grapes for a refreshing Collins cocktail.
Health
Hangover Cure
A South Korean company is marketing an ice cream bar that it claims will cure a hangover. The "Gyeondyo" bar is grapefruit flavored and contains the juice of the raisin fruit tree. This juice has been used as a hangover cure since the 1600's. A study published in 2012 in The Journal of Neuroscience confirmed that the juice does have a positive effect on hangovers. The name, Gyeondyo, translates to "hang in there."
Tasting Notes
Each month we are out there looking for wines that "over deliver"; wines that offer more than others in their category and price level. We search out the wines that you can buy to help build your business; wines that make customers happy and keep them coming back. These are wines we rate as good buys and best buys. Check our notes. The opinions in the reviews are our own and unsolicited. We receive no compensation from wineries or brokers. This month there were several wine tastings that showed some very nice wines available at reasonable prices. The prices shown are approximate retails.
Wines of Asti
The Wines of Asti Masterclass showed the quality and value of the sparkling wines of this region. Facts of note: the grapes are hand harvested because of the steep hillsides which is very labor intensive; Asti was named a World Heritage site in 2014 by UNESCO; the wines should be consumed fresh at 2 years or less age they have a shelf life of 3 to 5 years. The wines were presented by the winemakers themselves.
Michele Chiarlo spoke on Nivole Moscato 2016; a bright and fresh wine with very fine bubbles, $18. Distributed by Youngs Market.
Davide Visentin presented Saracco Moscato 2016, bright, fresh, very fine bubbles, good balance, a best buy at $10.99. Distributed by Wine Warehouse.
Luigi Coppo presented his Moncalvina Moscato 2016, light straw color, semi-dry, fresh. Distributed by Michael Mondavi Partners.
Andrea Marenco spoke on his Marenco Vini Moscato 2016, golden yellow, fine bubbles, distinctive, good finish, $15. Distributed by Vias Wines through the Henry Wine Group.
Ceretto Moscato 2016, was presented by Jean Piero Stefano, straw yellow, light bubbles, sweet, heavy texture, $12.99. Winebow Henry Wine Group.
Caudrina Moscato 2016, deep straw yellow, very light carbonation, extremely fruity and floral on the palate. Unique system keeps juice chilled until it is ready to ferment. Fermentation is allowed until wine reaches 4-6% ABV, then chilled to arrest fermentation. $16.99. Distributed by Oliver McCrum Wines.
Dom Perignon Tasting
At the Dom Perignon seminar and tasting we learned that these grapes are sorted to pick the very best; the juice is blended to get a better wine; fractional pressing is used to create white wine from black grapes. And the dosage is is limited to achieve a maximum 5.5 grams residual sugar per liter.
We tasted P1, the standard dry 9 year 2006 old Dom with very fine bubbles that clung to the wine. It had minerality, citrus notes, and was creamy. This wine was definitely in harmony.
Then we tasted P2, a 1998 wine that had reached its second plateau and was bottled at an age of 16 years. The yeast had dissolved back into the wine giving it more character. It was dry and elegant, tasted of age yet was still fresh with no oxidation. It was creamy with fine bubbles that clung to the wine. It had a fuller nose, body, and flavor than the P1.
The 2004 Rose' was characterized by Pinot Noir Grapes. It was dry and structured and tasted of strawberries and cranberries. While a fine wine, it was no match for the P1 or P2.
Southern/Glazer
The Southern/Glazer tasting was billed as "a taste of the best." It was just that. There was too much of the best under one roof. We reviewed a number of wines below. This is just a sampling and by no means complete.
Meiomi Chardonnay 2015, clean & clear, bright, fruity, good balance, $20.
Layer Cake Sauvignon Blanc 2015, 13.5 ABV, Clean clear, bright, fresh, and semi-dry, $14.99
Jordan Chardonnay 2014, clean, clear, light nose, balanced, $39. Cabernet Sauvignon Library 2010 1.5L, dark ruby, full nose, will age well, $199.
Villa San-Juliette showed wines that can be classed as best buys. They were true to type and delivered well beyond their price tags. Chorum Red 2012, a blend of Cabernet Sauvignon, Syrah, and Petit Verdot, soft and full, good nose, dark ruby, berries Sells for $25 features at $15.99. Grenache 2013, Dark ruby, medium body, good nose, sells for$32 features at $19.99, Petite Sirah 2012, good nose, dark ruby, full body, berries, balanced, sells for $32 features at $19.99.
Szent Tamas Mad Furmint 2015, a dry white Hungarian wine, fruity yet dry with only 1.9 grams residual sugar per liter. A good buy at $14.99
Industry Calendar
6/1 Auction Napa Valley – Napa
6/6 Epic Wines – Santa Barbara
6/9-10 Rhone Rangers - SFO
6/10 Taste of Mendocino - SFO
6/10-11 Rhone Rangers – SFO
6/15 Chambers & Chambers Late Night Somm Throwdown - LA
6/17-18 LA Winefest - LA
6/18 Fathers Day
6/19 Skurnik Wines - SFO
6/20 Skurnik Wines – LA
6/21 Skurnik Wines – San Diego
7/4 Independence Day
7/9-12 Sommelier Summit - Seattle
7/18 Southern California Fresh Produce Expo - Anaheim
7/26-27 International Bulk Wine & Spirits Show – SFO
Promotional Calendar
June
June 1 National Moonshine Day
June 4 National Cognac Day
June 10 National Gin Day
June 14 National Bourbon Day
June 18 Father's Day
June 19 National Martini Day
June 27 National Orange Blossom Day
June 30 National Mai Tai Day
July
July 2 National Anisette Day
July 4 Independence Day
July 10 National Pina Colada Day
July 11 National Mojito Day
July 14 National Grand Marnier Day
July 15 National Strawberry Rhubarb Wine Day
July 19 National Daiquiri Day
July 24 National Tequila Day
July 25 National Wine and Cheese Day
July 27 National Scotch Day
July 27 National Refreshment Day
New Legislation for 2017
Our industry has more laws controlling it than most industries. The State
Legislature and the ABC give us license privileges and can take them away. New alcoholic beverage laws were passed that will be effective in 2016. Many critical issues are pending. Do you know about them and are you prepared for the changes. Is your business safe? Members are encouraged to look through the Legislative Bulletin. If there is a new law that is a problem for your business, call the association office now. The CBRA is your voice in Sacramento. If you are not a member, join today. The CBRA is your only voice when it comes to new beverage laws.
Brands and Comments
The CBRA Newsletter has not accepted any payment from any of the brands mentioned
in this edition. The editor, Ron Ziff, welcomes comments at ron@cbraliquor.org
CBRA Membership Remains Open
Now, more than ever, access to your industry is important. The CBRA is California's
only statewide association of licensed retailers, and our membership continues to be
open for the first time in 20 years.
At CBRA we deal with licenses and regulations that affect the beverage business on a
daily basis. That's why CBRA offers practical solutions, unique products, services,
information, and timely advice for both large and small beverage businesses. With
reasonable fees, superior service, and associates that are easy to reach, CBRA helps you
to run your business better and easier. One of the most valuable services we offer is that
call to the ABC to ask your question. We can ask that question and keep you anonymous. That's something you just can't do yourself.
Join or renew your valuable membership today. You can't afford to delay.
California Beverage Retailers Association – California's Only Statewide Association of Licensees. We're #1!
If you would like to be removed from this email list, please email to
ron@cbraliquor.org with UNSUBSCRIBE in the subject line.