posted by
cbra
on
Wed, 07/26/2017 - 17:16
California Beverage Retailers Association
Beverage Bulletin
P.O. Box 56686
Sherman Oaks, CA 91413
(818) 693-5561
Ron Ziff, Editor
Ben Ziff, Publisher
July 2017
"Wine makes daily living easier, less hurried, with fewer tensions and more tolerance."
-Benjamin Franklin
(I think we could all use a little of Ben's wine these days. - Editor)
In this month's issue:
Headline News Stories-Golf Tournament to Benefit Disabled Vets, Southern-Glazer Sued for Trade Practices, FDA Starts Winery Inspections
Celebrities in the Industry-The NFL and Wine, Mike Ditka, John Elway, Stan Kroenke, John Madden, Joe Montana, Carmen Policy, Drew Bledsoe, John Kent Cook, Dan Marino, Damon Huard, Alphonse Dotson
Books-Meehan's Bartender Manual, Miracle Brew
Movies & TV-Bachelorette Does it With Wine!
Politics-ICE and the Immigrant Labor Shortage, State Law to Protect Immigrant Workers, Labor Shortage in Napa, Arnold Schwarzenegger Honored, New Trade Deals, Vodka Collusion?
Wine-A Hot Time at Vinexpo, Archaeology Find in the U.S., Chateau d'Yquem 1869, First Cab, Doggy Drinks, Beat the Labor Shortage, French Barrels, Charles Banks Sentenced for Wine Crimes, Aussie Wine Expert Accused, World Class Hotel, Recycled Champagne?, Delta Adds Prosecco to Menu, Old Grapes for a New Climate, Undersea Aging, Flat Wine, Tied House Laws Upheld, Championship Bubbles, Prosecco for All!
Beer-Top Craft Brewers, Top IPA's, Beer for Less!, Is it really Craft Beer?, Beer Jelly, No Beer for You!, Holy Brew, Beer Crash
Spirits-Whisky Galore!, Best Beach Bars, U.S. vs Russia, A Moving Experience, Gin Train, Cliff House Bloody Mary, The Search is On!, Grown Up Ice Cream Dessert, World's First Pub/Zoo
Other Foods and Beverages-Best Coffee Shop in California, Best Hamburgers in California, Most Romantic Spot in California?, Best Seafood Dives in California,
Most Exciting New Restaurants, Millenials Eat Out More, The Most Romantic Spot in California is...
The Changing Market-What Did Amazon Buy?, Is It 5 o'clock at Walmart?, Walgreens/Rite Aid Deal is Off
Recipes-Mumbo Sauce
Health-Healthy Beer is Here!
...and as always Tasting Notes and the Industry Calendar
Headline News Stories
Golf Tournament to Benefit Disabled Vets
The 11th Annual Golf Classic will take place at the Mountaingate Country Club in Los Angeles on Monday August 21, 2017. The tournament benefits veterans who have been wounded or disabled in service of our country. These men and women have given a part of their lives to protect our country. Since 2007 more than $2 million has been raised at this annual event. You can participate in this worthy cause. To donate wines for a silent auction, provide a promotional booth on the golf course, or just play golf contact Beverage Bulletin Editor Ron Ziff at ron@cbraliquor.org. Any and all participation is welcomed and appreciated.
Southern-Glazer Sued for Trade Practices
A nationwide class action has been brought against Southern Glazer's Wine & Spirits, accusing the U.S. wholesale Wine and Liquor distribution company of "unfair, unlawful, deceptive, and fraudulent" business practices. The lawsuit was filed on July 5 by Scott Cole and Associates on behalf of James Nguyen, the former owner of the Arena Restaurant and Lounge located at 2875 Berryessa Rd, San Jose, CA. It alleges that the wholesaler condoned a practice of allowing sales persons and others to purchase alcohol for cash referencing Arena's account number. The purchases resulted in Arena being assessed thousands of dollars in taxes based on those purchases. The suit also alleges that Southern Glazer "knowingly engaged in unfair, unlawful, deceptive, and fraudulent business practices" as well as "selling liquor to different parties at different prices". The suits makes claims of fraud, unfair competition and violations of state and federal laws that impacted the liquor industry. If only a portion of the claims are proven, the case could result in payments to victims going back several years. Also at stake is whether the defendants have been making false tax reports to federal agencies. More to come.
FDA Starts Winery Inspections
The FDA has started surprise inspections of wineries to assure compliance with the Food Safety Modernization Act. Inspectors are looking to make sure bottling lines are sanitary and that there are procedures in place to sanitize all equipment that comes in contact with wine; they want to make sure the facilities are free of rodents and other pests; outdoor crushing is to be kept free of birds; pesticides and cleaning materials kept separate from grapes and wine; winery dogs kept out of all areas where production takes place; employee hygiene is important as well. In addition, all wineries are required to register with the FDA as food production facilities and renew registration every two years to comply with the Bioterrorism Preparedness and Response Act.
Celebrities in the Industry
The NFL and Wine
Mike Ditka, the Chicago Bears former head coach and 1985 Super Bowl champ makes "The Player," "The Champion" and more in of his lineup of Mike Ditka Wines.
John Elway the quarterback, who won two Super Bowl titles with the Denver Broncos, is partners with Napa's Robert Mondavi, Jr. to make Seven Cellars Elway Reserve Wines.
Stan Kroenke the owner of the Los Angeles Rams owns Screaming Eagle Winery in Oakville and Jonata in Santa Barbara.
John Madden, former Oakland Raiders coach owns Madden Vineyard in Livermore.
Joe Montana, The quarterback who led the San Francisco 49ers to four Super Bowl championships makes Montagia Cabernet Sauvignon in Napa Valley.
Carmen Policy, former president of the San Francisco 49ers owns Casa Piena in Napa Valley.
Drew Bledsoe, from the New England Patriots and Buffalo Bills owns Doubleback Winery in Washington.
John Kent Cook, former owner of the Washington Redskins owns Boxwood Winery in Virginia.
Dan Marino and Damon Huard, former Miami Dolphin players have Passing Time Winery in Washington.
Alphonse Dotson, former Oakland Raiders player owns Dotson-Cervantes Winery in Texas.
Books
Meehan's Bartender Manual by Jim Meehan, Ten Speed Press, 488 pages, $40. Acclaimed mixologist Jim Meehan's magnum opus—and the first book to explain the ins and outs of the modern bar industry. This groundbreaking work chronicles Meehan's storied career in the bar business through practical, enlightening chapters that mix history with professional insight. Meehan's deep dive covers the essential topics, including the history of cocktails and bartending, service, hospitality, menu development, bar design, spirits production, drink mixing technique, and the tools you'll need to create a well-stocked bar—all brought to life in over 150 black- and-white illustrations by artist Gianmarco Magnani. To be released October 17.
Miracle Brew by Pete Brown, Chelsea Green Publishing, paperback $19.95. To be released October 5. Most people know that wine is created by fermenting pressed grape juice and cider by pressing apples. But although it's the most popular alcoholic drink on the planet, few people know what beer is made of. In lively and witty fashion, Miracle Brew dives into traditional beer's four natural ingredients: malted barley, hops, yeast, and water, each of which has an incredible story to tell.
Movies & TV
Bachelorette Does it With Wine!
Texas lawyer and Bachelorette, Rachel Lindsay, travels with her remaining suitors to Rioja, Spain in the July 24 episode. There, they take a deep dive into delicious wine, medieval villages and true romance. Her road to happily-ever-after comes to a dramatic end on Monday, August 7th, 2017 after visiting the rolling vineyards and spectacular views of Rioja. Viewers can enjoy the final episode with a Rioja filled glass!
Politics
ICE and the Immigrant Labor Shortage
The head of the Immigration & Customs Enforcement Unit (ICE), Matthew Albence has ordered ICE agents to arrest and deport all undocumented immigrants they come in contact with during their daily operations. This is regardless of charges or criminal history. Santa Barbara County has reported that $13 million worth of strawberries and broccoli have been plowed under because of a shortage of pickers.
State Law to Protect Immigrant Workers
AB450 has been introduced in the California State Assembly. The law, if passed, would require all employers to demand that the Immigration & Customs Enforcement Unit (ICE) have a warrant before allowing it into private areas of a business or allow it to audit business records including I-9's. The law would also require the business to notify all employees of an audit and to notify in writing any employee whose I-9 or other employment documents are found by ICE agents to have deficiencies. Employer violations would be punishable by fines payable to the State Labor Department.
Labor Shortage in Napa
The labor shortage in Napa is growing more severe. It's estimated that 70% of vineyard workers are undocumented. Fear of immigration agents is only one factor. The pay scale is another. Growers have raised minimum pay to $16 an hour. But that is sometimes not enough because M________ * growers are paying up to $35 an hour minimum pay. The shortage has also driven grape growers to hire more women. The vineyard workforce is currently 33% female up from 10% only two years ago. (*the word is left out because some internet servers will not transmit this magazine with the "M" word in it.)
Arnold Schwarzenegger Honored
Arnold Schwarzenegger was in France to receive the Legion d'Honneur from outgoing President Francois Hollande. He had traveled to France representing the climate change opposition group R20 and visit with new President Emmanuel Macron. As long as he was in the area, Le Grand Conseil du Bordeaux made him an Ambassadeur d'honneur des vins de Bordeaux. He said "No one warned me I would be in front of thousands of people receiving a robe and a medal getting this great, great honor, this is a total surprise for me. I won't say 'hasta la vista, baby,' but I will say, 'I'll be back'."
New Trade Deals
President Trump is promoting his plans to renegotiate trade deals and bring factory jobs to the United States. The president's trade policy includes a threat to tax imported steel. Critics say that could lead to a global trade war, targeting products like orange juice, dairy goods and whiskey.
Vodka Collusion?
A Skyy Vodka billboard near the closed Trump Casino in Atlantic City reads: "Vodka so filtered, we even took the Russia out of it." When reporters hot on the trail of Russian collusion found the ad they questioned the political implications. Skyy's response was that it wasn't meant as a dig against the President. The billboard has been there for 3 years.
Wine
A Hot Time at Vinexpo
Vinexpo in Bordeaux closed on a high note. A record number of visitors checked out the exhibits including a large number of Chinese. According to Vinexpo CEO, Guillame Deglise, the only problem was the weather. Local temps topped 40 degrees Celsius (104 degrees F) Visitors had to endure the heat and humidity traveling to the expo as well as for business meetings and lakeside dinners. A highlight of the week was an agreement between Vinexpo 2017, Vinexpo Hong Kong 2018, and Alibaba for marketing activities. Alibaba will be opening its Tmall and Tmall Global to wine shippers including Tmall and Tmall Global's official fan page on Facebook, Twitter, WeChat and Weibo.
Archaeology Find in the U.S.
The Liberty Hall Museum at Kean University in New Jersey is undergoing several years of restoration, room by room. The museum is a colonial era house dating to 1760. When the museum officials got to evaluating the wine cellar for restoration, they made an exciting discovery. The room hadn't been opened since 1949. Inside was a treasure trove of old wine: 3 cases of Madeira 1792 and 42 demijohns of Madeira from the 1820's. The wines had originally been shipped to John Kean, a delegate to the Continental Congress, who lived in the home. The New Jersey State Teacher's College was moved to the property and renamed Kean University in 1958.
Chateau d'Yquem 1869
Four bottles of Chateau d'Yquem 1869 were sold at Bonham's Auction in London for ₤8,959 each. Other rare items sold were 6 bottles 1974 Romanee-Conti, a case of 1972 La Tache, and a case of 1982 Mouton Rothschild.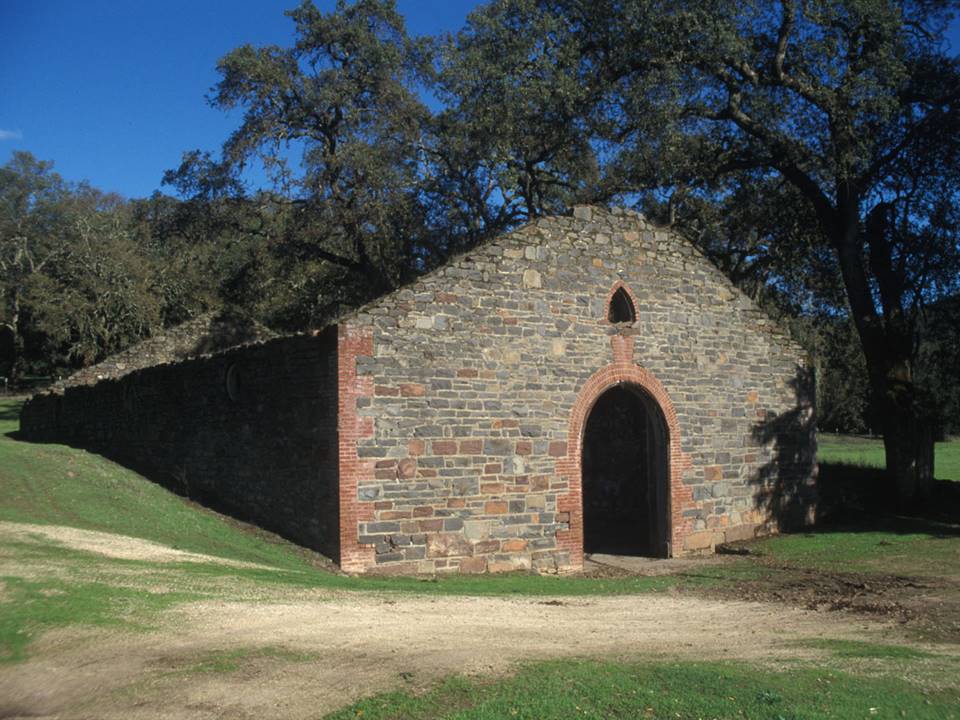 First Cab
California's first Cabernet Sauvignon was grown and bottled by John Drummond in Sonoma. John planted cuttings from Chateau Lafite and Chateau Margaux at his Dunfillan Winery. He entered the wine in competition in 1884 where it won the award as "Most Admired Wine." Drummond's winery building still stands today on the Kunde Ranch. Jeff Kunde makes Kunde Reserve Century Vines Zinfandel with grapes from Drummond's Zinfandel vineyard planted in 1882.
Doggy Drinks
Apollo Peak is producing a line of non-alcoholic wines and cocktails for dogs. Included are Chardognay, Malbark, Zinfantail, and Doggy Mary.
Beat the Labor Shortage
Shannon Ridge Vineyards has come up with an answer to the labor shortage in the North Coast. The family-owned wine producer has employed a flock of 400 sheep to clear the vineyards of weeds, brush, and leaves on the lower parts of the vines. The sheep are moved from one area to another around the 1,500 acre ranch as they clear the land. They reduce the need for hand labor and mechanical mowing while also reducing the risk of fire. They even fertilize the grapevines while they work!
French Barrels
The French cooperage industry showed moderate growth during 2016. The members of the Federation des Tonnellers de France report having produced 601,595 barrels; an increase of 2.2% over the previous year.
Charles Banks Sentenced for Wine Crimes
U.S. District Judge Fred Biery ordered wine executive, Charles Banks, to serve 4 years in federal prison and 3 years under supervised release. He also ordered Banks to pay $7.5 million in restitution to NBA star Tim Duncan. Banks had defrauded Duncan through investments in Gameday, a sports memorabilia company. Banks is the founder and CEO of Terroir Life which owns or manages several wineries in California, New Zealand, and South Africa. In a separate action; Banks is being sued by his partner in Mayacamas Vineyards, Jay Schottenstein. That lawsuit claims Banks diverted $500,000 from the winery to pay his legal expenses and that his felony conviction puts the winery license in jeopardy. Meanwhile, the New Zealand Overseas Investment Office is considering removing Banks as a partner in Trinity Hill Winery. The government agency contends that Banks is no longer of "good character" and cannot fulfill the obligations of a foreign investor.
Aussie Wine Expert Accused
Lak Quach, a wine expert and buyer has been accused of embezzling more than AU$300,000 from his employer, Cellarhand. The company is an Australian wine distributor. The company has accused Quach of selling the stolen wine at bargain prices and using the proceeds to build a private wine collection.
Recycled Champagne?
An Emirates flight attendant was recorded on video by a passenger as she poured unused Champagne from glasses back into a bottle. The video went viral on the internet. Then Emirates said that the Champagne would not be served to other passengers. The airline says it is "best practices" to dispose of leftover champagne in a bottle. (Hmmm?)
Delta Adds Prosecco to Menu
Delta added Avissi or LaMarca Prosecco to the economy menu on all domestic flights this spring and international flights this summer. The move was part of a general change in menu to suit current consumer tastes. Healthy Wraps were added to the food menu.
Old Grapes for a New Climate
Since the 1980's Miguel Torres and Mireia Torres Maczassek have been finding and growing ancient grape varieties that were thought lost. Their project at Bodegas Torres in Catalonia, Spain was started to resurrect Catalonian heritage. The bonus is that many of these varieties are performing better and are more suited to the hot and dry conditions caused by climate change. So far they have found 46 types that were thought lost to phyloxera a century ago. One of these, Garro', produces a blue-black grape that is rich and full bodied. It could be the grape of the future for drought prone regions like Spain, California, and Australia.
World Class Hotel
The Farmhouse Inn in Forestville, Sonoma County was named the top World Class Hotel in California by Food and Wine Magazine. Sonoma County is a top wine country destination. The Farmhouse Inn is family-run, friendly, and down-home, and spares no expense in treating guests like visiting royalty. The valley-nestled inn has only 25 rooms, including eight early-20th-century cottages with dry saunas. Both the lavish spa and Michelin-starred restaurant are driven by a farm-to-table ethos: treatments and tasting menus alike feature organic ingredients grown on the property by the resident gardener.
Undersea Aging
Winemakers at Edivo Vina in Croatia age their wine in clay amphorae submerged in the sea. The practice goes back to the Greeks, who controlled this area in ancient times. The underwater aging gives the wine a unique pine-scented aroma. Today, visitors at nearby Dubrovnik, can snorkel through the underwater aging places to see the rows of clay pots filled with maturing wine.
Flat Wine
Garcon Wines in the UK has been granted patent protection on a flattened glass bottle design for Bordeaux and Burgundy wines. The purpose of the new design is to allow wines to be sent through the mail and be delivered through a mail slot at their final destination.
Tied House Laws Upheld
The 9th Circuit Federal Appeals Court has issued a ruling that upholds California's tied house laws. Retail Digital Network(RDN) had in-store kiosks with manufacturer and wholesaler advertising of alcoholic beverages. Revenue from the ads was shared with retailers. The state ABC had ordered the program stopped. RDN sued the state saying it had violated their right to free speech. The state law was upheld in the trial court and in the appeals court in a 10-1 decision.
Championship Bubbles
The Golden State Warriors set another record with their NBA title this year. They had a $360,000 bill for the Champagne they sprayed on each other after winning the title. At $1,200 a bottle, the tab can run up pretty fast. Was it worth it? You decide. The wine was ordinary Moet Imperial that retails for $35. The bottles were a limited edition electrified yellow glass that lights up from the base. The players just sprayed the stuff and no one ever lit up a bottle.
Prosecco for All!
…and finally. There's nothing like a product whose time has come. Now you can buy Prosecco flavored nail polish; Prosecco infusion tea bags; Prosecco sausage; Prosecco potato chips; Prosecco hand cream, body lotion, and bath oil; Prosecco strawberry jam, Prosecco gummy bears and chocolates; Prosecco caramel popcorn; Prosecco scented candles; and Prosecco perfume for the woman that wants to smell like the stuff.
Beer
Top Craft Brewers
Two California breweries were named to Travel & Leisure's list of top local breweries in the U.S. Pure Project in San Diego was named #3 in the country. Check for events including Growler Fill Wednesdays. 9030 Kenamar Drive, San Diego (858) 252-6143. Oceanside Brewing was named #5. Oceanside Brewing makes 22 different beers; 18 are on tap at all times. Find them at 312-14 Via del Norte, Oceanside (760) 453-7900.
Top IPA's
Draft Magazine struggled through a grueling process and picked the top 50 IPA's in the country. After testing 386 entrants, thirteen from California made the list! Here they are:
#44 Aroma Coma, 6.8% ABV, Drake's Brewing Co, San Leandro
#43 Bingo, Bango, Bongo, 7.2% ABV, Modern Times Brewery, San Diego
#36 The Pupil, 7.5% ABV, Societe Brewing Co, San Diego
#35 Clear & Present Dankness, 7% ABV, Modern Times Brewery, San Diego with Cellarmaker Brewing Co, San Francisco
#31 Hazy Train, 6.9% ABV, by Fieldwork Brewing, Berkeley
#27 Maui Waui, 6.5% ABV, Altamont Beer Works, Livermore
#24 Diamond Dust, 6.7% ABV, by Pure Project Brewing, San Diego
#23 Gold Digger, 6.4% ABV, by Auburn Alehouse, Auburn
#18 BooKoo, 6.5% ABV by Mother Earth Brew Co, Vista
#13 Heal the Bay, 6.8% ABV, by Golden Road Brewing, Los Angeles
#8 Interleague, 7.2% ABV, by Belching Beaver & Half Door Brewing, San Diego
#3 Virtual Planetoid, 7.7% ABV, by Fieldwork Brewing, Sacramento
#2 Fashionably Late, 5.6% ABV, by Offshoot Beer Co, Placentia
Beer for Less!
California is the second least expensive state in the country to buy a case of beer. Simply Thrifty Living checked the price of a 24 pack case of 12 oz cans at Walmart and Total Wine to find their average prices. Here are the 10 cheapest states:
Nebraska $16.62
Arizona $16.35
Virginia $15.98
Indiana $15.98
South Carolina $15.96
Connecticut $15.96
North Carolina $15.23
Illinois $15.00
California $14.87
Michigan $14.62
The most expensive states were Texas $21.66, Tennessee $21.97, Pennsylvania $21.98.
Is it really Craft Beer?
The U.S. Brewers Association has come up with a seal that independent brewers can put on their packages to identify small brewer Craft Beer. The action is in response to criticism about mass market brewers buying up small breweries. It proposes an answer to the often asked question: "Is it really Craft Beer?"
Beer Jelly
Francoise Briet, the owner of Malty & Hoppy Delicacy in Toronto, has started a business making jellies out of beer. What does a beer jelly taste like? The versions made from paler beers, like the bright, citrusy Saison and peachier Pale Ale vaguely recall a sweet wine jelly at first before a complex and bitter hop finish takes over. Jellies made from darker beer, like the IPA, Brown Ale and Porter, have richer flavors, a pronounced hoppy taste and a little more umami. Pairing cheese and charcuterie with this stuff is easy. Briet, who cooks for the French Consulate as a private chef, is also bursting with recipe suggestions: "If I think a sauce needs something, I'll put in a spoon of the beer jelly, and paf! – it's another story." She loves the Saison and IPA jellies in salad dressings, adds the Brown Ale version to lamb burgers or caramelized onions, and glazes chicken with the Pale Ale jelly.
No Beer for You!
In a dispute over policy between Burning Sky Brewery and Brew Dog Pubs, Burning Sky has withdrawn its beers from all 46 of Brew Dog's bars. Founder, Mark Tranter, said "They have been derogative towards the… brewing scene - which we find insulting, they are choosing to define what is and isn't craft to suit themselves."
Holy Brew
Father Jeff Poirot, priest at the Holy Family Catholic Church in Fort Worth, has won top honors as the Best Homebrew for 2017 from the American Homebrewers Association. His Belgian Quadrupel beat 8,500 competitors in the Minneapolis contest. "It's surreal, we were done screaming from excitement when we won." Then in a more sober tone he said, "For me, I always want to balance [brewing] with being a priest, because being a priest is primary, first and foremost for me. I would never want it to eclipse what I do ... because my role as a priest takes precedence."
Beer Crash
A truck driver dumped a full truckload of beer when his brakes went out going over Colorado's Wolf Creek Pass. Witnesses said the truck hit speeds of 65 mph before he was able to pull into an escape ramp. But then the beer kept on going and cans poured out everywhere in a giant fountain of suds. Colorado State Trooper, Nate Reid reported that driver, Adam Catic, was unhurt. The truckload of Bud Light was not so lucky. The entire load of 20 tons of beer was lost.
Spirits
Whisky Galore!
On February 3, 1941 the SS. Politician sailed from Liverpool bound for Kingston, Jamaica and New Orleans. By February 5 the ship was in rough seas off the coast of Eriskay Island. Seeing land nearby, the captain steered the ship away and grounded it on hidden sandbanks. The ship was carrying household goods for sale. But in hold #5 it had 260,000 bottles of Whiskey. There the story recorded by Sir Compton Mackenzie in his book, Whisky Galore, really begins. The crew was rescued and the ship waited for salvage. But the locals didn't wait. Because of the war, they hadn't seen a bottle of Whiskey for years. In groups and singles, they started to raid the ship's liquor. As word spread, more looters came from further and further. They felt the law of the sea made it legal to take what had been abandoned. The local customs officer, Charles McColl didn't see it that way. Since the Whiskey was bound for export, no duty had been paid. He asked the local police to arrest looters and take them to trial. The judge relented and fined them only ₤5 each. McColl was incensed at the leniency and demanded the police take further action. But, the police refused to cooperate. McColl then had the shipwreck dynamited. But, it was estimated that it had already given up more than 24,000 bottles. The town was searched, but no more Whiskey could be found(What was left was well hidden). That ended the affair. Occasionally, a few bottles come up for auction. In June a bottle of Gilbey's and a bottle of Peter Dawson were sold for ₤4,200 each. A bottle of Ballantine's is set for auction in August.
Best Beach Bars
Food & Wine Magazine listed the 5 best Beach Bars in the U.S. Paradise Cove Bar in Malibu made the list.
U.S. vs Russia
There has been a lot of talk recently about Russia and the U.S. Here's one statistic we ran into: Average Russian adults drink 6.3 shots of alcohol per week; Average U.S. adults drink 3.3 shots of alcohol per week.
A Moving Experience
During Gay Pride Week in New York, each of the four W Hotels turned one of its elevators into a moving (up & down) bar. When a hotel guest stepped into the elevator they were greeted by a drag queen who served them a cocktail. The favorite cocktail seemed to be a Pink Flamingo made with Gin, Cranberry Juice, Grapefruit Juice, and Bitters.
Gin Train
Bombay Sapphire Gin is sponsoring the Laverstoke Express, a train traveling through London, Ghana, Tuscany, and ending at Laverstoke Mill, where Bombay Sapphire is made. How can a train do that? Actually it won't. The Laverstoke Express is a luxury train car that will be moved from place to place. It's painted blue to match the Gin bottle. Visitors will get to see how Bombay Sapphire is made and enjoy Gin cocktails. This is the second Gin train to make a stop in London this year. Earlier Tanqueray sponsored a trip on the Belmond British Pullman that actually traveled through the countryside serving fine food and Gin cocktails.
Cliff House Bloody Mary
San Francisco's famous Cliff House Restaurant, founded in 1863, is now selling a mix so patrons can enjoy a Cliff House Bloody Mary at home. The drink has been a Sunday brunch favorite for years. Chef Ralph Burgin keeps the recipe a secret. All we know is that it contains clam juice and the juice of tomatoes grown on Burgin's property in Sonoma. A liter bottle sells for $7.95 at the restaurant or 25 stores throughout the Bay Area. It can also be bought online at Cliffhouse.com.
The Search is On!
Rare Whisky 101 has brokered the sale of more than 20,000 bottles of rare Scotch over the past year. The company has decided to expand its search to include casks of the liquid gold. It estimates these could range in value from $15,000 to $1 million each.
Grown Up Ice Cream Dessert
Coolhaus Ice Cream in Culver City and Westbound Bar in Downtown LA have joined to create the marriage of ice cream and alcohol. The stylish craft-cocktail bar is bringing back its boozy-milkshakes for a second year, this time collaborating with Coolhaus. There are three new flavors to get you through the hot summer: the Banana Split, which combines Coolhaus' bananas foster with Aylesbury Duck Vodka, orange juice, and Licor 43; the Brandy Alexander, a mix of Copper & Kings brandy, Tempus Fugit's Crème de Cacao, and Coolhaus' Tahitian vanilla bean ice cream; and the slushie-inspired Sweet Days of Summer, made with Coolhaus' mango sorbet, Avuá Cachaça, lime juice, coconut, ginger and pandan. Head Bartender, Akos Orosz, formerly of the London Academy of Bartenders and the Boutiq Bar in Budapest, is serving these adult treats at $16 through September 4.
World's First Pub/Zoo
...and finally. Animal lover Andy Cowell moved into the Fenn Bell Inn with his wife Kelly and his collection of exotic animals in 2014. His dream was to have a pub and a zoo. After two and a half years the pub was finally granted a full zoo license by Medway Council. Now the zoo can be opened to the public, and expand its collection. The animals include four different breeds of monkeys, genets (an African wild cat), meerkats, lemurs, birds of prey, racoons and South American coatis. Cowell said "Running the pub is certainly cheaper than running a zoo."
Other Foods and Beverages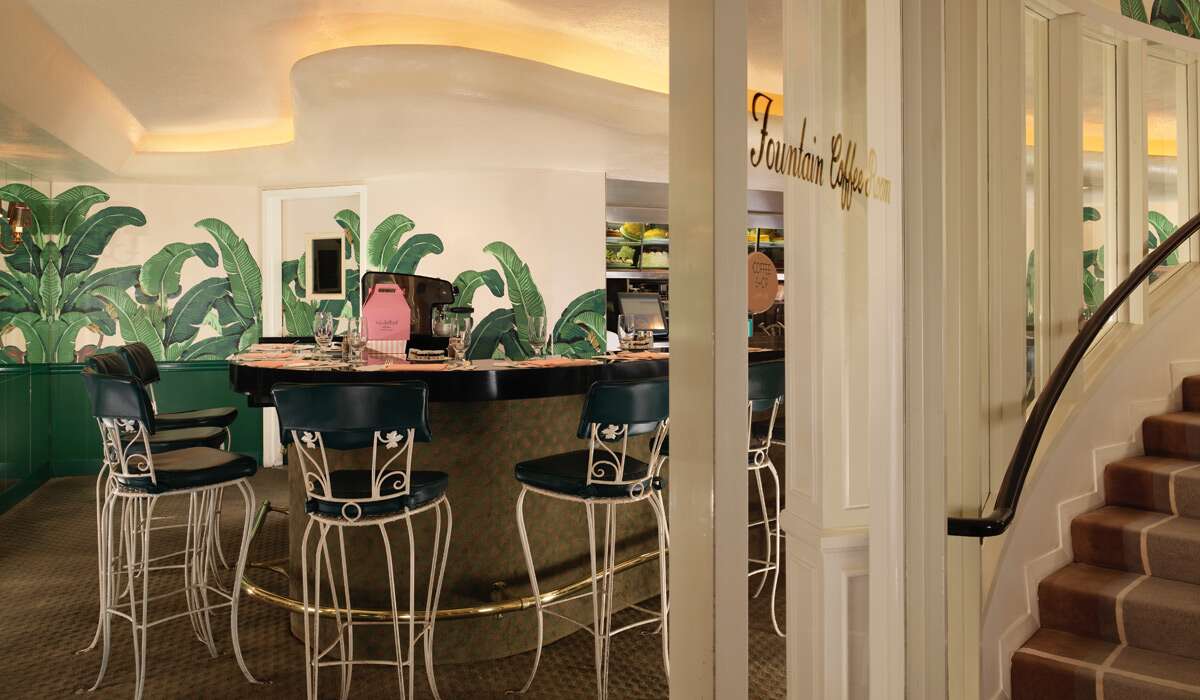 Best Coffee Shop in California
Well Done rated the 51 best coffee shops in America. California's winner: The Fountain Coffee Room in the Beverly Hills Hotel. With only 19 seats at a counter this retro bistro serves a menu that dates back to its opening in 1949. Yes, the prices have changed since 1949.
Best Hamburgers in California
Food & Wine Magazine named the 30 Best Burgers in the U.S. Eight from California made the list.
Mission Bowling Club 3176 17th St, San Francisco, CA, 94110, (415) 863-2695
A-Frame 12565 W Washington Blvd, Los Angeles, CA, 90066, (310) 398-7700
Shake Shack, various locations transplanted from Brooklyn, NY,
In-N-Out Burger, various locations throughout SoCal (800) 786-1000
Zuni Café, 1658 Market St, San Francisco, CA, 94102, (415) 552-2522
Gott's Roadside, 644 1st St, Napa, CA, 94559, (707) 224-6900
Father's Office, 3229 Helms Ave, Los Angeles, CA, 90034, (310) 736-2224
Healdsburg Bar & Grill, 245 Healdsburg Ave, Healdsburg, CA, 95448, (707) 433-3333
Most Romantic Spot in California?
Food & Wine Magazine listed "the most romantic spot in every state." What do you think is the most romantic spot in California? Scroll down to the end of this section to find the answer.
Best Seafood Dives in California
Food & Wine Magazine listed the 20 Best Seafood Dives from Coast to Coast and included are 2 in California. Malibu Seafood Fresh Fish Market and Patio Cafe; it's owned by fishermen. Recommended: Ahi Tuna Burger. Also named was The Marshall Store in Marshall, California. Recommended: Barbecued Tomales Bay Oysters with Garlic Butter and House Sauce.
Most Exciting New Restaurants
Food & Wine Magazine picked the 10 most exciting new restaurants in the country. California has two on the list; The Tartine Manufactory in SFO and Here's Looking at You in LA. Tartine is open 24/7 serving three meals and then some. Customer favorites are pastries and breads baked right there in a huge oven that dominates the place. Bakers grinding flour and mixing dough are part of the entertainment throughout the day. Located in K-town, Here's Looking at You's specialty is an eclectic menu in homage to LA's multi-cultural foods. Are they serving Chinese? Mexican? Korean BBQ? Or something else? It depends on what the chef feels like doing today. Whatever it is, it's spectacular.
Millenials Eat Out More
A survey by Bankrate found that 51% of millenials eat out at least 3 times a week. The point of the survey is the indication that they are a good target for restaurant ads and promotions.
The Most Romantic Spot in California is...
It's Griffith Observatory in LA. F&W says "the spot provides fantastic views of Los Angeles." It goes on to mention that the spot was featured in the movies Rebel Without a Cause, La La Land, and others.
The Changing Market
What Did Amazon Buy?
Amazon thought it bought a retail chain, but it's really a lunch spot. According an analysis by PlaceIQ, Whole Foods is seen as a "grab-and-go" spot for lunch or dinner, not a place to buy a week's worth of groceries for a family. PlaceIQ analyzed the time of day each grocer sees the majority of their overall daily traffic and found that Whole Foods gets the most traffic during lunch, 12% more than any other time of day. Traditional grocers see traffic spike from 4 to 7 p.m.
Is It 5 o'clock at Walmart?
When Walmart bought online retailer, Jet.com, it discontinued the 5pm Thursday office happy hour. The tradition at Jet was in conflict with Walmart's policy of not drinking in the office. As a compromise, Walmart paid for a happy hour at the Wicked Wolf Tavern down the street. Executives became concerned about company morale when some employees stopped coming to the party when it was moved off site. After a few months Walmart restored the Thursday evening festivities with Wine, Beer, and food.
Walgreens/Rite Aid Deal is Off
Walgreens and Rite Aid have scuttled their takeover deal due to Walgreens failure to win FTC approval after 2 years. A new deal has been reached whereby Walgreens will buy 2,186 of Rite Aid's 4,523 stores and 3 DC's for $5.175 billion cash. Rite Aid will also get a $325 million termination fee. Rite Aid will be left in a better competitive situation with the opportunity to return to profit with its remaining regional position.
Recipes
Mumbo Sauce
Washington D.C. has its own sauce. Outside the Beltway this is what the natives use. It can be found in restaurants all over the area and into Maryland and Virginia. It's an orange/red color and they pour it over French Fries, Fried Rice, Chicken Wings, or even fried fish. It can be found in Chinese, Korean, fast food, and even Italian restaurants. Nobody seems to care about its ethnicity. They just like the taste. Here's a recipe for the stuff.
Makes: 2-2/3 cups
Preparation and cooking time: Less than an hour.
Ingredients
1/2 cup tomato paste
1 cup distilled white vinegar
1 cup pineapple juice
1 cup sugar
4 teaspoons soy sauce
1 teaspoon powdered ginger
1/4 teaspoon hot sauce (Tabasco, Tapatio, or Cholula will do just fine)
Mix all the ingredients in a pot. Simmer, but do not boil, for about 20 minutes to blend the flavors and thicken it. Taste and adjust to your preference. It can be can drizzled on the food or as a dip. Toss it in the microwave for 20 seconds or so first to take the chill off. Mumbo Sauce can be refrigerated for months. Just re-heat for 20 to 30 seconds in a microwave and serve.
Health
Healthy Beer is Here!
Alcine Chan, a senior at the National University of Singapore has created a probiotic beer. She drinks probiotic drinks herself and realized that most are dairy based. Knowing that many Asians are lactose intolerant, she decided to fill the need. For her senior project she took on the challenge. The problem was that acid in the hops prevent the growth of many bacteria. After 9 months of experimentation she was successful with Lactobacillus paracasei. It takes about 30 days to brew a 3.5% ABV beer with about 1 billion probiotic bacteria per 100 ml. Chan and her professor have filed a patent on the process and are negotiating with brewers for production rights.
Tasting Notes
Each month we are out there looking for wines that "over deliver"; wines that offer more than others in their category and price level. We search out the wines that you can buy to help build your business; wines that make customers happy and keep them coming back. These are wines we rate as good buys and best buys. The opinions in the reviews are our own and unsolicited. We receive no compensation from wineries or brokers. This month there were several wine tastings that showed some very nice wines available at reasonable prices. The prices shown are approximate retails.
Garagiste Tasting
Santa Monica Women's Club
The 2017 Garagiste Tasting was an outstanding event. Every one of the hundreds of wines that were poured was delightful and delicious. Many were excellent. The overall quality of the group was fantastic. The winemakers are gaining experience and it shows in the quality of the wines. Bravo! We have listed some of them below. Unfortunately, space is limited. There were just too many good wines.
Ann Albert Wines poured two Chardonnays. 2015 Zotovich Vineyard, light, clean, clear, fresh, 12.5 ABV, $44. 2015 Bien Nacido Vineyard, light, clean, clear, fresh, full body 12.4 ABV, $44. Both wines were very good. Our preference was the Bien Nacido. Contact Eric Johnson Eric@AnnAlbertWines.com or Cait Johnson cait@AnnAlbertWines.com or (805) 458-3114.
Caliza Winery Sympatico 2013 Paso Robles, (76% Tempranillo, 24% Grenache) Rich, very full body, almost black color, good nose, 15.0% ABV $58. Cohort 2013, (Syrah, Petite Sirah, Mourvedre, Primitivo) very full body, black color, good nose, soft, $58. Wow! Contact Carl Bowker info@calizawinery.com or (805) 237-1480.
Coruce Vineyards Muscat Blanc 2014, Antelope Valley, Dry, clean, clear, good nose, 14.3% ABV, $21. Contact Bruce Burch Bruce@CoruceVineyardsandWinery.com or Coreen Savikko Coreen@CoruceVineyardsandWinery.com or 661-547-9163.
D.Volk Syrah 2014, Santa Ynez Valley, full body, good nose, dark ruby, will age well, 14.8% ABV, a good buy at $24. Contact Dana Volk info@DVolkWines.com.
MCV Wines Pink Rose' 2016, (25% Petite Sirah, 25% Syrah, 25% Grenache, 25% Tannat), light, dry, refreshing, rose pink color, good nose, a good buy at $18. Grenache 2014, (73% Grenache, 17% Tannat, 10% Petite Verdot) full, soft, medium ruby color, good nose, $42. Contact Matt Villard (805)712-4647.
SLYD Wines Medley Rose' 2016, Santa Ynez Valley, (Grenache, Syrah, Sauvignon Blanc), light pink, touch of sweetness, good nose, 13.8% ABV, $24. Sauvignon Blanc 2016, dry, clean, clear, fresh, $22. Syrah 2014, soft, dark ruby, good nose, 14.5% ABV, $38. Contact Spencer Daley at slydwines@gmail.com or (805) 469-6752.
Top Winery Poise Rousanne 2015, Paso Robles bright, fresh, clean, clear, good nose, $38. Precession Grenache 2014, full body, good finish, good nose, good with food and red meats, $52. Exert Syrah 2014, soft, full body, good nose, $52. Contact Stanley Barrios at stanley@topwinery.com (805) 769-7890 or Elena Martinez at elena@topwinery.com or (805) 975-9704.
Vinemark Cellars Mezzanote 2014 (75% Primitivo, 25% Petite Sirah), soft, full body, dark ruby, good nose, $32. Contact Mark Wasserman at mark@vinemarkcellars.com or (805) 558-1920.
Industry Calendar
7/4 Independence Day
7/9-12 Sommelier Summit – Seattle
7/15 Garagiste Wine Festival – Santa Monica
7/18 Southern California Fresh Produce Expo – Anaheim
7/25 Giro d'Italia – Los Gatos
7/26-27 International Bulk Wine & Spirits Show – SFO
7/31 Angels Share, Cohen Siderow, Vinocity – West Hollywood
8/6 Taste of Ecuador - LA
8/9-10 SuperValu (Grocery) – Long Beach
8/18-19 Latin Food Fest – San Diego
8/19 7th Annual MAVA, Mexican American Vintners - Sonoma
8/19-20 Wine and Fire - Santa Rita Hills
8/20 Family Winemakers – SFO
8/21 V59 - SFO
8/22 V59 - LA
8/24-27 Los Angeles Food & Wine Festival
8/26 Taco Festival - LA
8/27-29 Western Hospitality & Foodservice Show – LA
8/27-29 Sabor Latino Food Show – LA
8/30 Kimberly Jones Selections - SFO
9/2 Whiskey Live - Pleasanton
9/4 Labor Day
9/16 Mexican Independence Day
9/21 Rosh Hashanah
9/30 Yom Kippur
9/30 Mutual Trading – LA
9/30 LA Beer Fest - LA
Promotional Calendar
7/2 National Anisette Day
7/4 Independence Day
7/10 National Pina Colada Day
7/11 National Mojito Day
7/14 National Grand Marnier Day
7/14 Bastille Day
7/15 National Strawberry Rhubarb Wine Day
7/19 National Daiquiri Day
7/24 National Tequila Day
7/25 National Wine and Cheese Day
7/27 National Scotch Day
7/27 National Refreshment Day
8/3 National White Wine Day
8/4 International Beer Day (First Friday in August)
8/6 National Root Beer Float Day
8/7 National IPA Day
8/16 National Rum Day
8/18 National Pinot Noir Day
8/25 National Whiskey Sour Day
8/28 National Red Wine Day
8/29 National Lemon Juice Day
New Legislation for 2017
Our industry has more laws controlling it than most industries. The State
Legislature and the ABC give us license privileges and can take them away. New alcoholic beverage laws were passed that will be effective in 2016. Many critical issues are pending. Do you know about them and are you prepared for the changes. Is your business safe? Members are encouraged to look through the Legislative Bulletin. If there is a new law that is a problem for your business, call the association office now. The CBRA is your voice in Sacramento. If you are not a member, join today. The CBRA is your only voice when it comes to new beverage laws.
Brands and Comments
The CBRA Newsletter has not accepted any payment from any of the brands mentioned
in this edition. The editor, Ron Ziff, welcomes comments at ron@cbraliquor.org
CBRA Membership Remains Open
Now, more than ever, access to your industry is important. The CBRA is California's
only statewide association of licensed retailers, and our membership continues to be
open for the first time in 20 years.
At CBRA we deal with licenses and regulations that affect the beverage business on a
daily basis. That's why CBRA offers practical solutions, unique products, services,
information, and timely advice for both large and small beverage businesses. With
reasonable fees, superior service, and associates that are easy to reach, CBRA helps you
to run your business better and easier. One of the most valuable services we offer is that
call to the ABC to ask your question. We can ask that question and keep you anonymous. That's something you just can't do yourself.
Join or renew your valuable membership today. You can't afford to delay.
California Beverage Retailers Association – California's Only Statewide Association of Licensees. We're #1!
If you would like to be removed from this email list, please email to
ron@cbraliquor.org with UNSUBSCRIBE in the subject line.