posted by
cbra
on
Thu, 08/18/2016 - 08:20
California Beverage Retailers Association
Beverage Bulletin
P.O. Box 56686
Sherman Oaks, CA 91413
(818) 693-5561
Ron Ziff, Editor
Ben Ziff, Publisher
July 2016
This month's stories include:
Pope Francis
Headline News Stories - Brexit Puts Industry into Uncertainty, Beer to Have Nutrition Labels, Lebron and Bollinger, The Rhone Rangers Tasting, Drought Update
Celebrities in the Industry - Novak Djokovic, Victor Jules Bergeron, Jr., aka Trader Vic, Channing Tatum, Christina Milian, Cliff Richards, Les Claypool, Drew Bledsoe, Scott Pruett Hafþór Júlíus Björnsson, Roman Burtzev
Popular Culture - Bride & Groom Blend, Feed the Beast, Hamilton & Adams
Books - Vintage Beer, The Canon Cocktail Book, Amaro: The Spirited World of Bittersweet Herbal Liqueurs, Champagne Uncorked, The Manhattan
Movies - The Irish Pub
Politics - Dunkin' It, Bipartisan Cocktail Parties, Trump Tonic vs. Hillary Hooch
Wine - California's Oldest Grapevine Found, French Minister Visits Napa, Napa for the Natives, DRC 1926, Missing Wine, When Wine Costs Too Much, Wine for Diamonds, When French isn't French, When French Still isn't French, Hail Hits Beaujolais, New Winery Design, Napa Wine Partnership, Gallo Buys Orin Swift, Treasury Sells 12 Brands, Kurniawan Burgundy Shares Sold, Instant Wine, Sustainable Winemaking, Friendlier Skies, Record Price for Grapes
Beer - Beer Market Decline to Continue, By Any Other Name, Oldest Paycheck,
Zero Waste Beer, Lagunitas Buys Three Brewers, Beer from Two Centuries Ago
AB/Inbev to Brew Non-Alcoholic Beer, McDonalds Gives Free Beer, Just One More Beer Before Jail
Spirits - Best Cocktail Contest, Vodka from a Foggy Day, Stay Young with Vodka,
Beet Vodka, Sloe Gin Shortage, Jack Daniel's Roots, Top Six Single Malts, $50,000 Martini, (Ice Cream) Drinks are on the House, Best Bourbon Bars
Other Foods and Beverages - Pokemon Go and McDonald's Invade Japan, GMO Law, Is the GMO Controversy Over?, Organic Sales Booming, Pirate Joe's, Avocado Crop May be Lost, Starbucks Tries Two New Formats, Award Season - Wine Spectator's list of Grand Awards, Bloomberg's Top 10 list, Sunset Magazine's top roadside eating places
The Changing Market - On-Premise Alcohol Sales Down, New Channels/New Technology, Trends in Sales, Walmart Grocery Sales Up, Amazon Affects All Retail Sales, Direct Sales, Retail Changes Affect Large & Small, Agricultural Overload
Recipes - Felix Felicis Cocktail (a Harry Potter Drink)
Health - Drinking Could Prevent Diabetes, Red Wine for Hair Care, Red Wine Could Help Weight Loss
...and as always Tasting Notes and the Industry Calendar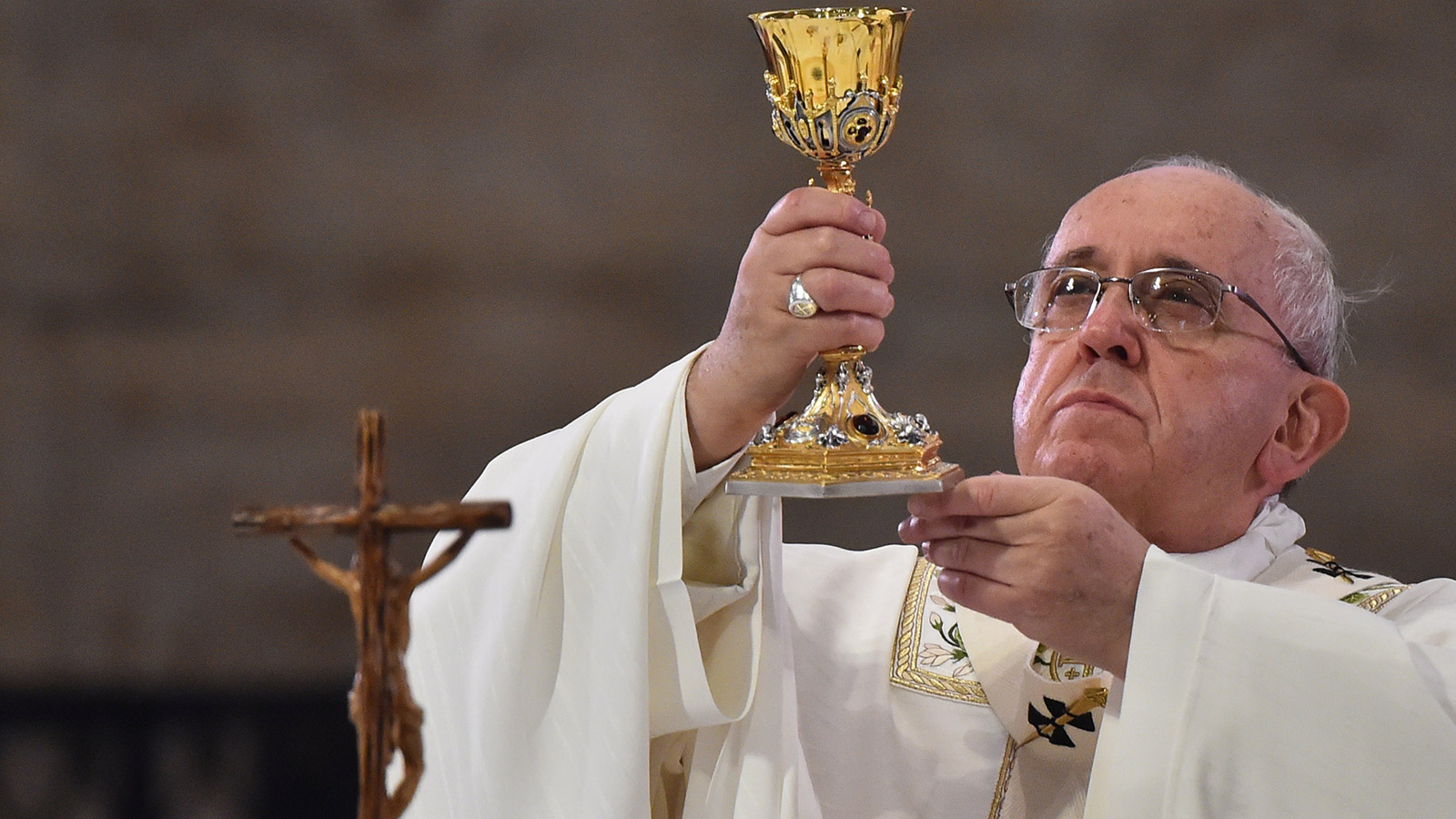 "A wedding without wine is shameful!" -Pope Francis
In discussing the miracle performed by Christ at the wedding in Cana the Pope went on to say "How is it possible to celebrate the wedding and have a party if you lack what the prophets indicated was a typical element of the messianic banquet? Water is necessary to live, but wine expresses the abundance of the feast and the joy of the celebration"
Headline News Stories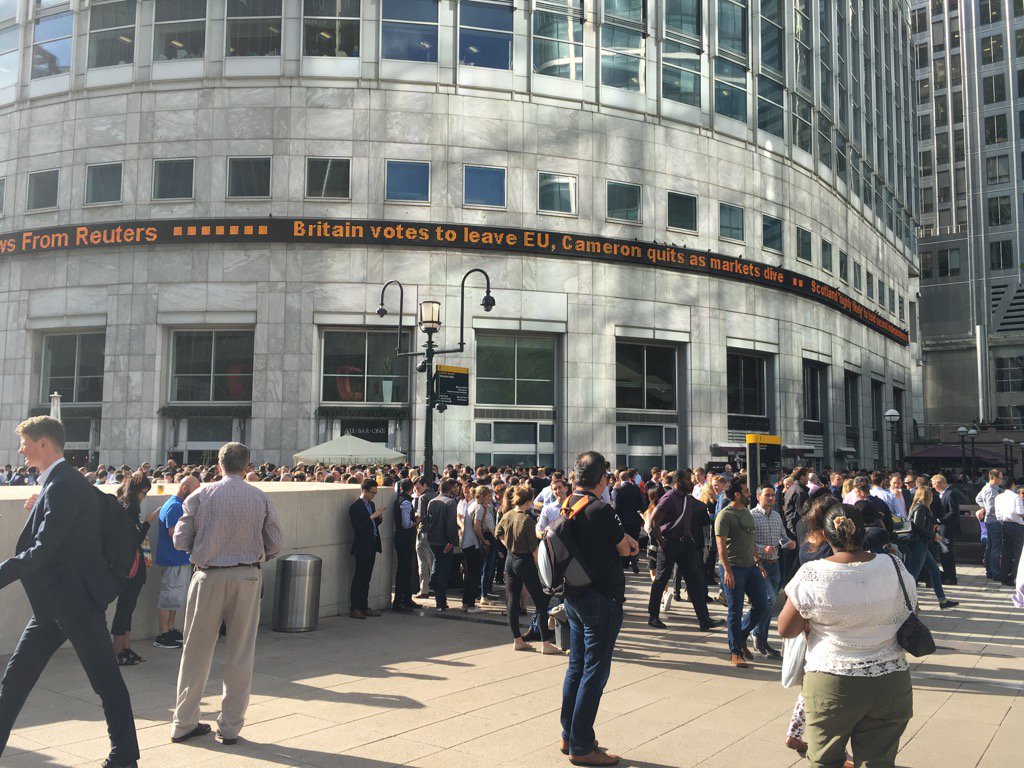 Bankers milling in confusion at Canary Wharf the day after Brexit vote.
Brexit Puts Industry into Uncertainty
The Brexit vote leaves one thing certain; uncertainty itself. No one knows what will happen. There are too many variables to make firm predictions. Scotland voted heavily to stay in the EU. That sentiment will probably remain and it will be a political problem for the central government. Northern Ireland has enjoyed a healthy interaction with Ireland. The goods and people have flowed freely between the two. There will also be pressure to continue that relationship. The process will not even start until the UK requests termination of membership under Article 50 of of the Treaties of the European Union. Even then, there could be compromises or concessions.
Conservative Party Prime Minister, David Cameron has resigned and a number of Labour Party's Shadow Government have also resigned. Nigel Farage, leader of the UK Independent Party which led the fight for Brexit, has aso resigned. He says his work is done. More than three million Brits signed a petition for a second vote that will have to be debated by Parliament. The new Prime Minister Conservative is Theresa May.
After the Brexit vote, the first reaction of the financial markets was to lower the value of the pound. Within days the value dropped to a 31 year low. That may make London and the UK an attractive tourist destination this summer. U.S. hotels and resorts could take a hit. In the long run it will be an annoyance for Americans. EU citizens went through security lines with Brits. Eventually they will be sent to the foreign traveler line with Americans. Plan on longer waits.
Products have been produced in the EU under one set of regulations. UK may have to create its own regulations with its own bureaucracy. It will be expensive for manufacturers, importers, and the UK itself to have two different sets of rules. The UK has had a voice in the EU rule making process. That will be gone. Companies have been able to manufacture under one seal of approval; now it could be two with two different formulations. Companies have been able to do business with one warehouse set of goods: this could require two. Trademarks have been filed under one system; now it could require two.
Sales volumes and profits will be uncertain. Companies with assets on both sides of the split will have their own problems. Currency exchanges could become more volatile. Some businesses based in or near London are considering leaving for other cities like Dublin, Amsterdam, Frankfurt, or Paris to benefit from the large EU market.
The UK's two biggest trading partners are France and Ireland. A whole new set of agreements and import duties will have to be negotiated with these and other countries or with the EU.
Ex-pat vineyard owners living in Bordeaux are at a loss about what to do. Over the past 40 years Britain has become a major trading hub for French wines. That could end. The UK is a food importer, producing only 60% of what it consumes. Food prices may go up because the value of the Pound has gone down.
Just in case there is a silver lining, Boston Beer, maker of Samuel Adams, has filed a trademark on the brand name Brexit for Hard Cider.
Beer to Have Nutrition Labels
The Beer Institute has announced the Brewer's Voluntary Disclosure Initiative. Brewers will begin printing nutrition labels on beer containers. AB/Inbev, MillerCoors, Heineken, Constellation Brands, North American Breweries and the Craft Beer Alliance have all agreed to start labeling their products with the new information.
Lebron and Bollinger
Lebron James and the Cleveland Cavaliers celebrated their NBA Championship with 300 bottles of Bollinger Rose' Champagne specially labeled for the occasion. The cost: $21,000.
The Rhone Rangers Tasting
is a must to attend. This is always a big one. The Rhone Rangers upcoming tasting on Saturday, August 6 in Los Angeles will be at the Skirball Cultural Center. The one-day event will begin with a seminar featuring unique Rhone blends moderated by Wine & Spirits writer Patrick Comiskey, followed by a winemaker luncheon showcasing a variety of rosé and white wines. The event continues into the grand tasting and will feature over 40 wineries and a silent auction highlighting rare and unique wine and lifestyle lots. New this year in the grand tasting is a VIP lounge with seating, food and specially selected wines to sample. "Los Angeles is exploding as a food and wine capital. The diversity of cuisines and accessibility to ingredients complement an extremely knowledgeable wine community, curious about and excited by these food-friendly American Rhone wines," said Barbara Smith, president of the Rhone Rangers. "Our member wineries enthusiastically embrace this important market - it is the perfect place to bring wineries and wine and food aficionados together to celebrate Rhone wines." Contact info@rhonerangers.org.
Drought Update
26 million trees across the state died from bark beetles, high temperatures, and drought conditions over the past 8 months. The total number of trees that died during the drought is now about 66 million. The quantity of dead trees and dry surrounding brush leave the state in high fire danger as we enter the summer.
New groundwater has been found in the Central Valley. Much of the groundwater down to 1,000 feet has been depleted. Massive amounts of water have been found at depths of 1,000 to 3,000 feet. There are three downside risks to using it. Drilling at depths of 1,000 feet or less can cost up to $50 a foot. Drilling deeper the costs will be substantially more. As groundwater is pumped, the level of land over it drops. Central Valley land has fallen up to 100 feet over the past century due to pumping. As the land drops, pipelines, roads, and rail lines can be disrupted or broken.
Celebrities in the Industry
Some things seem to go on forever. A Rancho Mirage home that belonged to Victor Jules Bergeron, Jr., aka Trader Vic, is for sale at $4 million. Trader Vic owned a chain of restaurants in major West Coast cities and manufactured bar supplies and cocktail mixes sold to the industry through the '50s and '60s. Bergeron died in 1984 and the home has changed hands several times since then, but this desert property was a perfect home for the inventor of the Mai Tai. The 13,908 foot home that sits on nearly 3 acres, was originally built by Marion Davies, mistress of William Randolph Hearst. Included are a tennis court, pool, spa, a pond big enough to paddle a boat, an indoor/outdoor shower planted with ferns, and a kitchen made to look like a subway car.
Channing Tatum owns Born & Bred Vodka bottled in Driggs, Idaho.
Novak Djokovic, the world's #1 tennis player, has bought 5 hectares(about 12 acres) of land for a vineyard and winery in his native Serbia. The land was a vineyard at one time and is now overgrown and abandoned. It is being cleared and will be planted next spring. A winery will be built in 2017 or 2018.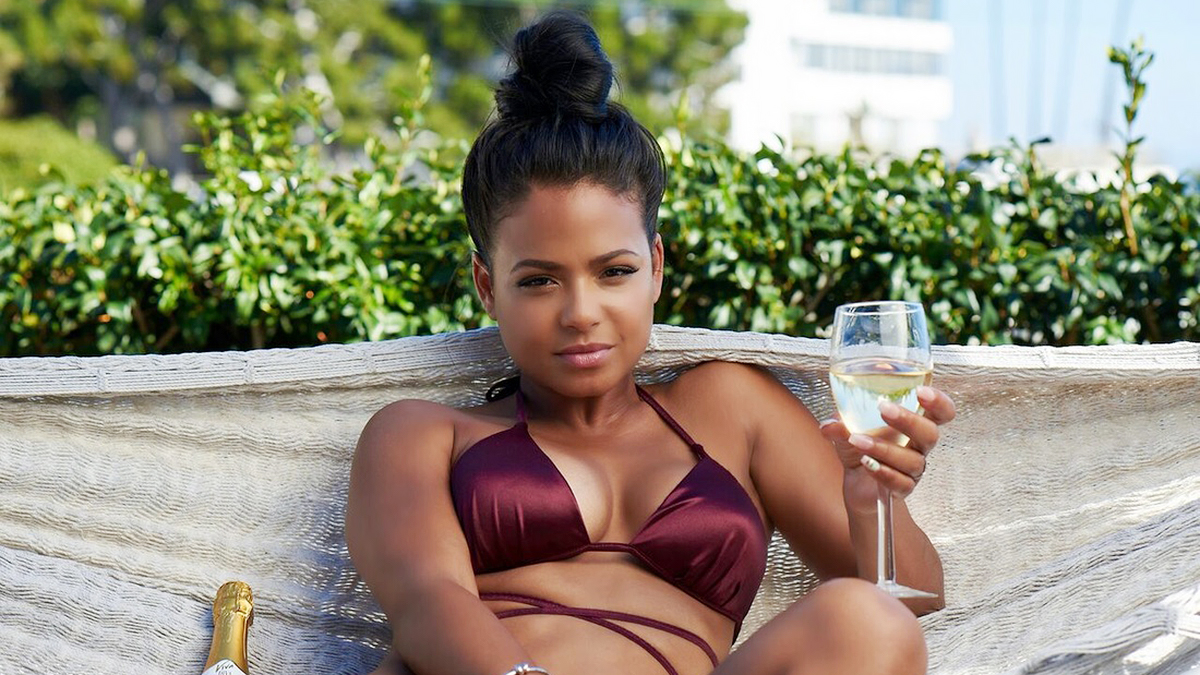 Singer, Christina Milian, started on The Voice and moved on to Dancing with the Stars. Meanwhile she sold the Viva Diva line of fruit flavored Moscatos. Now she is selling Prosecco (16.99) and Moscato di Asti ($19.99).
Singer, Cliff Richards, has put his Adega de Cantor Winery in Spain up for sale. The asking price is $10.6 million for 600 acres, a 3 bedroom home, tennis court, and swimming pool. He has made his Vina Nova Wines there for the last 15 years. He said "It hasn't been profitable. To be honest it has cost us. But it has been a good expensive hobby."
Les Claypool, bassist for the band known as Primus, has been making wine at his Claypool Cellars in Sonoma County since 2007.
Drew Bledsoe, former All-Pro Quarterback, and his wife Maura planted their own vineyard in 2003 and make Doubleback Cabernet Sauvignon in Walla Walla, Washington.
Race car driver, Scott Pruett owns Pruett Vineyards with his wife, Judy. The winery produces Cabernet, Pinot Noir, Syrah, and red blends. Prices range from $29 to $100. He has been previously voted Race Magazine's Road Racer of the Year. The two also write children's books.
Game of Thrones actor Hafþór Júlíus Björnsson has launched his own brand, Icelandic Vodka, in his native Iceland. He has won Iceland's Strongest Man 5 times, Europe's Strongest Man twice, and is currently rated the second strongest man in the world. His Vodka is regular strength at 80 proof.
Roman Burtzev is appearing in Russian Vodka commercials. Roman who? His claim to fame is that he could double for Leonardo di Caprio. The ad for Pyat Ozer Vodka (Five Lakes Vodka) starts out viewing him in a rear view mirror. As the camera pans down, you see he is not di Caprio and the voice over says that he is a "fake Di Caprio" driving a "fake BMW," talking on a "fake iPhone" next to his "fake girlfriend." The only thing that is real is the Vodka. Watch it at https://youtu.be/vUMr7ueA1Hw.
Popular Culture
Bride & Groom Blend
A new trend is catching on in wedding ceremonies. The groom pours red wine into a glass. The bride pours white wine into the glass. Then the two drink from the blended wines.
Feed the Beast
AMC has debuted a new series, Feed the Beast, starring David Schwimmer. He plays a talented sommelier who is a part owner of a restaurant that is under the thumb of organized crime. It follows him through his life and troubles. Schwimmer wanted to play the part as a somm as well as possible. So he brought in Josh Nadel, wine director for the Noho Hospitality Group and star of the movie, Uncorked to teach him the ropes. His tutor says he was a fast learner and now has something to fall back on if acting doesn't work out.
Hamilton & Adams
Jim Koch, owner of Boston Beer Co., and Samuel Adams Beer was name-checked in Broadway's cross-cultural megahit "Hamilton." His eyes lit up when played the playful allusion to the signature brew (named for a patriot) in a pub scene set in 1776: "I'm John Laurens in the place to be! Two pints o' Sam Adams, but I'm workin' on three, uh!" "Love it! Love it! Love it!" Koch said.
Books
Vintage Beer: A Taster's Guide to Brews That Improve by Patrick Dawson, 160 pages paperback, Storey Pubishing, $14.95.Like good wine, certain beers can be aged under the right conditions to enhance and change their flavors in interesting and delicious ways. Good candidates for cellaring are either strong, sour, or smoked beers, such as barleywines, rauchbiers, and lambics. Dawson gives a list of easy-to-follow rules that lay the groundwork for identifying these cellar-worthy beers and then delves into the mysteries behind how and why they age as they do. There is also a short travel guide for bars and restaurants that specialize in vintage beer.
The Canon Cocktail Book: Recipes from the award winning bar by Jamie Boudreau, Houghton Mifflin Harcourt, 352 pages, $28. A book of 100 recipes from the legendary Seattle bar that keeps 3500 plus spirits labels in stock. They give mixing instructions and tips, and full credit for the origin of drinks where credit is due.
Amaro: The Spirited World of Bittersweet, Herbal Liqueurs by Brad Thomas Parsons, Ten Speed Press, 280 pages, $26. The history of amari (plural of amaro); Campari, Luxardo, Cynar, and many others. Over 100 recipes for mixing these specialties with gin, bourbon, or rum. The author even tells how to create your own amari and use them in cooking, making milkshakes, or cocktails of your own design.
Champagne Uncorked by Alan Tardi, Perseus Books, 296 pages, $26.99. Recounts the creation and history of the prestigious Champagne house Krug and explores the history, production, and cultural significance of "the world's most celebrated drink."
The Manhattan by Philip Greene, Sterling Publishing, 256 pages, $19.95. The story of the first modern cocktail, includes 65 recipes, and vintage artwork. Written by the co-founder of the Museum of the American Cocktail.
Movies
The Irish Pub (2013) This film takes a loving look at traditional Irish pubs and the people who run them, highlighting the friendships they share with loyal customers. Take a place at the bar, spin some yarns, and share a pint. These longtime pub owners will make you feel right at home. Showing now on Netflix.
Politics
Dunkin' It
House Democrats who were staging a sit-in on the floor of the House of Representatives to try to get a vote on gun control. Massachusetts Senator, Elizabeth Warren, received a hero's welcome when she arrived carrying a load of Dunkin' Donuts for the protesting members. Dunkin Donuts headquarters is located in her state.
Bipartisan Cocktail Parties
DISCUS (The Distilled Spirits Council of the U.S.) will be partnering with The Wall Street Journal to put on Monday night events at both Republican and Democratic Conventions.
Trump Tonic vs. Hillary Hooch
Avery Beverages, a 112 year-old Connecticut soft drink bottler has introduced two new sodas in time for the coming election: Trump Tonic and Hillary Hooch. Avery's Rob Metz described them. "Trump Tonic will make America Grape again." He says "It's bolder than traditional grape soda and a bit more acidic." He goes on about Hillary Hooch we're "not sure exactly what it wants to be. The ingredients are classified."
Wine
California's Oldest Grapevine Found
California's oldest grapevine has been identified and it's not in Napa. It's covering a huge arbor next to L.A.'s Olvera Street Avila Adobe. The vine is a Vina Madre; a cross between Vitis Vinifera from Europe and Vitis Girdiana. The vine probably was grown from a cutting from Mission San Gabriel. It is thought to date from 1818 when the adobe was built and was planted for shade on an arbor, not for grapes. But it is producing grapes. Michael Holland, L.A.'s official archivist has harvested some of the grapes and made Angelica, just like the missionaries would have used for sacrament.
French Minister Visits Napa
French Minister of Foreign Trade & Tourism, Matthias Fekl, traveled to Washington DC in June to discuss the trade proposals. On his way (or out of his way) he stopped off to visit vineyards in Napa Valley and to meet with members of the Napa Valley Vintners Association.
Napa for the Natives
Napa Valley growers are asking Congress to provide additional protection for label designations. A winery is shipping Napa grapes to Georgia to make wines that are labeled Napa Valley. The new law would ban the practice. California regulations require wine labeled Napa Valley to include 75% Napa grapes.
DRC 1926
A lot of 6 bottles of Vosne-Romanee 1926 "Les Gaudichots" from Domaine de la Romanee-Conti sold for ₤49,000 ($65,000) at a Sotheby's London auction on June 15.
Missing Wine
Wine collections worth more than $5 million have disappeared from a storage facility in Australia. The wine was stored at Wine Investments LLC in Hunter Valley. The company went into bankruptcy in 2013. The owners, police, and bankruptcy liquidators have been searching for the wine for the past 3 years.
When Wine Costs Too Much
Clinton Balfanz is facing felony charges for swindling in Minnesota. Mr. Balfanz printed his own UPC labels and put them on bottles of wine being sold in local stores in Dakota County. When he checked out at the register, the wines scanned at $9.99 instead of $80 to $85 a bottle. The total involved is estimated at $2,600. He was videotaped making the label changes. If convicted, he could face up to 5 years in prison and $10,000 fine.
Wine for Diamonds
Craig O'Driscoll was convicted of fraudulently buying fine wines from UK collectors. He first offered cash, then switched to paying in diamonds. The diamonds turned out to be low value. Later, he put his company, Ethical Elegance LLC, into liquidation. At trial he pleaded guilty to charges and was given a 16 month suspended sentence and ordered to do 200 hours of community service.
When French isn't French
A French winegrower in Languedoc-Roussillon was apprehended by customs officials for selling Spanish wine and passing it off a French. Enough bulk wine was sold to fill 4 million bottles. He was fined 97,000 Euros and his name has been withheld.
When French Still isn't French
Bicicleta was the official wine of Tour de France. The only problem: it's from Chile. French vintners threatened to block the route. Finally, a compromise was reached when French winemakers were allowed to sell their own wines alongside the race.
Hail Hits Beaujolais
A fierce hailstorm hit northern Beaujolais on June 24. Fleurie suffered the worst damage with up to 80% of the vineyards devastated. This is in addition to earlier storms in Burgundy, Chablis, Champagne, Cognac, and Rhone regions. Growers have asked the French government for disaster relief.
New Winery Design
A futuristic winery designed by French architect Phillippe Starck to look like a "raw metal blade plunged in the terroir" has opened at Château les Carmes Haut-Brion in Bordeaux.
Napa Wine Partnership
Hyde de Villaine has purchased a 33 acre estate in Napa Valley and plans to upgrade and replant the vineyards. The vineyards currently have Pinot Noir and Chardonnay. Cabernet Sauvignon, Syrah, and Sauvignon Blanc will be added. Hyde de Villaine is a partnership between the Hyde family that owns a vineyard in Carneros and the de Villaine family that owns Domaine de la Romanee Conti.
Gallo Buys Orin Swift
Gallo has purchased Orin Swift Cellars. The sale includes brands, inventory, and a tasting room in St. Helena. Current sales are 100,000 cases. Orin Swift Cellars does not own a winery facility.
Treasury Sells 12 Brands
Treasury Wine Estates announced that it would be selling 12 non-core brands that amount to sales of about 1 million cases a year. The brands and buyer were not disclosed.
Kurniawan Burgundy Shares Sold
Etienne de Montille has purchased 250 shares of a Burgundy investment company from the U.S. government for $726,000. The shares had been surrendered as part of counterfeiter Rudy Kurniawan's penalties. They represented a 23% share of the company which owned several prestigious Burgundy estates.
Instant Wine
Two scientists, Dr. Daniel Attinger from Iowa State University and Dr. Philippe Renaud of Ecole Polytechnique Federale de Lausanne in Switzerland, have developed a mini-winery that makes wine instantly and continually. The device makes 1 milliliter per hour. Renaud says it will be used by wineries to test yeasts and temperatures before fermenting large quantities of grape juice.
Sustainable Winemaking
Sarah Cahn Bennett has taken over 100 unused acres of her parents' Navarro Vineyards and planted them with Sauvignon Blanc and Pinot Noir grapes. But she didn't stop there. She and partner, Erika McKenzie-Chapter have 103 goats and 28 sheep. The milk from the sheep and goats is used to make cheese. The manure is used for fertilizer in the vineyard. A flock of hens roams the vineyard eating insect pests. Finally, the tasting room sells wine, cheese, and eggs.
Friendlier Skies
Qantas Airlines has 200 flight attendants that have been trained as sommeliers. Want a wine tasting in flight? Just ask. It's not advertised, but Qantas attendants will put on a 15 wine blind tasting from their selection of over 250 wines. Qantas Sommelier in the Sky program has also trained 2,000 employees in wine service. The airline stocks only Australian wines and is the world's 3rd largest buyer of them.
Record Price for Grapes
A bunch of 30 Ruby Roman Grapes was sold at auction in Japan for 1.1 million Yen. That's $10,938 or $365 per grape. Standards are that each grape must weigh at least 20 grams and have a sugar content of 18%. These grapes are as big as ping pong balls and are too scarce to make into wine. Ruby Romans have been cultivated in Japan since 1992. They are considered a prestige item and the buyer will give single grapes as gifts.
Beer
Beer Market Decline to Continue
Impact Databank predicts total beer consumption in the U.S. will fall by 0.2% this year. It will be the 3rd decline in the last 4 years.
By Any Other Name
Roughly 5,000 craft breweries are operating nationwide and as of the first half of this year 25,000 names have been registered with the U.S. Product and Trademark Office.
Oldest Paycheck
The world's oldest paycheck has been found in Uruk, Iraq. The stone tablet, written in cuneiform, lists the name of a worker and indicates that he is entitled to a ration of beer.
Zero Waste Beer
Northern Monk Brewing Company in Leeds, England is making a zero waste beer called Wasted. It's made from pears, croissants, and brioche that would otherwise be dumped. The yeast left after making the beer is re-used to make other beers. The spent hops and malt are given to farmers to use as feed.
Lagunitas Buys Three Brewers
Lagunitas Brewing has purchased three smaller brewers. Southend Brewery and Smokehouse in Charleston, South Carolina will become Lagunitas Brewpub; Texas Independence Brewing Co. in Austin, Texas and Moonlight Brewing Co. in Santa Rosa, Caifornia will become subsidiaries. 50% of Lagunitas was purchased by Heineken in 2015 for $500 million. Lagunitas has breweries in Petaluma, California and Chicago. It will open a brewery near Los Angeles later this year.
Beer from Two Centuries Ago
Australian scientists have brewed beer from yeast locked away in a shipwreck for 220 years. The Sydney Cove ran aground near Tasmania in 1797 on a trip from Calcutta to Sydney. The shipwreck was picked clean decades ago. But it carried 7,000 gallons of beer that was left on the ocean floor. Archaeologist, Mike Nash; Chemist, David Thurrowgood; and yeast specialist, Anthony Borneman teamed up to recover and revive the yeast to brew fresh beer. Thurrowgood said "We were able to culture that yeast and recreate beer that hasn't been on the planet for 220 years."
AB/Inbev to Brew Non-Alcoholic Beer
AB/Inbev will be expanding into the non-alcoholic and low calorie/alcohol beer market. According to CEO, Carlos Brito, consumer trends indicate that the market is wide open for new brews that are healthier and still taste like beer. He predicts 20% of AB/Inbev's volume could be in these products by 2025.
McDonalds Gives Free Beer
McDonalds Restaurants in Austria gave free six packs of beer to customers buying family meals during the Euro Soccer Championships. It helped bring a "stadium atmosphere" to fans that had to stay home.
Just One More Beer Before Jail
Escaped Arkansas prison inmate, Shaun Higham, was taken into custody while drinking beer. On June 28 he picked the lock on his cell and walked out of Logan County jail. After 9 days on the run, he quietly walked into Mitch's Tavern, ordered a cold beer, and asked the owner to call the Sheriff. When Mitch called it in, he said Higham was dressed in a dirty prison uniform, covered in insect bites, and drinking his beer while he waited.
Spirits
Best Cocktail Contest
Restaurant Hospitality editors will be selecting the Top 12 Best Cocktails in America. It doesn't matter what type of cocktail you enter. What does matter is creativity. So show them your best; a cocktail that truly dazzles the eye and taste buds. Then RH editors will narrow down the entries and hit the road to see if your cocktail is the real deal. Entering is easy. Just click here to submit some details and a high-resolution photo of your cocktail. Winners will be showcased in the November issue and on restaurant-hospitality.com. The deadline to enter is August 15th, 2016!
Vodka from a Foggy Day
Hanger 1 is making a new Vodka from San Francisco fog. Owner/distiller Caley Shoemaker has named it Fog Point. She works with FogQuest, a non-profit dedicated to catching fog and using it to help in fighting the drought. They use mesh sheets hung to get waterlogged as the fog passes through them. The water that drips off the sheets is filtered, distilled, and then used to make Vodka. Over a 6 month period she collected enough fog to make 2,400 bottles. Fog Point sells for $125 per 750ml.
Stay Young with Vodka
Anja Skodda, a beauty conscious bio-technologist in Berlin, is distilling an anti-aging Vodka. The 32 proof spirit is made from caviar collagen and sea buckthorn. She sells a pack of 4 100ml bottles for €49.90 (about $57). She says "the drink combines science with lifestyle for a non-guilty pleasure."
Beet Vodka
Ben Brueshoff and Jerad Poling have started Beet Spirits, a Minnesota company that makes Vodka from sugar beets. The brand, Bӗt Vodka, is billed as "sipping vodka."
Sloe Gin Shortage
The world could be facing a shortage of Sloe Gin this coming year. Most of the world's production of sloeberries comes from Scotland. Damp and foggy weather throughout the winter led to a fungus outbreak that kept the berries from ripening.
Jack Daniel's Roots
Jack Daniel's has set the record straight. Jack Daniel didn't learn how to make whiskey from Dan Call, who sold him the distillery. He learned from one of Dan's slaves, Nearis Green. Incidentally, Jack was 13 years old when he bought the distillery. It couldn't happen today.
Top Six Single Malts
Single malt scotch now holds 20% of the scotch category sales in the U.S. Sales of single malts grew 7% in 2015 and are up 50% from 2010. 1.5 million cases were sold last year. The whole category is doing well. The 6 top brands are reaping the most increases.
Top Six Single Malts for 2015
| | | |
| --- | --- | --- |
| Brand | Case sales in 2015 | Per cent growth |
| Glenlivet | 418000 | 8.30% |
| Macallan | 217000 | 6.90% |
| Glenfiddich | 163000 | 16.40% |
| Glenmorangie | 127000 | 4.50% |
| The Balvenie | 89000 | 8.90% |
| Laphroaig | 66000 | 14.00% |
| Total All Single Malts | 1462000 | 7.00% |
$50,000 Martini
Daffy's Gin, made in Edinburgh, is offering a $50,000 Martini. The drink includes a "Ginscapade." That's a trip to the places where the botanicals are sourced. The 8 day trip starts in New York and flies to the Balkan States by private jet. Then by yacht through the Adriatic and on by private jet to Morocco for a stay in the Atlas Mountains under a Berber tent. The company's mixologist will accompany drinkers throughout the trip to provide bespoke refreshments.
(Ice Cream) Drinks are on the House
Warner Leisure Hotels, a UK chain, has a traveling bar mobile. The van rotates between the hotels branches serving adult ice cream treats free to guests. Flavors include Mr. Whippy (beer infused), Jäger Bombe, Vodka Martini, and Tequila Sorbet. A traveling doorman insures that under age guests don't indulge.
Best Bourbon Bars
The Bourbon Review released its list of the 80 Best Bourbon Bars in the U.S. Seven are right here in California:
Hard Water, San Francisco, CA: Chef Charles Phan stocks more than 200 Bourbons. The list includes seven private barrel selections and a secret 12-year-old Old Rip Van Winkle private barrel selection.
Rickhouse San Francisco, CA
Elixir, San Francisco, CA: San Francisco's second oldest bar
Bourbon and Branch, San Francisco, CA
Seven Grand, Los Angeles, CA
Bosscat, Newport Beach, CA
Acme Bar & Company Berkeley, CA
Other Foods and Beverages
Pokemon Go and McDonald's Invade Japan
The Pokemon Go craze has been sweeping the world with the exception of its birthplace: Japan. The Japanese have been painfully clamoring to get in on the reincarnation of the 1990's game. Now McDonald's has inked an exclusive deal with Niantic, the games owner, for the entire country. The plans are to turn 3,000 restaurants into Pokemon Go Gyms.
GMO Law
A new national labeling law passed the Senate and the House and is expected to be signed by President Obama. It will replace the Vermont law that went into effect July 1 that forces manufacturers to label products that are made all or partially from GMO ingredients. GMO's are Genetically Modified Organisms. Their DNA is changed. Twenty one other states had similar bills pending. The new law sets national standards that require manufacturers to list GMO ingredients with words, pictures, or a scan code that can be read with Smartphones.
Is the GMO Controversy Over?
Monsanto had created GMO soy beans and corn. The Congress and the President have given answers to the GMO labeling questions. Is the issue now settled? Well, not exactly. On May 30 Monsanto announced a whole new approach; "Bio-Direct." Bio-Direct temporarily changes genes by being sprayed directly on the plant material to change its RNA. The first spray developed prevents the production of ethylene gas. Ethylene gas ages the plant material. It will be used to spray on roses and carnations to prevent them from wilting. It could also be used halt the ripening process of fruits.
Organic Sales Booming
Organic produce sales are one of the fastest growing segments. Overall market sales have doubled since 2011. For the year 2015, organic banana sales were up by 30% and valued added (washed, peeled, cut up) produce was up by a whopping 54%.
Pirate Joe's
Mike Halatt, Canada's Pirate Joe, has been importing TJ's private label to his Vancouver store since 2012. He and his team buy large quantities at TJ stores in Washington, pay duty at the border, and bring them to his store. Trader Joe has sued to stop him and lost. When asked what they have to do to get him to stop he says, "we have to do this…. You're just too far away from us. Please open in Vancouver."
Avocado Crop May be Lost
The extreme heat wave in June left many avocado trees in the San Diego area burnt. Farmers won't know for months whether the early 2017 crop was damaged.
Starbucks Tries Two New Formats
Starbucks will be opening a new format called Starbucks Reserve. The stores will be twice the size of a regular Starbucks and feature upscale small batch coffees. According to CEO, Howard Schultz, there are hundreds of opportunities for locations in the U.S. The company is also adding to its Starbucks Roastery and Tasting Room locations by adding artisan bakery specialties by Italian Rocco Princi.
Award Season
Murray Circle Restaurant in Sausalito has been named to Wine Spectator's list of Grand Awards. Only 88 have received this award since 1981.
Sunset Magazine's listed the top roadside eating places in the West. From the North to the Mexican border, 22 are right here in California. They include:
The Peg House, Leggett. Live music, BBQ'd bacon burgers.
Hodad's, Ocean Beach. The Blue Jay Burger, a burger with bacon, blue cheese, and grilled onions served at a surfboard table.
Jocko's Steak House, Nipomo. Plan on spending some time at the bar. There's usually a wait for a table. Outstanding steak, good cocktails, relish tray.
Sides Hardware & Shoes, Los Olivos. There is usually a long line to get into "Sides." Enjoy albacore, pig belly tacos, hammered pork sandwiches or salads.
Neptune's Net, Malibu. Shrimp tacos with pineapple slaw.
The Marshall Store, Marshall. Fish tacos and shellfish.
Reel Inn, Malibu. Fish tacos made with salmon or ahi tuna, melted cheese, crisp lettuce, tomato, and salsa.
Ruddell's Smokehouse, Cayucos. Albacore or smoked salmon tacos.
South Beach Bar & Grille, San Diego. Fish tacos.
Romesco Baja Med Bistro, Bonita. Baja Med Cuisine from Mexico. Ahi tuna tostada.
La Super-Rica, Santa Barbara. La Super-Rica Especial (marinated pork and cheese stuffed pasilla chili).
Lynda Sandwich, Westminster. Beignets or Banh Mi.
Quon Hy Restaurant, Westminster. Central Vietnamese food, spicy soup, and clam salad with peanuts.
Pacific Fish Center, Redondo Beach. Korean seafood, sashimi platters, fish soup.
Renu Nakorn, Norwalk. Thai style food. Catfish larb, jackfruit salad, sour sausage, or crying tiger beef.
Osteria Stellina, Point Reyes Station. Local food.
Casino Bar & Grill, Bodega. Guest chefs make different menus every night.
The Ranch House, Ojai. A great California restaurant since 1953. Award winning wine cellar.
Bell Street Farm, Los Alamos. French style food. Roast chicken salad.
Fremont Diner, Sonoma. Breakfasts. Smoked brisket hash.
Mrs. Olson's Coffee Hut, Oxnard. Banana Walnut Pancakes.
Orange Inn, Laguna Beach. Homemade Blueberry muffins, breakfast burritos.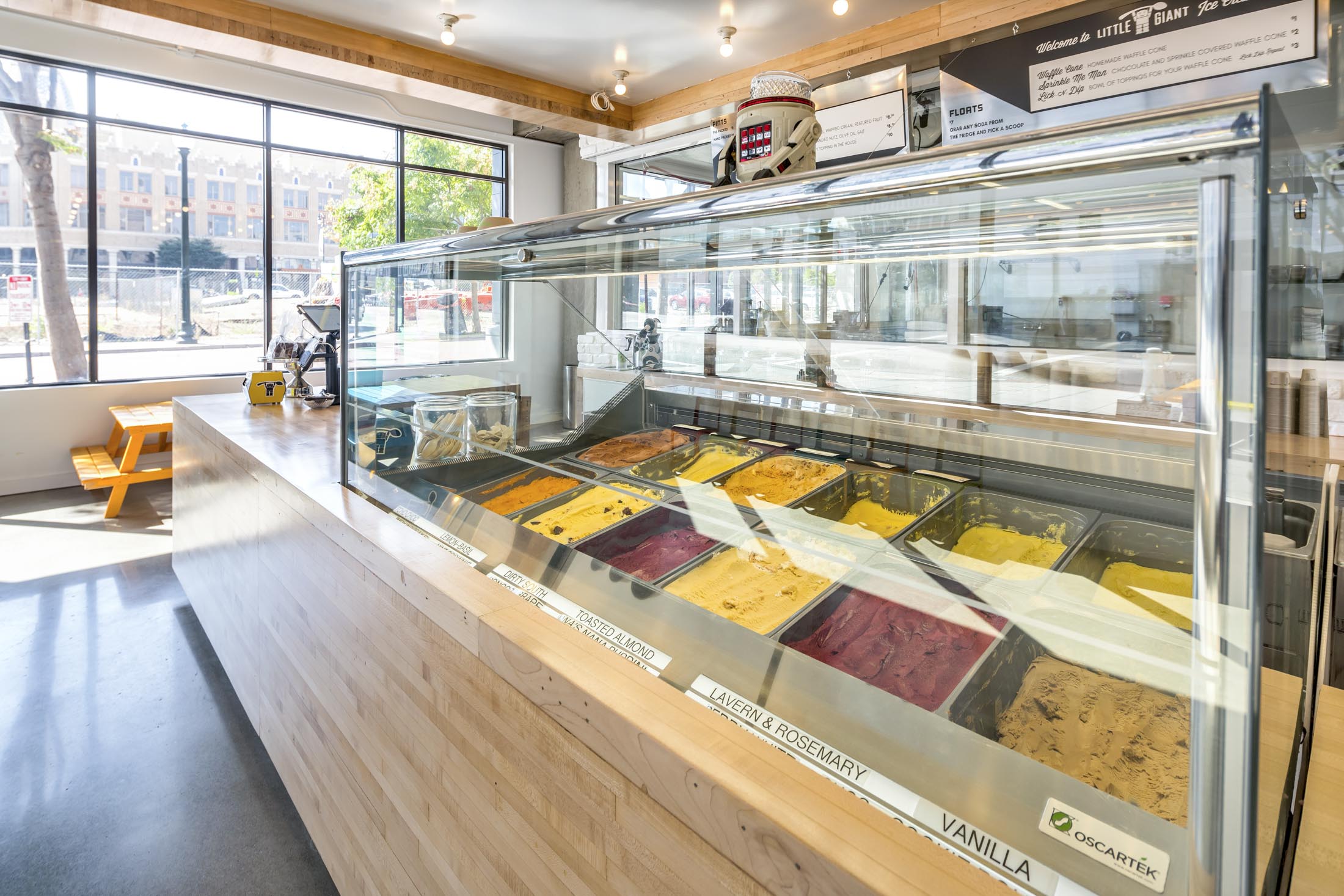 Two of California's Ice Cream Shops were named to Bloomberg's Top 10 list of top IC's in the country. Little Giant with locations in in SFO's financial district and Oakland features flavors like Mango Mezcal, Hot Buttered Rum, and Negroni. Ice Cream and Shop(pe) in Palm Springs dishes out the cold stuff from a mid-century bungalow. Featured flavor is Blackberry-Cabernet.
The Changing Market
On-Premise Alcohol Sales Down
On-premise sales of alcohol declined for the third straight year. This despite an improved economy. All three categories were down; spirits, wine, and beer. Overall on-premise alcohol sales by volume declined 2.6% for the largest decline to date. The loss was tempered by a slight increase in dollar sales as consumers continued to trend toward premium brands in all categories.
New Channels – New Technology
While Amazon and Walmart are trying to find a way into online shopping with home delivery of groceries, companies like Instacart and Postmates continue to make strides in the niche. Door to Door and Relay Foods are specializing in delivering natural and organic food. Meanwhile start ups like Uber Eats and Munchery are trying to break in by dissolving the differences between grocery shopping, farmers markets, and foodservice. Amazon is quietly testing delivery of private label perishable foods in isolated small markets. The fact is that 38% of grocery sales now start with online research. Boston Consulting Group predicts that 50% of food and beverage sales will come from ecommerce by 2018. The problems include logistics, cost barriers, and the customers expectations for quality, speed, and price. But the fact is that a younger generation of consumers that seldom goes to a grocery store is emerging. They save the time of making a trip, walking up and down aisles, waiting in check out lines, and hauling their purchase home. 31% of consumers now shop onine for something at least once a week. When they feel like it, they go online and schedule a delivery. Cost is relative. Their time may be better spent doing other things.
Trends in Sales
What are the current trends?
The importance of the supply chain. Consumers are getting seamless shipping delivery, and returns. Retailers spent 29% of capital investments on transportation and logistics last year.

Integration of in-store and online experiences. Retailers are finding a new blend as consumers continue to shift preferences.

The start of luxury e-commerce. This year high fashion, jewelry, and other top end goods are being sold online.

Mobile payments is a current brakes on online sales. Consumers are concerned about privacy and security.

Door step theft of delivered goods is a growing problem and another deterrent to sales.
Walmart Grocery Sales Up
Walmart sales were up in 2015. The reason is greater penetration into retail groceries. The company is planning on expanding offerings in the category. Current experiments include more than 100 natural and organic items under the private label name Great Value Organic.
Amazon Affects All Retail Sales
Amazon is considered to be the cause of the slump in nationwide sales at brick and mortar stores. Amazon now accounts for one third of all retail transactions in North America. This is thought to be the reason behind the closure of hundreds of Macy's, Sears, Gap, and Ralph Lauren stores. Amazon is expected to become the country's biggest seller of apparel by the end of 2017. In electronics sales Amazon has moved past Walmart and is now #2 behind Best Buy. The predictions are that at least one third of malls will be closed or in serious trouble in the near future if they can't find another way of surviving. Westfield, the biggest mall operator, is trying to replace vacant store fronts with restaurants, creating huge food courts. What does the future hold for malls? Many are struggling. Bad locations, retailers losing business, and vacancies contribute to the problem. Lenders are becoming skittish. Refinancing a mall when the loan comes due can be expensive or not even possible. Industry insiders predict that one third of the malls across the country may close in the next 5 years.
Direct Sales
Another silent change taking place is manufacturer direct to consumer sales. The channel had an 18.3% increase in 2015. The pressure is on all the middlemen; wholesalers, distributors, and retailers.
Retail Changes Affect Large & Small
The chain retailers are feeling the pinch, but what about single store operations? Software Sense reports that 64% of small operators still don't have a POS system in place. The cost to them is tremendous. That POS system could provide inventory control, identify losses, and spotlight opportunities.
Agricultural Overload
U.S. agricultural products are piling up in warehouses across the country. The glut is caused by the strong dollar and favorable (to us) exchange rate. Foreign buyers are finding our goods too expensive. Cheese stocks are so long that every man, woman, and child in the country would have to eat 3 pounds just to use it up ...and more is coming. Meat and poultry are also stockpiling. The causes are low grain prices and the fact that farmers rebuilt their flocks and herds 2 years ago when the export market was hot.
Recipes
Felix Felicis Cocktail
(a Harry Potter Drink)
2 oz. Dark Rum
2 teaspoons Simple Syrup
2 drops Orange Bitters
1/2 teaspoon Lime Juice
pinch of Ground Cinnamon
Ice
Water, Soda, or Rose' Wine
Put first five ingredients into a cocktail shaker. Mix well.

Pour over ice.

Top with water, soda, or rose' wine
Health
Drinking Could Prevent Diabetes
Scientists at two Universities in Wuhan, China have completed a study of the health effects of the consumption of alcohol on 397,296 individuals. They found that Beer, Spirits, and Wine drinking all reduced the incidence of type 2 diabetes. Spirits reduced risk by 5%. Beer reduced risk by 9%. Wine was the best by a 20% reduction.
Red Wine for Hair Care
Celebrity hair stylist, John Blaine, has launched a line of hair care products infused with extract of red wine. The Vine de la Vie products will "leave your hair healthier, softer, and richer in color." The products contain high levels of polyphenols and multiple vitamins and are sulfite free. He says the line is used by Dita Von Teese and Pamela Anderson. Priced from $35 to $50.
Red Wine Could Help Weight Loss
Professor Min Du at Washington State University has completed a study that showed two glasses of red wine prior to going to bed each day helps in weight loss. There were two effects of the drinking. First, cravings for snacks were reduced. Second, the resveratrol in the wine left body fat more available to burn off the following day.
Tasting Notes
Each month we are out there looking for wines that "over deliver"; wines that offer more than others in their category and price level. We search out the wines that you can buy to help build your business; wines that make customers happy and keep them coming back. These are wines we rate as good buys and best buys. Check our notes. The opinions in the reviews are our own and unsolicited. We receive no compensation from wineries or brokers. This month there were several wine tastings that showed some very nice wines available at reasonable prices. The prices shown are approximate retails.
Bordeaux Under One Roof
Ch. de Pitray 2011, 80% Merlot 20% Cabernet Franc, good color and nose, well rounded, a good buy $17.99. Madame de Pitray 2010, 65% Merlot 35% Cabernet Franc, good color and nose, soft, full body, a good buy at $29.99. Contact Mark Newman at Accolade Brands info@accoladebrands.com or (818) 390-8888.
Ch. Dauphine-Rodillon Cuvee d'Or Vielles Vignes, 80% Semillon 20% Sauvignon Blanc, sweet white, dark straw color, 1 year in oak, 100 year old vines, a good buy, compare with better Sauternes, $25. Contact Aliane Wines, So Cal Aline Thibaut aline@alinethiebaut.com (858)361-4529 or Jacques Rifkind sabersabor@aol.com or (818) 425-5608. Northern Cal Hollis Grant hollis.grant.wine@gmail.com or Lindsay Wetterau lindsaywetterau@gmail.com or (831)214-9405.
Ch. Bellevue Rouge 2012, 60% Merlot 30% Cabernet Sauvignon 10% Malbec, good color, good acidity, will pair well with food, $15.99. Contact Nora Zagaro at Esprit du Vin nsagaro@edvwines.com or (516) 802-4789.
Ch. Tertre de Launay 2015, a dry white, light, bright, fresh, $10. Contact Europvin S.A.S. Paul Sharp psharp@europvin.com.
The best overall collection of wines at reasonable prices were poured by The Wine Source. We rate these all as good buys. Ch. Hyot 2014, 60% Merlot 20% Cabernet Franc 20% Cabernet Sauvignon, good color, medium body, good balance, good food wine, $14.99. Ch, Forlouis 2013, 80% Merlot 20% Cabernet Franc, good nose, dark ruby color, good balance, will pair well with food, $17.99. Ch. Richebon 2010, Pauillac, good nose, dark ruby color, soft, full body, $32.99. Ch.Coutet 2013, Grand Cru St Emilion, 60% Merlot 26% Cabernet Franc 6% Cabernet Sauvignon 8% Malbec, good color and nose, medium body, will pair well with food, $38.99. Contact Guy Azera at The Wine Source thewinesource@msn.com or (310) 516-6799.
Hollywood Meets Wine
by Southern Wine & Spirits featured a huge array of wines of all types, vintages, and regions. Probably the most outstanding feature of this experience was the opportunity to taste many of the classic California Cabernet Sauvignon bottlings at the same time.
Charles Krug Howell Mtn 2012, Dark color, good nose, medium body, classic Napa taste $90. Charles Krug Cabernet Sauvignon VS 2012, dark color, good tannins, too young to drink a wine of this character and elegance, $120.
BV Cabernet Sauvignon Georges de la Tour 2012, dark color, good nose, fruity with berries, full body, $150.
Stags Leap Cabernet Sauvignon 2013, dark color, good nose, medium body, $65.
Robert Mondavi Cabernet Sauvignon Oakville 2012, good color and nose, soft, full body, $75. All the classic Cabs were excellent. This one was our favorite, hands down.
Wente Erics Chardonnay small lot 2014, light straw color, good nose, fresh, fruity, unoaked, 13.4% ABV, $25. A great buy at this price. So many California Chardonnays are based on the Wente clone, yet this one still sets the bar and remains at a reasonable price.
Delas Chateauneuf du Pape Haute-Pierre 2013, dark color, good nose, soft, full body, great classic Rhone Wine $55. Of the many good to great imports offered by Southern, this one stands out as a best buy. For all these wines contact your Southern Wine & Spirits salesperson.
Domaines Albert Bichot
showed an beautiful array of Burgundy Wines. The Secret de Famille Chardonnay 2012 was light straw color, clear, clean, bright, fresh, a best buy at $23.
Montagny 1er Cru was a light white wine, fresh, good minerality, a good buy $39.
Among the red Burgundies the Pommard Clos des Ursulines Domaine du Pavillon stood out as a best buy. Good color and nose, medium body, elegant, $75. In California contact Epic Wines and Spirits info@epic-winesandspirits.com (707) 708-8140 or (800) 322-3742.
Industry Calendar
7/4 Independence Day
7/9 Garagiste Festival – Hollywood
7/11 Chambers & Chambers – SFO
7/16 Oakland Wine Festival - Oakland
7/19 Southern California Fresh Produce Expo – Anaheim
7/23 Long Beach Grand Cru – Long Beach
7/28 Fresno Food Expo – Fresno
8/6 Rhone Rangers – LA
8/6 Taste of Mt Veeder - Napa
8/12-15 Latin Food Fest – San Diego
8/17-18 Unified Grocers Expo – Long Beach
8/21 Family Winemakers – SFO
8/22 Wines of Danger -SFO
8/22-25 Natural, Organic & Specialty Foods – San Diego
8/25-28 LA Food and Wine - LA
8/27-28 Spirits Festival – San Diego
8/28-30 Western Foodservice Expo – LA
8/28-30 Sabor Latino – LA
8/28-31 Global Wine, Beer & Spirits
9/2-4 The Taste – LA
9/ TBA California Craft Beer Summit & Showcase – Sacramento
9/5 Labor Day
9/16 Mexican Independence Day
Promotional Calendar
8/2 India Pale Ale Day
8/3 National White Wine Day
8/5 International Beer Day
8/6 International Hangover Day
8/16 National Rum Day
8/18 National Pinot Noir Day
8/25 National Whiskey Sour Day
8/28 National Red Wine Day
8/29 National Whiskey Sour Day (That's right. There are 2 of them!)
New Legislation for 2016
Our industry has more laws controlling it than most industries. The State
Legislature and the ABC give us license privileges and can take them away. New alcoholic beverage laws were passed that will be effective in 2016. Many critical issues are pending. Do you know about them and are you prepared for the changes. Is your business safe? Members are encouraged to look through the Legislative Bulletin. If there is a new law that is a problem for your business, call the association office now. The CBRA is your voice in Sacramento. If you are not a member, join today. The CBRA is your only voice when it comes to new beverage laws.
Brands and Comments
The CBRA Newsletter has not accepted any payment from any of the brands mentioned
in this edition. The editor, Ron Ziff, welcomes comments at ron@cbraliquor.org
CBRA Membership Remains Open
Now, more than ever, access to your industry is important. The CBRA is California's
only statewide association of licensed retailers, and our membership continues to be
open for the first time in 20 years.
At CBRA we deal with licenses and regulations that affect the beverage business on a
daily basis. That's why CBRA offers practical solutions, unique products, services,
information, and timely advice for both large and small beverage businesses. With
reasonable fees, superior service, and associates that are easy to reach, CBRA helps you
to run your business better and easier. One of the most valuable services we offer is that
call to the ABC to ask your question. We can ask that question and keep you anonymous. That's something you just can't do yourself.
Join or renew your valuable membership today. You can't afford to delay.
California Beverage Retailers Association – California's Only Statewide Association of Licensees. We're #1!
If you would like to be removed from this email list, please email to
ron@cbraliquor.org with UNSUBSCRIBE in the subject line.