posted by
cbra
on
Fri, 01/12/2018 - 11:46
California Beverage Retailers Association
Beverage Bulletin
P.O. Box 56686
Sherman Oaks, CA 91413
(818) 693-5561
Ron Ziff, Editor
Ben Ziff, Assistant Editor/Publisher
January 2018
I went on a diet, swore off drinking and heavy eating, and in fourteen days I lost two weeks.
-Joe E Lewis
In this month's edition:
Headline News Stories - Designated Rider, Happy New Year!, Who is to blame?, Hot Bottle
 
Celebrities in the Industry - John Legend, Tony Hawk, Natalie Coughlin, Danica Patrick, Conor McGregor, Hillary Duff, Lady Gaga, Matthew McConaughey, Beyonce', Brett Ratner
Books - Neuroenology: How the Brain Creates the Taste of Wine, Godforsaken Grapes, The One Bottle Cocktail, Angel's Portion
TV & Movies - The Soul of a Violin, TV Wine, Prosecco Mystery, A Year in Champagne
Popular Culture - Star Trek Beer, Lord of the Rings, Hello Kitty, Saturday Night Live, Star Wars Bar
Politics - Tax Relief for Wine, Beer, Spirits, No Drinks for North Korea, The Cost of Brexit, No More Drinking and Droning
Wine - Ice Wine, Golden Globes, Turning Waste Water to Wine, Wine for the Teacher, Vintage Wine Estates Buys 3 Brands, 2,000 Year Old Jug Wine, Delta Adds Prosecco, Fake Wine, Smuggled Wine, Who Drinks the Most Wine?, Home Made Sparkling Wine, Fire Threatens Bel Air Winery, Change Coming to Champagne?, A Champagne Moment, A Wine by Any Other Name, More Droughts in California, Favorite Winery, Cat Wine, New Varietals, Wine Shipments, Cool Idea
Beer - AB/Inbev Resets the Bar, Biggest Little Brewery, Blessed Beer, AB/Inbev Anti-Competitive?, Drinkers 300 – Green Bay Packers 0, Pizza & Beer, Donuts & Beer, AB/Inbev Protects Ad Campaign, Best Gluten Free Beer, Beer Bottle Road,
Space Beer
Spirits - Spirits Trends for 2018, What Do Guests See?, Breakfast?, Gin Sets New Records, Hey Jim, Pour Me a Double!, A Bright Idea, Private Stash, Fake Chivas Regal, Fake Irish Vodka, Stolen Vodka, 20 Top Whiskies, One Too Many
Other Foods and Beverages - Most Exciting Food in the U.S., Missing Nuts, Feeding the Fire, The Lost Generation, Super Size Me, Super Size Me Again
The Changing Market - Holiday Sales, Amazon Sales, Store Hopping, Where did the online business volume come from?, New Business Laws for 2018
Health - Anti-Bacterial Beer, ATF Sued for Health Claim Restrictions
Recipes - Chocolate Red Wine Cupcakes
and as always... Tasting Notes and the Industry Calendar
Headline News Stories
Designated Rider
Assembly Bill 711 was passed and signed in 2017. The new law that went into effect January 1 allows licensees to offer free or discounted rides home in taxis or services like Uber or Lyft. Vouchers or codes can be given to consumers to buy the rides, but cannot be conditioned on buying products. Korbel was the first to participate. The winery partnered with Dryver to provide 2018 designated drivers during the recent holiday season. Dryver is the nation's largest personal driver service.
Happy New Year!
In Coromandel, North Island, New Zealand New Year's revelers found a way around the law. Local law makes drinking on the beach illegal on New Year's. This group built a sand island offshore during low tide. They installed a picnic table and fridge filled with Beer. They can be seen in the picture above celebrating the countdown to 2018. The party continued right past midnight while they watched fireworks. They said "We're in International Waters." They were definitely not on the beach. The local police chief, John Kelly, said "That's creative thinking – if I had known, I probably would have joined them."
Who is to blame?
More than two dozen investigators have spent weeks scouring wine country trying to solve the mystery at the heart of the most destructive wildfires in California history: What caused the infernos that killed 43 people and destroyed more than 8,000 buildings? The answer to those questions will have wide-ranging ramifications for the region, which faces huge losses and a long term rebuilding. Losses from insured properties are expected to be more than $1 billion, and the total bill for the fires will be still higher. Fighting the fires alone cost $189 million, according to the California Department of Forestry and Fire Protection. Cal Fire is likely to take months to determine the official cause. But in wine country, there is already one prime suspect: utility giant Pacific Gas & Electric. Several lawsuits have been filed against the utility for losses from fires that may have been started by downed power lines.
Hot Bottle
Thieves stole a Vodka bottle worth $1.3 million from the Cafe 33 Bar in Copenhagen at 2 AM January 2. The bottle was on display as part of a collection. It is made of 6 1/2 lbs of gold, 6 1/2 lbs of silver, and encrusted with diamonds. The bottle was later found empty at a construction site. Apparently, the thieves just wanted an after hours drink and were unaware of the bottle's value. The bottle first gained notice when it appeared in the Netflix series, House of Cards. In the episode it was a gift to the U.S. President (Kevin Spacey) from the Russian President (Lars Mikkelsen).
Celebrities in the Industry
John Legend
Singer, John Legend, promotes his LVE (Legend Vineyard Exclusives) made by Jean-Charles Boisset at Boisset's Raymond Vineyards. The wines are a Napa Valley Red Blend 2014, $50; Napa Chardonnay 2015, $45; and Napa Cabernet Sauvignon 2014, $85.
Tony Hawk
Skate boarding champion, Tony Hawk has partnered with winemaker, Jesse Katz, to bottle The Setting Alexander Valley Cabernet Sauvignon 2015 Tony Hawk Edition. The proceeds from sales of the wine go to the Tony Hawk Foundation. The foundation builds skate parks around the country for youth recreation.
Natalie Coughlin
12 time Olympic swim champion, Natalie Coughlin, won 6 medals in 2008 in Beijing. Now she has partnered with winemaker, Shaina Harding, to make Gaderian Wines in St. Helena, Napa Valley. Chenin Blanc 2017 $28, Pinot Noir 2017 $45. Sold on allocation only.
Danica Patrick
Race car driver, Danica Patrick, has owned Somnium Vineyard on Howell Mountain since 2009. Her Cabernet Sauvignon is sold on allocation, $185, and is currently not available.
Conor McGregor
Boxer, Conor McGregor has plans to build a brand in the Irish Whisky category. He is in the process of registering Notorious Irish Whisky. The owners of Notorious Irish Beer are fighting the brand registration.
Hillary Duff
Actress, Hillary Duff, has teamed with The Callie Collection to launch a line of Central Coast California wines. The Chardonnay, Pinot Grigio, and Red Blend are line priced at $13.99.
Lady Gaga
Lady Gaga is releasing wine named Joanne Trattoria after the name of her father's New York restaurant. There will be a Vino Bianco and a Vino Rosso.
Matthew McConaughey
The Butterball Turkey company teamed up with Wild Turkey to give 100,000 pounds of turkeys to families in need in Lawrenceburg, Kentucky. The gifts were a double surprise as most of the turkeys were delivered by Wild Turkey spokesman and movie star, Matthew McConaughey.
Beyonce'
Beyonce' had her lawyers serve a Cease & Desist Order to Lineup Brewing to stop them from using the name Bieryonce which used the same distinctive lettering that is used by Beyonce' on her concert posters.
Brett Ratner
Director, Brett Ratner, who filmed X Men has been producing Hilhaven Lodge Whiskey in partnership with Diageo. Diageo canceled all production after Ratner was accused of sexual misconduct by 11 women. The director was also removed from an upcoming filming of a sequel to Wonder Woman.
Books
Neuroenology: How the Brain Creates the Taste of Wine, by Gordon Shepherd, Columbia University Press, 224 pages, $24.95. In his new book, Gordon M. Shepherd expands on the startling discovery that the brain creates the taste of wine. This approach to understanding wine's sensory experience draws on findings in neuroscience, biomechanics, human physiology, and traditional enology. Shepherd shows, just as he did in Neurogastronomy: How the Brain Creates Flavor and Why It Matters, that creating the taste of wine engages more of the brain than does any other human behavior. He clearly illustrates the scientific underpinnings of this process, along the way enhancing our enjoyment of wine
Godforsaken Grapes, by Jason Wilson, Abrams Press, to be released April 24, 2018, 320 pages, $26. A slightly tipsy journey through the world of strange, obscure, and under appreciated grape varieties. There are nearly 1,400 known varieties of wine grapes in the world—from auxerrois to zierfandler—but 80% of the wine we drink is made from only 20 grapes. In Godforsaken Grapes, Jason Wilson looks at how that came to be and takes the reader on a journey into what else is out there. From Switzerland, Austria, and Portugal through France and Italy, and back to the United States, Wilson delves into the rare and wonderful. Blending extensive travels in wine-producing regions and conversations with wine evangelists, cutting-edge hipster winemakers, and explorers on an obsessive hunt for the strangest grapes in the world, Godforsaken Grapes is an entertaining love letter to wine.
The One Bottle Cocktail by Maggie Hoffman, Ten Speed Press, 192 pages, $22. To be released March 6, 2018. A collection of more than 80 wonderfully creative, fresh, and delicious cocktails that only require a bottle of your favorite spirit, plus fresh ingredients you can easily find at the market. In The One-Bottle Cocktail, Maggie Hoffman brings fancy drinking to the masses by making cocktails approachable enough for those with a tiny home bar. Conversational and authoritative, this book puts simple, delicious, and inventive drinks into your hands wherever you are, with ingredients you can easily source and no more than one spirit. Organized by spirit--Vodka, Gin, Agave Spirits, Rum, Brandy, and Whiskey.
Angel's Portion
We reviewed The Angel's Portion some time ago. Later it turned out that the book was only the first in a series. A very good series; and we are so lucky that the Reverend Christoper Thoma decided to make this his (second) life's work. Below we present reviews of all three books in the series. We recommend pouring two fingers of Whiskey in a glass to sip while reading. Each story will tell itself and the spirit will add the punctuation.
The Angels' Portion, Volume 1: A Clergyman's Whisky Narrative by Rev. Christopher Thoma, Create Space Independent Publishing, 330 pages, $16.99. Did you know that Darth Vader prefers Lagavulin? Were you aware that Santa Claus keeps a bottle of Caol Ila on the shelf? Have you heard that Scoresby was squeezed from the very veins of the Devil himself? Emerging from the mind of a surprising whisky connoisseur, The Angels' Portion is a substantial assortment of whisky reviews like none you've ever read before. By means of storytelling, and with charming wit and vibrant style, Reverend Christopher I. Thoma shepherds the reader toward a divine insight: If you don't like whisky, it may only be because you haven't danced with the right bottle.
The Angels' Portion, Volume 2: A Clergyman's Whisk(e)y Narrative by Rev. Christopher Thoma, Create Space Independent Publishing, 580 pages, $19.99. At nearly 600 glorious pages, the Reverend is back and better than ever in this follow up edition to the popular The Angels' Portion: A Clergyman's Whisky Narrative. Here in Volume II, Thoma mesmerizes readers once again as he carries them along in exploration of "aqua vitae" through his signature style of vivacious storytelling. And all along the way, it will be as he prophetically warns: "You'll laugh. You'll cry. You'll question humanity. You'll see life differently. You'll pour another of your favorite drams and give thanks for the gifts you've been given."
The Angels' Portion, Volume 3: A Clergyman's Whisk(e)y Narrative
by

Rev. Christopher Thoma, Create Space Independent Publishing

, 410 pages, $17.99. "The stories," Reverend Thoma writes, "are never applied to the whiskies. The whiskies reveal the stories. In other words, the stories are already there. I imagine each as awaiting retrieval from a lockbox on a shelf in the storehouse of my mind. Each whisky serves as the inimitable key to its own box. In the process of sniffing, sipping, and finishing a dram, the story is fetched and the whisky's heart is rendered. Sometimes the story includes Darth Vader. Another time there may be a shark named Gary, or an unfortunate brawl with Santa Claus at Walmart."

 

TV & Movies

 
The Soul of a Violin
Spanish winery, Ramon Bilbao, commissioned violin maker, Fernando Solar to make a violin from a red wine barrel. Violins are usually made from softer woods like spruce or maple. The project has been recorded in in the film documentary, The Soul of a Violin, which will be released later this year. The film shows classical violinist, Ara Malikian, playing the instrument. He says "Playing the violin is like smelling music."
TV Wine
They seem to drink a lot of wine on the TV show, Scandal. Only seem to. For a while they used grape juice. But, when a scene was shot multiple times, the sugar high was brutal. The producers settled on hibiscus tea.
Prosecco Mystery
A new mystery thriller, As Long as There is Prosecco; There is Hope wowed audiences at the Rome Film Festival. The film follows Inspector Stucky who is called in to investigate the suicide of winemaker, Count Desiderio Ancillatto. Stucky is unfamiliar with the language, the area, and winemaking. The situation reveals itself as he explores the hills of Prosecco and the ways of its people. The clue to the mystery lies in the wine culture itself. Directed by Antonio Padovan. Watch for it at smaller theaters.
A Year in Champagne
A Year in Champagne is a tour of 6 Champagne houses from the small Saint-Chamant to the giant Bollinger. Narrated by importer, Martine Saunier, you see growth, production, and behind-the-scenes secrets as each bottle is hand turned. The history of the region is examined from domination by Attila the Hun to World War II Germany. The viewer watches each turn of the weather with the winemakers, and experiences the joy of the perfect harvest.
Popular Culture
Star Trek Beer
Schmaltz Brewing and CBS have teamed to release Star Trek Captain's Holiday. The beer is a tropical flavor infused with orange peel and lime. It commemorates the 30 anniversary of Star Trek: The Next Generation which premiered in 1987. This beer notes the captain's ill fated vacation on the planet Risa. The program was Season 3 Episode 19. The beer is being released nationwide.
Lord of the Rings
Warner Bros. And Lot 18 have teamed to market a new group of Lord of the Rings wines. The group includes 3 reds to honor Aragorn (Bordeaux Lussac Blend) $25, Frodo (old vine Zinfandel) $20, and Gandolf (Pinot Noir) $20, and a white, Galadriel (Bordeaux Blanc) $18. You could find these being poured at the Green Dragon Inn or a visit to Middle Earth.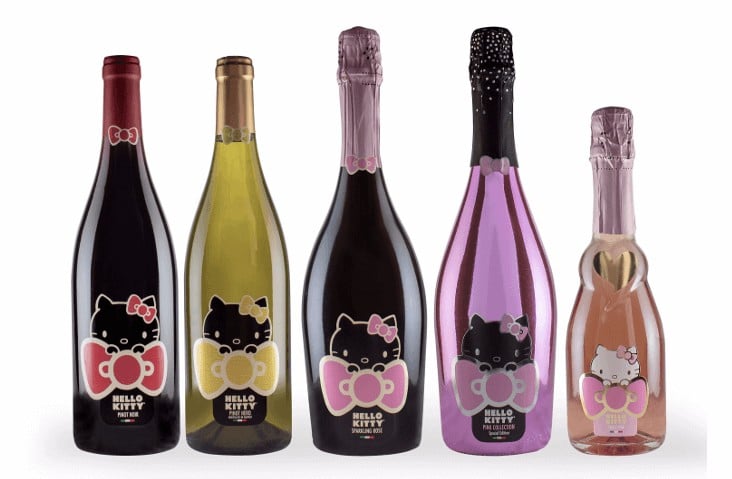 Hello Kitty
Hello Kitty has redesigned its wine labels and added to the line. Types now include Pinot Noir, Sparkling Rose', Pink Blend, and a White Pinot Nero. The line is being promoted as "Super Cute."
Saturday Night Live
Saturday Night Live has released four wines to honor the show's 40th anniversary. Each wine is tied to a fictional character. Debbie Downer 2016 Chardonnay is from Australia, $20. The Californians Monterey County Merlot 2015, $20. Saturday Night Live California Red Blend 2016, $20. Stefon Beaujolais 2016 $18.
Star Wars Bar
Hollywood had a Star Wars Sith-inspired pop-up bar during December and January. The Darkside Bar featured Jedi Mind Trick Cocktails and Flaming Imperial drinks served by Storm Troopers under the supervision of Darth Vader. The entertainment was an intergalactic burlesque show with performers from many different planets. Dancing with light sabers was allowed.
Politics
Tax Relief for Wine, Beer, Spirits
The Republican Tax Bill that was passed and signed in late December included benefits for Wine, Beer, and Spirits producers and importers. Beer has been taxed at $7 per barrel for the first 60,000 barrels and $18 thereafter. The new rate is $3.50 per barrel for the first 60,000 barrels and $16 from there to 6 million barrels where the rate goes to $18. The first 100,000 gallons of distilled spirits will be taxed at $2.70 per gallon and $13.34 thereafter. Small wineries with a production of less than 250,000 gallons have been getting tax credits. Now all wineries will get tax credits to a maximum of $451,700. Sparkling Wine and Mead will now be taxed at the same $1.07 a gallon as still wines. The alcohol related portions of the tax bill are estimated to cost $4.2 billion and will only apply in 2018 & 2019. The 2 year tax reduction will be the first tax relief on alcohol since Prohibition.
No Drinks for North Korea
The EU increased sanctions on North Korea by banning the sale of Beer and Sake' to the country. The sale of Wine and Champagne was already on a list of 22 categories that were not to be sold to North Korea.
The Cost of Brexit
Segments of the food and beverage industry are starting to feel the early effects of Brexit across the UK. Labor shortages are being felt as farmers and vineyard owners couldn't attract fruit pickers to complete the fall harvests. Farmers are warning that they will need the usual influx of Eastern European workers in the coming Spring. Caterers couldn't find enough servers to man holiday parties. Salaries in the catering segment have gone up more than 7% in the last 60 days as employers compete for available workers.
No More Drinking and Droning
...and finally. A new law in New Jersey will make it illegal to drink and operate a drone.
Wine
Ice Wine
The cold snap that hit the Midwest and the East Coast at the end of December had a silver lining. It allowed winegrowers to make Ice Wine. While others stayed indoors, growers were out picking frozen grapes. When the grapes freeze, sugar is concentrated inside each little package. Fermentation takes months instead of weeks. After fermentation arrest there is still lots of residual sugar. The result is a delightful dessert wine.
Golden Globes
The menu for this year's Golden Globe Awards included a risotto made with red beets, Parmesan cheese and topped with a fresh fillet of sea bass, while vegetarians were served a winter black truffle mushroom risotto. For dessert guests were treated to a coffee-infused Frangelico crème brûlée, gold dusted and finished with a crinoline chocolate swirl and a chocolate Golden Globe on top to honor the awards show's 75th anniversary. The Champagne was Moet Brut Imperial and Moet Rose' as in years past.
Turning Waste Water to Wine
The La Morita Water Treatment Plant in Tijuana is using treated waste water to irrigate an 800 vine Cabernet Sauvignon vineyard. The project is an experiment to see if it will be economical to pipe reclaimed water further south to the Valle de Guadelupe. Growers there struggle with a water shortage in an arid desert. The La Morita experimental vineyard is tended by Italian winemaker, Camillo Magoni. Magoni is upbeat about the plan. He claims his wines compare to $200 bottles.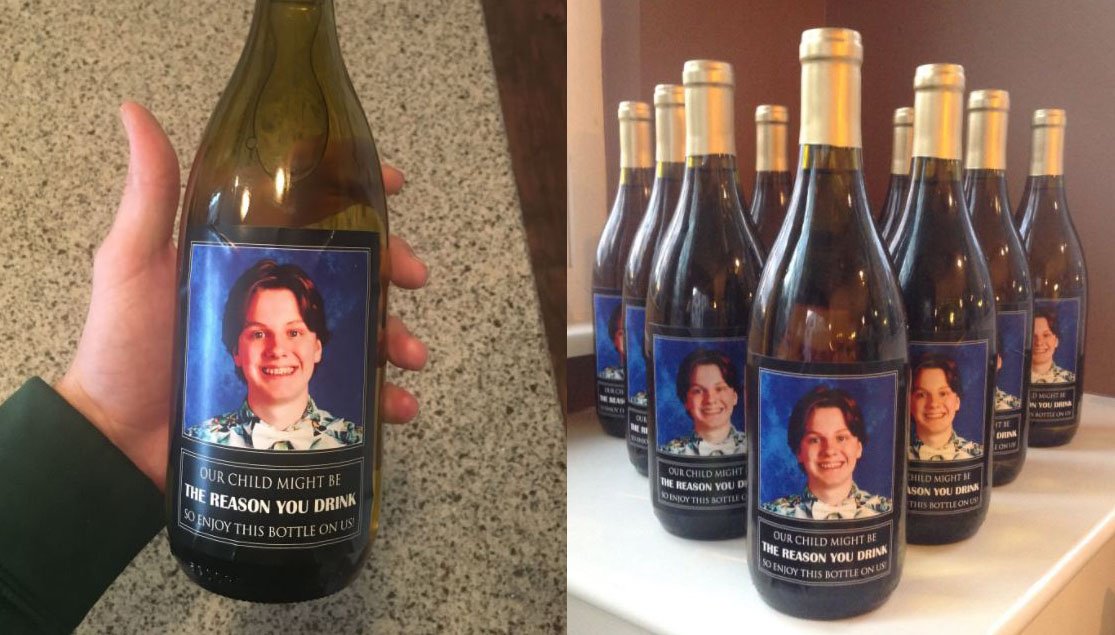 Wine for the Teacher
This kid's parents gave his teachers each a bottle of wine for the holidays with his picture on it. They quietly admit the teachers may need it and the picture reminds them why.
2,000 Year Old Jug Wine
2,000 year old Wine Amphorae were discovered at Pompeii. The jugs were found beneath The House of the Gladiators. Some bear inscriptions that say they contained Wine from Crete.
Vintage Wine Estates Buys 3 Brands
Vintage Wine Estates has purchased three wine brands from Jayson Woodbridge; Layer Cake, Cherry Pie, and If You See Kay. Woodbridge has developed the brands since 2004 by sourcing top quality wines from various wine producing regions.
Delta Adds Prosecco
Delta Airlines has been giving free drinks on international flights for years. Now they've added Avissi Prosecco. "Sparkling wine is often the first choice for a celebration and we know how special it is for people to jet off on a trip so we wanted to bring the celebration to them," said Lisa Bauer, Delta's vice president of on-board services.
Fake Wine
Police in Beijing raided a retailer and confiscated 300 bottles of fake Moet Hennessy Cotes du Rhone. The retail price ranged from $45 for a 750 ml to $15,000 for an Imperial. The bottles carried labels in Mandarin from LVMH that claimed French origin. The giveaway clue: Moet Hennessy doesn't sell Cotes du Rhone.
Smuggled Wine
Customs officials in Shenzhen, China broke up a Wine smuggling ring when they found 13 bottles of Opus One hidden under the hood of a car. The bottles were wrapped and stashed between the engine and the front bumper. The car was being driven to mainland China from Hong Kong. The wine is valued at $4,534 U.S.
Who Drinks the Most Wine?
What country in the world has the biggest wine drinkers? France? Italy?, Spain?, the U.S.? None of these. The title belongs to one of the smallest countries. Norfolk Island in the South Pacific with a population of only 1500, drinks more per capita than any other in the world. Annual consumption is 78 bottles per person, or about 1.5 liters a week.
Home Made Sparkling Wine
Malcolm Ward has invented a plastic cork and valve that allows home winemakers to add yeast to their wine for a secondary fermentation to make it sparkling. When fermentation is complete the bottle is placed upside down so the yeast settles in the neck. Then the valve is pumped to remove the residual yeast without the complex and labor intensive procedure of disgorging. Ward is currently trying to crowd fund his company, SparkleKlear.
Fire Threatens Bel Air Winery
In December the Skirball Fire burned in Bel Air for 4 days. More than 300 firefighters fought to keep it in check and avoid a repeat of the 1961 fire that burned 551 homes. During the fire Rupert Murdoch's winery and estate was threatened and sustained some damage in out buildings. In a statement Murdoch said "The situation at Moraga Bel Air is very fluid at the moment. The property was evacuated... there may be some damage to buildings in the upper vineyard area... the winery and house are still intact."
Change Coming to Champagne?
Changes could be coming to Champagne for the first time in more than 90 years. What French Sparkling Wine is Champagne and what can not? That is the question. The Champagne region was mapped out and codified in 1927 when the current maps were drawn. At the time some landowners just outside the area who had previously grown grapes accepted the results because it was much more profitable to grow wheat. They had switched to the grain after the phyloxera epidemic. Then came WWII and the recovery. Starting in the 1950's Champagne and its vineyards have gained in prestige and value. Farmers began petitioning to be included in Champagne as the years grew on. Today, there is a shortage of grapes that can be used to make the most prestigious wine in the world. The National Institute of Origin and Quality (INAO) that controls all French Appellations is considering re-drawing the map. There are currently 319 communes included; 40 new communes could be added; and 2 could be removed. What's involved?: people's lives and fortunes. Land inside Champagne is valued at $950,000 an acre. The next property outside the line can only draw a price of $4,700 an acre. Every farmer in the region is holding his breath while waiting the answers. The decisions will be made in secret by 5 men sometime before 2021.
A Champagne Moment
Amazon Alexa is one of the hottest selling new products. It comes loaded with software that gives it a lot of functions. Moet Hennessy has provided software that will allow the user to ask Alexa about Champagne. Alexa will give serving tips, food pairings, has a playlist of Champagne music, and will even help provide the perfect "Champagne moment."
A Wine by Any Other Name
The tradition bound residents of Bordeaux are upset with the actions of some of the Chinese that have bought chateaux. Chateau Larteau has proudly carried its name for 300 years. The new owner changed it to Chateau Lapin Imperial (Imperial Rabbit). Chateau Senilhac is now Chateau Antilope Tibitaine (Tibetan Antelope). Chateau La Tour Saint-Pierre is Chateau Lapin d'Or (Golden Rabbit). Chateau Clos Bel-Air is Chateau Grande Antilope (Great Antilope). These four vineyards are all owned by Chi Tong, a Chinese businessman. He hopes to make the wines more appealing to Chinese buyers. Locals fear that Chinese who have bought more than 160 properties in recent years may follow his lead and rename other vineyards.
More Droughts in California
Climate scientists at Lawrence Livermore Laboratories published a study showing that California is subject to longer and more severe droughts than the most recent one. The study published in the journal Nature Communications, provides compelling evidence. The model the scientists used homed in on the link between the disappearance of sea ice in the Arctic and the buildup of high ridges of atmospheric pressure over the Pacific Ocean. Those ridges push winter storms away from the state, causing drought.
Favorite Winery
Food & Wine Magazine has named Shafer Vineyards its favorite from California's more than 4,000 wineries. The magazine calls Shafer's Cabernet Sauvignon "iconic."
Cat Wine
Cat lovers in the UK can buy Pawsecco for their feline friends. The non-alcoholic wine comes in Pet-House White and Pet-House Rose'. It can be served as a drink or poured over your cat's dinner.
New Varietals
The Alcohol Tax & Trade Bureau recently approved 6 new grape varieties for wine labeling. They are Sauvignon Kretos, Merlot Kanthus, Fleurtai, Sauvignon Rytos, Cabernet Volos, and Soreli.
Wine Shipments
Wine shipments are becoming more difficult with changing rules in several states and the exit of Amazon as a major agency. To fill the gap many retailers and mail order agents are using Fedex and Walgreens stores as customer pick up points. Walgreens has 7,500 stores that are Fedex pick-up/drop-off locations.
Cool Idea
...and finally. When you need to chill a bottle of wine and there is no refrigerator handy use Blitzen. Blitzen is an invention that allows you to strap a bottle of wine to the roof of your car and wind chill it as you drive. Deeplocal, the manufacturer says it will be on the market by Christmas 2018.
Beer
AB/Inbev Resets the Bar
AB/Inbev has introduced a new program for its High End Craft Beer division. The program, called Elevate, has five components. 1) All Beers will carry a "best if consumed by" date. 2) All breweries will operate with 100% solar or wind power by 2020. 3) The breweries will give a total of $2 million to local community organizations. 4) The breweries will host consumer tours and seminars to promote Beer and food pairing. 5) The breweries will host seminars for other Craft Brewers on quality assurance, safety, proper glassware, and food pairing. The program is intended to make the High End Craft Beer division a leader of the Craft Beer industry.
Biggest Little Brewery
The Woods Brewing Co. in the Mission District of San Francisco has been named as the best nano-brewery in California by Food & Wine Magazine. The beer F&W liked best was an IPA brewed with Yerba Mate' in 20 gallon batches. It is served right at the cerveceria.
Blessed Beer
The Lacons Brewery in Yarmouth, UK launched its beer with the best endorsement it could get. Rev Canon Simon Ward from St Nicholas Church gave the brewery, its barrels, and beer a blessing. Then he sampled the product and gave it his approval.
AB/Inbev Anti-Competitive?
The EU has accused AB/Inbev of anti-competitive practices in Belgium for the past 8 years. The accusation is that the brewer actively prevented Belgian consumers from buying lower priced beers that it sold in the Netherlands and France. Further, the company packaged the beers in those countries with labels that allowed it to track shipments and prevent wholesale contractors from moving the product freely throughout the EU. AB/Inbev will be allowed to respond to the accusation before the case is determined.
Drinkers 300 – Green Bay Packers 0
The Bavarian Bierhaus in Glendale, Wisconsin offers free Beer during every Green Bay Packers game from kickoff until the Packers score. Disaster struck this season during the game against the Ravens. For the first time in 11 years the Packers played the whole game without ever scoring. The final: Ravens 23 Packers 0, Bierhaus patrons downed 300 mugs of Beer.
Pizza & Beer
Pizza Hut is experimenting with delivery of Beer and Wine along with pizza. The trial is taking place in Phoenix, Arizona. 6-packs of Bud, Bud Light, and Shock Top are delivered for a flat $10.99. Wine will be added later this year.
Donuts & Beer
Hidden Springs Aleworks and Arkane Aleworks in Florida are working together to produce a Russian Imperial Stout with an ABV of 12.5%. The Beer gets its high alcohol content and flavor from the addition of Krispy Kreme Donuts during the brewing process. According to the makers, it has a "roasty, chocolate flavor with some donut."
AB/Inbev Protects Ad Campaign
Modist Brewery in Minneapolis started selling a Beer called Dilly Dilly. AB/Inbev had already been using that name in commercials that mock Craft Beer. A Cease & Desist order was delivered. But in a light-hearted fashion, Bud Light had it read from a scroll by a crier. "Let it be known that any beer shared between friends is a fine beer indeed and we are duly flattered by your loyal tribute. However Dilly Dilly is the motto of our realm, so we humbly ask that you keep this to a limited edition. This is by order of the King, disobedience shall be met with additional scrolls, then a formal warning, then a private tour of the Pit of Misery." Following the reading, the crier offered Modist 2 tickets to the Superbowl where they can drink Bud Light.
Best Gluten Free Beer
These days there a lot of brewers that are making gluten free Beer. But, Beer expert, Michael Moser says there are 5 that are well worth searching for. The 5 are:
Lakefront Brewery New Grist, made from Rice and Sorghum in Milwaukee.
Dogfish Head Tweason'ale, made from Sorghum, Strawberries, and Buckwheat Honey in Delaware.
Omission Pale Ale made by Widmer Brothers Brewing in Portland, Oregon. This Beer is a regular Beer that has the gluten removed after brewing.
Estrella Damm Daura, a regular Beer with gluten removed. A Mediterranean Beer from Barcelona, Spain.
Green's Enterprise Dry-Hopped Lager. This brewery makes a range of gluten free Beers from light to dark in Balldon, UK and ships them to the U.S. This Belgian Style Lager is made from Millet, Buckwheat, Rice and Sorghum.
 
Beer Bottle Road
The government of Waikato, North Island, New Zealand is experimenting with sand made from used Beer bottle glass. The sand is mixed with asphalt and appears to make a stronger roadway than using regular asphalt.
Space Beer
Budweiser is continuing its project to be "the first Beer on Mars" by sending 20 Barley seeds to the space station for 2 experiments. The seeds are being observed to see how they germinate and grow in zero gravity. They will be shipped back to Earth this month for analysis.
Spirits
Spirits Trends for 2018
Spirits trends predicted for bars and restaurants 2018. Look for these:
Lower alcohol cocktails made from Wine or Champagne and made to pair with meals.

Artisan Whiskey made from not-your-usual grains. Sorghum, Oats, Millet, and Quinoa are all being tried out.

Cristalino Tequila. Did you know that Tequila doesn't have to turn brown as it ages. Clear Tequila tastes aged without coloring the cocktail.

Small Batch Gin. That's Gin made from a range of botanicals as makers experiment.
What Do Guests See?
What do guests see when they visit your home? Do you really need to deep clean everything ahead? Culture Cheat Sheet did a survey to find out what people see. The number one thing guests notice is clutter. But... the number two thing they notice is how stocked is the host's bar.
Breakfast?
The Few Spirits craft distillery of Illinois is suing the Gray Skies craft distillery in Missouri for copyright infringement over the use of the word "Breakfast." Gray Skies recently released Breakfast Rye Whiskey aged in maple syrup barrels. Few Spirits has been making Breakfast Gin flavored with Earl Grey Tea since 2011.
A Bright Idea
Diageo is selling limited edition bottles of Bulleit Bourbon with a neon word that glows inside. Words include "Spirit", "Vibes", "Offline" and others. The bottles are designed by "The Neon Queen", Lisa Schulte, and sell for $1,000 each. Proceeds go to The Neon Museum.
Gin Sets New Records
As Gin undergoes a resurgence of popularity, UK Gin drinkers bought an estimated 47 million bottles. That equals 1.32 billion Gin & Tonics. Gin has grown so fast in popularity that there is a Juniper shortage. Meanwhile, tonic sales are running 35% over a year ago and setting new sales records weekly.
Hey Jim, Pour Me a Double!
During the recent holiday season Jim Beam sold a voice activated decanter online. The device stores Bourbon and dispenses it when asked. "Jim" works with technology similar to Amazon Echo. The device will only work for 6 months. After June, you will have to pour your own. Price $34.90.
Private Stash
There is an estimated $100 million in fine whiskies in private collections around the world. The estimate comes from Rare Whisky 101 and Whisky Auctioneer as auction houses search for gems to sell.
Fake Chivas Regal
Three men were convicted of making and selling counterfeit Whiskey in Chengdu, China. Chivas Regal, Hennessy, and 8 other brands were being faked. When the police raided, they found thousands of empty bottles, labels, and caps. Chen, the ringleader was sentenced for 5 years, Yang for 2 years, and Yu for 1 year and 4 months. All three were also fined.
Fake Irish Vodka
Police in County Louth, Ireland raided a fully operational factory that was converting industrial denatured alcohol to Vodka and labeling it with counterfeit labels. The street value of the fake products was estimated at €460,000. Alcohol, equipment, and a forklift were all confiscated. One man was being questioned. The police noted that the finished product contained methanol and isopropyl alcohol and could cause blindness, liver damage, and breathing problems.
Stolen Vodka
Burglars broke into the Fog Shots Distillery in Los Angeles and stole 750 cases of Vodka just before the holiday season. The loss was valued at $280,000. Owner, Art Gukasyan, said the thieves used power equipment to break into the building. Videotape showed 3 men surveying the plant from the rooftop 3 weeks before the break-in. It is unknown what the thieves intend to do with the product. It is a specialty Vodka and will be easily identified if they try to sell or ship it.
20 Top Whiskies
Whiskey Advocate has named its choices for the Top 20 Whiskies of 2017.
20) Fukano 2017 Edition 85.6° $80 Japan
19) Chivas Regal Ultis 80° $160 Scotland
18) Crown Royal Noble Collection Wine Barrel Finished 81° $60 Canada
17) Macallan Double Cask 12 Year Old 86° $65 Scotland
16) Tyrconnell 16 Year Old 92° $100 Ireland
15) Kentucky Peerless Straight Rye 107.4° $125 USA
14) High West Campfire 92° $70 Scotland and USA
13) Sheep Dip Islay Malt 80° $60 Scotland
12) Rebel Yell 10 Year Old (Barrel 5043515) 100° $60 USA
11) Little Book "The Easy" 120.4° $80 USA
10) Glen Moray 18 Year Old 94.4° $90 Scotland
9) Bruichladdich Islay Barley 2010 100° $65 Scotland
8) Tamdhu Batch Strength 002 117° $90 Scotland
7) Compass Spice Box Tree Extravaganza 92° $140 Scotland
6) Ardbeg An Oa 93.2° $60 Scotland
5) Rampur Select 86° $65 India
4) Lagavulin 12 Year Old 113° $130 Scotland
3) Wild Turkey Master's Keep Decades 104° $150 USA
2) Glenmorangie Astar 2017 105° Release $100 Scotland
1) Elijah Craig Barrel Proof B517 124.2° $60 USA
One Too Many
...and finally. A possum broke into a Florida liquor store, knocked over, and broke a bottle of Bourbon. When the owner, Cash Moore, found her in the morning, she had licked up the whole thing. She wasn't moving too fast and he was able to catch the possum and take her to the Emerald Coast Wildlife Refuge. The possum was treated for excessive alcohol consumption and later released into the wild.
Other Foods and Beverages
Most Exciting Food in the U.S.
According to Zagat, the most exciting food city in America is... (drum roll and long pause) … Los Angeles! San Francisco made #10 and New York didn't even make the list. LA owes its success to Chefs that push culinary boundaries, a year of great new openings, and endless inspiration that comes from a mosaic of immigrant cultures.
Missing Nuts
Since 2010 35 loads of Walnuts, Pistachios, Cashews worth more than $10 million have been stolen. According to Scott Cornell at Travelers Insurance "We think the bad guys learned that food is a great category. There's no serial number. You can't locate these things over the Internet. The evidence is consumed. Inventing a fake trucking company is easy, as is impersonating a legitimate one. The only people in the shipping industry responsible for verifying truckers are brokers, who connect customers with trucking companies. Thieves are accessing company's emails. The victims are too embarrassed to report the crimes because they will hurt business.
Feeding the Fire
What did it take to fight the wildfires that burned from Ventura to San Diego in December? The daily breakfast for the firefighters used 10,000 eggs and 4,500 strips of bacon.
The Lost Generation
For thousands of years Northern California Salmon have found their way to the sea. Then spent 3 years roaming the world and finally returning home to spawn. That was for thousands of years. But, the class of 2014 was different. The rivers were near dry and they couldn't swim downstream. A decision was made to truck them to the ocean where they were released. That generation never learned the route and now they can't find their way home. Wildlife officials counted a small number that came back and are trying to find others in rivers all over the West.
Super Size Me
Pope Francis celebrated his 81st birthday in December. He has craved Pizza, but lamented that he couldn't just go out and get one. Staff came to the rescue and presented him with a 13 foot Pizza with a birthday candle on top. Absolutely in character, the Pope shared his pizza with the poor.
 
Super Size Me Again
… and finally. Kole Olsen was convicted of drunk driving in Sydney, Australia after terrorizing a McDonald's drive thru restaurant. Olsen had ordered 200 Chicken McNuggets. When the staff told him they could not fill the order, he drove four laps through the drive thru at high speed while honking his horn. Then he ordered 200 hash browns. Staff prepared them and charged him $230. He left the restaurant and later returned; demanding his money back. By this time staff had locked down the restaurant and called the police. Olsen's defense in court was that he is Vegan and couldn't have ordered Chicken McNuggets. The judge fined him $1,000.
The Changing Market
Holiday Sales
It's too early to give exact figures, but overall holiday retail sales were up as 2017 ended. Early indications are that sales were up overall and online sales were up about 18%. Amazon said this was their best sales year, Mastercard said retail sales gained about 5% over 2016, and struggling retailers continued to struggle. More information will be available in the coming weeks.
Amazon Sales
Amazon announced sales figures for 2017. The company was responsible for 44% of all online sales for a total of roughly $200 billion. A breakdown of major categories:
Consumer Electronics $8 billion
Home & Kitchen $5.5 billion
Publishing $5 billion
Sports & Outdoors $4 billion
Grocery $1.5 billion
365 Everyday Value, acquired along with Whole Foods, became the second largest private label at $10 million. That's only for a partial year.
Store Hopping
Millennials are shopping at 3 or more grocery stores a week according to a new survey by Acosta. 44% of this age group store hop compared to 29% of all shoppers. 76% of all shoppers hit at least 2 stores. Price is a driving factors with 60% saying they are aware that certain retailers have lower prices in some categories. Other factors cited were quality differences 41%, freshness 37%, product or brand availability 33%, and convenience 23%.
Where did the online business volume come from?
5077 retail brick and mortar stores have bitten the dust since 2015. Here's the how many were closed, by company:
Radio Shack 1,470
Payless 700
Rite Aid 600
Ascena 400
Rue21 400
Sears & Kmart 358
Gymboree 330
The Limited 250
hhgregg 220
Gap 200
Gamestop 190
Bebe Stores 180
Wet Seal 171
Crocs 160
J C Penney 138
Vitamin World 124
BCBG 120
American Apparel 110
Gordmans 106
Childrens Place 100
Macy's 100
Michael Kors 100
Charming Charlie 100
Aerosoles 74
Dollar Tree 74
Aaron's 70
CVS 70
Staples 70
MC Sports 68
Perfumnia 65
Alfred Angelo 61
Guess 60
Styles for Less 55
Chico's 50
J Crew 50
Eastern Outfitters 48
Book World 45
Lucy Activewear 44
Lululemon 40
Gander Mountain 32
Benny's 31
True Religion 27
Ralph Lauren 23
Target 12
Neiman Marcus 10
Urban Outfitters 8
and more to come in 2018.
New Business Laws for 2018
Hundreds of new laws went into effect on January 1. Many affect how you do business, you have new liabilities and new responsibilities to your employees whether or not they are documented. When the Feds come calling some new state laws put you right in the middle. Are you prepared? If you make the wrong choice, you could face fines, closures, or lose the right to have a license; and lose it forever. CBRA members are urged to review the new laws in the members area. If your membership has lapsed, renew it now. Can you afford to go without?
Health
Anti-Bacterial Beer
Scientists at the Cardiff University School of Pharmacy and Pharmaceutical Sciences have developed an anti-bacterial Beer. The Beer is made with an anti-bacterial honey and hops with anti-bacterial properties. The honey is made by keeping bees in a garden setting where they get nectar from select flowers. The project is code named Pharmbees. Partnering with a local brewery the Beer is called Mel (Welsh for honey) and sells for about $5 U.S. a bottle.
ATF Sued for Health Claim Restrictions
Two alcohol companies, Bellion Spirits LLC and Chigurupati Technologies Private LTD have filed a federal lawsuit challenging the Alcohol and Tobacco Tax and Trade Bureau federal agency's ban of the use of health-related statements on labels of alcoholic beverages. According to the complaint, the plaintiffs are contesting the ban of health-related statements "concerning the DNA-protective effects of NTX, a legal additive to alcohol." The suit states the two statements in question are "NTX helps protect DNA from alcohol-induced damage" and "NTX reduces alcohol-induced DNA damage." The plaintiffs allege these statements are "truthful" and "substantiated by credible scientific evidence." Bellion Spirits has made Vodka since 2016 and will be releasing Tequila and Bourbon in 2018. Chigurupati Technologies is owned by Harsha Chigurupati and is dedicated to reducing the effects of aging through the use of the FDA approved additive, NTX. NTX is made from Licorice Root Extract and Mannitol (Manna Sugar and Potassium Sorbate).
Recipes
Chocolate Red Wine Cupcakes
Ingredients:
3/4 cup all-purpose flour
1/2 cup unsweetened cocoa
3/4 teaspoon baking powder
1/2 teaspoon baking soda
1/4 teaspoon salt
2 large eggs, room temperature
2/3 cup granulated sugar
1/3 cup packed light brown sugar
1/3 cup vegetable oil
1/2 cup red wine
1/4 cup buttermilk, room temperature
Red Wine Buttercream Frosting:
2 sticks of unsalted butter, room temperature
4 1/2 cups powdered sugar
1/2 tsp salt
1 tsp heavy cream
1 Tbsp red wine
red and black gel food coloring
Makes 12 cupcakes
Directions:
1) Preheat oven to 350 degrees F, and line cupcake tins with 12 liners.
2) Start with the cupcake batter. Add dry ingredients into a bowl, and whisk together. Combine buttermilk, eggs, wine, and oil in a separate bowl, and mix into the dry ingredients in two portions. Stir until the ingredients are fully combined, then pour equal amounts into liners to fill about half, they will rise. Bake for 19-20 minutes. Remove from oven and let cool in the pan for about 10 minutes before placing on a wire rack.
While the cupcakes bake and cool, prepare the frosting. Beat the butter on a medium speed for 30 seconds with a paddle attachment, until smooth. Slowly add the powdered sugar, 1 cup at a time. Add the cream and red wine at the same time. When fully mixed, add the salt, and beat on medium low until the ingredients are fully blended. Add a few squirts of red gel food coloring, and the smallest drop of black gel food coloring. Mix until the color is evenly distributed, and is a dark red. Spread on cooled cupcakes.
Tasting Notes
Each month we are out there looking for wines that "over deliver"; wines that offer more than others in their category and price level. We search out the wines that you can buy to help build your business; wines that make customers happy and keep them coming back. These are wines we rate as good buys and best buys. Check our notes. The opinions in the reviews are our own and unsolicited. We receive no compensation from wineries or brokers. This month there were several wine tastings that showed some very nice wines available at reasonable prices. The prices shown are approximate retails.
New Zealand in a Glass
New Zealand in a Glass provided an opportunity to taste a wide range of very good wines. These vintners have come a long way in just a few years. The tasting was preceded by a very entertaining performance by a group of Mauri dancers. Many good to excellent wines. Our picks are below.
Greywacke Sauvignon Blanc Marlborough 2016, bright, clear, good nose, full fruit flavor, medium dry, 13.5% ABV, $23. Contact info@greywacke.com.
Loveblock Sauvignon Blanc Marlborough 2017, clean, clear, good nose, dry, 13.0% ABV, $21.99. Loveblock Pinot Gris Marlborough 2014, bright, fresh, fruity character, good nose, medium dry, 12.5% ABV , $21.99. These wines were outstanding. Contact David Jankow jankowd@terlatowines.com.
Mahana Sauvignon Blanc Nelson 2015, bright, fresh, good nose, Sancerre style , 2/3 aged in neutral oak, 1/3 aged in stainless, 12.5% ABV, $30. Cornelia's Nine and Woolly's Corner Pinot Noir Nelson 2014, dark ruby, good nose, full body, tannic, will age for years, 14% ABV, $65. The Mahana Wine Estate is 100% organic. Good solid wines and a good buy. Contact Chandler Parker chandler@mahana.nz or Kateland Carr kateland@mahana.nz.
Toi Toi Sara's Rose Marlborough 2017, very light pink, good nose, dry, will be good with food or can stand alone, 13.0% ABV, a best buy at $12.99. Toi Toi Pinot Noir Clutha Central Otago 2014, ruby, good nose, light body, will be good with food, 13.)% ABV, $22.99. Contact Kevin Joyce kevin@toitoiwines.co.nz.
Villa Maria Private Bin Lightly Sparkling Sauvignon Blanc Marlborough 2015, dry, good nose, semi-dry, grassy notes, 13.0% ABV, good buy $15. Villa Maria Private Bin Pinot Noir Marlborough 2015, fresh, medium body, good nose, will pair well with food, 13.0% ABV, a good buy $18. Contact Maria Bonavita (203) 313-4668 or mariab@villamaria.us
Craggy Range Sophia Gimblett Gravels Vineyard Merlot Hawke's Bay 2014, deep dark ruby, good nose, full body, 73% Merlot, 14% Cabernet Sauvignon, 13% Cabernet Franc. This wine is Bordeaux style, beautiful, flawless, will age well, $80. Contact info@craggy range.com.
The San Francisco Competition Double Gold Tour
The wines at this tasting were all chosen as best in their class by more than one panel of experts and buyers. It was a rare opportunity to taste the best and then be able to pick favorites. The wines listed below are definitely the best of the best.
J Lohr Vineyards Signature 2013 Cabernet Sauvignon, Paso Robles, dry, very dark ruby, good nose, soft, full body, 79% Cabernet Sauvignon, 18% Merlot, 3% Petit Verdot, will age well, $100. 2013 Premium Bordeaux Blend, very dark ruby, good nose, full body, 63% Cabernet Franc, 25% Cabernet Sauvignon, 8% Merlot, 4% Malbec,14% ABV, $50. Contact (408) 918-2160 or marketing@jlohr.com, distributed by Wine Warehouse.
Burrowing Owl Estate Winery 2013 Cabernet Sauvignon, Okanagan Valley, Canada. Dark ruby, good nose, soft and round, good structure, $39. Contact Shantelle Cloutier (205) 498-0620 or scloutier@burrowingowlwine.ca. Distributed by Wine VIP, Holly Reynolds holly@winevip.com or (250) 498-0620.
Poplar Grove 2013 Premium Bordeaux Blend, Okanagan Valley, Canada, very dark ruby, good nose, round and balanced, 44% Cabernet Sauvignon, 27% Cabernet Franc, 13% Merlot, 13% Malbec, 13% Petit Verdot, will age well, $25. Distributed by VinAccess, contact Barry Gilbert, bgilbert@gmail.com or (415) 500-5312.
District 7 Chardonnay 2015, Estate Grown, Monterey, pale straw, good nose, aged in oak, hints of vanilla, orange blossom, and apple, $18. Distributed by Epic Wines, contact Aaron Hernandez info@epic-winesandspirits.com (844) 824-0420.
Cakebread Cellars Chardonnay Reserve 2014, light straw, good nose, full bodied, round, flavors of apple, melon, and citrus, will age well for another 5 years, $56. Contact Jennifer LaBranche jennifer@cakebread.com or (707) 963-5221 ext 1441.
Cass Winery Roussanne Estate 2016, Beautiful honey like aroma, round, flavors of citrus and nutmeg, $26. Contact Meegan Hunt meegan@casswines.com or (805) 239-1730 ext 104.
Longford Estate Pinot Noir Reserve 2015, Monterey County, good nose, deep ruby, round, soft, true Pinot flavors, $14. We rate this as a "best buy." Contact contact@longfordestatewines.com or (888) 772-4343. Distributed by Epic Wines.
Cellardoor Winery 2013 Premium Red Blend. 51% Sangiovese, 37% Cabernet Sauvignon, 12% Petite Sirah. Dark ruby, good nose, well balanced blend, will age well, good food wine, $26. Contact Aaron Peet aaron@mainewine.com or (207) 763-4479.
Theopolis Vineyards Petite Sirah 2013, Estate grown, dark ruby, good nose, full bodied, round, $38. Contact Theodora Lee tlee@littler.com or (510) 604-5015.
Gloria Ferrer Caves & Vineyards 2008 Royal Cuvee, first pressing, late disgorged, straw colored, good nose, aged with lots of character, good bubble structure, toasty yeast flavor, 67% Pinot Noir, 33% Chardonnay, $37. Sold only at the winery, Lauren Vigil lauren.vigil@gloriaferrer.com (707) 933-1909.
Industry Calendar
Food & Beverage Industry Calendar 1st 3 months of 2018 (as of 12/28/17)
1/1 New Year's Day
1/11 Sweetzer Industry Night - Lompoc
1/13 San Diego Brewfest – San Diego
1/13-14 Asian American Expo - Pomona
1/13-14 Winter Wineland – Sonoma
1/15 Martin Luther King Jr Day
1/16 Super Organic & Natural Expo
1/18-20 Zinfandel Experience – SFO
1/21-23 Winter Fancy Food Show – SFO
1/23-25 Unified Wine & Grape Symposium - Sacramento
1/26 Union de Grand Cru de Bordeaux – Beverly Hills
1/27 Winter Wine Classic – Santa Barbara
1/27 Uncorked LA Wine Festival - LA
1/27-28 Temecula Valley Barrel Tasting – Temecula
1/28 Rate Beer Awards – Santa Rosa
2/1 Once Upon a Wine Tour – West Hollywood
2/2 Once Upon a Wine Tour – SFO
2/2 Ground Hog Day
2/4 Superbowl #52
2/7 Kosher Wine and Food Experience – LA
2/9-11 Garagiste Wine Festival - Solvang
2/13 Mardi Gras
2/14 Valentines Day
2/16 Chinese New Year – Year of the Dog
2/17 SF Wine Chronicle Grand Tasting – SFO
2/17 Pinot Days - LA
2/18 Paso Robles Rhone Rangers Experience – Pas Robles
2/19 Presidents Day
2/24 Winter Brewfest – San Diego
2/28-3/1 Super Valu Grocers - Long Beach
3/1-2 Taste of Italy - LA
3/2-3 World of Pinot Noir – Santa Barbara
3/7 Slow Wine – SFO
3/7-11 Natural Foods Expo - Anaheim
3/9 Great Wines of Italy - LA
3/11 Great Wines of Italy – SFO
3/12-14 Women of the Vine - Napa
3/17 Family Winemakers – Pasadena
3/17 St Patrick's Day
3/17-18 Zinfandel Weekend – Paso Robles
3/21 Wivi Central Coast 2018 – Paso Robles
3/24 Latin Food Fest – Santa Monica
Promotional Calendar
January 1 New Year's Day
January 1 National Bloody Mary Day
January 11 National Hot Toddy Day
January 11 National Milk Day
January 13 National Peach Melba Day
January 15 Dr. Martin Luther King, Jr. Day
January 17 National Hot Buttered Rum Day
January 24 Beer Can Appreciation Day
January 25 National Irish Coffee Day
January 31 National Brandy Alexander Day
February 2 Groundhog Day
February 4 Super Bowl Sunday
February 13 Mardi Gras/Fat Tuesday
February 14 Valentine's Day
February 16 Chinese New Year
February17-18 National Margarita Weekend
February 18 National Drink Wine Day
February 19 Presidents' Day
February 22 National Margarita Day
February 27 National Kahlua Day
New Legislation for 2018
Our industry has more laws controlling it than most industries. The State
Legislature and the ABC give us license privileges and can take them away. New alcoholic beverage laws were passed that are effective in 2018. Many critical issues are pending. Do you know about them and are you prepared for the changes. Is your business safe? Members are encouraged to look through the Legislative Bulletin. If there is a new law that is a problem for your business, call the association office now. The CBRA is your voice in Sacramento. If you are not a member, join today. The CBRA is your only voice when it comes to new beverage laws.
Brands and Comments
The Beverage Bulletin has not accepted any payment from any of the brands mentioned
in this edition. The editor, Ron Ziff, welcomes comments at ron@cbraliquor.org
CBRA Membership Remains Open
Now, more than ever, access to your industry is important. The CBRA is California's
only statewide association of licensed retailers, and our membership continues to be
open for the first time in 20 years.
At CBRA we deal with licenses and regulations that affect the beverage business on a
daily basis. That's why CBRA offers practical solutions, unique products, services,
information, and timely advice for both large and small beverage businesses. With
reasonable fees, superior service, and associates that are easy to reach, CBRA helps you
to run your business better and easier. One of the most valuable services we offer is that
call to the ABC to ask your question. We can ask that question and keep you anonymous. That's something you just can't do yourself.
Join or renew your valuable membership today. You can't afford to delay.
California Beverage Retailers Association – California's Only Statewide Association of Licensees. We're #1!
If you would like to be removed from this email list, please email to
ron@cbraliquor.org with UNSUBSCRIBE in the subject line.