posted by
cbra
on
Tue, 02/28/2017 - 17:13
California Beverage Retailers Association
Beverage Bulletin
P.O. Box 56686
Sherman Oaks, CA 91413
(818) 693-5561
Ron Ziff, Editor
Ben Ziff, Publisher
January 2017

Raymond Chandler and his character, Philip Marlowe, both liked a Gimlet. In The Long Goodbye Marlowe gives his recipe: "What they call a Gimlet is just some lime or lemon juice with a dash of sugar and bitters. A real Gimlet is half Gin and half Rose's Lime Juice and nothing else. It beats Martinis hollow."
In this month's issue:
Headline News Stories - Predictions for 2017, Predicted to Disappear, Drought Update
Celebrities in the Industry - Boris Becker, Helen Mirren, Jim & Susie Fox, Wayne Gretsky, Ludacris, Usain Bolt
Popular Culture - Kirk Douglas Turns 100 with Vodka, World Series Wrap Up,
Outlander Wines, Van Gogh at Winery, Will Ferrell Bars, Jordan Winery Music Video, Disney Adds Rum
Politics - How Much is a Vote Worth?, Restaurant CEO as Labor Secretary, What Did Presidents Drink?
Books - 150 Years of Canadian Beer Labels, Cork Dork, Corkscrew, Pinot-Pasta- and Parties, W(H)INE, How to Drink French Fluently, Made of Iceland
Movies - Bitter Grapes
Wine - Ancient Winery Found, New Varietals Coming, Winemaker Returns to France, Raisin Growers Continue Legal Battle, Premium Wine Auction Prices,
Oldest Madeira Brings $39,000, Tasting Room Holdup, Kurniawan Broker Arrested, Premier Cru Owner Sentenced, Italian Winery Vandalized, French Laundry Burglar Guilty, In Pursuit of Balance Closes, Market Demographics Shift,
Chinese Catch Counterfeiters, Chinese Buy More Chateaux, Greek Wine Tax Blunder, Back Label Story, Bubbles vs. Bubbles, Top 10 Champagnes, What's in Your Fridge?, What's in Your Tub?
Beer - AB/Inbev Buys Another Craft Brewer, Beer for Life Too Long, Gluten Free Beer, Beer Competition Gets Rough, Stone Brewing Restructures Business, $15 Beer in a Brown Paper Bag, When Only Beer Will Do
Hard Cider and Soda
Spirits - Macallan Collection for Sale, Whiskey Advent Calendar, 99¢ Martini, Can You Qualify?, Auction Prices on Spirits, Fit for a Prince, Patron Founder Sells Super Home, We Card
Other Foods and Beverages, Fish Fraud Solution, Restaurant Trends in 2017, Philadelphia Beverage Tax, Teagate, Burgers for Life, World's Rarest Chips
The Changing Market - No More Grocery Store Lines, No More Grocery Shopping, Where Have All the Babies Gone?, Google Dominates Food Information,
Through rain, sleet, and Snow ...Pizza?
Recipes - The Prince's Ginger, Stout Hot Fudge Sauce
Health - Red Wine May Protect Heart, Red Wine May Aid in Pregnancy, Beer Could Prevent Heart Disease, Grenache Drinkers Live to 100
and as always...Tasting Notes and the Industry Calendar
Headline News Stories
Predictions for 2017
Market changes predicted by several of the industry's experts:
To be successful in 2017 as business will have to
Provide a total customer experience. A sale is not enough by itself.

Be transparent. The customer expects the whole truth and nothing but the truth.

Flavors are important. Customers are eating an eclectic menu in restaurants or at home. Whether it's Cuban, Filipino, African, Mexican, or others; you will sell more if you can pair your wine or whiskey with what's on their table.
•Craft Spirits are now selling 3%. In 2017 sales will break out and could move into double digits.
•Price pressure on independent retailers will continue and as many as 10% could close this year as business shifts to price leaders Walmart, Bevmo, Total Wine, Trader Joe's, Costco, and the major grocery and drug chains. A change in the economy could accelerate the pace.
•The three tier system will come under fire. The major retailers and major producers don't need middlemen. The small producers view both wholesalers and retailers as unwanted gatekeepers that stand in the way of direct consumer sales.
•Sparkling wine growth will continue and sparkling reds could join the parade.
•Full body reds will continue growth. Grenache, Gamay, Tempranillo, and Syrah have bloomed. They will continue to grow but could be joined by white versions of the same varietals.
•The growth of premium wines and spirits will continue as long as disposable income grows.
•The wine industry will be looking forward to new competition as 23 states now or soon will allow Marijuana sales. Colorado leads the way again by legalizing restaurant use of Cannabis. Legal sales in California will start in 2018, but figures from Washington state are sketchy but don't portend well for the wine industry. The Rand Corporation did a study of Spokane County sales for 2015. Roughly 20% of the population accounted for the vast majority of sales at the 17 licensed Marijuana retailers. Average annual purchases for 2015 in Spokane County per family unit were:
Beer $232.70
Marijuana $225.64
Milk $155.37
Wine $154.85
Bread $109.71
Predicted to Disappear
24/7 Wall Street has named the brands it expects to disappear this year. Virgin America, merged into Alaska Airlines; Dodge Viper, sales were only 571 units in 2016; discount stockbroker Scottrade, sold to Ameritrade; Pebble watches, sales plummeted and the company was sold to Fitbit; The Limited, this clothing retailer is reported to be near bankruptcy and liquidation; AT&T U-Verse, AT&T is shifting customers to Direct TV; Time Warner Cable, the company was merged into Charter Communications to create Spectrum, the remaining TWC logos, trucks, and other assets will be renamed and repainted this year.
Drought Update
Californians will be paying more for gas, food, electricity, and new homes due to new measures to fight climate change that were enacted in 2016.
A $558 million water bill passed the Senate and was sent to the White House where it was signed by President Obama. Enforcement will be up to the Trump administration. The new law will shift more water to Central Valley farmers, limit dam construction, fund recycling and desalinization, and makes other changes reaching far into the future. Senator Diane Feinstein worked to get it passed; Senator Barbara Boxer voted against it.
Celebrities in the Industry
Boris Becker has been named the brand spokesman for Anakena Wines from Chile by brand owner Accolade. He is doing tennis exhibitions along with the ATP Tennis Tour.
From December 2016 through Super Bowl 2017 Budweiser is airing a commercial with Actress Helen Mirren urging viewers to "drink responsibly."
Former hockey player and LA Kings broadcaster, Jim Fox and his wife Susie, have been making and selling wines with friend, Dean Nucich since 2011. Their wines are named Patine', which means "to have skated" in French. The wines are made by Envy Wines of Napa.
Wayne Gretsky will open Wayne Gretsky Estates this Spring. Offerings will be red, white, and ice wine from Niagara-on-the-lake, Ontario; Pinot Grigio, Chardonnay, Merlot, and Cabernet Sauvignon from Okanagan, British Columbia; Cabernet Sauvignon and Chardonnay from Sonoma; and Wayne Gretsky No.99 Canadian Whiskey.
Rap star, Ludacris is opening a restaurant and bar in Atlanta's International Airport called Chicken and Beer. Luda (as he is known to fans) says this is the dream that came from a song on his third album.
Olympic Champion Usain Bolt has been named CEO of G.H. Mumm. That's the new post of Chief Entertainment Officer. In this position Bolt will travel the world encouraging people to find new ways to celebrate with Mumm Champagne. Bolt, the world's fastest human, is famous for winning the 100 meter, 200 meter, and 4X100 meter relay at three Olympic Games.
Popular Culture
Kirk Douglas Turns 100 with Vodka
Actor, Kirk Douglas, celebrated his 100th birthday with a party at the Beverly Hills Hotel with Vodka. Years ago his cardiologist forbid him to drink alcohol. But, at the time promised Douglas that he would give him a shot of Vodka if he made it to 100. The doctor was on hand to present the shot in a giant martini glass. We were not able to find out what brand of Vodka was in the glass. It might have been Heavy Water Vodka named in honor of Douglas 1965 movie "The Heroes of Telemark." In the movie, Norwegian patriots sabotage the Nazi's efforts to make an atomic bomb during WWII by blowing up the only heavy water factory in Europe.
World Series Wrap Up
In November we reported on Bill Murray joining in the Chicago Cubs Champagne celebration of winning their first World Series in 108 years. Tickets to the final game were going for up to $150,000. But what about the rest of the fans that watched at sports bars? Some were at the Cubby Bear, where they paid a $100 cover just to get in. The HVAC Bar charged $1,000 for table reservations and had a $250 per person minimum. The $250 included pizza, wings, and a bottle of Grey Goose Vodka.
Wine by Design is selling a Chicago Cubs California Brut Sparkler bottled by Rack & Riddle Winery in honor of their World Series win.
Outlander Wines
The TV series, Outlander, has a cult following that is a prime market to buy the four wines named for the fictional characters. The broadly sourced wines include a 2015 Willamette Pinot Noir, $30; a 2014 Paso Robles Red Blend, $30; a Vin de Pays d'Oc Cabernet Sauvignon, $20; and a blend of Viognier and Pinot Gris NV, $20.
Will Ferrell Bars
The Will Ferrell themed bar named Stay Classy from New York has a temporary pop up at the Chinese Theater in Hollywood. Although Ferrell has no connection with the bar, it pays tribute to his Saturday Night Live character Ron Burgundy. The drink menu includes Glass Case of Emotion and Milk Was a Bad Choice; both based on jokes. A portion of the proceeds is donated to Ferrell's charity, Cancer for College, which assists college students with cancer.
Jordan Winery Music Video
Jordan Winery has produced a video parody of Sia's music video Cheap Thrills. Jordan's version is called Grape Thrills and features performances by winery workers. It is well worth a view at Grape Thrills.
Disney Adds Rum
Disneyland has been serving Dole Whip for years. It's a soft serve made with pineapple juice. Now the Disneyland Hotel has added a new wrinkle. Its Coffee House Cafe is serving a spiked version with rum added.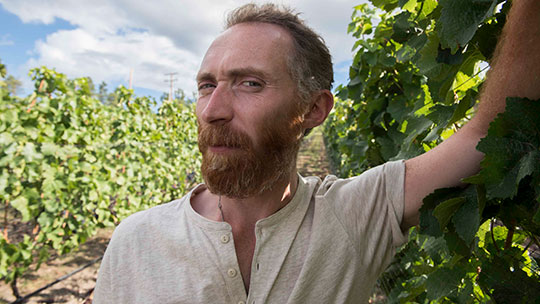 Van Gogh at Winery
Canadian Novelist and artist, Douglas Coupland, filtered through 1200 applicants from 37 countries to find a Vincent van Gogh lookalike. Daniel Baker from Christchurch, England was chosen. He will model for a 10 foot sculpture of van Gogh that will sit in the Martin's Lane Winery in Canada's Okanagan Valley. Actually, he is only an almost lookalike; he has both ears.
Politics
How Much is a Vote Worth?
The week following the election, the Stella Restaurant in University Heights, Iowa was charging different prices depending on how patrons voted. For the Iowa/Michigan game weekend; customers that voted for Trump and rooted for Michigan paid $20 cover, customers that voted for Trump and rooted for Iowa paid $10 cover, customers that voted for Clinton and rooted for either team paid $5 cover. If patrons didn't vote, cover was $10. Customers that complained the pricing was discriminatory were told they were right.
Restaurant CEO as Labor Secretary
President elect Trump has named Andy Puzder, CEO of Carl's Jr. Restaurants to serve as Labor Secretary. If confirmed, Puzder will be the first restaurant executive to serve in this post. During the election Puzder was a strong supporter of Trump. His background in the industry is interesting. Puzder was an attorney in St. Louis when he met Carl Karcher, who founded Carl's Jr. He moved to California in 1991 to serve as Karcher's personal attorney, according to a biography on Puzder's blog, andy.puzder.com. He helped Karcher avoid bankruptcy and help retain ownership of his company, CKE Restaurants.
What Did Presidents Drink?
Several of our Presidents have enjoyed Whiskey. Woodrow Wilson was among them. He tried to veto the Volstead Act that brought Prohibition. He liked Scotch & soda. The inventory of his things shipped home when he left the White House to his home included a cask of Scotch Whiskey.
Warren Harding liked his Whiskey while playing golf or poker. It was during Prohibition. His Attorney General, Harry Daugherty, saw to it that his bar was well stocked with illegal liquor that had been seized in government raids.
Dwight Eisenhower got to like Scotch during his time in Europe as Supreme Allied Commander. He preferred Chivas Regal or Pinch.
John Kennedy was not a Scotch drinker but his family fortune was built in a large part on imports of Scotch.
Lyndon Johnson's favorite drink was Cutty Sark. His Senate aide, Robert Baker, noted that he could finish two fifths of Cutty in an evening. When he traveled, cases of Cutty went along. After he left the Presidency the Secret Service carried his Scotch in a car that followed his limo.
The earliest recorded shipment of Scotch to the White House was in 1891. Andrew Carnegie asked John Dewar & Sons to send a cask to Benjamin Harrison. The 18 gallon cask landed in New York and caused a controversy. American distillers were upset. The New York Times said 'There are many men who… will warmly resent his possession and consumption of foreign whiskey."
William Henry Harrison won election in 1840 partially by handing out bottles of whiskey shaped like log cabins. Today the empty bottles sell for $600 to $1,000.
President elect Trump has a private label Scotch for sale at his Trump International Golf Links in Scotland. It's a 26 year old single malt from Glen Donach Distillery in Aberdeenshire.
Some Presidents preferred Beer, Porter, or Ale.
George Washington liked Porter. He had to brew enough to supply his family, guests, and servants. His recipe made 30 gallons at a time. When Washington first ran for the Virginia House of Burgesses it is said each vote cost him a half gallon of Whiskey.
John Adams lived to 90 in a time when life expectancy was 35. He started the day with Cider but switched to Porter during the day, and finished the evening with Madeira.
Thomas Jefferson aided Joseph Miller in getting U.S. citizenship so Miller could start a brewery here. It was later known as Miller High Life.
Before James Madison was President, he served in the House of Representatives. He authored the Tariff Act of 1789 to provide income for the government and promote "the manufacture of beer in every state in the Union"
Franklin Pierce and James Garfield both loved beer and drank little else.
Chester Arthur was under pressure by the Temperance Movement. However, he personally drank beer. Arthur said "I may be the president of the United States, but what I do with my private life is my own damned business!"
Grover Cleveland loved beer and when he first ran for District Attorney he and his opponent agreed to limit drinking to four pints a day so as to remain clear headed. It is rumored that Cleveland cheated.
Franklin Delano Roosevelt presided over the end of Prohibition. When he signed the Beer and Wine Revenue Act he said "I think this would be a good time for a beer."
John Kennedy's drink of choice was Heineken.
Jimmy Carter signed a bill in 1978 that exempted homebrewing from excise taxes.
Barack Obama brought homebrewing to the White House. He used honey from bee hives on the property to make White House Honey Ale.
Books
150 Years of Canadian Beer Labels by Lawrence C. Sherk, Touchwood Editions, 320 pages hard cover, $29.95. From the earliest vintage labels from iconic breweries like Dow and Molson to today's explosion of Craft Beer labels, discover an eye-opening cross-section of the country's beer-brewing history through the artwork of ales, porters, lagers, and malts from brewers east to west, many of which are long forgotten.
Cork Dork: A wine Fueled Adventure Among Obsessive Sommeliers, Big Bottle Hunters, and Rogue Scientists Who Taught Me to Live for Taste, by Bianca Bosker, Penguin Books, 320 pages trade paper edition, $17, to be released March 28, 2017. Bosker stumbled on an alternate universe where taste reigned supreme, a world in which people could, after a single sip, identify the grape a bottle was made from, in what year, and where it was produced—within acres. Where she tasted wine, these master sommeliers detected not only complex flavor profiles, but entire histories and geographies. Astounded by their dedication and superhuman sensory powers, she abandoned her job as a writer at Huffington Post and set out to discover what drove their obsession, and whether she, too, could become a "cork dork." In a compulsively readable, and hilarious, tale about her year long adventure, Cork Dork illuminates how tasting better can help us live better.
Corkscrew: The Highly improbable, but occasionally true, tale of a professional wine buyer, by Peter Stafford-Bow, Amazon Digital Services, 362 pages, paperback, $12.99. A satire set in the world of wine and big business. Part thriller, part self-help manual, and part drinking companion, about capitalism, religious intolerance, and the perils of blind tasting.
Pinot, Pasta, and Parties by Paul and Dee Dee Servino, Hachette/Center Street, 160 pages, $25. Actor, Paul Servino and his political pundit wife bring together themed cocktails and Italian entrees in this cookbook. To be released April 18.
W(H)INE: 50 Perfect Wines to Pair with Your Child's Rotten Behavior by Jennifer Todryk, Race Point Publishing, 128 pages, $16.99. Did your daughter just get out of bed for the twelfth time to ask for another glass of water? There's a wine for that. Did your son just have a public meltdown in the middle of the grocery store? There's a Pinot for your pain. Fifty perfect pairings to match your child's crappy behavior. Each wine featured comes with a small sticker...every time you sample a wine to match your bad day, you add it to the Periodic Table of Intoxication at the back of the book. When you complete the table, you'll be able to see if your child has behavior problems, attitude problems, or just inherited bad DNA (from you).
How to Drink French Fluently by Punch Creative and Ralph Vidal, 158 pages, Punch, $19.99. Celebrates the "Joie de Vivre" of the French spirit and looks at cocktails, food, art, music, beauty, and taste. The authors work with top bartenders to put together a package that reflects both cocktails and life in general.
Made of Iceland: A Drink and Draw Book, by Reyka Vodka, Powerhouse Books, 60 pages, $24.95. Iceland bars have a tradition of patrons drawing or doodling on a chosen theme while they enjoy cocktails. Then the results are published in small booklets. Here is a collection of the best.
Movies
Bitter Grapes
The repercussions of the documentary, "Bitter Grapes", reported in the November Beverage Bulletin continues. Five South African Vineyards have been served with non-compliance notices by the Western Cape Department of Labour for mistreatment of workers.
Wine
Ancient Winery Found
During excavations in advance of building a new school at Ashkelon in Israel, workers uncovered a 2100 year winery. The Israel Antiquities Authority has identified a wine press and a warehouse filled with wine amphorae.
New Varietals Coming
The Treasury Department's Alcohol and Tobacco Tax and Trade Bureau is considering petitions to recognize a number of varietals from Europe to allow wineries to list them on labels. The grapes include Black Spanish, Esprit, Bourboulenc, Picardan, and Touriga Nacional.
Winemaker Returns to France
Philippe Bascaules will be leaving his position as winemaker at Francis Coppola's Inglenook Estate. He will be returning to his native Bordeaux where he will become the managing director at Chateau Margaux. The position has been open since the death of Paul Pontallier.
Raisin Growers Continue Legal Battle
California raisin grape growers won a case in the U.S. Supreme Court in 2015 and overturned the federal marketing order that took up to 47% of their crop without paying full value in order to maintain price levels. Now several growers are suing the state of California in a Sacramento court to overturn a similar state program. "Some people would rather have government out of the business entirely," says Daniel Sumner, an agricultural economist at UC Davis.
Premium Wine Auction Prices
The Sotheby's New York November wine auction saw several lots bring good prices. A single bottle of Bollinger 1914 plus a trip to the winery went for $12,250; a 12 bottle case of Armand Rousseau Chambertin 1966 brought $58,800; a 12 bottle case of Romanee-Conti 1965 brought $42,875; and a 6 bottle case of La Tache went for $26,950.
Oldest Madeira Brings $39,000
Christies auctioned a 300 year old bottle of Madeira for $39,000. The JCA & C Terrantez 1715 went for well over its estimated price. Another bottle of the same wine sold for $20,000 in 2015.
Tasting Room Holdup
Edward James Batton was arrested on suspicion of felony robbery after holding up the tasting room at Pope Valley Winery. He had threatened the winery staff with a knife and took items from the tasting room. He was also charged with being under the influence of methamphetamines.
Kurniawan Broker Arrested
Marc Lazar, a wine broker that sold wines for Rudy Kurniawan, has been arrested for selling wine without a license. He is a registered sex offender and forbidden by the state of Missouri from ever holding a license. His wine storage business in St. Louis, Cellar Advisers, advertised that it had sold about $10 million worth of wine for its clients. He was arrested on two counts. More charges could be pending.
Premier Cru Owner Sentenced
John Fox, owner of Premier Cru in Berkeley, who ran a Ponzi scheme with wine, has been sentenced to 6 1/2 years in prison, 3 years of supervision, plus restitution by Judge James Donato. The amount of restitution will be determined at a hearing in January. However, there is no money. Both Fox and Premier Cru are in bankruptcy. Fox took more than $45 million from his customers according to U.S. Attorney Ben Kingsley. He admitted to spending the money on luxury autos, golf club memberships, and women that he met online. One woman in particular, Seul Ki Yum of Seattle, is under federal indictment for blackmailing Fox after having sex with him.
Italian Winery Vandalized
Vandals broke into Conte Vistarino Estate in Lombardy, Italy and opened seven tanks dumping 600,000 liters of wine worth €500,000. Most of the wine was 2016 Pinot Grigio that was scheduled to be delivered to other wineries to make sparkling wines.
French Laundry Burglar Guilty
Davis Kiryakoz of Modesto has entered a guilty plea and admitted he was involved in the theft and sale of wines stolen from The French Laundry in Yountville and two other businesses. The total stolen was valued at more than $870,000. Judge Beth Labson Freeman accepted the plea and will pronounce sentence on March 28. The other man involved in the thefts, Alfred Georgis of Mountain View, has not yet entered a plea.
In Pursuit of Balance Closes
In Pursuit of Balance is gone. The group of Pinot Noir producers formed in 2010 by Rajat Parr and Jasmine Hirsch has folded its tent and left. They founded the group to make the point that Pinot Noir didn't have to be a big wine. It could be made with more acid, fresher, with lower alcohol, and with deeper flavors that are more restrained. In the past 6 years they too have made their point. The industry that was bent on making bigger and bigger wines has shifted to a different style. Now, many Pinot Noirs are more balanced and more a part of the cuisine instead of standing alone.
Market Demographics Shift
According to the Wine Market Council millenials are now the biggest wine drinking generation. Millenials represent 36%of the market; Baby Boomers 34%.
Chinese Catch Counterfeiters
Chinese authorities apprehended and shut down three fake alcohol rings during November and December in Foshan, Anhui, and Guangdong Provinces. In each case workers were found filling bottles with cheap wine and spirits and labeling them as more expensive and famous brands. In each case the workers were arrested and the liquor destroyed.
Chinese Buy More Chateaux
Chinese juice company Huiyuan Juice Group has quietly bought 11 French Chateaux since 2014. It is currently negotiating to buy one grand cru clase chateau and in the market to buy other wine properties in France.
Greek Wine Tax Blunder
The government of Greece added an excise tax on wine January 2016 to help pay off debts. The tax was expected to bring in €65 million. At year end the receipts were only in the range of €8 million. Yiannis Vogiatzis, president of National Interprofessional Organization of Vine and Wine of Greece, says wine sales have gone secret and estimates that at least 65% of Greek wine is now being sold on the black market. George Skouras, the President of the Greek Wine Association, says some vintners have built underground storage tanks so authorities won't even be able to detect wine storage from the air.
Back Label Story
The Italian winery, Matteo Correggia and design agency, Reverse Innovation, teamed to present a new concept known as Librotigglia. The back labels on their wine carry a short story that pairs with the wine. The white Roero Arneis has a satirical mystery "Murder." The Nebbiolo has the story "Ti Amo. Dementicami." (I Love You. Forget Me.) A light hearted story about a life changing love. Currently available only in Italian.
Bubbles vs. Bubbles
Champagne sales for 2016 were $1.6 billion. Prosecco sales were $858 million; about half those of Champagne. But that's only half the story. Prosecco volume was 77 million liters; about 25% more than Champagne. The worldwide volume of Prosecco consumption was up 23%; while Champagne consumption was down .3%. In the U.S. Champagne sales were up 10% and Prosecco sales up 26%. The top two Champagne sellers in the country, Veuve Clicquot and Moet & Chandon, do 87% of the Champagne business here. Both are owned by Moet Hennessy. Recently Grower Champagnes have gotten a lot of press. In 1997 only 33 growers shipped to the U.S.. Today the number is 297.
Top 10 Champagnes
Top selling Champagnes worldwide are:
1 Moet & Chandon Brut Imperial NV
2 Veuve Clicquot Yellow Label Brut NV
3 Nicolas Feuillatte Brut Reserve NV
4 G.H. Mumm Cordon Rouge Brut NV
5 Laurent-Perrier Brut NV
6 Taittinger Brut Reserve NV
7 Pommery Brut Royal NV
8 Piper-Heidsieck Cuvee Brut NV
9 Lanson Brut Black Label NV
10 Canard-Duchene Brut NV
What's in Your Fridge?
Clare and Joe, a young couple in the UK made a discovery that is going viral. They bought a new refrigerator with a water dispenser that has to be refilled by hand. They started filling it with white wine instead. They liked it so much that they told the world about it on Twitter. In the first two days their discovery was re-tweeted 67,000 times as people checked the dispensers on their own fridges.
What's in Your Tub?
...and finally. Beaujolais Nouveau was released the 3rd Thursday of November. Anxious fans around the world waited anxiously for a taste of the 2016 vintage. Everywhere except Japan. In Japan men, women, and children swim in hot tubs filled with the stuff.
Beer
AB/Inbev Buys Another Craft Brewer
AB/Inbev has purchased Karbach Brewery in Texas. The brewery is known for making experimental and innovative beers.
Beer for Life Too Long
AB/Inbev is cutting one of the most popular retirement benefits at Canadian brewer, Labatt. The company has been giving retirees free beer for life since the 1970's. The company said that health care for retirees has become increasingly expensive. So it came to the "reluctant decision" to discontinue free beer for life for retired workers. The program will be phased out over the next two years.
Gluten Free Beer
Bellfield Brewery in Edinburgh, Scotland is brewing a gluten free Beer from gluten free barley. The barley was developed by Australia's Commonwealth Scientific and Industrial Research Organisation. The new Kebari barley is being used experimentally under license from the patent owners. Bellfield Brewery is owned by two partners who suffer from Celiac disease and need gluten free foods.
Beer Competition Gets Rough
Munir Hawara was accused by the Riverside, California, police of hiring two men to set fire to a competing store, Sunny's Liquor. The motive seems to be that Sunny's was selling beer for less and taking away business.
Stone Brewing Restructures Business
Stone Brewing of Escondido is restructuring its business as the craft beer segment matures and sales plateau. The company has operated a craft brewery, restaurant, and beer garden in Berlin, Germany since June 2016. In July it opened another brewery in Richmond, Virginia and plans one in Napa, California later this year. In October it laid off 60 workers; that's 5% of its 1200 employees.
$15 Beer in a Brown Paper Bag
Saint Felix Bar in West Hollywood has gotten a lot of criticism lately for offering a 40 ounce bottle of Colt 45 served in a brown paper bag for $15. It went viral when a patron posted the menu offering on Twitter. Actually John Arakaki, the owner, has been offering Colt 45 in a paper bag since 2008. He says it is a "nostalgic memory" of where he and his friends came from.
When Only Beer Will Do
...and finally. A restaurant in Chengdu, China offered its customers free beer to celebrate the owners divorce. He ran an ad in the local newspaper with a copy of the divorce decree. The paper interviewed him to make sure it wasn't just a marketing ploy. His response was "I am indeed just divorced. Because the divorce battle dragged on for too long and I just finalized all the paperwork. I feel so relieved, and wanted to celebrate through this promotion," During the two day promo his customers celebrated with 200 cases of beer.
Hard Cider and Soda
As small as the market share of Cider is, it shrank by 6% in 2016. For a while it looked like Cider was going to make an historic comeback. What happened? No one knows for sure. Will the downtrend put Cider back in the cellar. 2017 may tell.
Spirits
Macallan Collection for Sale
The Whiskey Exchange is offering a collection of more than 100 bottles of Macallan Single Malt Scotch worth more than ₤400,000. The collection includes at least one bottle of every year's bottles from 1928 through 1977. It also includes a number of special bottlings. It will remain on display at the Whiskey Exchange's Covent Garden store until sold.
Whiskey Advent Calendar
Drinks by the Dram is offering Brits a Whiskey Advent Calendar with a 30ml bottle for each day. If that's too ordinary, there is also a Premium Whiskey Calendar, an Old and Rare Whiskey Calendar with Whiskies up to 60 years, and a Very Old and Rare Whiskey Calendar with even older Whiskies. They even have editions with Irish Whiskey, Japanese Whiskey, or American Whiskey.
99¢ Martini
Naren Young, bartender at Dante in New York's Greenwich Village is stirring things up with 99¢ Martinis. Every Monday through Friday from 5 to 6 patrons can order a Martini made with Plymouth Gin or Absolut Vodka for this mouth watering price.
Can You Qualify?
Mr. Black, Australian cold press coffee liqueur, is made with Panama Geisa Coffee. This coffee is the world's rarest and most expensive. The coffee beans only grow in certain conditions with only a few farms in Panama able to produce it, with flavor profiles ranging from berry, citrus, mango, papaya, peach, pineapple, guava and jasmine. The liqueur sells for about $140 U.S. Would you like to buy one? Not so fast. There are only six available worldwide. Mr. Black insists that potential buyers take a test on coffee comprehension before they are considered to become a buyer. Mr. Black doesn't want his work to fall into the wrong hands.
Auction Prices on Spirits
Sotheby's London auctioned a crystal magnum decanter of Louis XIII Cognac for $280,000 U.S.
Fit for a Prince
While visiting the island of Antigua in the Caribbean, Prince Harry enjoyed a cocktail at the Coconut Grove resort in Dickenson Bay. Head bartender, Timmy Thomas, came up with a Cocktail for him called the Prince's Ginger. See the recipe below.
Patron Founder Sells Super Home
John Paul DeJoria, co-founder of Patron Spirits, has sold his home in Texas. The 96 acre water front property sold for $6.93 million. The main house has four bedrooms, six bathrooms, a swimming pool, lake, and two barns with housing for caretakers. The property also has a 2700 foot underground bomb shelter that is fully stocked with food and water. Also included are 120 African animals including wildebeest, oryx, gazelle, and antelope. DeJoria and partners founded John Paul Hair Care Systems and later Patron Spirits, maker of fine Tequilas.
We Card
...and finally there was a problem at the Monkey Bar in Northampton, Massachusetts. The police blotter sums up the incident: "Around 12:16 AM, police had been summoned to the bar when a woman was asked to show her ID to the doorman, and instead attempted to present a slice of pizza. After being informed that pizza was not a valid means of gaining entry to the establishment, the woman slapped the doorman in the face, she was issued a trespass notice to stay away from the location."
Other Foods and Beverages
Fish Fraud Solution
Dr. J. Aquiles Sanchez, Ph.D., of the Department of Biology at Brandeis University, is working on developing a rapid means of seafood species identification using a process called closed-tube DNA bar coding. Currently the FDA uses standard DNA testing which is a lengthy and expensive process. In Dr Sanchez's system the most common DNA sequences would be stored in a hand held device that would instantly identify fish species and cut down on fish species fraud.
Restaurant Trends in 2017
The hot trends in restaurants continue to shift. Going into 2017 the trends involve both food and décor.
Tiki. Yes, it's back. And along with it rum drinks and tropical food are feeding a new generation.

Housemade. Bread, sausage, you name it. If it's made here in the kitchen, it must be better.

Go Native. Native American dishes are turning up on menus or the whole menu. Fry bread, corn, beans, potatoes, venison, and salmon are all a part.

Technology. Mobile ordering, mobile payments, digital ordering kiosks, table top devices, and digital menus. It saves labor ...but, the experience could become impersonal.

Poke. A bowl with starch, protein, fresh veggies and fruit, all topped with a special sauce.

Retro Decor. Old style booths, chrome fixtures, and reclaimed pieces from the 1980's, 1970's, and beyond.

Bar-B-Que. Southern and Western styles used to be the choices. Now new kinds and new sauces are coming on. You can find Cleveland, Chicago, Brooklyn, and others that are finding their place.

Plant Based Foods. Nut butters, meat substitutes, and fruits from Asia and Africa. There is no limit; Jackfruit, Acai, Chickpeas, and Aquafaba. Some are Vegan; like Vegan Pulled Pork.

Delivery. The delivery may be by a high school kid on a bicycle or by Uber or Lyft. The point is that you can get dinner without leaving the couch.
Philadelphia Beverage Tax
The new Philadelphia beverage tax that started January 1 is the highest in the country. At 1.5 cents per ounce it will double or nearly double the cost of many beverages. The tax is imposed at distributor level and passed along through the supply chain. It will add 18 cents to a single 12 oz. can of soda; $1.08 to a 6 pack. A one gallon of lemonade will go from $2.69 to $4.60; a 64 oz. Ocean Spray Cranberry Drink from $2.69 to $3.70. Retailers expect to take a big hit on beverage sales. Many consumers will not be able to afford beverages at the new prices.
Teagate
A single tea bag went viral on the internet, was talked about in a London newspaper editorial, and caused British Airways to make a policy decision at the highest levels. It seems a flyer waiting in the British Airways lounge at Heathrow took a bag of Elderflower Darjeeling and a bag of Elderflower Apple tea to create his own blend in the cup. An attendant told him "sir, just to inform you that it is only one tea bag at a time and for lounge consumption only." The flyer complained on BA's FlyerTalk message board. Thousands chimed in on how cheap BA was. Then The Telegraph picked up on what they considered hot news; put in in the headlines and wrote an editorial. BA executives in full crisis mode issued an official statement that was published in The Telegraph: "As Brits we have strong feelings about how we like our tea, so we're disappointed that someone would dare to stand in the way of our customer producing the perfect cuppa. We'd like to assure all our customers that they are, of course, free to blend their tea as they wish."
Burgers for Life
Cafe 51 in Australia offered free burgers for life to anyone who let them tattoo a picture of one of their burgers on his body. The conditions: it has to be life size and the burgers are known as the world's biggest, the tattoo has to be of a burger that's on the menu and that's the one you will get free, it has to be on a body part that can be shown to the waitress, limit of one burger per day. Pretty tough? Not really. 3,500 people applied for the privilege. Then Cafe 51 decided to add an essay to the contest: tell why you want to win. Ten contestants will be chosen. Only one of those will get the tattoo and burgers for life.
World's Rarest Chips
...and finally. St.Eriks Brewery in Sweden says they produce a world class IPA. Their beer needed a better snack than nuts, pretzels, or chips. So they developed the world's most expensive potato chips to go along with their Beer. These special chips come gently packed 5 in a box for only $56. Too exclusive? There is always a market for the rare and exclusive. The first batch of 100 boxes sold out immediately.
The Changing Market
No More Grocery Store Lines
The grocery business is changing. Over the past few years we have seen the introduction of club packs, self checkout, and meal kits. Most recently stores are offering online order and store pick up. Through all this, the store itself has remained pretty much the same. Now Amazon, an outsider, aims to transform the store and the way Americans buy their food. The company is testing an 1,800 square foot pilot store in Seattle. This is how it works.; The customer with an Amazon account checks in with his smartphone at the door; as an item is put in the shopping cart it is added to an open sales check, if it's put back on the shelf it comes off the sales check, when the customer wheels his cart out the door the sales check is totaled and charged to his Amazon account. From the store's point of view front end labor is completely eliminated. For the customer it's a huge time saver with absolutely no lines. An Amazon spokesperson describes the technology as only a computer geek could "We used computer vision, deep learning algorithms, and sensor fusion, much like you'd find in self-driving cars." If the test is successful, Amazon plans up to 2,000 stores across the country.
No More Grocery Shopping
7-11 ran a pilot program during November that made 77 drone deliveries during the month. A dozen customers were given an phone app to place orders from a designated store. The deliveries were made by a company called Flirtey. 7-11 and Flirtey considered the experiment successful and intend to expand the program.
Where Have All the Babies Gone?
The U.S. birth rate is 59.8 births per 1,000 women; the lowest in history. Babies are expensive and many women are waiting until they can afford it before having them. Some are waiting until after college or some other goal has been reached. Some are skipping it completely. What does that mean for future marketing? Smaller families, older parents, aging consumers, a smaller work force, shifting demographics as immigrants become a bigger percentage of the population. The next 20 years will not be like the last 20.
Google Dominates Food Information
Barb Stuckey reports in Forbes Magazine that Google now accounts for 3.5 billion food related searches every day. Google is starting to mine this resource by putting its Food and Beverage team together with its Trends Team to identify trends ahead of other marketers.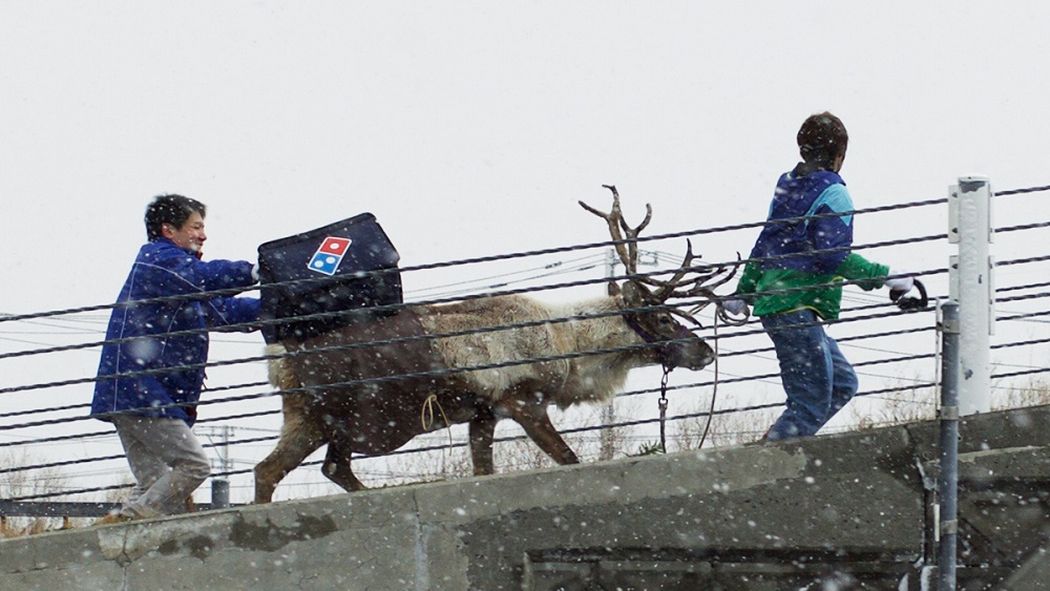 Through rain, sleet, and Snow ...Pizza?
...and finally. Meteorologists predicted heavy snowfall for Northern Japan this winter. Proving that it's up to the challenge, Domino's was prepared to deliver with snowmobiles, trucks equipped with snow tires, and for emergencies a fleet of trained reindeer with insulated pizza boxes strapped to their backs. The animals and handlers trained since early fall. The plan was good for Domino's, but not for the reindeer. Some refused to cooperate. Others ate the pizza. Watch a training session at Domino's Pizza Delivery By Reindeer in Japan.
Recipes
The Prince's Ginger
1 1/2 oz – Dark Rum
2 1/2 oz – fresh pineapple juice
1/2 oz – fresh lemon juice
2-4 – local ginger slices
4 – freshly picked lemon grass sprigs
1/2 oz – sugar syrup
3-4 dashes of Angostura bitters
Directions:
Muddle ginger slices and lemon grass springs in a mixing glass.

Add all remaining ingredients to the muddled mixture.

Add ice then shake vigorously.

Strain into a high ball glass.

Fill with ice.

Garnish with lemongrass
Stout Hot Fudge Sauce
Ingredients:
5 10 oz. packs Chocolate Chips
2 Cups Stout
3/4 Cup Heavy Cream
1/2 stick Sweet Unsalted Butter
1/2 teaspoon salt
Directions:
Heat chocolate chips and stout in a large pot over medium-low heat, until the chocolate is melted and mixture is blended. Add cream, butter and salt, and continue heating, stirring constantly, until mixture is blended. Transfer to jars and let cool. Cover and store in the refrigerator for up to a month or freeze. Reheat before serving.
Health
Red Wine May Protect Heart
A study published in The American Journal of Medicine showed that drinking a glass of red wine can counteract the short term negative effects of smoking. Researcher Viktoria Schwarz of the University of Saarland, in a statement. "We found evidence that pre-consumption of red wine prevented most of the vascular injury caused by smoking."
Red Wine May Aid in Pregnancy
A study published in the Endocrine Society's Journal of Clinical Endocrinology & Metabolism shows that resveratrol in red wine can help to correct an imbalance in female hormones that prevents pregnancy.
Beer Could Prevent Heart Disease
A study of 80,000 Chinese conducted by Shue Huang of the University of Pennsylvania found that drinking can reduce the risk of stroke and heart disease. Blood samples were taken quarterly. The results showed that those that drank moderately had better HDL levels than teetotalers or those that drank heavily. The best results were for women that drank a pint of beer a day and men that drank two pints. Similar but lesser results were found in drinkers of spirits; primarily Bijou. Not enough Chinese drank wine to make any conclusions.
Grenache Drinkers Live to 100
Men and women on the Italian island of Sardinia often live into their 100's. Locals attribute it to drinking wine. The variety is known as Cannonau. Actually, it is the same variety known as Grenache in France and Garnacha in Spain.
Tasting Notes
Each month we are out there looking for wines that "over deliver"; wines that offer more than others in their category and price level. We search out the wines that you can buy to help build your business; wines that make customers happy and keep them coming back. These are wines we rate as good buys and best buys. Check our notes. The opinions in the reviews are our own and unsolicited. We receive no compensation from wineries or brokers. This month there were several wine tastings that showed some very nice wines available at reasonable prices. The prices shown are approximate retails.
The Los Angeles tasting of Madeira Wines showed off a group of wines that deserve more attention than they usually get in the California Market. The wines from three of the top Madeira houses all showed well. The Madeira Wine Institute is doing an outstanding job of getting the wines noticed. The tasting was geared to the trade. The same week consumers were presented with TV chef Jacques Pepin featuring a dessert with Malmsey Madeira. These wines provide an opportunity for plus sales in the year ahead. Who couldn't use some extra sales? Here are our tasting notes followed by Jacques Pepin's recipe. Pricing where available.
Henriques & Henriques owners of the largest single vineyard on the island. Founded in 1850. Rainwater, medium dry, light amber, $15.99. Sercial 2011, medium dry, light body, medium amber, $25. Verdelho 15 year, medium amber, medium body, sweet. Boal 2000, dark amber sweet, smooth. Tinta Negra 1997 375ml, dark amber/ruby, full body, sweet, smooth, $50. Contact Humberto Jardim, Managing Director at humberto.jardim@henriquesehenrques.pt or Hans Alpenz LLC at info@alpenz.com or (612) 414-0022.
Vinhos Barbieto founded in 1946. Currently managed by Ricardo Freitas, the 3rd generation of Barbeitos. The wines are made in the classical style in small batches. Rainwater, light amber, dry, $50. Sercial, medium amber, semi-sweet. Verdelho, dark amber sweet. Malmsey, dark amber, semi-sweet, full body. Bual, dark amber, sweet, full body. Malvasia 20 year, dark amber, semi-sweet, full body, smoky. Contact Keith Fox at oenofox@yahoo.com or (310) 920-6045.
Broadbent Selections by Justino's. Established in 1870. In 1993 it was sold to the French company, La Martiniquaise. The company owns one of the largest stocks of wine on the island. The wines are line priced at two levels; under $20 and $39 to $45. The wines are all excellent and represent very good buys at these prices. Rainwater, medium dry, light amber. Verdelho, full, rich, medium dry, medium amber. Malmsey 10 year, sweet, dark amber, full body. Contact Christopher Lavin at clavin@broadbent.com or (562) 761-5500.
From Jacques Pepin's "More Fast Food My Way" Episode 218:
(The Madeira used on the program was Justino's Broadbent Malmsey 10 year.)
Sautéed Stuffed Figs with Malmsey Madeira
Serves 4
•12 dried figs (7–8 ounces total)
•12 walnut halves
•2 tablespoons unsalted butter
•1/2 cup dry fruity white wine
•1/3 cup honey
•1 cup blueberries
Cut the figs into halves and arrange them flesh side up on a platter. Press 1 walnut half into each fig half and press on the nut to embed it well.
Melt the butter in a medium nonstick saucepan and add the wine and honey. Arrange the figs, walnut side up, in the pan and bring to a boil. Cover and boil gently for about 2 minutes, or until the mixture is syrupy and the figs are glazed.
Let the figs cool to room temperature. Arrange them, walnut side up, on a platter. Pour the sauce over the figs and sprinkle the blueberries on top. Serve with Malmsey Madeira.
Industry Calendar
This is the industry Calendar of events for the first five months of 2017 as released to date.
1/1 New Year's Day
1/7 San Diego Brewfest – San Diego
1/14-15 Asian American Expo – Pomona
1/14-15 Winter Wineland – Sonoma
1/16 Martin Luther King Day
1/16 Super Organic & Natural Expo – LA
1/21 Caifornia Wine Festival – Santa Barbara
1/22-24 Winter Fancy Food Show - SFO
1/24 Slow Wine – SFO
1/26 Grand Crus de Bordeaux – LA
1/27 Grand Crus de Bordeaux – SFO
1/28 Chinese New Year
1/28-29 Rate Beer Awards – Santa Rosa
1/30 Washington State Wines – San Diego
1/30-2/5 Superbowl Week
2/2 Groundhog Day
2/5 Superbowl 51
2/8 Wine Australia Winter Trade Tasting – SFO
2/9 Valentine Wine Walk - SFO
2/13 Gambero Rosso Tre Bicchieri - LA
2/14 Valentines Day
2/15 Tre Bicchieri – SFO
2/15 - Kosher Wine and Food Experience - LA
2/18 SF Wine Chronicle Grand Tasting – SFO
2/19 Rhone Rangers Paso Robles Experience
2/20 Presidents Day
2/23-25 ZAP Wine – SFO
2/23-25 Zinfandel Experience - SFO
2/28 Mardi Gras
3/1 Ash Wednesday
3/1-2 Unified Grocers – Ontario
3/5 Family Winemakers – Del Mar
3/6 New Zealand Wine Fair - SFO
3/8-9 Taste of Italy Roadshow – LA
3/9-12 Natural Products Expo West – Anaheim
3/10 Great Wines of Italy - LA
3/13-15 Women of the Vine – Napa
3/15 Wivi Central Coast – Paso Robles
3/17 St Patrick's Day
3/17 Latin food Fest – LA
3/17-19 Zinposium – Paso Robles
3/22 Rose' Today Competition – Healdsburg
3/23-26 Taste Washington - Seattle
3/24-25 Latin Foodfest – Santa Monica
3/27-29 Night Club & Bar Show – Las Vegas
3/29 Northern California Fresh Produce Expo - Pleasanton
4/1 Garagiste Wine Festival – Santa Ynez Valley
4/3 Bordeaux Cru Bourgeois – Marina del Rey
4/8 VinDiego – San Diego
4/11-17 Passover
4/14 Good Friday
4/16 Easter
4/22 Santa Barbara Grand Tasting – Santa Barbara
4/22 Earth Day Food & Wine – Paso Robles
5/ TBA JFC Sake & Food Expo
5/ TBA Craft Beverage Expo - Oakland
5/5 Cinco de Mayo
5/6 Kentucky Derby
5/6-10 WAFC – Palm Desert
5/7 Masters of Taste – Pasadena
5/10 Elevating Zinfandel - LA
5/10 Mexican Mothers Day
5/13 Central Coast Cider Festival - Atascadero
5/14 Mothers Day
5/15-21 American Craft Beer Week
5/27-6/25 Ramadan
5/29 Memorial Day
6/TBA LA Winefest
6/1 Auction Napa Valley – Napa
6/10 Taste of Mendocino - SFO
6/10-11 Rhone Rangers - SFO
6/18 Fathers Day
Promotional Calendar
1/1 Hot Tea Month
1/1 Hangover Day
1/1 Bloody Mary Day
1/11 Hot Toddy Day
1/16 Martin Luther King Day
1/17 Hot Buttered Rum Day
1/18 Gourmet Coffee Day
1/20 Coffee Break Day
1/24 Beer Can Appreciation Day
1/25 Irish Coffee Day
1/31 Hot Chocolate Day
2/2 Ground Hog Day
2/4 Pisco Sour Day
2/12 Lincoln's Birthday
2/14 Valentine's Day
2/18 Drink Wine Day
2/20 President's Day
2/22 Washington's Birthday
2/22 Margarita Day
2/25 Open the Bottle Night
2/27 Kahlua Day
2/28 Mardi Gras
New Legislation for 2017
Our industry has more laws controlling it than most industries. The State
Legislature and the ABC give us license privileges and can take them away. New alcoholic beverage laws were passed that will be effective in 2016. Many critical issues are pending. Do you know about them and are you prepared for the changes. Is your business safe? Members are encouraged to look through the Legislative Bulletin. If there is a new law that is a problem for your business, call the association office now. The CBRA is your voice in Sacramento. If you are not a member, join today. The CBRA is your only voice when it comes to new beverage laws.
Brands and Comments
The CBRA Newsletter has not accepted any payment from any of the brands mentioned
in this edition. The editor, Ron Ziff, welcomes comments at ron@cbraliquor.org
CBRA Membership Remains Open
Now, more than ever, access to your industry is important. The CBRA is California's
only statewide association of licensed retailers, and our membership continues to be
open for the first time in 20 years.
At CBRA we deal with licenses and regulations that affect the beverage business on a
daily basis. That's why CBRA offers practical solutions, unique products, services,
information, and timely advice for both large and small beverage businesses. With
reasonable fees, superior service, and associates that are easy to reach, CBRA helps you
to run your business better and easier. One of the most valuable services we offer is that
call to the ABC to ask your question. We can ask that question and keep you anonymous. That's something you just can't do yourself.
Join or renew your valuable membership today. You can't afford to delay.
California Beverage Retailers Association – California's Only Statewide Association of Licensees. We're #1!
If you would like to be removed from this email list, please email to
ron@cbraliquor.org with UNSUBSCRIBE in the subject line.