posted by
cbra
on
Mon, 02/08/2016 - 11:07
California Beverage Retailers Association
Beverage Bulletin
P.O. Box 56686
Sherman Oaks, CA 91413
(818) 693-5561
Ron Ziff, Editor
Ben Ziff, Publisher
January 2016
This Month's Stories Include:
Headline News Stories-2015 Harvest Shortage, Golden Globe Menu, 81 Year Old Grandma Completes the Beer Mile, Drought Update
Celebrities in the Industry-Richard Albert "Dick" Vermeil, George Lucas, Kim Kardashian and Kanye West, Vana Koutsolmitis
Popular Culture-Star Wars Wine, Game of Thrones Beer
Books-Wine Folly's Essential Guide to Wine, Dining with the Famous and Infamous, Quench Your Own Thirst
Stage-Bottle Shock – The Musical
Politics-Lindsay Graham, Donald Trump
Wine-Superbowl Super Charity, Rare Wines at Rare Prices, Stolen Grapes, Gallo Buys Napa Winery, World's Most Dangerous Wine, Wine for a Rock, Keep on Truckin', Wine in a Purse for Women, New Grapes for Global Warming, Cava vs. Champagne, College Wine Tasting, The Fate of Fake Wine, Daylight Wine Heist,
Resveratrol to Replace Sulfites
Beer- Record Number of Brewers, Brewery Heir Convicted of Murder, Dos Equis Sponsors Sports, Constellation Buys Ballast Point, Annheuser-Busch Craft Buying Spree, New Drinks for AB/Inbev, A Break in for the Records, Scottish Ale in Rome,
Craft Brewer Can Shortage, Limited Edition Molson Coors for UK
Cider-Tax Relief for Cider
Spirits-Problems in Diageo V.I. Deal, Cozy Up with Makers Mark, Gallo to Import Whyte & Mackay, Scotch By-Products Help in Clean Up
Other Foods and Beverages-Missing Ingredient, Restaurants Missing Something Else, Popcorn Sales Explode, Diet Soda Here to Stay, School Returns $1 Million to Coke, Coke and Pepsi Help Veterans, Nestle Invents All Day Coffee
The Changing Market-Amazon Dominates Holiday Sales, Trends for 2016, Costco Becomes Restaurant Giant
Recipes-Moet Ruby Red Cocktail
Health-Alzheimer's Patients Live Longer with Red Wine, Treasury to Show Nutrition...and as always Tasting Notes and the Complete Industry Calendar
James Thurber drew this famous cartoon to poke fun at wine snobs. It was first published in the New Yorker March 27, 1937. It was later reprinted in The Thurber Carnival in 1945. Thurber also wrote "How to Tell a Fine Old Wine" for the New Yorker in 1934. In it he divided French wines into 3 classes: Grands Vins, Petites Vins, and Vins Fins. The last he defined as "wines that did not turn out as well as might have been expected."
Headline News Stories
2015 Harvest Shortage
The 2015 harvest was light. Will that mean higher prices on premium wines? The answer is mixed. Inventories of north coast Chardonnay and Pinot Noir still have so much inventory overhang from three big vintages in 2012-2014 that there is little price pressure. Cabernet Sauvignon from Napa and Sonoma is another story. Last season's shortfall was big enough to more than use up the overage from 2012-2014 and cause a minor shortage. A minor shortage of premium cabs could trigger a jump in prices.
Golden Globe Menu
Moet and Chandon will be the official wine of the Golden Globes on January 10. 1,500 Moet Brut Imperial splits will be served during cocktail hour. 750 magnums of Moet & Chandon 2004 Grand Vintage Brut and Imperial Rose' will be on the tables. The Beverly Hilton menu will include California Market Salad with Asian Flavors, Filet Mignon with Marinara Crust and Steelhead Trout, and spaghetti squash, capers, and sweet potatoes. Dessert will be Chocolate Carmelito with Rum Marnier, Lemon Mousseline, and California Almond Cake. A Vegan alternative will be available. 40 chefs and 250 servers will participate. Moet Ruby Red Cocktails will be available at the bars. See pictures and drink recipe below.
81 Year Old Grandma Completes the Beer Mile
The Beer Mile, a race where participants drink a 12 ounce can of beer before each lap, is an official event covered by ESPN and Runner's World. This year Elvira Montes became the oldest woman to complete the race. She finished 2015 FloTrack Beer Mile World Championships in Austin, Texas in 20 minutes and 24 seconds while drinking KCCO Gold Lager. She finished 50 seconds faster than her daughter and beat her son-in-law who couldn't finish. During an interview with Runner's World she said "I should have been a little faster. I tried to drink the first one really fast, but I couldn't. The second one went down really smooth; the third, even better. The fourth was all right." Her drink of choice is Chivas Regal. But, as she said "I just wanted to prove to my daughter that I could run and drink beer."
Drought Update
So much water has been pumped out of the ground that vast areas of the Central Valley are sinking and destroying infrastructure as they drop. The collapse of ground levels is affecting bridges, roads, levees, power lines, and pipelines worth hundreds of millions of dollars. About 1200 square miles between U.S. Highway 5 and State Route 99 are sinking at a rate of 2 inches a month. Scientists call the developing hole a "cone of depression." The predicted El Nino will not raise the area back up. Instead, there could be a devastating flood.
December storms brought some rain to Northern California. But, not enough. The Santa Rosa Basin had 5 inches compared to an average of 8. The Ukiah Basin had 6.5 inches compared to a normal 9.5 inches.
FEMA has released the Severe El Nino Disaster Response Plan for California, Arizona, and Nevada. The purpose of the plan is to identify possible disaster locations, at risk populations and facilities, identify gaps in capabilities, encourage government agency partners to make their own plans.
Southern California is planning a pilot plant in Carson for what could become one of the nation's largest water recycling operations. Waste water is currently purified and then channeled to the Pacific Ocean. The new system will pump the water underground to add to groundwater that could be pumped back up as potable. The system is known as "toilet to tap."
Celebrities in the Industry
Richard Albert "Dick" Vermeil, retired football coach of the St Louis Rams, Philadelphia Eagles, and Kansas City Chiefs owns Vermeil Wines in Napa Valley. Each year he donates a portion of sales online and from the tasting room to the National Breast Cancer Foundation to provide mammography exams for women. He was the Superbowl winning coach in 1999 with the St Louis Rams. He also coached UCLA for two seasons in 1974-5, taking the Bruins on to win the Rose Bowl. Wines include Chardonnay, Zinfandel, and Cabernet Sauvignon and range in price from $42 to $150.
George Lucas Marin County ranch makes only the best, Skywalker Vineyards Pinot Noir $70. Skywalker Chardonnay ($30) and Skywalker Merlot ($40) are made from Lucas' grapes that are shipped to Francis Ford Coppola's winery to be made into wine. Lucas also makes wines under the Viandante del Cielo label. That's Italian for Skywalker. The choice of Jedi Masters everywhere. May the Force be with you!
Kim Kardashian and Kanye West are renovating a 3 acre vineyard at their Hidden Hills, California estate. They say the wine will be for personal use and not for sale. The project is just part of fixing up the home that resembles a French Chateau. The home has two swimming pools, two spas, two built-in barbecues, a pool house, three fountains, and a thousand foot entertainment pavilion.
Vana Koutsolmitis, the runner up on BBC TV's version of The Apprentice, announced a deal to market a line of wines the day after being eliminated on the show. The wines will be a blend of fruit flavors and rose' wine and low in alcohol (8% ABV). This style of wine has been the fastest growing category in France since 2013. The wines, VinobyVana, will be marketed exclusively through Virgin Wines. Vana has an undergraduate degree from Cornell University and an MBA from Oxford.
Popular Culture
Game of Thrones Beer
Omegang Brewery will be releasing new beer in its Game of Thrones series in conjunction with HBO's 6th season of the show. The new beer is Seven Kingdoms and described as "a marriage of Belgian-style wheat and a hop-forward American Ale." The beer is 6.9% ABV and will be released in March ahead of the April show premier.
Star Wars Wine
Staff reporter, Mary Orlin wrote in the San Jose Mercury News "What Would Luke Skywalker Drink?" She goes on to pick wine pairings for the characters in Star Wars. Here are a few: Princess Leia – Gloria Ferrer Royal Cuvee 2007 ($37); Han Solo – Shebang! Red Wine Blend NV ($12); Chewbacca – Big Basin 2012 Grizzly, full bodied it will put hair on his chest; Luke Skywalker – only Skywalker Vineyards 2012 Pinot Noir ($70).
Books
Wine Folly's Essential Guide to Wine by Madeline Puckette and Justin Hammack, Avery, 240 pages, $25, paperback. Drinking great wine isn't hard. Finding it is. The authors give hot tips and food pairings. A good primer for beginners.
Dining with the Famous and Infamous by Fiona Ross, Rowman and Littlefield, 258 pages, $38, released January 2016. Explores the food and beverage tastes of celebrities. Would you like to drink a "Get Gassed" afternoon cocktail like Andy Warhol or Truman Capote? The recipe is here. Enjoy a Chocolate Martini with the recipe invented by Liz Taylor and Rock Hudson while filming Giant. Did George Orwell really drank Victory Gin like his character Winston did in 1984? It's all here, and much more.
Quench Your Own Thirst: Business Lessons Learned Over a Beer or Two, by Jim Koch, Flatiron Press, 256 pages, $27.99. Jim Koch tells his own story and the story of his company, Samuel Adams. He chronicles the problems every new business faces. The decisions that had to be made. His battles with industry giants who wanted to break him. Non-fiction.
Stage
Bottle Shock – The Musical premiered at the Napa Valley Wine Festival. It's a Broadway style musical version of the 2008 documentary movie of the same name. It depicts the people and events that led to the "Judgment of Paris" where Chateau Montelena's California Chardonnays beat the cream of French White Burgundies in a blind tasting and Stag's Leap beat the best of Bordeaux. Co-creators James Sasser and Vincent Burwell have adapted the story into a 1970's era rock 'n roll musical. The plan is to open in San Francisco next October. Pictured above is Steven Spurrier, UK wine writer and organizer of the competition. Today he makes sparkling wines at his estate in Dorset.
Politics
As the field of Presidential candidates thins out, there are the inevitable thank you and farewell speeches. Lindsay Graham gave his farewell in terms that we understood very well."My dad owned a bar," Graham said. "If you own a bar, you got to do two things. You got to keep the customers coming back so you need to be funny and entertaining — you want them to drink as long as they can without getting totally drunk. You've got to be tough enough to keep the bar from being taken over by the loudest guy in the room." Graham added: "So I want to dedicate this campaign to every bar owner. I showed you can grow up in the back of the liquor store and even run for president of the United States."
Donald Trump's campaign is affecting people in and outside the political spectrum. But, what interests us is the effect on wine sales. According to Trump Winery's General Manager, Kerry Woolard, sales have increased 300%. She also notes that the winery is actually owned by Trump's son Eric. She says "We're not political. We're a winery." Robert Harilee, a wine shop owner says "We keep selling it. Even if my personal view is to fire him."
Wine
Superbowl Super Charity
E&J Gallo will provide wines at the 25th Annual Party with a Purpose the night before the 50thSuperbowl Game in Santa Clara. The event raises money for non-profit Taste of the NFL's Fight Against Hunger. This is the 21st year Gallo has participated. The party will take place February 6 in the Cow Palace. Chefs from each of the 32 NFL cities will pair food with wine for 3,000 diners who paid $700 a ticket. The charity has provided more than 176 million meals since 1992.
Rare Wines at Rare Prices
At a Christie's wine auction in early December two rare bottles of wine were sold. A bottle of Chateau d'Yquem 1811 went for $60,000. 1811 was supposed to be one of the best years of the 19th century. The second bottle was a bottle of Terrantez Madeira 1715 which was sold for $19,600. It is thought to be the oldest dated bottle of Madeira in existence.
Stolen Grapes
Maison Etienne Guigal in Northern Rhone produces a rare wine called Luminescence only in years when the grapes have the right qualities. 1999 and 2003 were such years. So was 2015. In fact, 2015 was the best vintage in 55 years according to Marcel Guigal. When he and his son, Philippe, went out to the vineyard the morning of Friday September 11, they found that someone had already harvested a third of their grapes. They will still produce Luminescence from the remaining grapes. The missing grapes have a value of €40,000. A police investigation is ongoing.
Gallo Buys Napa Winery
Gallo has purchased The Ranch Winery in St Helena, Napa Valley. The facility has 70 acres, a capacity of 30,000 tons, 4.6 million bottling capacity, and storage for 8 million gallons. Gallo now owns 15 wineries including this purchase.
World's Most Dangerous Wine
Chateau Bargylus is known as "the most dangerous wine in the world." It is made from grapes grown in war torn Syria. Vineyard owner, Karim Saade, cannot visit his own vines for fear that he will be kidnapped by ISIS. The thirty families of workers are allowed to do their jobs. The wine can't be made into wine at the 60 acre estate. The grapes have to be transported to neighboring Lebanon to be made into wine. ISIS enforces Islamic law and doles out lashes for dealing in alcohol. Chateau Bargylus makes a white that is 100% Chardonnay and a red that is a blend of Cabernet Sauvignon, Merlot, and Syrah. 60,000 bottles are produced each year and sold in Lebanon.
Wine for a Rock
A newly formed British company, Gibraltar Wine Vaults, plans to store about 1.5 million cases of wine in tunnels under the Rock of Gibraltar. Before World War II the British expected Gibraltar to be attacked. The Royal Engineers dug 32 miles of tunnels through the limestone rock. The tunnels are wide enough to drive two trucks side by side and 50 feet high in some parts. The temperature is a constant 13 to 14 degrees Celsius, humidity 70% to 80%, no light, and no vibration. All perfect for storing and aging investment grade wines. The wine storage company is headed by Tracy Lee, who first learned of the tunnels from her father who served there during the war. The tunnels will be leased from the local Gibraltar government.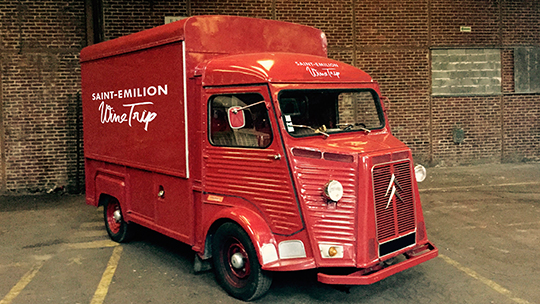 Keep on Truckin'
The Bordeaux wine producers have come up with a new wrinkle on the food truck craze that is spreading through Europe. A wine truck will visit jazz festivals, farmers markets, and fairs. It will be piloted by a sommelier-driver and serve 16 wines from four appellations. Emilie Renard, spokesperson for the Conseil des Vins de St Emilion announced the program.
New Grapes for Global Warming
France's Institute for Agricultural Research is experimenting with new varietals to replace traditional grapes that are affected by heat in Bordeaux due to global warming. Merlot is one variety that won't be part of a new warmer world. 60% of Bordeaux red wine areas are planted in this early ripening grape. Overripe Merlot loses its elegance and freshness and tastes sweet and fruity with no acid. Agnes Destrac and Bernard Farges, president of the local wine board are searching for varieties that will maintain the $4.5 billion dollar industry. The most promising so far is Petit Verdot. France's AOC will have to change its regulations for new varieties to be planted and carry the approved label designations. Some growers are advocating that new varieties be planted starting in this year. If permission is granted, the first vintages will be in 2019 or 2020.
Cava vs. Champagne
More Cava is consumed in France than Champagne consumed in Spain. 5,110,592 bottles of Cava were popped in France during the first 9 months of 2014. Figures are not available on Champagne, but there were only 3,420,322 bottles of Champagne shipped to Spain in all of 2014. More than 158,000,000 bottles of Cava were sold worldwide in the first 9 months of 2015.
College Wine Tasting
Allan Hancock College in Santa Maria, Santa Barbara County has had a winemaking program for the past 16 years. About 500 students are enrolled at a time. The campus winery makes about 600 cases a year. An on-campus tasting room was opened in November. The room is open to the public for wine sales on Thursdays. Coordinator, Alfred Koch is proud that most of his students go on to work in the wine industry.
The Fate of Fake Wine
U.S. Marshalls have started the destruction of Rudy Kurniawan's counterfeit wines. The first batch of 500 bottles was trucked to Texas, where they were crushed in a recycling facility.
Daylight Wine Heist
Three men were arrested for stealing more than $4,000 in fine wines from Nob Hill Foods in Napa. One was detained by employees while two others escaped. Police caught up with the other two on the highway. Their car had 60 bottles of stolen wine on board. The men were charged with burglary, grand theft, and conspiracy.
Wine in a Purse for Women
Vernissage has introduced a new concept in wine bag-in-a-box in a purse designed to appeal to women. The wines pictured above are Red in a black box 60% Syrah 40% Cabernet Sauvignon; White in a white box 80% Chardonnay 20% Viognier; Rose' in a pink box 100% Syrah. 1.5L will sell for about $22.99 and 3L for $34.99.
Resveratrol to Replace Sulfites
Argentine researchers are experimenting with using resveratrol as a preservative in red wine to replace sulfur dioxide. In analyzing the wine post-fermentation, the only appreciable difference appears that the resveratrol treated wine has a deeper color. The European Union has backed an experiment that will preserve wine without additives. Called Cold Pasteurization, the system involves applying pressure to the wine and then releases the pressure to burst the cell walls of bacteria and yeast. The pressurization affects wine much like the "bends" affects divers that reduce pressurization too quickly. The testing is being done at the Fraunhofer Institute in Stuttgart, Germany by a team led by Ana Lucia Vasquez-Caicedo. Dr Vasquez-Caicedo got her training in food sciences at the University of Arkansas. A small percentage of wine drinkers are allergic to sulfites.
Beer
Record Number of Brewers
At the end of November 2015 the U.S. had 4,144 breweries in operation. That's more than at any point in history. The previous record was 4,131 in 1873. New breweries are continuing to open at the rate of two a day.
Brewery Heir Convicted of Murder
Dennis Oland 47, son of the owner of Canada's Moosehead Brewery was found guilty of killing his father, 69. The trial lasted 4 months in St John, New Brunswick. The brewery is Canada's oldest independent. It was founded in 1867 by Susannah Oland. Derek Oland, Dennis's uncle, released a statement that the family believed Dennis had nothing to do with his father's death. The jury deliberated for 2 1/2 days before finding him guilty and recommending 10 years imprisonment before parole.
Dos Equis Sponsors Sports
Dos Equis has signed a multi-year contract with ESPN to sponsor the College Football Playoffs. The beer will have rights to advertising, fan events, have use of the event logo, and carry advertising on 6-packs.
Constellation Buys Ballast Point
Constellation Brands bought Ballast Point Brewing and Spirits of San Diego for $1 billion. This continues the consolidation in the growing Craft Beer segment. Ballast Point Brewing and Spirits is a craft brewer and distiller founded in 1996 by Jack White in San Diego. It is the second largest craft brewer in San Diego and 37th largest in the country. It also produces 14 spirits items including Gin, Vodka, Rum, Liqueurs, Whiskey, and Single Malts. Beer sales were 4 million cases in 2015.
Annheuser-Busch Craft Buying Spree
While anti-trust authorities around the world are concentrating on the merger between AB/Inbev and SAB Miller; AB/Inbev has continued to scoop up Craft Brewers with growth patterns. Annnheuser-Busch acquired Four Peaks Brewing Company, the biggest Craft Brewer in Arizona. The brewery produced 70,000 barrels in 2015. Four Peaks feature beer is Kilt Lifter. A recent success is Pumpkin Porter which grew 150% in 2015. It will be assigned to AB's High End Division. The High End Division already manages Goose Island Beer, Blue Point Brewing, 10 Barrel Brewing, Elysian Brewing, and Golden Road Brewing.
AB/Inbev also acquired Camden Town craft brewery in London. Camden Town was founded in 2010 and now serves over 1,000 pubs. AB/Inbev also bought Breckenridge Brewery in Colorado. Breckenridge is the 50th largest Craft brewer in the U.S. with a production of 70,000 barrels a year.
New Drinks for AB/Inbev
Annnheuser-Busch is launching a new company, Best Damn Brewing Company to try to tap into trends toward sweeter taste profiles. The first product will be 5.5% ABV Best Damn Root Beer aged on vanilla beans. The second product planned is Best Damn Apple Ale. The root beer will be promoted through AB's 80 sports team stadium venues. Hard Root Beer is a growing category. Early in 2015, Small Town Brewing launched Not Your Father's Root Beer and Coney Island Brewing started Coney Island Hard Root Beer. The two products sold $110 million in their first year.
Scottish Ale in Rome
Scottish Craft brewer, Brewdog, has opened a brew pub on Rome's Via Delle Terme di Tito. It is directly across the street from Rome's other landmark, The Colosseum. Brewdog already has brew pubs in Florence and Bologna. The chain has opened 43 branches since its founding in 2010. More are planned worldwide including one in Ohio.
Craft Brewer Can Shortage
A shortage of cans has developed in the Craft brewing segment. So many Craft Brewers have shifted to cans that suppliers can't keep up. Crown, the largest supplier, has raised its minimum order from 155,000 to 200,000. Lead time has moved from weeks to months. Smaller brewers and mobile canners are having a hard time because of the investment in inventory and space.
Limited Edition Molson Coors for UK
Molson/Coors is partnering with UK's Sky Sports Channel with a beer promotion. The beer will be brewed with English malt and hops and be called Done Deal. It will be available during the month of January, when soccer teams are allowed to trade players.
Bud Weisser
A Break in for the Records
A 19 year man named Bud Weisser, was arrested for trespassing at the St Louis Budweiser plant. He first drove his car through the front gates. Then broke into a secure area where he was confronted by security guards who told him to leave. When he refused they called police, who took him into custody.
Cider
We have been including news about cider with its cousin, beer. But, the niche is becoming a category. As a category, cider makers are creating sweet and dry versions and experimenting with lots of innovations. 2016 may just be a break out year for Hard Cider. We will try to keep you ahead of the trends. So look for news on the category right here.
Tax Relief for Cider
The Cider Act, authored by Senator Charles Schumer, will raise the alcohol content of Hard Cider from 7% to 8.5% before it is taxed at the same rate as wine. The bill also raises the carbonation pressure before cider would be taxed the same as Sparkling Wine.
Spirits
Problems in Diageo V.I. Deal
The Virgin Islands Consortium, a local newspaper published in St Croix, reported that the Department of Justice had detained 14 tankers headed for the Diageo Distillery to check if they contained molasses. Molasses is subsidized by the government for Rum production. Diageo moved to the Virgin Islands in 2008 with a support agreement that amounted to $2.7 billion over 30 years. Subsidies include "$165 million for a new distillery, market support payments to keep the price of molasses low, payment of 35% of Diageo's advertising costs, a 90% break on income tax, exemption from property tax, environmental mitigation supports, and a 47.5% share of all tax collected on Captain Morgan Rum." Diageo's Communications Director, Erica Johnson, said "we have been testing a new distilling process using sugar cane intermediate, in which a minority amount of this ingredient, which we would be bringing from outside the territory, would be added into our distilling process along with molasses." Critics claim that the payments of tax money is intended to be on Rum produced in the Virgin Islands, not elsewhere in the Caribbean. At stake is $13.25 per proof gallon that is collected by the U.S. government, then paid back to the local government. Annual collection for 2014 was over $213 billion.
Cozy Up with Makers Mark
In December Makers Mark teamed with One Warm Coat, a non-profit that has provided more than 4 million men, women, and children with warm coats over the past 22 years. The Bourbon company sent its Get Cozy Truck around the country to collect coats. In exchange donors received a cup of hot cocoa and a Makers Mark shaped gingerbread cookie.
Gallo to Import Whyte & Mackay
E&J Gallo has been appointed the exclusive U.S. importer and distributor of Scotch from Whyte & Mackay, which includes John Barr, Dalmore, and Jura. Whyte and Mackay is the fifth biggest Scotch whisky manufacturer. It was acquired by Phillipine company Emperador early in 2015 when it was sold by Diageo as part of a government order to maintain competition.
Scotch By-Products Help in Clean Up
Scientists at the Environmental Research Institute in Scotland hope to clean up radioactive waste at a site in Dounreay. In the process called bisorption the spent grain from distilling absorbs the radioactive particles which are located in a shaft about 50 feet underground.
Other Foods and Beverages
Missing Ingredient
Investigators visited 9 San Diego restaurants to find out how they were serving sushi lobster rolls when lobsters were out of season. The answer was easy; the lobster rolls were only missing one ingredient: lobster. When challenged, the restaurants were not able to show any lobsters or invoices for buying lobsters. Eight of them paid $19,000 in fines and costs; the ninth closed.
Restaurants Missing Something Else
According to the New York Post, restaurant patrons are enjoying more than just food and beverage. They are pilfering the hardware. Silverware is commonplace. Other items include salt & pepper shakers, copper mugs, cloth napkins, decorative center pieces, even the paintings hung on walls and statues. At Mario Batali's The Spotted Pig a thief was seen on video camera taking the pig statue from the restaurant entrance.
Popcorn Sales Explode
Have you noticed what people are snacking on? Popcorn! The overall sales of popcorn sales increased 25% in 2015. The breakdown within the category changed drastically during the year. Kettle corn down 6%, microwave popcorn down 12%, and ready-to-eat popcorn up 59% over 2014. The product is basic and simple made from popcorn, oil, and salt. It fulfills new consumer needs. It's gluten free, low calorie, and "clean eating" without ingredients that can't be pronounced.
Diet Soda Here to Stay
The FTC has handed down a ruling that will allow Coca Cola and Pepsi Cola to continue labeling their sugar free sodas as "Diet." A group that calls itself "U.S. Right to Know" had petitioned the commission to take the word off the product. Gary Ruskin, co-director of the group said "It's regrettable that the FTC won't act to halt the deceptions of the 'diet' soda industry. Ample scientific evidence links artificial sweeteners to weight gain, not weight loss. I do believe that 'diet' soda will go down in U.S. history as one of the greatest consumer frauds ever."
School Returns $1 Million to Coke
The University of Colorado Medical School is returning a $1 million grant made to the school by Coca Cola. The money had been given through the Global Balance Energy Network which is made up of scientists at various universities. The group supports research that proves sugary sodas do not contribute to weigh gain. James Hill, a professor at the school is a member of the group's Board of Director's. The New York Times had published a story on the grant of funds.
Coke and Pepsi Help Veterans
Muhtar Kent, CEO of Coca Cola and Indra Nooyi, CEO of Pepsi Cola, joined together to film a TV spot for American Corporate Partners. The non-profit encourages Americans to help veterans transition to civilian life.
Nestle Invents All Day Coffee
The Nestle' Research Centre in Lausanne, Switzerland has collaborated with Ecole Polytechnique Federale de Lausanne and University ETH in Zurich to develop a coffee with an all day slow release of caffeine. The beverage keeps drinkers energized all day and avoids a mid-afternoon caffeine crash. The company has not announced plans for the product.
The Changing Market
Amazon Dominates Holiday Sales
Amazon captured 51% of all online sales and 50% of all online sales growth in 2015. Amazon's sales for 2015 were $88 billion; up 33% from its 2014 sales of $66 billion. Amazon got 35% of online sales on Black Friday. 51% of shoppers had planned to buy from Amazon during the holiday season. The surprise figure is that 25% of all U.S. households are Amazon Prime members. Amazon Prime members get free 2 day shipping, movies and TV shows, ad-free music, unlimited photo storage, and kindle books. All that for $99 a year. The company added 7 million memberships in 2015. By locking customers into Prime membership, sales are expected to continue on a steady growth path.
Trends for 2016
Fresh – Consumers consider foods that are fresher, freshly made, with fresh and sometimes locally sourced ingredients to be healthier. They will seek them out by going to restaurants that proclaim freshness or shopping at farmer's markets.

Real – Not necessarily low in calories, fat, or sodium or negatives removed and positives added. The trend is for foods that are real and wholesome. The consumers have become "clean eaters" and don't want artificial ingredients, additives, or pesticides.

Spicy – They will choose hot and spicy. Louisiana Hot Sauce, Sriracha, Chipotle, and Ghost Peppers have all come to the forefront.

Value – Fast food restaurants have lost sales volume. Look for price and value wars in the coming year. What they can't make fresh or real, they will sell cheaply.

Ready to Drink - Among non-alcoholic beverages ready-to-drink coffee and tea will continue strong growth, as will refrigerated juices and functional beverages.

Consumers Make the Decision - In 2015 customers with increasingly sophisticated devices took control of what they wanted, when and where they wanted it and then chose a retailer that could best fulfill their needs. This trend will accelerate into 2016.

Costco Becomes Restaurant Giant
Costco has been quietly moving in as one of the nation's biggest restaurant chains. The menu is very limited and inexpensive; but the sales are massive. There are more than 400 locations. In 2014 Costco sold more than 100 million hot dogs and became the 15th largest pizza restaurant chain in the U.S. The restaurant concept became part of Costco's program in 1993 when it took over Price Club where it originated.
Recipes
Moet Ruby Red Cocktail
Ingredients:
3/4oz lemon juice

3/4oz Tarragon, Raspberry, Citrus Shrub

1oz Vodka

2.5oz Moët & Chandon Imperial
Directions:
Pour the shrub, lemon juice and vodka over ice in a white wine glass.

Top with champagne and garnish with fresh tarragon and a lemon twist.
For the Shrub:
2 cups raspberry purée

2 cups apple cider vinegar

4 cups cane sugar

1 lemon peel

4 sprigs of tarragon

Bring ingredients to a simmer on a stove top, then remove from heat and let cool.
Golden Globes Dinner Plate
Golden Globes Vegan Alternative Dinner
Health
Alzheimer's Patients Live Longer with Red Wine
Danish scientists working at the University of Southern Denmark Odense under Dr. Sine Berntsen have found that patients with Alzheimer's disease had a 77% lower risk of dying from the disease if they were moderate drinkers. They studied 321 patients with early diagnosis of Alzheimer's. In comparing alcohol consumption, the research showed a significant drop in mortality among those drinking two or three glasses of wine a day. Those that drank heavily or not at all showed unchanged mortality rates. The findings were published in the journal BMJ Open.
Treasury to Show Nutrition
Treasury Wine Estates has announced that it will provide calorie information on its entire wine portfolio of wines. The information will include nutritional information similar to the information on grocery store food labels. However, there won't be labels on the bottles. The bottle label will refer consumers to a website where it will be listed. Treasury will start the program in Europe with the 2016 vintage with plans to expand it worldwide.
Tasting Notes
Each month we are out there looking for wines that "over deliver"; wines that offer more than others in their category and price level. We search out the wines that you can buy to help build your business; wines that make customers happy and keep them coming back. These are wines we rate as good buys and best buys. Check our notes. The opinions in the reviews are our own and unsolicited. We receive no compensation from wineries or brokers. This month there were several wine tastings that showed some very nice wines available at reasonable prices. The prices shown are approximate retails.
The Rhone Rangers Tasting was held at the newly renovated Reef in Downtown Los Angeles. There were some big wines poured. Some of those that were notable are listed below.
Lightning Vineyards Grenache Blanc 2014; a field blend of Grenache Blanc, Piquepoul Blanc, and Rousanne. The wine was fresh, juicy, and full on the palate; good with light foods or seafood. $27. Contact Randy Hester at lightningwinefarm@gmail.com or (832) 524-6553.
Fess Parker 2012 Syrah Rodney's Vineyard, $49. A very big wine, deep color, heavy nose, very full bodied. Contact Chris O'Hearn at cohearn@fessparker.com or (415) 858-4068.
Mounts Family Vineyards 2012 Carignane, $28, good color and nose, full body, from old vines planted in 1958. Contact Lana Mounts at lana@mountswinery.com or (707) 431-8082.
Vina Robles 2012 Petite Sirah, $17, good color and nose, deep flavors, very full body. We rate this as a Best Buy. Contact Mark Plasch at m.plasch@vinarobles.com or (805) 227-4812.
Michael David 2013 Syrah 6th Sense, $16, good color and nose, very full bodied. We rate this as a best buy. Contact vintage@michaeldavidwinery.com or (888) 707-WINE.
Industry Calendar
2016 Complete as announced to date
1/1 New Years Day
1/17-19 Winter Fancy Food Show – SFO
1/16 Super Organic & Natural Expo - LA
1/16-17 Asian American Expo – Pomona
1/16-17 Winter Wineland – Sonoma
1/18 MLK Day
1/21 Japan Foods Showcase – Culver City
1/27 Slow Wine Tour - LA
1/29 Grand Crus de Bordeaux – Santa Monica
1/31 Crave Expo – LA
2/2 Groundhog Day
2/1-7 Superbowl Week
2/7 Superbowl Sunday
2/9 Mardi Gras
2/10 Ash Wednesday
2/13 SF Wine Chronicle Grand Tasting - SFO
2/13-14 Garagiste Wine Festival Southern Exposure 2016 – Solvang
2/14 Valentine's Day
2/14 Rhone Rangers – Paso Robles
2/14 Garagiste Festival – Solvang
2/15 Presidents Day
2/16-19 Wine Writers Symposium - Napa
2/17 – WineFilm – Santa Monica
2/23 Santa Lucia Highlands – SFO
2/23-24 Unified Grocers Sell-abration – Long Beach
2/25-27 Zinfandel Experience – SFO
2/29 Family Winemakers – Del Mar
3/2 Kosher Wine and Food Experience – LA
3/7 New Zealand Wine Fair – SFO
3/7 Night Club & Bar Expo – Las Vegas
3/10-3/13 Natural Products Expo – Anaheim
3/13 Daylight Savings Begins
3/17 St Patricks Day
3/18-20 Zinposium – Paso Robles
3/18-21 Latin Food Fest – LA
3/20 Family Winemakers – Del Mar
3/21 Santa Lucia Highlands – Carmel
3/25 Good Friday
3/27 Easter
3/31-4/3 Taste Washington – Seattle
4/1 April Fool's Day
4/1-2 VinDiego – San Diego
4/11 Santa Rita Hills Road Trip
4/12-14 Cabs of Distinction – Paso Robles
4/20 Northern California Fresh Produce Expo – Pleasanton
4/22 Earth Day
4/23 Santa Barbara Grand Tasting – Buellton
4/22-24 Earth Day Food & Wine – Paso Robles
4/23-29 Passover
5/1 Santa Rita Hills Road Trip – San Diego
5/5 Cinco de Mayo
5/7 Kentucky Derby
5/8 Mothers Day
5/10 Mexican Mothers Day
5/14 Annual Winemasters - LA
5/18-20 Craft Beverage Expo – Oakland
5/21 San Francisco International Beer Festival - SFO
5/22 Santa Rita Hills Road Trip – Ventura
5/30 Memorial Day
6/6-7/5 Ramadan
6/18 Pinot Days – SFO
6/19 Fathers Day
6/25-26 LA Winefest – LA
7/4 Independence Day
7/19 Southern California Fresh Produce Expo – Anaheim
7/28 Fresno Food Expo – Fresno
8/ TBA Long Beach Grand Cru – Long Beach
8/12-15 Latin Food Fest – San Diego
8/17-18 Unified Grocers Expo – Long Beach(tentative)
8/22-25 Natural, Organic & Specialty Foods – San Diego
8/27-28 Spirits Festival – San Diego
8/28-30 Western Foodservice Expo – LA
8/28-30 Sabor Latino – LA
8/28-31 Global Wine, Beer & Spirits
9/ TBA The Taste LA – LA
9/ TBA California Craft Beer Summit & Showcase – Sacramento
9/5 Labor Day
9/16 Mexican Independence Day
10/ TBA Mutual Trading Tasting - LA
10/31 Halloween
11/4-7 Garagiste Festival – Paso Robles
11/6 Daylight Savings Ends
11/11 Veterans Day
11/24 Thanksgiving
11/25 Black Friday
11/28 Cyber Monday
12/25 Christmas
12/24-1/1 Hannukah
12/31 New Year's Eve
Promotion Calendar
1/ National Hot Tea Month
1/10 Golden Globes
1/11 College Football Playoff Championship
1/13 National Peach Melba Day
1/17 National Hot Buttered Rum Day
1/24 Beer Can Appreciation Day
1/25 National Irish Coffee Day
New Legislation for 2016
Our industry has more laws controlling it than most industries. The State
Legislature and the ABC give us license privileges and can take them away. New alcoholic beverage laws were passed that will be effective in 2016. Many critical issues are pending. Do you know about them and are you prepared for the changes. Is your business safe? Members are encouraged to look through the Legislative Bulletin. If there is a new law that is a problem for your business, call the association office now. The CBRA is your voice in Sacramento. If you are not a member, join today. The CBRA is your only voice when it comes to new beverage laws.
Brands and Comments
The CBRA Newsletter has not accepted any payment from any of the brands mentioned
in this edition. The editor, Ron Ziff, welcomes comments at ron@cbraliquor.org
CBRA Membership Remains Open
Now, more than ever, access to your industry is important. The CBRA is California's
only statewide association of licensed retailers, and our membership continues to be
open for the first time in 20 years.
At CBRA we deal with licenses and regulations that affect the beverage business on a
daily basis. That's why CBRA offers practical solutions, unique products, services,
information, and timely advice for both large and small beverage businesses. With
reasonable fees, superior service, and associates that are easy to reach, CBRA helps you
to run your business better and easier. One of the most valuable services we offer is that
call to the ABC to ask your question. We can ask that question and keep you anonymous. That's something you just can't do yourself.
Join or renew your valuable membership today. You can't afford to delay.
California Beverage Retailers Association – California's Only Statewide Association of Licensees. We're #1!
If you would like to be removed from this email list, please email to
ron@cbraliquor.org with UNSUBSCRIBE in the subject line.