posted by
cbra
on
Mon, 02/08/2016 - 11:04
California Beverage Retailers Association
Beverage Bulletin
P.O. Box 56686
Sherman Oaks, CA 91413
(818) 693-5561
Ron Ziff, Editor
Ben Ziff, Publisher
February 2016
This Month's Stories Include:
Headline News Stories - Top Burgundy Surges Ahead of Bordeaux First Growths,
No More Hangovers! Huge Demographic Shift, More Mega-Mergers Coming, The Fate of Central Valley Vineyards, Drought Update
Celebrities in the Industry - Hines Ward, 50 Cent, Alfred and Melanie Tesseron, Robin Williams, David Beckham, Gordon Ramsay, Robert Redford, Benjamin Flajnik, Michael Benziger, Diane Keaton
Popular Culture - A George Costanza Bar, Seinfeld TV, Talladega Nights, Walking Dead, 99 Bottles of Beer wall poster, Playboy Mansion secret wine cellar and secret Prohibition bar, Jennifer Lawrence's red wine perfume
Books - Beer Pairing, Experimental Cocktail Club, Forager's Cocktails
Movies, Original Gravity, Saint Amour, Alan Rickman dies
Politics David Trone running for Congress
Wine - New Chinese Wine District, Resnick's Buy Another Winery, Gallo and IBM Develop New Farming Methods, SAG Awards Food and Wine, Mumm is Not the Word, Signed Miraval Wine Sold for Charity, Premier Cru Bankruptcy Scandal Fraud and the FBI, Big Romanee-Conti Theft, Big Bordeaux Theft, Why Not Refill? French Wine Fraud, Wine Meeting in Cuba, Wine Drinking May Decline,
California Altar Wine, Copyright 1855, Oldest Winery, Carmel Winery Sold,
Rioja Dispute, Costco Sells Most Wine, Building a Better Wine Judge, Before You Ask for a Date
Beer - Beer Drinkers Preferences, Craft Beer Sales Peak? The Queen of Beers, Beer Tax Must Be Collected, Coffee or Beer?, Beer and Yoga, Best Airport Brews
Cider and Hard Soda - Cider Sales Peak? Hard Soda Surges
Spirits - Smuggled Liquor, Diageo to Publish Nutrition Figures, Diageo and Explorers Settle Lawsuit, Rare Spirits Auction, Russian Imports Decline, It's 5 o'clock Somewhere, Whiskey Advocate Names 2015 Winners, Which is the Real Havana Club?
Other Foods and Beverages - Obama's Food Choices, Bottled Water for Flint, Berkeley Spends Soda Tax Money, New FDA Rules for Retail & Restaurants,
Pepsi Opens Restaurant, Drinkable Yogurt Grows, Making Money from a Burglary, Searching for Food Treasure, Only in California, Miscellaneous Food and Drink Facts
The Changing Market - Walmart Restructures Stores, Online Business Growth in 2015, The Last Mile, Order Uber Take Out
Recipes - Bourbon Pecan Pie
Health - Americans to Drink More than Brits, Benefits of Coffee Drinking
...and as always Tasting Notes and the Industry Calendar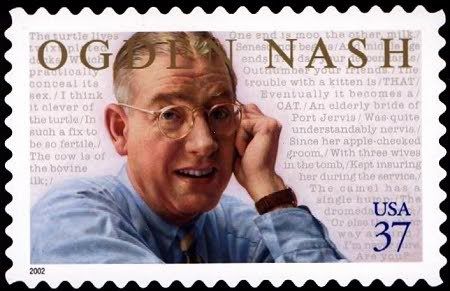 A Drink With Something In It
There is something they put in a highball
That awakens the torbidest brain,
That kindles a spark in the eyeball,
Gliding singing through vein after vein.
There is something they put in a highball
Which you'll notice one day, if you watch;
And it may be the soda,
But judged by the odor,
I rather believe it's the Scotch.
-Ogden Nash
Headline News Stories
Top Burgundy Surges Ahead of Bordeaux First Growths
A case of Domaine Romani-Conti (DRC) 1990 sold at a Hong Kong auction for HK$1,592,500 ( USD $200,000). The sale took place at Zachy's Auction on January 16. At the same sale a case of Petrus 2005 sold for HK$245,000 and an Imperial of Chateau Lafite 1982 went for HK$159,250.
New York auction house Acker, Merrall, and Condit held a Hong Kong sale that saw 3 lots of DRC draw record prices. 3 bottles DRC 1990 HK$370,500 (USD $47,806), 3 bottles DRC 1990 HK$345,800 (USD $44,619), and 3 bottles DRC 2005 for HK$321,100 (USD $41,432). Two cases of Eschezeaux 1996 and 1999 each sold for HK$271,000 (USD $35,508). Three lots of La Tache also sold in the top 10 lots.
No More Hangovers!
Kim Jong Un's North Korea has done it again! As if H-Bombs and ICBM's weren't enough. Now they have come up with Hangover Free Alcohol. The product is called "Koryo." The exact formula is a secret, but it was disclosed that the special hangover free properties are the result of a blend of Ginseng and Burnt Rice. The Supreme Leader personally supervised the research and is taking credit for the invention.
Huge Demographic Shift
In 2015 there has been a sea change in spending demographics. Millenials became the biggest spending group, overtaking aging Baby Boomers for the first time. Their purchases seem to be motivated differently. They have in-depth knowledge of products, read labels, are looking for quality, and are anxious to seek out and try new things. These are the perfect customers for a product market that has become globalized. The Census Bureau says there are 83.1 million Millenials born between 1982 and 2000. Only a portion of this group is drinking age. The rest will be old enough over the next few years.
More Mega-Mergers Coming
Rumors are flying about more mega-mergers. In 2015 3G Partners took over Heinz and Kraft Foods and then merged them. 3G's AB/Inbev is in the process of taking over SAB Miller. What are 3G's next targets? For the last several months there have been rumors that Pepsi could be next. It has had sales, profit, and organization issues. It would fit into 3G's pattern; the company is ripe for cost cutting; its sales and distribution could be combined with AB/Inbev. Now, rumors have surfaced that Diageo could be next. Diageo has had sales and profit issues. A takeover of Diageo might be easy; the company has already divested most of its breweries. There would be few anti-trust problems. Sales and distribution could be combined. Are these just rumors?
The Fate of Central Valley Vineyards
Over the past few years many central valley vineyards were torn out and replaced with almond groves. The question is: What will happen this year? Central valley grape prices plunged to $100 a ton as bulk wine sales slowed. At the same time the almond market has collapsed. The almond growers have brought too many acres into production; manufacturers and restaurants have switched to other nuts when almonds were too expensive; and Asian consumption has fallen as the Chinese economy has slowed.
Drought Update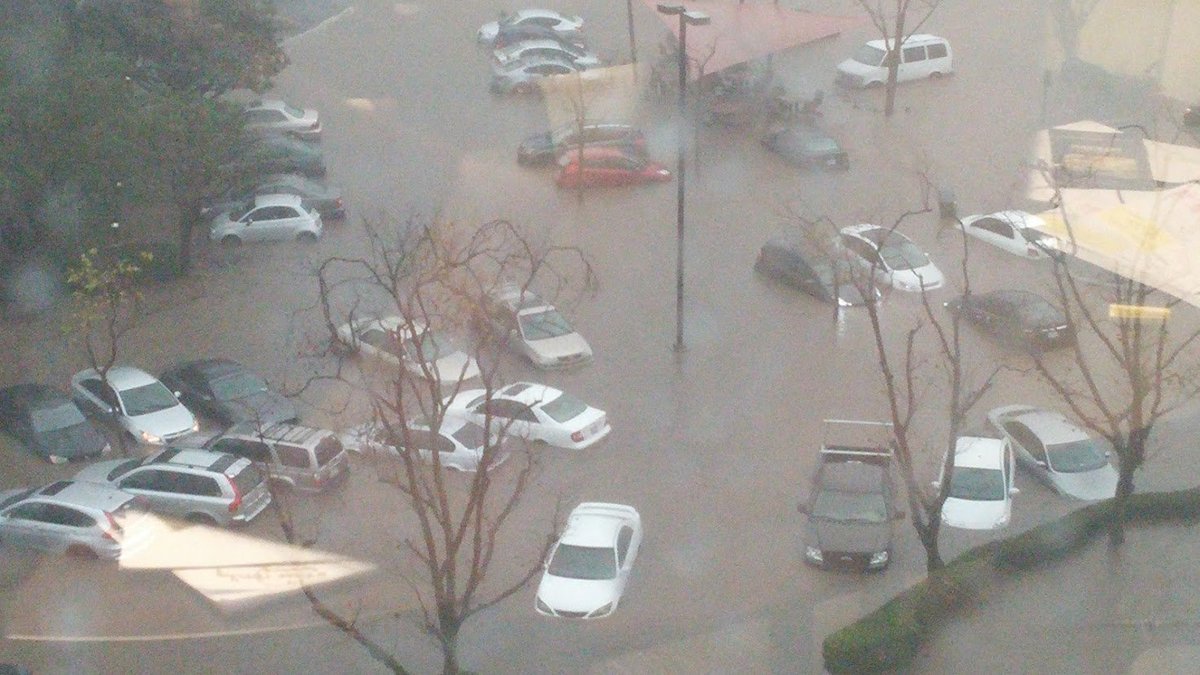 Flooding in Mission Valley near San Diego
El Niño's storms are showing the potential power of the Los Angeles River. When full and flowing the river can move 146,000 cubic feet of water a second. That's about 5 times the flow of the Colorado River.
The snowpack in the Sierras was 18.7 inches at the end of January. The deepest in 5 years. It will have to be more than 28 inches by April 1 to have a significant impact on the drought.
The National Weather Service reports that water temperatures in the Pacific are cooling. This could mean an end to the current El Nino storm pattern.
Celebrities in the Industry
50 Cent and Effen Vodka have forged a marketing partnership. 5O Cent will promote the brand at concerts, with videos, social media, and brand sponsored events. He says "Effen is the perfect example of liquid luxury, and it's taking over." The bottles will carry 50 Cent's signature in gold on the front label.
Villa Sorriso
Alfred and Melanie Tesseron, owners of Bordeaux fifth growth Pontet-Canet, have purchased Robin Williams Napa estate for $22.9 million. The Villa Sorriso estate is 693 acres in the Mayacamas Mountains. 18 acres are planted in Cabernet Sauvignon, Cabernet Franc, and Merlot. Pontet-Canet's French wines are all biodynamic. The same environmental practices may be observed in Napa.
David Beckham and Gordon Ramsay have partnered to open the Union Street Cafe and Bar in London.
Hines Ward, is the all time touchdown receiving record holder for the Pittsburgh Steelers, a Superbowl MVP, and the winner of the Mirror Ball Trophy on Dancing With The Stars Season 12. He also owns Vines Wine Bar in Pittsburgh's Seven Fields district. In January he introduced his "86" 2013 Napa Valley Cabernet. The wine is a blend of Cabernet Sauvignon, Cabernet Franc, Petit Verdot, with a light touch of Zinfandel. It sells for $70 by the bottle. The wine is made from Napa grapes that are shipped to Enginehouse 25 Winery in Pittsburgh.
Robert Redford opened Zoom Restaurant in Park City, Utah back in 1995. It has a top drawer wine list. Selections include Dom Perignon, Liberty School, Beringer, Schramsburg, Jordan, and something called Newman's Own.
Celebrity leaving the industry. Benjamin Flajnik, the Sonoma winemaker that appeared on the 2011 season of The Bachelorette, and his partner Michael Benziger have sold their Envolve Winery to a Canadian firm. Benjamin tried to win Ashley Hebert's heart on the TV reality show. In the first episode he arrived in a limo and presented her with a bottle of Envolve 2010 Sauvignon Blanc. The wine has rated well with critics and is noted for it bright, fresh, citrusy flavor.
Diane Keaton put together a team to make her dream wine, a chilled red bend. She found Bruce Hunter, Managing Director at Shaw-Ross Importers and winemaker Bob Pepi. Together they make The Keaton, a blend of Petite Sirah, Syrah, and Zinfandel. She insisted that the wine have a twist off cap. It is suitable to pair with any food, is served over ice, ans sells for $15. It was introduced at a fundraiser held at UCLA's Hammer Museum.
Popular Culture
A George Costanza Bar opened in Melbourne, Australia in time for New Year's Eve. It's a bar about nothing. The bar features pictures on the walls from the TV show Seinfeld. At George's Bar you can order drinks like "The Hand Model" or an "Art Vandelay" sandwich. Quotations from George C adorn the walls, "It's not a lie, if you believe it."
Maybe George's Bar could use some of the Seinfeld inspired beers from Barrage Brewing in Farmdale, New York. Yada, Yada, Yada is a brown ale made with Snickers and The Restivus is flavored with Chocolate Babka, really!
The Stay Classy New York Bar has opened on the lower East Side. It features all things Will Ferrell. There are posters from Talladega Nights and drinks like a Smelly Pirate Hooker.
The Terrapin Brewing Company in Georgia is making a Walking Dead Blood Orange IPA in honor of the TV show Walking Dead. It's a red India pale ale brewed with blood orange peel.
Pop Chart Lab sells a 99 Bottles of Beer wall poster. The poster has pictures of the beers divided into groups of Ales, Lagers, Stouts, etc. Each beer picture is covered with a gold foil that can be scratched off to track which beer you drink. The 18" by 24" poster sells for $35 plus shipping; beer not included.
The Playboy Mansion in the Holmby Hills district of Los Angeles is for sale $200 million. The mansion includes all the things you would expect; 20,000 square feet, 29 rooms, a theater with a pipe organ, gym, tennis court, four offices, a kitchen with walk-in refrigerator and freezers, a great hall, a two level master suite, several outbuildings, swimming pools and a grotto, sited on 5 acres of the most expensive real estate in the city, and most importantly it has a wine cellar that is accessed through a secret door and secret bar room that served guests during Prohibition. The estate was originally built by Arthur Letts Jr, heir to Broadway Department Stores.
Actress, Jennifer Lawrence, wears a red wine perfume. She says "My signature scent is red wine. I smell like Cabernet."
Books
Beer Pairing, by Julia Herz and Gwen Conley, Voyageur Press, 216 pages, $25. Tips on pairing styles of beer with foods, how to host a beer dinner, cooking with beer. Herz is from the Brewers Association and Conley is from Port Brewing Company.
Experimental Cocktail Club, by Romee Goriainoff and Pierre-Charles Cros, Olivier Bon, Xavier Padavoni, the owners of bars and restaurants in Paris, London, New York, and the Spanish island Ibiza; published by Mitchell Beazley; 224 pages, $29.99. Includes the recipes for 85 proprietary drinks, as well as old standards. Tells the inside stories and secrets of the drinks establishments. Gives ingredients, tinctures, infusions, and syrups.
Forager's Cocktails, by Amy Zavatto, Sterling Epicure, 144 pages, $14.95. Tells how to go into the woods and come back with natural wildflowers and herbs, and how to use them in mixing drinks. What to look for in Winter, Spring, Summer, and Fall. How to use them in syrups and infusions.
Movies
Original Gravity a documentary film by Kevin Karaca and Tony Manola chronicles the growth of Craft Beers in London. It will be screened in London pubs and breweries this month.
Alan Rickman, who portrayed Steven Spurrier in the movie, Bottle Shock, has died. The movie told the story of the "Judgment of Paris" in which Stags Leap Cabernet Sauvignon beat the Top French Bordeaux and Chateau Montelena beat the French White Burgundys. Steven Spurrier hosted the competition.
Gerard Depardieu stars in a new French wine film, Saint Amour, which will be released in March. Belgian actor, Benoit Poelvoorde, also stars in the film. The story centers around two men who decide to give up their daily lives and tour the French wine country. The father (Depardieu) wants his son to take over the cattle ranch. The son (Poelvoorde) is more interested in wine.
Politics
David Trone, who founded Total Wine with his brother Robert in 1991, is running for Congress as a Democrat in Maryland's 8th District. He says "I have the business experience to bring practical solutions to Congress."
Wine
New Chinese Wine District
Over the last year we've read a lot about increasing consumption of beverages in China. The market price on wines spiked, then crashed. In the meantime, some enterprising winemakers have gone ahead and planted 80,000 acres with wine grapes in the last decade. Ningxia, perched on the edge of the Gobi desert has become the 5th largest wine producing area in the world. The Chinese are busy bringing water and reclaiming desert land with plans to expand the vineyards to 160,000 acres by 2020. The flavors are reported to be new and delicious. It may not be long before wine exports may start flowing the other way to France and Napa. We could soon begin to see Chinese wines on the shelves of California stores.
Resnick's Buy Another Winery
Landmark Vineyards and Winery has purchased Sonoma County's historic Hop Kiln Winery. The winery has been in business since the late 1800's. This is the third winery to be bought by billionaires Stewart and Lynda Resnick who also own Justin Winery.
Gallo and IBM Develop New Farming Methods
E&J Gallo is partnering with IBM to train IBM's computer, Watson, to schedule watering of Gallo's grape vines. You may remember Watson from the TV program Jeopardy. Watson had some limitations, but still beat the best of Jeopardy's champions. In this experiment Watson is using satellite data and scheduling watering for groups of 40 to 50 vines. The computer is connected directly with the pipes and valves that deliver irrigation and schedules measured amounts for each area. From Gallo's point of view, the object is to conserve water while still providing the exact amount of water needed by each vine. Past practices used larger amounts of water across entire vineyards, while individual vines sometimes didn't get enough. From IBM's point of view, the object is to develop systems that can be used in agriculture worldwide.
SAG Awards Food and Wine
Taittinger was the Champagne for the Screen Actors Guild Awards again this year. 500 bottles were poured. The stars also ate 450 pounds of salmon, 500 pounds of Jidori Chicken, 300 pounds of heirloom carrots, 1,800 Meyer lemons, 800 strawberries, and 5,000 slices of bread. It was all washed down with 1,200 bottles of Beringer and Matua wines from Treasury Wine Estates, 150 bottles of Patron Blanco Tequila, and 722 bottles of Fiji Water.
Jidori? For those not familiar with the LA restaurant scene, it is a hybrid chicken that is pampered, allowed free range, fed a vegetarian diet, and delivered to restaurants within 24 hours of slaughter. It is sometimes served raw.
Mumm is Not the Word
Formula One Racing ended the sponsorship of Mumm and is replacing it with Moet & Chandon.
Signed Miraval Wine Sold for Charity
A 60 gallon cask of Miraval organic white wine sold for €10,100 ($18,000) at a charity auction. The cask was signed by the vineyard owners: Brad Pitt and Angelina Jolie. The proceeds will go toward a sustainable village project in the Democratic Republic of Congo's Kivu region.
Premier Cru Bankruptcy, Scandal, Fraud, and the FBI
Premier Cru Wines in Berkeley has filed for Chapter 7 Bankruptcy. Under Chapter 7 the assets will be liquidated and the proceeds divided among creditors. Debts are more than $70 million with assets of about $7 million. Most is owed to about 9,000 customers. The wine shop was being sued for $3 million by eight foreign customers for failing to deliver wine that was paid for. In addition a credit card processor has filed suit for $228,000 for chargebacks paid to consumers who never received their wine. That suit also alleges fraud. A bankruptcy filing will not shield a company's owners from liability for fraud. As bankruptcy proceedings opened, Federal Judge Roger Efremsky ordered the company's owner, John Fox, to turn over a computer to the receiver, Michael Kasolas. The computer had operated outside of the company's accounting system and contained secret emails. Among the complaints are allegations that Premier collected money for wines that were never ordered. In a new development, the FBI has taken over complaints and is investigating the firm. The FBI is making no comments at this time. Any inquiries should be directed to the FBI's Oakland office at (510) 808-2600.
Big Romanee-Conti Theft
Last October a shipment of French Burgundy left Le Havre destined for Ontario, Canada. When it arrived it was missing 31 cases of Domaine Romani-Conti valued at more than $50,000 each. Later two Magnums of DRC showed up on Le Bon Coin, a French website that operates like eBay. Police in Dijon and Versailles launched an undercover sting that netted two fences, a middleman, and a French dock worker. The police found a lot of Grand Crus at the dock workers home. He claimed he was just a wine collector. He was arrested.
Big Bordeaux Theft
The night of January 14 thieves forced open the cellar door of Chateau La Croix in Pomerol. 1500 bottles worth $55,000 were stolen. The police found the stolen van that was used in the heist. It had been torched to hide any clues. The police have no other leads.
Why Not Refill?
Wineries that hold tastings in China have taken to smashing the empty bottles to keep them out of the hands of people who would refill and sell them. A thriving market for empty wine bottles has developed in China.
French Wine Fraud
French winemaker Loic Pasquet has been ordered to pay back subsidies he received for his Liber Pater wines. The subsidies were to be used to promote the wines in Russia, China, and Brazil. Instead the subsidies were pocketed. Pasquet is noted for growing long forgotten varieties of grapes in his vineyards, which he does. However, his wines, which sell for over $5,000 a bottle, were found to be made from Merlot and Cabernet Sauvignon. He was also found guilty of fraud. He was fined €10,000, ordered to pay back €230,000 in addition to €300,000 already returned, and was given a 1 year suspended prison sentence.
Wine Meeting in Cuba
California wineries held the first ever California Wine Symposium February 1 and 2. What was unusual about the event is that it was held in Havana, Cuba. One hundred winemakers participated.
Wine Drinking May Decline
Silicon Valley Bank predicts that wine consumption in the U.S. will decline for the first time in more than 20 years. In its annual State of the Wine Industry Report, the bank says the decline will be caused by a generational shift in consumption of beverages. It says premium wines priced $20 and up will continue growth. But wines under $6 will lose substantial sales volume. It goes on to say that Gen X consumers will surpass Baby Boomers as buyers by 2021 and that consumers are starting to look for lower alcohol wines.
California Altar Wine
Trappist Monks have been making altar wines since 2004 at the New Clairvaux Winery in Vina, California, about 50 miles south of Redding. The sale of wines finances the monastery. The monks spend their days behind a walled compound praying, singing hymns, and tending their vines. The New Clairvaux Winery has one employee and she is a woman. Aimee Sunseri is the winemaker. She schedules the work in the vineyard around the monks daily prayers. The only time the monks change their prayer schedule is during the harvest.
Copyright 1855
The Bordeaux vineyards that make up the Grand Cru Classe' have jointly filed a copyright with the European Union for rights to the term "1855" as it applies to wine. The Bordeaux 1855 Classification dates back to the Universal Exhibition held in Paris in 1855 at the request of Napoleon III.
Oldest Winery
Casa Madero in Coahuila, Mexico is "La Vinicola Mas Antigua de America" (The oldest winery in the Americas). It was founded in 1597. It pre-dates most of Bordeaux by quite a bit and Napa by a few hundred years. The area is generally very hot, but these vineyards are located at 4500 feet. The winery makes reds Shiraz, Malbec, Merlot, and Cabernet Sauvignon. White wines are Chardonnay, Sauvignon Blanc, and a "Cosecha Tardia" (Late Harvest) made from 95% Semillon and 5% Gewurtztraminer. The vines were originally planted by Spanish Missionaries for sacramental uses. In the early years the wines turned out better than those made in Spain. The wineries back home in Spain got the Crown to tax the Mexican wines heavily in order to keep out the competition.
Carmel Winery Sold
Carmel Winery in Israel has been sold to a group of investors. The winery and vineyards were founded by Baron Edmond de Rothschild, owner of Lafite, in 1882. The sale includes the two largest wineries in Israel at Richon Le Zion near Tel Aviv and Zichron Yaacov near Haifa.
Rioja Dispute
Juan Carlos Lopez de Lacalle has withdrawn his top rated Spanish vineyard from DOC Rioja. The move came after Rioja authorities consistently refused to allow single vineyard designation on wine labeled "Rioja". Now the wine labels will be labeled without the Rioja designation. The 2004 vintage received a perfect 100 from critic, Robert Parker, and was named 2014 Winery of the Year by Spanish wine guide, Guia Penin.
Costco Sells Most Wine
Costco has become the largest wine retailer in the country. The company had a total sales volume of $100 billion in 2014. Of that $3.1 billion was wine and spirits. The wine department is overseen by Annette Alvarez-Peters, a past president of the California Beverage Retailers Association.
Building a Better Wine Judge
Tech Crunch reports that researchers in Denmark have created an "artificial tongue" that can judge wines more accurately than a wine critic. At Aarhus University a nanosensor measures the interaction between the salivary proteins and the tannin in wine.
Before You Ask for a Date
...and finally. Are you nervous on a first date? Gerard Basset is here to help. He will match French wine choices to your personality. He claims to have made wine matches for movie stars and the rich and famous. According to him the choice could be glamorous and chic or cooler and laid back.
Beer
Beer Drinkers Preferences
CivicSource reports numbers on the U.S. beer market. 58% of adults 25 and older drink beer. 44% prefer bottles, 33% prefer draft, 8% prefer cans. Customers that prefer cans are mostly female and 35 to 54 years old. Those that prefer draft are mostly male and 25 to 44 years old. Those that prefer cans are mostly male, 45 to 54 years old, and blue collar.
Craft Beer Sales Peak?
The Craft Beer market may be maturing. According to Neilsen the segment grew 20% in 2014 and only 8.7% in 2015.
The Queen of Beers
Lupe Rose and Sonia Shelby have started the She Beverage Company in Santa Monica to produce 10 beers that are designed for women. They bill their company as "The Queen of Beers." Budweiser has filed suit saying that the slogan infringes on Bud's "King of Beers" designation.
Beer Tax Must Be Collected
Belgium has been offering multi-national corporations special tax breaks for the last 10 years. The European Union (EU) has ordered the practice to be stopped immediately. Belgium based AB/Inbev is one of the companies that has been taking advantage of the tax break. What is unclear is whether the EU will require the full taxes for the period to be paid, how the repayment would work, and how much is owed. What is certain is that hundreds of millions are involved.
Coffee or Beer?
Starbucks is testing Dark Barrel Latte. The non-alcoholic drink is claimed to taste like Guinness Stout. An internal company memo that was leaked says it was inspired by the rise of Craft Beer.
Beer and Yoga
Ladies usually have a hard time getting their mates to a yoga class. Now BrewAsanas offers the perfect solution. Yoga classes move through a sequence of postures (asanas); then focus on breathing (pranayama) to invigorate, strengthen, and restore the body; finally the class moves into the tap room to enjoy some time with a cool mug of suds and a social hour. What could be a better than this combination of Beer and Yoga? Sign up at several sites around the country to join this growing trend: BrewAsanas, Butts & Beers, Yoga Bear and Golden Road are right here in California.
Best Airport Brews
Waiting for your flight out will never be the same. Here is a list of the best beer pubs in airports around the country. Print this section to keep for handy reference when you fly.
San Diego – Terminal 2 has Stone Brewing Company with 12 kinds on draft and a full menu; Urban Crave offers 20 drafts and if you want to go cheap, a tall boy in a brown paper bag. Terminal 1 has Craft Brews on 30th Street has Green Flash Pale Ale.

LAX – Golden Road Brewing's Point the Way IPA and Get Up Offa that Brown Ale are poured at 3 restaurants in this Los Angeles gateway; Home Turf in Terminal 1, Gladstone's in Terminal 3, in Terminal at both Home Turf and Redondo Brewing Bar.

San Francisco – Terminal 3. Here you can find Anchor Brewing and Gordon Biersch

Philadelphia International – Terminals B & C. Jet Bar & Grill serves 22 ounce mugs of 48 different Craft Beers. Chickie & Pete's has sports on a big screen TV along with crab fries and Craft Beer.

Tampa International – Cigar City Brewing in Terminal C is the only bar in the country offering beer brewed right in the airport. There you can get Tony Jannus Pale Ale; named for the first pilot to fly from St Petersburg to Tampa in 1914. Sam Adams and Stella Artois also have outlets here.

Portland International – In terminals A & E Laurelwood Public House and Brewery pours Red Range Ale, Space Stout, and Organic Tree Hugger Porter. In terminal D Rogue Ales Public House has 11 styles of beer.

John F Kennedy International – Terminal 2 has BRKLYN Beer Garden with 20 drafts from local brewers. Terminal 3 has Stone Rose Bar & Grill. In Terminal 4 you'll find Sam Adams Bar and Tigin Irish Pub.

Logan International – Terminal A has Harpoon Tap Room. Terminals B & E have locations for Nantucket's Cisco Brew Pub. In terminal C Beer Works serves Back Bay IPA and Beantown Nut Brown Ale.

Minneapolis/ St Paul – In Concourse C & D Rock Bottom Brewery reigns. In Concourse F find Ike's on Summit with 7 beers from Summit. Terminal G has 4 beer bars: Mimosa, Minnibar, Twinburger, and Mill City Tavern. Between them you can try 15 local beers.
Cider and Hard Soda
Cider Sales Peak?
Cider sales growth seems to have peaked. The category grew 90% in 2012, 89% in 2013, 71% in 2014, and only 11% in 2015.
Hard Soda Surges
The hard soda market continues to heat up as MillerCoors started shipping Henry's Hard Ginger Ale and Hard Orange Soda. The drinks are 4.7%ABV. The company is looking for a repeat of its successful launch of Red's Apple Ale in 2014.
Spirits
Diageo to Publish Nutrition Figures
Diageo has launched a new website, DRINKiQ.com#sthash.HQJ768rP.dpuf, in order to enhance consumer transparency. It will list the breakdown of calories, carbohydrates, protein, saturated fat, sugar, caffeine, and sodium on all its products. Diageo had previously announced that it would be voluntarily providing nutritional information.
Smuggled Liquor
A man was caught entering Saudi Arabia from Bahrain with 14 bottles of smuggled liquor taped to his legs and hidden under his robe. Customs officials took the picture above and tweeted it on their Twitter account. Alcohol is forbidden in the kingdom and the punishment is severe. The man could face several years in prison and 360 lashes.
Diageo and Explorers Settle Lawsuit
Diageo has reached a settlement with The Explorers Club. Diageo has been selling Explorers Club Johnnie Walker Scotch through its duty free international unit since 2012. The Explorers Club had sued Diageo claiming that the company is unfairly profiting from the use of the name. The two have agreed to "jointly promote exploration and discovery." The Explorers Club membership has included Neil Armstrong and Buzz Aldrin. Sales of Johnnie Walker Explorers Club have reached $50 million. Financial terms of the agreement were not released.
Rare Spirits Auction
The French auction house, Artcurial, will sell a number of special bottles this month at the Monaco Yacht Club. Included are a bottle of Royal Salute Tribute to Honour, 45 year old Chivas Royal Salute with 400 diamonds encrusted on the bottle (est. $215,000); Hennessy Beaute du Siecle Cognac in a crystal box with a Baccarat Carafe and 4 hand blown glasses (est. $215,000); a Methuselah of Arik Levy Limited Edition Hennessy XO (est. $27,000); a magnum of Remy Martin Louis XIII Black Pearl (est. $29,000); Mandinina Rum 1895 from St Pierre de Martinique (est. $2150); and Chateau du Bourdieu Armagnac (est. $1200).
Russian Imports Decline
The Moscow Times reports that the crackdown on binge drinking in Russia has resulted in major declines in the importation of alcohol. Whisky was down 22%, Rum down by 35%, Wine off 32%, and Sparkling Wine off 33%. The biggest drop was a 75% decline in Vodka imports caused by a ban on Vodka from Ukraine.
It's 5 o'clock Somewhere
Few Spirits has launched a new Few Breakfast Gin infused with Earl Grey Tea as well as the traditional juniper, coriander, and citrus. The Gin is touted as being good with breakfast or brunch.
Whiskey Advocate Names 2015 Winners
These are the Whiskey Advocate 2015 winners. Click on each one to get the details.
Craft Whiskey of the Year: Dad's Hat Pennsylvania Rye
American Whiskey of the Year: John E. Fitzgerald Very Special Reserve 20 year old
Canadian Whisky of the Year: Crown Royal 75th Anniversary Blend
Irish Whiskey of the Year: Midleton Ghaelach: Grinsell's Wood
Japanese Whisky of the Year: Hibiki Japanese Harmony
World Whisky of the Year: Spirit of Hven Sankt Claus
Blended/Blended Malt Whisky of the Year: Blue Hanger 11th Limited Release
Speyside Single Malt of the Year: Tamdhu Batch Strength
Islay Single Malt of the Year: Ardbeg Supernova 2015 Release
Highland Single Malt of the Year: Dalmore 21 year old
Lowlands/Campbeltown Single Malt of the Year: Springbank Sherry Wood 17 year old
Lifetime Achievement Awards: Dennis Malcolm and Jim McEwan
Distiller of the Year: MGP Ingredients
Which is the Real Havana Club?
Pernod Ricard and its partner Cubaexport have received approval of a copyright on Havana Club Rum. Havana Club sells 4 million cases worldwide. Pernod Ricard estimates U.S. sales would be about 1.7 million cases if the embargo is lifted. Bacardi opposed the application. Bacardi has sold Havana Club Rum produced in Puerto Rico for the past 10 years.
Other Foods and Beverages
Obama's Food Choices
According to Reggie Love, former body man(personal assistant, gatekeeper, and basketball partner. Love played basketball for Duke.) to President Obama, he has his own eating habits. He doesn't like mayonnaise. Eats sandwiches and avoids salads because it is easier when he's on the go; which is all the time. Will eat nothing battered, nothing fried, no fast food, no soda, no chewing gum that's wrapped in little papers (he will chew gum from blister packs). He does eat trail mix, but picks out the M&M's and gives them away. The big news is that he will not drink coffee. The question is "How can a president stay awake 24/7 without caffeine?"
National Guard distributing water
Bottled Water for Flint
The 99,000 residents of Flint, Michigan are being given bottled water distributed by the National Guard since water from the Flint River was found to be contaminated with lead. The city has since changed to other sources. But, it is feared that pipes that distribute water are also contaminated. Walmart, Coca Cola, Nestle, and PepsiCo have pledged to deliver 6.5 million bottles of water to Flint schoolchildren. Actor, Mark Wahlberg, and rap artist, Sean Diddy Coombs, have pledged to send 1 million bottles of their AQUAhydrate water from California to Flint. The first 5,000 cases have already been delivered.
Berkeley Spends Soda Tax Money
The Berkeley City Council has allocated $1.5 million to a campaign to reduce the consumption of sugared sodas. The amount is roughly equivalent to what the city has collected in the first year of taxing the sodas.
New FDA Rules for Retail & Restaurants
The FDA implemented the FSMA (Food Safety Modernization Act) late last year. The purpose was to ensure the safety of food products sold to the public. The FSMA now requires federal, state, and local agencies to work together to ensure the safety of the food supply. Most of the new provisions apply to farmers, distributors, and importers. However, some of the regulations apply to retailers and restaurants. The most important of those involve safety plans, recalls, and traceability. Every food organization is required to have a written safety plan and review it at least every 3 years. Keep in touch with your trade association to get and keep a copy of a standard plan. Recalls have been voluntary. Now the FDA can make them mandatory. To ensure traceability, make sure your suppliers are tracking where foods and beverages originate. Be wary of smuggled food items. Although they may be safe, they are prohibited. Everyone along the supply chain could be held responsible for a violation. During the recent holiday season the FDA and Customs authorities cooperated in seizing shipments of fresh tamales being smuggled from Mexico.
Pepsi Opens Restaurant
Pepsi has quietly opened a restaurant in New York's hip meatpacking district. The 5,000 foot eatery is dubbed Kola House and will be used to test new food and beverage products for the company. The name Pepsi does not appear anywhere in the restaurant. Pepsi has suffered recently as Americans are turning away from sugared drinks. Sales dropped 5% in the 3rd quarter of 2015.
Drinkable Yogurt Grows
Drinkable Yogurt is one of the fastest growing beverages as consumers search for healthy food and drinks. Also growing are Kefir, Lassi, and Aryan. The three related fermented drinks are growing at substantial, but lower rates.
Making Money from a Burglary
Tacos and Frijoles in Las Vegas had an overnight burglary. Greg Carlson, manager, made a Youtube video from the security camera footage. The video went viral, creating lots of free publicity, business is now booming. You can see the video at https://www.youtube.com/watch?v=kzdv4FUHqP8
Searching for Food Treasure
Amigo Bob Cantisano has been on a treasure hunt across Northern California and Nevada. He searching for heirloom fruit trees that were planted at homesteads and stage coach stops more than a century ago. The trees he finds are heirloom varieties that are still producing bushels of fruit without watering, pruning, or spraying. He takes cuttings from the trees and grows them for sale at his nursery. His feeling is that these trees offer a diversity of hearty varieties that could be a solution to future agricultural problems. By planting a diverse group of trees farmers won't have a crop wiped out by a single pest, a disease, or a drought.
Only in California
...and finally. Only in California. If your looking for a lunch menu that's a little different, why not try Ali Haider's 786 degrees. This restaurant serves all-Halal Neapolitan style pizzas. Haider quit a job as a spokesperson for Lamborghini cars to pursue his passion for making pizza. His Bombay Tikka Masala Pizza was a prize winner at the International Pizza Expo in Las Vegas. You could also try the El Chapo Pizza. It's made with Halal Mexican Chorizo, grilled onions, San Marzano tomatoes, Monterey Jack Cheese, and Himalayan Pink salt. 786 degrees, 8879 Laurel Canyon Blvd., Sun Valley.
Miscellaneous Food and Drink Facts
What country consumes the most caffeine? Answer: Sweden. Swedes consume an average of 388 MG of caffeine per person every day.
What country consumes the most alcohol? Answer: Belarus. Every person over the age of 16 drinks an average of 4.62 gallons of alcohol per year.
What country consumes the most food per capita? Answer U.S. Every man, woman, and child in the U.S. eats an average of 3,770 calories per day.
The Changing Market
Walmart Restructures Stores
Walmart will be closing 269 stores. About 160 in the U.S. and the rest internationally. All small format Walmart Express stores are among the closures as this pilot program is discontinued. CEO, Doug McMillon, says the closings follow an extensive analysis of the entire chain and represent less than 1% of square footage and sales. The company will focus on new Supercenters, Neighborhood Markets, and eCommerce programs like Pickup. The company will provide severance pay and assistance in finding new jobs for 16,000 employees.
Online Business Growth in 2015
Online business grew by 12.7% during the holiday season 2015. 51% of all new online business was done by Amazon. The entire rest of the country did 49% of new online business. Amazon Prime membership grew by 3 million the week before Christmas. At the end of 2015 38% of all U.S. households belonged to Amazon Prime.
The Last Mile
Delivery fulfillment costs for eCommerce are becoming a problem for retailers. UPS, Fedex, and the U.S. Post Office have all raised rates. Meanwhile, Amazon, is buying Colis Prive', a French shipping company in a move to do its own shipping. Amazon has been experimenting with various delivery options including its own fleet of trucks, Uber type drivers, taxis, newspaper couriers, and drones. Amazon's object is to control its own delivery and free itself of dependence on UPS. Amazon pays UPS more than $1 billion a year. All of these efforts are about making the last mile efficient. Amazon's website says "The vision for Amazon Logistics Technology is simple: to build Earth's best delivery network. Our Logistics Technology team optimizes Amazon's logistics network to reduce costs and pass those savings on to our customers."
Order Uber Take Out
Beginning this month Uber will be delivering meals. By using an app, UberEats, customers can order the full menu from dozens of restaurants in 10 cities including Los Angeles.
Recipes
Bourbon Pecan Pie
Ingredients
For the Crust
15 shortbread Pecan Sandies

6 tablespoons all-purpose flour

3 tablespoons unsalted butter, plus 1 tablespoon for buttering the pie plate
For the Filling
6 tablespoons unsalted butter

1/3 cup Water

1/2 teaspoon kosher salt

3/4 cup dark brown sugar

3 tablespoons bourbon

1 1/2 teaspoons vanilla extract

3 large eggs

1 1/2 cups (6 ounces) toasted and chopped pecans
Preparation
The Crust
Preheat the oven to 350 F. Butter a 9-inch pie plate.
In a food processor, pulse the cookies and flour together until pulverized. Add the butter and process until the mixture resembles wet sand. Press the mixture into the bottom and up the sides of the prepared pie plate. Bake until lightly browned, 12 to 14 minutes. Let cool completely on a wire rack.
The Filling
Put the butter, brown sugar, and salt in a saucepan and cook over medium heat, stirring occasionally, until the sugar is melted, about 2 minutes. Whisk in the water, bourbon, and vanilla. In a bowl, whisk the eggs together. Temper the egg mixture: slowly whisk the warm butter-sugar mixture into the eggs. Pour the tempered egg mixture back into the saucepan with the butter-sugar mixture and reduce the heat to medium-low.
Cook, stirring constantly, until the mixture is glossy, about 3 minutes. Remove from the heat and stir in the pecans. Pour the mixture into the crust and bake until the center feels set yet soft, 30 to 40 minutes. Let cool completely on a wire rack; this will take about 4 hours. Serve at room temperature.
Health
Americans to Drink More than Brits
The U.S. Department of Health and Human Services and Department of Agriculture jointly issued 2015 Dietary Guidelines for Americans. The report says moderate drinking prevents heart disease. The guidelines call for moderation with a daily limit of one drink for women and up to two drinks for men. It further defines a drink as 0.6 fluid ounces of pure alcohol, or the equivalent: 12 ounces of beer, 5 ounces of wine, 1.5 ounces of 80 proof liquor. Meanwhile, the UK Department of Health under Chief Medical Officer Dame Sally Davies issued a quite different recommendation at the same time. That report says drinking alcohol at any level is unsafe and recommends no more than one drink per day.
Benefits of Coffee Drinking
The 2015 Dietary Guidelines for Americans says that drinking 5 cups of coffee a day is associated with health benefits including lowered risk of heart disease and type 2 diabetes.
Tasting Notes
Each month we are out there looking for wines that "over deliver"; wines that offer more than others in their category and price level. We search out the wines that you can buy to help build your business; wines that make customers happy and keep them coming back. These are wines we rate as good buys and best buys. Check our notes. The opinions in the reviews are our own and unsolicited. We receive no compensation from wineries or brokers. This month there were several wine tastings that showed some very nice wines available at reasonable prices. The prices shown are approximate retails.
The SLOW Wine Tasting 2016 was held in Hollywood and featured a vast array of fine Italian Wines. There were many at very reasonable prices.
Ferrari e Bianco Catarrato 2014 was light, dry with a touch of sweetness, clean, clear, straw colored. $15. Contact Per La Vita (909) 767-0233.
Torre del Beati showed some exceptional wines. The Trebbiano D'Abruzzo Bianchi Grilli 2013 was light, and fresh. The wine is the 3rd harvest from young vines panted in 2008. Aged in Acacia wood it was complex with character. $30. Montepulciano D'Abruzzo Cocciapazza 2012 was made from hand picked and sorted bunches that yielded a full bodied soft red wine. $33. Contact Vinity Wine Company talk@vinitywinecompany.com or (510) 601-6010.
Tabarrini Adarmando 2014 was harvested from 100 year old vines. Full body, clean clear, good nose, this white has good legs. $26. Montefalco Rosso 2012 was from natural vines not grafted. A blend of Sangiovese, Barbera, and Sagrantino aged 1 1/2 years in barrel and 1 year in the bottle. $27. Contact Ramin Dabirian at Vitis Imports at Rramin@vitisimports.com or (310) 674-1112.
Planeta Noto Nero D'Avola Santa Cecilia 2012 was soft, medium bodied red, good nose and color. We rate this one as a Best Buy at $12. Imported by Palm Bay available at Southern Wine.
The Union Grand Crus de Bordeaux tasting at Santa Monica's Miramar Hotel showed that there can be really good wines from an average vintage. We don't show all retails on these because they have yet to be established. However, we expect 2013's to be offered at prices more reasonable than other vintages. The wines listed are our picks as the best to drink from 2013.
Chateau La Tour Blanche, Sauternes, sweet dessert wine good with fruit and nuts. Light straw color, good nose, full flavor, a wine to enjoy through the evening. $60.
Chateau Phelan Segur, Saint Estephe, medium body, good color and nose.
Chateau Clerc Milon, Paulliac, good color and nose, full body.
Chateau Clarke Rouge, Listrac Medoc, good color and nose, medium body, good flavors. $30.
Chateau Beycheville, Saint Julien, good color and nose, slightly sweet deep flavor.
Chateau Talbot, Saint Julien, good color and nose, medium to full body, good flavors.
Chateau Smith Haute Lafitte, Pessac-Leognan, good color, light nose, medium body, soft and elegant, good flavors. The wines listed were the best and this was our favorite for the day.
Industry Calendar
2/2 Groundhog Day
2/1-7 Superbowl Week
2/7 Superbowl Sunday
2/9 Mardi Gras
2/10 Ash Wednesday
2/11 Gambero Rosso Tre Bicchieri - SFO
2/13 SF Wine Chronicle Grand Tasting - SFO
2/13-14 Garagiste Wine Festival Southern Exposure 2016 – Solvang
2/14 Rhone Rangers – Paso Robles
2/14 Garagiste Festival – Solvang
2/16-19 Wine Writers Symposium - Napa
2/17 – WineFilm – Santa Monica
2/23 Santa Lucia Highlands – SFO
2/23-24 Unified Grocers Sell-abration – Long Beach
2/25-27 Zinfandel Experience – SFO
2/29 Family Winemakers – Del Mar
3/2 Kosher Wine and Food Experience – LA
3/7 New Zealand Wine Fair – SFO
3/7 Night Club & Bar Expo – Las Vegas
3/10-3/13 Natural Products Expo – Anaheim
3/13 Daylight Savings Begins
3/17 St Patricks Day
Promotion Calendar
2/14 Valentine's Day
2/15 Presidents Day
2/20-21 National Margarita Weekend
2/22 National Margarita Day
2/27 National Kahlua Day
2/28 Academy Awards
New Legislation for 2016
Our industry has more laws controlling it than most industries. The State
Legislature and the ABC give us license privileges and can take them away. New alcoholic beverage laws were passed that will be effective in 2016. Many critical issues are pending. Do you know about them and are you prepared for the changes. Is your business safe? Members are encouraged to look through the Legislative Bulletin. If there is a new law that is a problem for your business, call the association office now. The CBRA is your voice in Sacramento. If you are not a member, join today. The CBRA is your only voice when it comes to new beverage laws.
Brands and Comments
The CBRA Newsletter has not accepted any payment from any of the brands mentioned
in this edition. The editor, Ron Ziff, welcomes comments at ron@cbraliquor.org
CBRA Membership Remains Open
Now, more than ever, access to your industry is important. The CBRA is California's
only statewide association of licensed retailers, and our membership continues to be
open for the first time in 20 years.
At CBRA we deal with licenses and regulations that affect the beverage business on a
daily basis. That's why CBRA offers practical solutions, unique products, services,
information, and timely advice for both large and small beverage businesses. With
reasonable fees, superior service, and associates that are easy to reach, CBRA helps you
to run your business better and easier. One of the most valuable services we offer is that
call to the ABC to ask your question. We can ask that question and keep you anonymous. That's something you just can't do yourself.
Join or renew your valuable membership today. You can't afford to delay.
California Beverage Retailers Association – California's Only Statewide Association of Licensees. We're #1!
If you would like to be removed from this email list, please email to
ron@cbraliquor.org with UNSUBSCRIBE in the subject line.