posted by
cbra
on
Tue, 06/21/2016 - 13:36
California Beverage Retailers Association
Beverage Bulletin
P.O. Box 56686
Sherman Oaks, CA 91413
(818) 693-5561
Ron Ziff, Editor
Ben Ziff, Publisher
April 2016
This Month's Stories Include:
Headline News Stories - French Winegrowers Dump Competition, Obama & Castro Share a Glass of Wine, Dream Job, Minimum Wage Increased, Arsenic Lawsuit Dismissed, Sotheby's to Sell Koch Wines, Single Malt Shortage Looms,
Drought Update
Celebrities in the Industry - Peter Work, Kurt Russell, Kate Hudson, Matthew Bellamy, Guo Degang, Piers Morgan, Prince William, Princess Diana, Sting, Trudie Styler
Popular Culture - Mouton Cadet Headlines Tournament, Game of Thrones Spurs Mead Sales
Politics - Bourbon Election Memorabilia, Obama Reviews Trump Wines, November Ballot Issues
Books - Eat Your Drink, Cuban Cocktails, Southern Spirits, Aperitivo, Spritz, Brooklyn Bar Bites, Brooklyn Bartender, Jiggers and Dreams Whiskey Journal
Movies - A Vintage Murder
Wine - French Primeur Prices Up, Gallo and Constellation Dominate U.S. Market, Red & White for Dodger Blue, Wine Bottle for Space Trips, The Ancient Invention of Wine Labels, 2,000 Year Old Roman Winery, 2100 Year Old Wine Bar, Riesling Wine from 1435, Website for Winegrowers and Winemakers, Woman Cleans Out Tasting, French Police Recover 5,000 Stolen Bottles, Wilson Vs. Wilson, Pinot Noir for 5 Cents, How Much Wine Can a 7 Year-Old Drink?, Wine Ed for 6 Year-Olds in Italy?, Champagne Gun to Automate Celebrations, Getting Even
Beer - UK To Celebrate Queen's 90th with a Pint, UK Government Aids Pubs, Beer from Recycled Water, Ancient Peruvian Beer Recreated in Chicago, AB/Inbev Sued for Misleading Drinkers, Beer Marmalade, Beer Co-ops, Guinness Goof
Spirits - Make Your Own, Havana Club Fight Continues, Campari Buys Grand Marnier, Champagne Gin, Gluten Free Vodka, New Women's Whiskey Club, Kosher Gin, Passover Drinks Listed, The Friendly Skies, Drinks Are Really "On The House"
Other Foods and Beverages - New Soda Tax Proposed, Menu Changes Delayed,
Distinctive Barware, Burger Wow!, Waffle Pizza Wow!
The Changing Market - Online Chocolate Sales, Hidden Chocolate Problem, Growth of E-Commerce, New Bulk Wine Exchange, Home Delivery Drone, Trendy Price War?, Hotel Owners Responsible
Recipes - IceBerg
Health - Red Wine Compound Fights Leukemia, Medicine From Hops, Study of Wine Studies
...and as always Tasting Notes and the Industry Calendar
"I would like to invite each person listening in, wherever and whomever he may be, to contemplate for a moment the events of the past few hours and to give thanks in his own individual way." - Astronaut Buzz Aldrin on July 20, 1969
The Apollo 11 lunar lander had just touched down. Then Aldrin took out a cup, piece of bread, and container of wine and took Communion reading John 15:5 "I am the vine, you are the branches. Whoever remains in me, and I in him, will bear much fruit; for you can do nothing without me." The event took NASA completely by surprise. The first lunar landing is noted for Neil Armstrong's "giant step" and words, but also should be noted for its connection to wine and vines.
Headline News Stories
French Winegrowers Dump Competition
150 angry French winegrowers met 5 Spanish tank trucks just inside the border and dumped 70,000 liters of wine. No arrests have been made at this time. The growers were protesting the increasing quantity of wine imports. Wines coming across the border with Spain increased 40% in 2015 with more than 28,000 tankers carrying bulk wines. The growers are also protesting that laws in Spain are much looser than the highly structured French system. Frédéric Rouanet, president of the winegrowers of Aude, speaking to Vitisphere said "This is a breakneck pace. This is a disaster. We want to verify the traceability and compliance of these wines. I want Europe to work, but with the same laws for everyone." Last year Spanish wine sold more than France or any other country at 2.4 billion liters. Most was sold at low prices in bulk.
Obama & Castro Share a Glass of Wine
Last month Barack Obama visited Cuba in the first presidential visit in 88 years. At a State dinner Cuban President Raul Castro served Spanish Wines to the Obamas; Torres Milmanda 2012 and Vega Sicilia Unico 2007.
Dream Job
A survey in the UK showed that nearly 1 out of 10 of the 2,000 people polled would consider brewing beer or making wine their "Dream Job." To those of us in the business, it's a steady means of enjoyment and even sometimes a lot of fun. But remember there are a herd of people out there that would gladly trade places with you. The only thing we can say to them is that we respect and need what they do. There is no other calling more important to us that being a consumer. Keep up the good work so we can make a living!
Minimum Wage Increased
A deal has been made by the legislature and Governor Brown to raise the minimum wage in steps to $15 by 2022. Businesses with less than 25 employees would have until 2023 to comply. The deal will keep this 3rd issue off the November ballot. Look for farms and businesses to bring in more innovative technology and automation to replace hourly workers. Higher wages and fewer jobs. This will happen at all levels; farm, manufacturing, retail, and foodservice. Fact: a machine doesn't take breaks and lunch hours and will not balk at working a 16 hour day.
Arsenic Lawsuit Dismissed
The lawsuit filed against Treasury Wine Estates, Sutter Home, The Wine Group, and 200+ other wineries has been dismissed by a Los Angeles judge. The suit had alleged that arsenic levels in wine exceeded allowable standards and the bottles should have had warning labels required under Prop. 65. Judge John Shepard Wiley ruled that there were already warning labels and signs posted that covered the issue. Any additional labels would only serve to provide confusion. The plaintiff's attorneys said they will appeal the decision.
Sotheby's to Sell Koch Wines
Sotheby's will hold a 3 day auction May 19-21 featuring 20,000 bottles from wine collector and anti-fraud advocate, Bill Koch. All together there are 2,700 lots that are estimated to bring in $10 million to $15 million. Included are 125 lots of Latour, 100 lots of Lafite, 80 lots of Mouton Rothschild, 60 lots of Petrus, 200 Romanee-Conti, many other Chateaux and wines from Piedmont. Koch said "My cellar is the result of nearly four decades of collecting. I aimed to assemble the very best Bordeaux and Burgundy where you could taste the love and the passion that the vintner had in making it." Among the highlights are 6 bottles of Mouton Rothschild 1918, 6 bottles Haut Brion 1959, 2 bottles Yquem 1921, 4 bottles Taylor Port 1934, 9 bottles Graham Port 1945, 6 magnums Margaux, and 1 imperial Romanee-Conti that is estimated at $100,000.
Single Malt Shortage Looms
The market and prices for Single Malt Scotch are going sky high. Thirty years ago no one imagined there would be a big demand for aged single malts. There was a limited amount set aside. Now that limited amount is in heavy demand. Sales in the U.S. tripled between 2002 and 2015. Demand in Asia is increasing as well. With aged whisky hard to get, buyers are scouring liquor stores in out of the way places to find forgotten bottles. One example of price escalation: 30 year old Black Bowmore Whisky was released in 1994 with a suggested price of $110. Today bottles fetch $7,000 at auction. Distilleries are ramping up production, but the shortage is expected to last 10 to 15 years.
Drought Update
February was dry, but by mid-March rain and snow had replenished most of the space in Northern California reservoirs. Lake Oroville was at 106% of capacity and Lake Shasta at 100%. Both were at flood control levels. Lake Oroville received 211,000 acre feet in just 2 days. Over all Northern California precipitation is 200% of normal. In the Central Coast and Southern California rainfall has varied from light to normal.
Celebrities in the Industry
Peter Work, winemaker at Ampelos Cellars, who makes wine with Kurt Russell, Kate Hudson, and Matthew Bellamy, says he gets lots of inquiries from celebrities that want their own wine blend. The reasons include 1) They have a passion for it, 2) they want to make money from it, 3) they want to see their own names on the label, 4) they are creative and want to make a blend of their own.
Chinese superstar comedian, Guo Degang, has 64 million followers on Chinese website Weibo. Now he plans to monetize that by putting his label on a Australian wine. He has partnered with Mount Duneed Estate to ship 800,000 bottles of Shiraz for sale back home. The first 15,000 bottles sold out in less than one hour. He is listed in Forbes as one of the 100 richest Chinese celebrities.
Retired UK newspaper editor, Piers Morgan, said in an article in the London Daily Mail that Prince William drank wine from an early age with the permission of Princess Diana. He says he had a private lunch with the Princess and the then 13 year old Prince who asked "Can I have some wine, Mummy?"
Sister Moon, a Tuscan wine, made on an estate owned by Sting and his wife Trudie Styler has been listed by Wine Spectator as one of the top 101 best wines of Italy. It is produced at Tenuto di Palagio, a 16th century estate the couple purchased in 2000. The wine is named for one of his popular songs.
Popular Culture
Mouton Cadet Headlines Tournament
Mouton Cadet will be the official wine at this year's Ryder Cup Golf Tournament September 30 to October 2. The label will be designed by golf course architect Robert Trent Jones Jr. whose father, Robert Jones designed the Hazeltine Golf Course in 1962. The label will be a picture of himself caddying for his father at the course's opening.
Game of Thrones Spurs Mead Sales
Sales of Mead have increased 30% to 40% per year since 2012. The driving force is the TV show Game of Thrones. Mead (pronounced "med") is wine made from or flavored with honey.
Politics
Bourbon Election Memorabilia
The Bourbon for President Collection can be ordered from The Bourbon Outfitter at shop.gobourbon.com/collections. The group shown is only $55. Use the code "Madness" and save 15%.
Obama Reviews Trump Wines
President Obama poked fun at Trump Wines in a Democratic fund raiser speech at the South by Southwest Festival in Texas. He questioned "the Donald's winemaking skills" and asked "Has anybody bought that wine? I want to know what that wine tastes like." For the record, the Trump 1,300 acre estate is the largest vineyard in Virginia and is owned not by Donald Trump, but by his son. The wines are reds, whites, and sparkling. The wines sell for $16 to $50.
November Ballot Issues
There are two initiative ballot measures scheduled for the California November ballot that would affect the industry: 1) Overturns the plastic bag ban. 2) Lowers the drinking age to 18.
Books
This Spring we have a bumper crop of Beverage Books:
Eat Your Drink by Matthew Biancaniello, Morrow/Dey Street, Mar, 176 pages, $22.99. Written by the former head bartender at the Hollywood Roosevelt Library Bar. He now carouses farmer's markets for fresh seasonal ingredients in cocktails like the Heirloom Tomato Mojito.
Cuban Cocktails by Ravi DiRossi, Ryland, Peters & Small, 256pages, $24.95. Covers island cocktail from the Ron Collins (a Rum version of Tom Collins) to a Mojito. Released this month.
Southern Spirits by Robert Moss, Ten Speed Press, 320 pages, $24.99. Drinking habits in the South from Colonial Days to the present. Everything from Mint Juleps, Madeira Wine, to Imported Cognac.
Aperitivo by Marissa Huff, Rizzoli, 224 pages, $35. Tours the bars of Italy and gives recipes for the drinks and the small plates alongside.
Spritz by Talia Baiocchi and Leslie Pariseau, Ten Speed Press, 176 pages, $18.99. Investigates the history and revival of Italian sparkling wine aperitifs from ancient Rome to the present day.
Brooklyn Bar Bites by Barbara Scott-Goodman, Rizzoli, 192 pages, $29.95. Recipes for signature cocktails and snacks from the East Coast's top bars.
Brooklyn Bartender by Cary Jones, Black Dog & Leventhal, 304 pages, $24.99. A collection of 300 recipes, bartender tips and advice, and bar profiles by a writer for Food & Wine, Travel & Leisure, and others.
Jiggers and Dreams Whiskey Journal by Carlo DiVito, Quarto, 144 pages $12.99. A personal notebook for jotting down tasting notes of bourbons, whiskeys, and rye.
Movies
A Vintage Murder is a treat for fans of British mysteries. Netflix has just released the long running series, Midsomer Murders, Season 17 Episode 4. It's set in Carnarvon Estate, a sparkling wine vineyard in Southern England. The latest vintage of Brut Reserve is laced with poison. A wine critic gives a bad review and then dies in a hit and run auto accident. Was it the wine? Was it the winemaker? Or was it the group of village women that want the winery closed? D.C.I. Barnaby tracks down the killer. There is good acting, excellent directing, and lots of British charm. This 90 minute film is well worth watching.
Wine
French Primeur Prices Up
Primeurs opened this month in France with the strongest pricing since 2011. Prices were up on more than 80% of Bordeaux and Burgundy offerings.
Gallo and Constellation Dominate U.S. Market
Gallo and Constellation Brands account for 35% of the US wine market according to Impact Databank. The two also have 9 of the top 20 "Hot Brands." Number one on the list from Gallo is Barefoot Cellars at 18 million cases in 2015. Other Gallo labels on the list are Liberty Creek, Apothic, Dark Horse, Carnivor, and William Hill Estate.
Constellation Brands labels on the Hot Brands list are Black Box, Meiomi, and Dreaming Tree.
Red & White for Dodger Blue
Bob Lindquist is bottling an LA Dodger wine at his Qupe Winery in Santa Maria. The Dodger Blue comes in red and white. Lindquist has been a Dodger fan since he came to California as a kid in 1964. Both are Santa Barbara wines. The white is Chardonnay with a touch of Roussanne. The red is Syrah with Grenache and Tempranillo blended in. The wines are sold at Dodger Stadium, Vons, and Gelsons.
Wine Bottle for Space Trips
Bordeaux Museum of Decorative Arts and Design has revealed a wine bottle designed for use in zero gravity. This bottle is toroidal; i.e. in the shape of a ring. The bottle was created by design student Octave de Gaulle to be filled with Chateau Haut-Bailly. De Gaulle feels that up till now space travel has been built around survival capsules. He decided that his project would be to bring life, culture, and design to space travel. Ch. Haut-Bailly became involved in the project because it is a patron of the museum. A special label was designed for the zero gravity bottle.
Other beverages in space include a bottle of Ch Lynch-Bages 1975 Paulliac that traveled aboard Discovery in 1985. Paul Masson Rare Cream Sherry as part of daily rations on Skylab in the 1970's. In 2011 a vial of Ardberg Single Malt Whisky was sent to the International Space Station. In 2014 it returned to be compared with a test vial to see if whisky matured differently in space.
The Ancient Invention of Wine Labels
From about 1550 to 1070 BC Egypt dominated the wine trade. Wines were not being made there, but as the leading economic center of the time, wine from around the Middle East was shipped to Egypt. Many types and styles of wine were enjoyed by the country's Pharaohs and high priests. The Egyptians first invented standardized clay amphorae to ship uniform quantities of wine. Then it became necessary to know what kind of wine was in each container, so they began inscribing the information on the containers as the clay dried. The year of production, where it was made, who made it, style of wine, and quality were all noted on the side of the containers; creating the first wine labeling and rating system 3,500 years ago.
2,000 Year Old Roman Winery
Archaeologists have found a Roman winery in Jerusalem that dates back to about 200AD. The winery had all the necessary facilities for pressing and storing grapes and wine. Markings indicate that the winery was constructed by the Tenth Roman Legion (Legio X Fretensis).
2,100 Year Old Wine Bar
Archaeologists have found an ancient wine bar in the French Languedoc town of Lattara. The building found is thought to have been a 2,100 year-old tavern or way station that served a menu that included beef, sheep, and fish. There were tables, benches, and lots of mugs used for drinking wine.
Riesling Wine from 1435
The earliest written record of the Riesling grape is in the archives of John IV, Count of Katzenelnbogen, a baron in the area outside Frankfort, Germany. The records show that he spent 22 schillings for Riesling cuttings for his vineyard in 1435.
Website for Winegrowers and Winemakers
Do you want to find out the pedigree of the grapes in that bottle of wine? Now there's a website to help. Go to www.everyvine.com. Grape buyers use the Everyvine to discover quality grapes they hadn't considered before resulting in better prices for the grape grower and a better product for the buyers. The site catalogs over 235,000 acres of California's vineyards and wine producing regions and lists all the things that go into the terroir: topography, soil, climate, days of sunlight, and degrees of temperature.
Woman Cleans Out Tasting
As the World of Pinot Noir Grand Tasting at Bacara Resort in Santa Barbara closed, a woman dressed in a uniform wheeled in two luggage racks and loaded them with about 20 cases of wine worth about $10,000. She then wheeled them to the exit and met two men with a Toyota Tacoma waiting in the loading area. The wine was loaded into the van and the group drove away. The winery people thought she worked for Bacara. Bacara employees thought she was with the tasting organization. The woman was identified from security camera footage as a Las Vegas schoolteacher known to one of the wineries. Evidence was turned over to the Santa Barbara County Sheriff's Office. It is unknown if an arrest is pending.
French Police Recover 5,000 Stolen Bottles
French police have found a hidden cellar in the Rhone where a re-seller had stored more than 5,000 bottles stolen from various estates. Many were from Cote Rotie. The re-seller had acted as a fence for the stolen wine. The investigation continues as police are searching for the original thieves. Names were not released and arrests are pending.
Wilson Vs. Wilson
Wilson Vineyards in Clarksburg, California is suing Wilson Vineyard LLC of Nottingham, Pennsylvania for copyright infringement in the use of the name Wilson Vineyards. The lawsuit claims damages to its reputation through the use of the name in social media.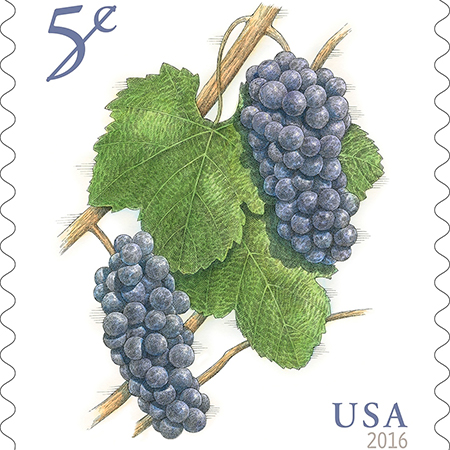 Pinot Noir for 5 Cents
The U.S. Postal Service has issued a new 5 cent stamp for use in supplemental postage picturing Pinot Noir grapes.
How Much Wine Can a 7 Year-Old Drink?
Veronica Antonio sued her husband, Chris Rokos, a London hedge fund manager, for ₤10,500 annual allowance for wine for their 7 year-old son. The judge felt this was excessive since the boy was too young to drink wine and reduced the wine stipend to ₤4,000 annually. She will also receive ₤8,000 a month child support and $33,600 for a housekeeper. There were additional annual requests for ₤5,000 for swimming lessons and ₤6,000 for Uber rides.
Wine Ed for 6 Year-Olds in Italy?
Italian Senator Dario Stefano has introduced a bill that would require schools in Italy to give one hour a week of "wine culture and history" to schoolchildren as early as age 6. Stefano said "Italy is now the biggest wine producer in the world, it is our history, and we should be happy and proud to teach our children about it" The program would not include wine tasting.
Champagne Gun to Automate Celebrations
There is now a Champagne Gun that fills a need we didn't even know we had. Really, think about it; you can load a gun with a bottle of Champagne and be able to spray thirsty party goers 23 feet away. Wow! Available in your choice of rose gold or gold chrome for a very affordable $459. Watch it in action in this tasteful video. https://youtu.be/FHLb7HIL9E8
Getting Even
Theresa Jackson is head of the history department at Radley College in Oxford. When her husband, Richard Jackson, found out she was having an affair with Richard Greed, the rugby coach, he did the best thing he could think of to get even. He sneaked into the school's cellar where Greed had his ₤34,000 wine collection stored and smashed the bottles. John Moule, head of the college refused to get involved saying "We are of the view that personal relationships and private property are private concerns for private individuals.There are no grounds for concern whatsoever in terms of the education and welfare of our pupils."
Beer
UK Government Aids Pubs
David Cameron's government has budgeted ₤3.6 million to help local groups buy pubs that might otherwise be closed. The local pubs are an important part of village life in the UK.
Beer from Recycled Water
Half Moon Bay Brewing Company is making batches of its Tunnel Vision IPA from recycled gray water. The gray water is treated in a system designed by architect Russ Drinker using the same system NASA uses on the International Space Station. In tastings, participants were unable to tell the difference between the gray water beer and ­regular beer. The beer has been used at sampling events but is not available for sale.
UK To Celebrate Queen's 90th with a Pint
UK Prime Minister, David Cameron, has announced that pubs across the country will be allowed to stay open extended hours in honor of Queen Elizabeth's 90th birthday. Pub hours are usually 12 noon to 11PM. On June 10 and 11 they will be allowed to remain open until 1AM. The Queen celebrates two birthdays a year; April 21, her date of birth and her official state birthday on a Saturday in June. For this 90th occasion there will be a two day celebration. The Queen's countrymen are looking forward to this big day.
Ancient Peruvian Beer Recreated in Chicago
The Field Museum and Off Color Brewing collaborated to make a beer based on an ancient recipe. The Wari Empire pre-dated the Incas and existed in Peru from 600 AD to 1,000 AD. Archaeologists and anthropologists discovered a large palace and brewery complex at Cerro Baul in Southern Peru. There was a mill, clay vats, and quantities of purple corn and molle berries found at the site. Beer made from the corn is called Chicha de Jora and with the addition of molle berries called Chicha de Molle. The molle berry brew has a bright pink color (see photo). There is evidence that women dressed in ceremonial robes brewed the beer. Beer made from the recipe is now being sold by Off Color Brewing and at the Field museum Cafe.
AB/Inbev Sued for Misleading Drinkers
Henry Vazquez has sued AB/Inbev in the same Miami court that awarded $20 million to Becks beer drinkers last year. The suit said the company was misleading consumers by selling Leffe as a premium beer. Leffe's packaging label described the beer as being first "brewed and perfected by Belgian monks" in 1240 and sustained through "750 years of Belgian tradition". The label also depicts the bell tower of an abbey. The beer has not been brewed in an abbey since the original abbey was destroyed in 1794 during the French Revolution.
Beer Marmalade
Scottish brewer, Innis & Gunn has created a beer marmalade. It's traditional bitter orange Dundee Marmalade infused with Innis & Gunn IPA. You can buy a jar of Marm & Ale at the brewery gift store.
Beer Co-ops
Beer drinkers are investing in a new trend in business models that has started across the country, Co-op Breweries. It works just like a co-op grocery store. Each member puts in a small amount of cash and gets a share and vote in the business. Member owners make the decisions, get discounts on their purchase, and a share of profit at year end.
Guinness Goof
...and finally. The ad agency that placed Guinness St Patrick's Day posters in train stations across Canada made a huge mistake. Can you see it? For the answer scroll down to the end of the Industry Calendar* section
Spirits
Make Your Own
Are you interested in making your own bitters or tinctures? The equipment and culinary solvent are available from The Northern Maine Distilling Company. The will even send you a free starter kit! www.culinarysolvent.com.
 
Havana Club Fight Continues
Bacardi has asked a US Federal Court to restore its trademark rights to Havana Club Rum. The US Patent and Trademark Office had recently authorized Pernod-Ricard and CubaExport to use the label in the US. Bacardi has been selling about 4 million cases of Puerto Rico Rum under the label a year. The Cuban government had appropriated the company and has been selling the rum in the rest of the world in partnership with Pernod-Ricard. Meanwhile Pernod-Ricard is fighting back. The company is releasing a special "Tributo" aged rum and sponsoring an international bartender competition with U.S. bartenders invited.
Campari Buys Grand Marnier
Grupo Campari has reached an agreement to buy the maker of Grand Marnier valued at $760 million. A little over 17% of the shares will be transferred immediately. There will be a tender offer on the French Stock Exchange to buy additional shares. If 51% of the shares is not purchased, the owning family has agreed to sell its remaining 29% of the shares to Campari by 2021. As part of the agreement, Campari will take over worldwide distribution of Grand Marnier as of July 1 this year.
Champagne Gin
Champagne Cattier has been shipping its waste grape skins and seeds to London where they are fermented and the product distilled into Gin. The Gin, named Entente, will be the first Gin made from Champagne grapes. The bottle will be sealed with a Champagne cork and wire cage. Cattier also bottles Armand de Brignac Champagne, which is jointly owned by Maxim's and rap singer Jay-Z.
Gluten Free Vodka
Stolichnaya will introduce a gluten free Vodka this month. Stoli Gluten Free is made from 88% corn and 12% buckwheat. Both grains are naturally gluten free and grown in Russia. The Vodka is distilled at Stolichnaya's plant in Riga, Latvia.
New Women's Whiskey Club
There's a new whiskey group just for ladies. Women Who Whiskey has opened a chapter in Los Angeles. Other chapters are in NYC, DC, Boston, Twin Cities, Miami, Orlando, Portland, Nairobi, Geneva, Toronto, and Sydney. It's free to join. Just control/click on the website and fill out the form. A series of fun monthly events are planned. Questions? Write to founder, Julia Ritz Toffoli, at WomenWhoWhiskey@gmail.com.
Kosher Gin
Six years ago Leslie Rudd, owner and founder of Distillery 209, set about making a Kosher for Passover Gin. At the time he thought it would be a simple and straight forward process. The first step was easy. He and his team substituted a neutral sugar cane based spirit for grain neutral spirits. The flavoring was the stumbling block. Most of the herbs and spices could be used. Bergamot Orange Peel, Lemon Peel, Juniper Berries, Coriander, and Cassia Bark are all available in Kosher for Passover versions. But one of the main flavorings, cardamom, is not kosher for Passover. Dozens of ingredients, combinations, and formulations were tried until the perfect Gin flavor was found. The secret substitute ingredient is California Bay Leaves. After six arduous years of trials, Distillery 209 Kosher for Passover Gin will be sold for the first time this year.
Passover Drinks Listed
Are Kosher and Kosher for Passover drinks important to your customers? There are hundreds of whiskeys, vodkas, rums, brandies, cordials and beers that will fill this need. An extensive list of Kosher Certified alcoholic beverages can be downloaded in pdf format from crcweb.org/LiquorList.pdf . It is recommended to download a new list each Passover. New items are added from time to time as manufacturers work to satisfy the needs of this niche market. The list does not include the many Kosher wines available. This year Passover begins the evening of April 23 and continues through April 29. Record sales of Passover wines and spirits are expected this year. For the first time Manishewitz and Welch's are partnering to sell a non-alcoholic Manishewitz/Welch's Grape Juice.
The Friendly Skies
Not sure which airline to fly? Here's a list of Whiskeys served to help you choose.
Alaska Airlines – Dewar's, Jack Daniel's, Crown Royal
American Airlines – Canadian Club, Dewar's, Jack Daniel's
Delta – Canadian Club, Jack Daniel's, Jack Daniel's Honey, Woodford Reserve
Frontier – Breckinridge Bourbon, Jack Daniel's, Dewar's
Jet Blue – Dewar's, Jack Daniel's
Southwest – Dewar's, Jack Daniel's, Wild Turkey
Spirit – Crown Royal, Fireball, Jack Daniel's
United – Buffalo Trace, Canadian Club, Crown Royal, Dewar's, Jack Daniel's, Jim Beam Devil's Cut
Virgin – Jack Daniel's, Glenfiddich Single Malt
If you don't see your favorite brand, FAA rules allow you to carry on 3.4 ounces or less if it is stored in a 1 quart/Liter zip top bag, 1 zip top bag per person placed in the screening bin. There is no limit on alcoholic beverages 24% or 48 proof or less in checked baggage. Up to 5 liters of alcohol from 24% (48 proof) to 70% (140 proof) may be in checked baggage. Beverages and grain alcohol more than 70% (140 proof) are not allowed on airlines.
Drinks Are Really "On The House"
...and finally. Bartender, William F. Powell, known as the "Robin Hood of IHOP", was arrested for giving out more than $3,000 in free drinks at a Brooklyn pancake restaurant. When arrested Powell explained "I am the modern day Robin Hood, I am not stealing, I am serving the ones in need, I take from the rich and give to the poor. What's the big deal? I've been doing this since I started here."
Other Foods and Beverages
New Soda Tax Proposed
Assemblymen Richard Bloom (D-Santa Monica) and Jim Wood (D-Healdsburg) have introduced a bill to add a 2 cent per ounce state tax on sugar sweetened soda. It would add 24 cents per 12 ounce can at distributor level. The expected $2 billion revenue would be given to local agencies and groups to maintain obesity programs, diabetes programs, oral health programs, and provide safe drinking water.
Menu Changes Delayed
The FDA was originally scheduled to implement nutrition labeling on restaurant menus in chains with 20 or more outlets on December 1, 2016. The agency has announced that it will delay the start of the requirement until one year after the final regulations are issued. The date of issuance is not known at this time. What is known is that the regulations will cover wine, beer, and alcoholic drinks listed on the menu. Mixed drinks will not be listed and bottles displayed on the back bar will be exempt.
Distinctive Barware
Looking for barware that's different? Go to www.theuncommongreen.com . Custom laser etched glasses can be made for your college, hometown map, or state. Prices vary.
Burger Wow!
Only in California... Make way for the G Burger. It includes two 100% Angus beef patties on a high rise bun, tomato, grilled onion, mixed greens, bread & butter pickles, choice of cheese, 1001 dressing, grilled fresh pineapple, portabello mushroom, fried jumbo egg, applewood smoked bacon, avocado, roasted red bell peppers, pastrami, cherry peppers, crunchy onion rings. The menu says "allow extra time for prep." It'll set you back $18. ...Not enough? Order a side of G Style Fries. A big plate of french fries topped with topped with hickory smoked bacon, grilled onions, American cheese, and home made 1001 dressing. All this can be ordered at G Burger 421 E. La Habra Blvd., La Habra.
Waffle Pizza Wow!
...and only in Los Angeles. The new hot trend in Koreatown is Waffle Pizza. Seoul Waffle Pizza is ground zero for this new classic. Owner, James Kim, serves up crispy waffles with a traditional cheese and pepperoni topping or you can go more ethnic with a Seoul Lover's Pizza; a whole wheat waffle topped with bulgogi, corn, kimchi, and cheese. There's even a Brunch Waffle Pizza with potato, egg, bacon, mozzarella, and Parmesan. Seoul Waffle Pizza 3525 West 8th Street #208, eat in only, no to-go orders.
The Changing Market
Online Chocolate Sales
According to Euromonitor online chocolate sales have increased 80% in the last 5 years. The problem is keeping the chocolate in good condition and still making a profit. Chocolate shipped in the summer or in warmer climates will melt. When shipped in cold climate it often gets a white "bloom" coating that makes it unappealing. Insulation, bulky foam containers, ice packs, and overnight delivery are all problems because they add to the shipping costs. Often the shipping costs more than the product. A $4.25 package of Hershey's Kisses costs $6.95 to ship. Hershey recommends an extra ice pack and cooler for $4.99. The total cost to the customer is $20.20 before taxes. The shippers dilemma is whether to absorb the cost and lose money or charge the customer and lose the sale.
Hidden Chocolate Problem
But that isn't the only problem in the chocolate industry. Forbes Magazine reports "For a decade and a half the big chocolate makers have promised to end child labor in their industry... But as of the latest estimate, 2.1 million West African children still do dangerous and physically taxing work of harvesting cocoa." Forbes goes on to report "Nearly 4 out of 10 kids on such farms suffered wounds or cuts during the 2013-14 growing season." Those big 5 chocolate companies are Mars, Mondelez, Nestle, Ferrero, and Hershey's.
Growth of E-Commerce
E-commerce grew by 14.6% in 2015 to a total of $341.7 billion and accounted for 66.4% of total retail growth for the year. What does this mean for the future of business? As sales decline brick-and-mortar stores will find that some variable costs become fixed costs. It also means that marginal stores will find fixed costs unsustainable and will have to close. Further, it means more empty store fronts and more business for delivery services including USPS, UPS, and Fedex.
New Bulk Wine Exchange
Vinex has opened a London based web trading platform for bulk wines. The products traded are bulk wines and other generic wine derivatives worldwide. The traders can use five different exchange methods including forward contracts. About one fourth of the world's wine production is sold in bulk. Sales have traditionally been in individual purchase contracts. This will bring a new liquidity and order to the market for the first time. In addition to bulk wine, grape "must" and juice concentrate are traded in huge bulk quantities that no one tracks.
Home Delivery Drone
The company that invented Skype is experimenting with Starship. Starship is a terrestrial based drone; a small six wheeled vehicle that weighs about 25 pounds. It is designed to carry up to 25 pounds of cargo and deliver it the last mile from store or depot to a customer's home. It travels on sidewalks at up to 4 miles per hour and has a range of a 4 mile radius. It can deliver groceries and other packages at a cost of only $1. Testing started earlier this year in the UK and began April 1 in Arkansas.
Trendy Price War?
Earlier this year Whole Foods cut prices on a number of key items to change its image as a high priced store. Now Trader Joe's seems to have cut prices on about 200 key items to compete and stay under Whole Foods. Deutsche Bank bought a test group of 77 items from each store. The price tag at Trader Joe's $240; at Whole Foods $303.
Hotel Owners Responsible
TV personality, Erin Andrews, won a $55 million verdict against a hotel. The hotel manager had videotaped her while dressing in her room. The lesson: business owners have an obligation to protect their customers and not exploit them.
Recipes
IceBerg
Fill a mug with beer. Float a frozen shot of Margarita on top.
Health
Red Wine Compound Fights Leukemia
A study published in the Journal of Clinical & Experimental Medicine showed that resveratrol fights leukemia cells in a laboratory setting. The compound usually helps cells by allowing them to repair themselves. When leukemia cells are exposed to resveratrol they undergo a process called apoptosis, or slow controlled death. How it works is not fully clear. But the fact that it does work may point to using the compound as a natural medication to cure the disease. The study was conducted by Binghua Wang, Jiao Liu, and Zhanfeng Gong in the Department of Hematology at Wendeng Central Hospital, Weihai, China.
Medicine From Hops
Kristopher Waynant, Ph.D and his assistant Lucas Sass at the University of Idaho have been experimenting with extracting and synthesizing chemicals found in hops in order to harness their medicinal qualities. The compounds they are working with are "humulones", alpha acids; and "lupulones", beta acids. Both are anti-bacterial, anti-fungal, and have cancer fighting properties. They are going through a three step process. First extracting the compounds, then identifying what they have extracted, and finally finding a way to duplicate the compounds.
Study of Wine Studies
A review of various health studies was published in a new book Wine Safety, Consumer Preference and Human Health. It examines 95 studies that corroborate wine's ability to protect against cognitive impairment (loss of brain function). The book was edited by M. Victoria Moreno-Arribas and Begoña Bartolomé Suáldea, food science researchers at the Autonomous University of Madrid.
Tasting Notes
Each month we are out there looking for wines that "over deliver"; wines that offer more than others in their category and price level. We search out the wines that you can buy to help build your business; wines that make customers happy and keep them coming back. These are wines we rate as good buys and best buys. Check our notes. The opinions in the reviews are our own and unsolicited. We receive no compensation from wineries or brokers. This month there were several wine tastings that showed some very nice wines available at reasonable prices. The prices shown are approximate retails.
Kimberly Jones Selections provided a Spring Tasting of a collection of fabulous wines. Every wine we tasted was exceptionally good. This was indeed a rare experience! Space limits how many we can review. What we can tell you is that this selection is impressive. See your Kimberly Jones rep for these and others.
Branham Rockpile Sonoma Zinfandel 2012.Good color and nose,full body, fruity.$29.
Dancing Hares Red Blend Napa 2012. Good color and nose, full body, complex, $150
Mad Hatter Red Blend Napa 2012. Dry, good color and nose, full body $69.
Ilaria Dr Reid Vineyard Malbec 2012. Good color and nose, very full body, $39.
Maze Clew Cabernet Sauvignon 2013, 100% Napa CS, good color and nose, full$139.
O'Shaunessy Napa Chardonnay 2014, fruity, clean and clear, 50% stainless, 25% used oak, 25% new oak, $55. 2013 Howell Mountain Merlot, good color and nose, full, chewy, $65.
Patria Napa Cabernet Sauvignon 2013, good color and nose, very full and chewy,$89.
Post Parade Napa Cabernet Sauvignon 2013, good color and nose, full and fruity, ready to drink now, $89.
Sergio Napa Grenache 2014, good color and nose, fruity, full, $45.
Seven Stones Napa Cabernet Sauvignon 2012, good color and nose, soft, full body, 95% Cabernet Sauvignon, 9% Cabernet Franc, $189.
Stack House Napa Red Wine 2013, good color and nose, full and fruity, $25.
Tofanelli Napa Charbono 2012, good color and nose, ripe, full, will drink well now or for at least 5 years, $39.
Bodegas Capita Vidal Cava NV, bone dry, good nose, light straw color, delightful bubbles, $15
Escudo Real, Vinho Verde, Portugal 2014, clean, clear, will pair well with poultry and seafood, $12.
Plus a fine selection of full bodied French Burgundy and Rhone Wines at reasonable prices.
The Stars of Napa Valley tasting featured many good to excellent wines. Among them were Mirror Wine Howell Mountain Cabernet Sauvignon 2012. This wine had a very full body, with deep flavors and good color and nose, $95. The Mirror Wine Oak Knoll Cabernet Sauvignon 2012 was a quite different expression of the same varietal. This wine was very soft with deep flavors, good color and nose, $95. Contact Rick Mirer or Robert Lawson at (707) 968-5052.
Oberon Wines Sauvignon Blanc 2014 was clean, clear, and fresh with good color and nose. This was an exceptional white wine. It is made by the Michael Mondavi Family and sold through Folio Wines. Contact Tim Holl at tholl@foliowine.com or (714) 296-5225.
KFWE (The Kosher Food and Wine Experience) offered an opportunity to taste Kosher wines from around the world. The event, held at the Peterson Museum, proved once again that wines become Kosher through their pedigree, not by being sweet. Here are some of the best we tasted, in no particular order. Most are available through Southern Wine and Spirits.
Baron Rothschild Champagne NV. This wine was produced through a collaboration of the two branches of the Rothschild Family. Pale straw color, fine bubbles, good acid and flavor structure, $89.
Bokobosa Chateauneuf du Pape 2012, good color and nose, full body, $59.
Bokobosa Gigondas 2014, good color and nose, full body, drinking well now, $35.
Pavillon de Leoville Poyferre 2012, good color and nose, medium body, $59.
Flechas de Los Andes Gran Malbec 2014, Argentina, full body, soft, good color, ful heavy bouquet, $29.
Weinstock California Cabernet Sauvignon 2013, good color and nose, medium body, good everyday table wine, $9.99
Weinstock California Chardonnay 2013, straw color, good nose, will pair well with poultry and seafood as a good table wine, $9.99.
Industry Calendar
At The Natural Products Expo West in Anaheim last month visitors had the opportunity to meet with food and beverage suppliers and sample many products. This continues to be one of the largest trade shows in the country and it set new records this year. There were 3,000 exhibiting companies and 77,000 attendees from California, the rest of the country, and other countries. If you missed this, you missed a lot. Watch for this show again in Spring 2017. The natural products industry has been growing at an average rate of 9% a year for the past decade.
4/1 April Fool's Day
4/1-2 VinDiego – San Diego
4/2 National Beer Mile Run – LA Colosseum
4/7 Wines of Santorini -SFO
4/11 Santa Rita Hills Road Trip
4/11 Duckhorn – Beverly Hills
4/13 Cabs of Distinction – Paso Robles
4/15-16 Hospice du Rhone – Paso Robles
4/18 Wines of Corsica - SFO
4/18 Reveal Walla Walla Valley Inaugural Auction – Walla Walla
4/18 In Pursuit of Balance – LA
4/18 Duckhorn – San Diego
4/18 Passion Jura - SFO
4/19 Vins du Jura – LA
4/19 MAVA Trade & Media Tasting - SFO
4/20 Northern California Fresh Produce Expo – Pleasanton
4/22 Earth Day
4/23 Santa Barbara Grand Tasting – Buellton
4/22-24 Earth Day Food & Wine – Paso Robles
4/24-26 Sommelier Summit - Napa
4/23-29 Passover
5/1 Santa Rita Hills Road Trip – San Diego
5/3 Spring to Loire - LA
5/5 Cinco de Mayo
5/7 Kentucky Derby
5/7 Central Coast Cider Festival – Atascadero
5/7-14 China Week – various venues
5/8 Mothers Day
5/10 Mexican Mothers Day
5/14 Annual Winemasters – LA
5/16 World of Wine - SFO
5/17 World of Wine – Beverly Hills
5/18 World of Wine – San Diego/Carlsbad
5/18-20 Craft Beverage Expo – Oakland
5/21 San Francisco International Beer Festival – SFO
5/21 Rioja Wine and Tapas Festival - LA
5/22 Santa Rita Hills Road Trip – Ventura
5/30 Memorial Day
Promotional Calendar
4/6 New Beer's Everything
4/7 National Beer Day
4/9 International Gin & Tonic Day
4/17 International Malbec Day
4/19 National Amaretto Day
5/8 Mothers Day
5/10 Mexican Mothers Day
* In the Guinness Canadian posters the leaf pictured on the left is a Maple Leaf as it should be. The leaf pictured on the right was supposed to be a Shamrock which has three leaves. The artist instead used a Four Leaf Clover!
New Legislation for 2016
Our industry has more laws controlling it than most industries. The State
Legislature and the ABC give us license privileges and can take them away. New alcoholic beverage laws were passed that will be effective in 2016. Many critical issues are pending. Do you know about them and are you prepared for the changes. Is your business safe? Members are encouraged to look through the Legislative Bulletin. If there is a new law that is a problem for your business, call the association office now. The CBRA is your voice in Sacramento. If you are not a member, join today. The CBRA is your only voice when it comes to new beverage laws.
Brands and Comments
The CBRA Newsletter has not accepted any payment from any of the brands mentioned
in this edition. The editor, Ron Ziff, welcomes comments at ron@cbraliquor.org
CBRA Membership Remains Open
Now, more than ever, access to your industry is important. The CBRA is California's
only statewide association of licensed retailers, and our membership continues to be
open for the first time in 20 years.
At CBRA we deal with licenses and regulations that affect the beverage business on a
daily basis. That's why CBRA offers practical solutions, unique products, services,
information, and timely advice for both large and small beverage businesses. With
reasonable fees, superior service, and associates that are easy to reach, CBRA helps you
to run your business better and easier. One of the most valuable services we offer is that
call to the ABC to ask your question. We can ask that question and keep you anonymous. That's something you just can't do yourself.
Join or renew your valuable membership today. You can't afford to delay.
California Beverage Retailers Association – California's Only Statewide Association of Licensees. We're #1!
If you would like to be removed from this email list, please email to
ron@cbraliquor.org with UNSUBSCRIBE in the subject line.