posted by
cbra
on
Fri, 02/05/2016 - 10:03
California Beverage Retailers Association
Beverage Bulletin
P.O. Box 56686
Sherman Oaks, CA 91413
Ron Ziff, Editor
Ben Ziff, Publisher
June 2019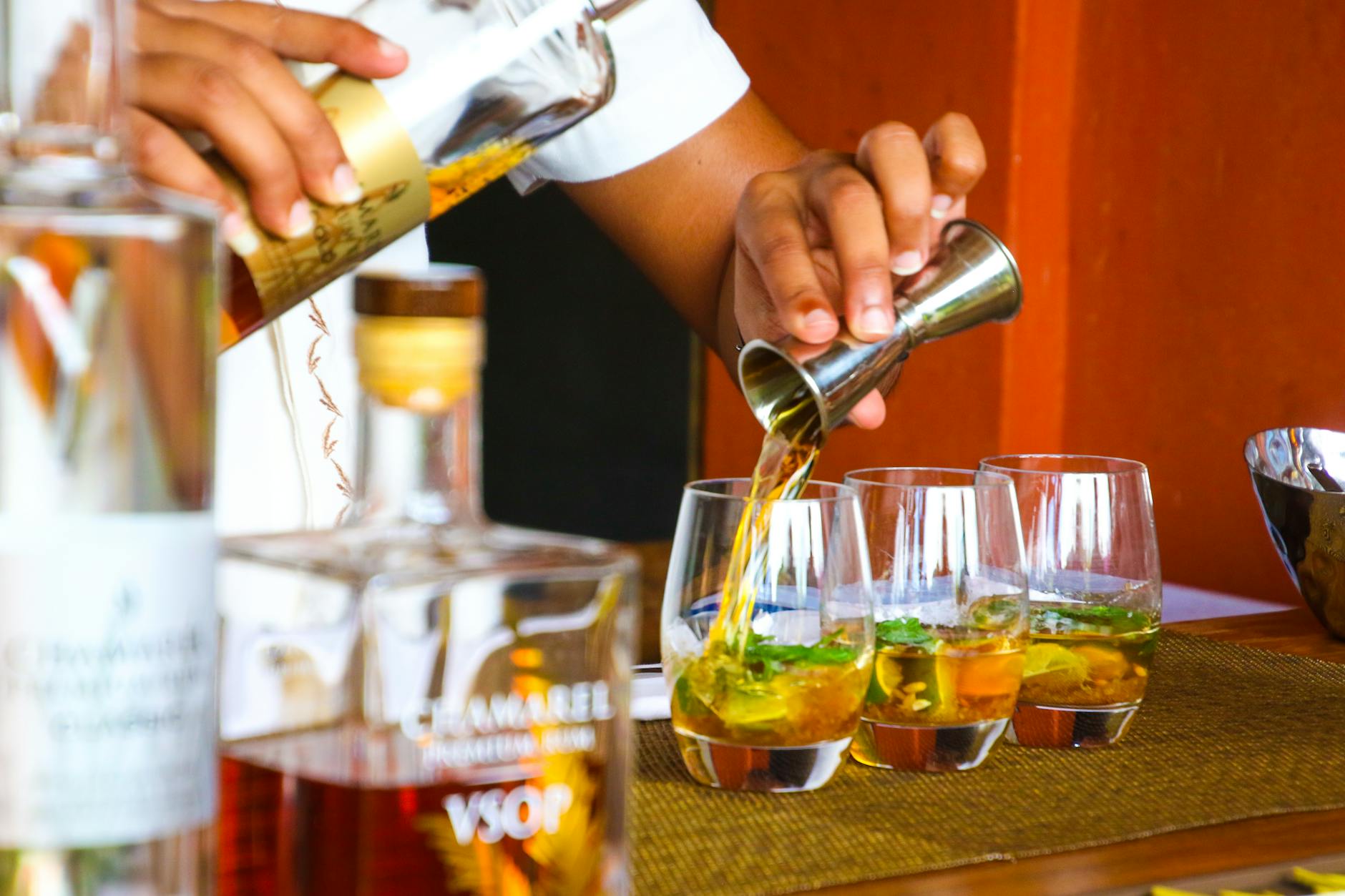 Photo courtesy of Magda Ehlers via pexels.com
"I like bars just after they open for the evening. When the air inside is still cool and clean and everything is shiny and the barkeep is giving himself that last look in the mirror to see if his tie is straight and his hair is smooth. I like the neat bottles on the bar back and the lovely shining glasses and the anticipation. I like to watch the man mix the first one of the evening and put it down on a crisp mat and put the little folded napkin beside it. I like to taste it slowly. The first quiet drink of the evening in a quiet bar—that's wonderful."
― Raymond Chandler, in The Long Goodbye
In this month's edition:
Headline News Stories - Gallo Buys 34 Wine Brands from Constellation, Pernod Ricard to Exit Wine Business?, Notre Dame Aid from the Wine Industry
 
Celebrities in the Industry - Gavin Newsom, Jodie Kidd, Guy Ritchie, Mark Knopfler, Iron Maiden, Sarah Jessica Parker, Guns N' Roses
 
Books - Hard Cider Abbey, Bar Chef, Tiki: Modern Tropical Cocktails, Glass and Gavel: The U.S. Supreme Court and Alcohol
TV & Movies - Wine Country, It Starts With Wine, Burgundy: People With a Passion for Wine, Harvest Season, Paris: Wine & Romance, Oops! Were You Looking?
Politics & the Law - Brexit Costs Diageo Tax Bill, Aussie and UK Governments Trade Agreement, Suds for the Unemployed, EU Import Tariffs, U.S. - China Trade War, Tariffs Hit U.S. Wine Business, Tariffs Hit U.S. Whiskey, Border with Mexico Closed?, Industry Execs College Pay-to-Attend, Seagram's Heir Convicted, Tiger Woods Sued, Notorious RBG Beer
Wine - Wine Salvage Tour, Wine Tainted by Name, Himalayan Wine, Man Pleads Guilty to Stealing $1.5 Million of Wine, Climate Change Threatens Oak Barrels,
Climate Change Threatens Traditional Varietals, Phyloxera Spreads in Australia,
Fraudulent Sommeliers, Wine Crush up in 2018, Gallo Provence Rose' Sales Expand, Dali Champagne Lamps, 2 Million Bottles of French Wine in Fire,
Bollinger's Special Barrels, Oops! Which Bottle?, America's Smallest AVA is for Sale, Graffestival,
Poor Mileage with Sauvignon Blanc
Beer - Craft Beer Competition Grows, AB/Inbev Recycles Waste Alcohol, Boston Beer Buys Dogfish Head, Carlsburg Beer is Better, Beer Braising, Miller/Coors Sues AB/Inbev, Patagonia Clothing Company Sues AB/Inbev, What Did You Do for Lent?, What's in Your (Alligator) Wallet?
Spirits - What is the World's Most Valuable Liquor Producer?, Iceberg Water Stolen, Wm Grant & Sons Loses Trademark Battle, Get a Whisk(e)y Education at Home!, Make Your Own, Pabst Blue Ribbon Whiskey, Diageo Trains Female Coopers
Other Foods and Beverages - Giant Dodger Dog, $1200 Steak, Rose' Mustard
The Changing Market - Military Beer and Wine Sales, Military Sales, End of Payless Shoes, Whole Foods Raising Prices, Brexit Uncertainty, Private Labels Dominate Growth
Recipes – Negroni, Dark & Stormy
Health - Volvo Sobriety Test, Does it Taste Bitter?, Free Samples of Hangover Cure
...and as always Tasting Notes and Industry Calendar
Headline News Stories
Gallo Buys 34 Wine Brands from Constellation
Constellation has sold more than 30 of its wine brands to E & J Gallo in a deal valued at $1.7 billion. The deal will also include properties and winery facilities in New York, Washington and California. Brands include Ravenswood, Clos du Bois, Hogue Cellars, Franciscan, Black Box, Wild Horse, Estancia, and Mark West; all under $11 retail. Constellation will re-align the company to deal in its higher end and high volume labels including Prisoner, Kim Crawford, Meiomi, Schrader, Ruffino, Mount Veeder, High West Whiskey, Casa Noble Tequila, Svedka Vodka, Modelo and Corona Beer. It is estimated that Gallo will have a 22% share of the U.S. market with room for growth. For Constellation, the deal will divest lower price brands that have shown declining volume and profits recently. The restructuring will also allow Constellation to spend more of its efforts on its $ billion investment in Canadian cannabis company, Canopy Growth. The deal is subject to regulatory approval and is expected to close in the first quarter of 2020.
Pernod Ricard to Exit Wine Business?
Bloomberg News has reported that Pernod Ricard is also in the process of selling its wine division. The company declined to comment on the report.
Notre Dame Aid from the Wine Industry
On April 15 the Notre Dame Cathedral in Paris burned. Chateau Mouton Rothschild had auctioned 25 cases of Versailles Celebration wine at Sotheby's only a few days earlier. The sale had raised ₤750,000 that was earmarked for the renovation of the Palace at Versailles. In a joint announcement Catherine Pégard, president of the Public Establishment of the Palace, Museum and National Estate of Versailles and Philippe Sereys de Rothschild, Chairman and CEO of Baron Philippe de Rothschild said the money would be redirected to the rebuilding of the Notre Dame.
Francois-Henri Pinault, owner of Groupe Artemis, pledged €100 million to the rebuilding. The company owns Chateau Latour and other properties.
By far the biggest pledge came from Bernard Arnault. The Arnault Family and LVMH will donate $226 million to the rebuilding of Notre Dame. The family is the controlling interest in LVMH. LVMH owns the brands Moet & Chandon, Hennessy, Ardbeg, Belvedere, Glenmorangie, Mercier, Veuve Clicquot, Ruinart, Krug, Chateau Cheval Blanc, Chateau d'Yquem, and Chandon wineries in six countries plus California as well as many fashion clothing brands.
The Charlois Group, which makes French oak barrels, pledged to donate spare wood to replace the burned timbers. The original 12th century construction took 1300 ancient oak trees with huge diameters. It may be impossible to duplicate in the 21st century.
Celebrities in the Industry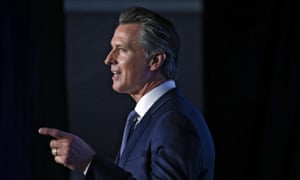 California Governor, Gavin Newsom, has owned Odette Winery in the Stag's Leap area of Napa Valley for many years. Odette Chardonnay 750ml $72, Cabernet Sauvignon 750ml $150. Adaptation Cabernet Sauvignon 750ml $58. PlumpJack Cabernet Sauvignon 750ml $140. Cade Howell Mtn Cabernet Sauvignon 750ml $110.
Race car driver, polo player, and model Jodie Kidd owns the Half Moon Pub in West Sussex, UK.
Movie director, Guy Ritchie owns a pub and a micro-brewery named Gritchie in Dorset, UK. When he was married to Madonna he owned a bar named The Punchbowl. His customers included David and Victoria Beckham, and Leonardo Di Caprio. At the time the watering hole was known for its combo dinner for two: Fish & Chips and a half bottle of Krug for £75.
Dire Straits guitarist, Mark Knopfler, has partnered with a Gin manufacturer to make Portobello Gin Local Heroes No.3, flavored with lime, cucumber, and olive oil.
The rock band, Iron Maiden, has launched a Pilsner style Beer infused with sake yeast. It was necessary to get Japanese government approval to use the yeast in Beer.
Sarah Jessica Parker is launching her own, yet un-named, wine line. The first two wines are a New Zealand Sauvignon Blanc and a Provence Rose.
The rock, Guns N' Roses, is suing the Colorado brewery of Oskar Blues for copyright infringement in selling Guns and Rose Ale.
Books
Hard Cider Abbey by K.P. Cecala, published by the author through Amazon, paperback 190 pages, $12.99. Odo LeRoi, a monk, is sent from an abbey in Quebec to Holy Face Abbey in West Virginia. There he meets a strange group of hard cider-brewing monks. When he finds the corpse of the abbey's librarian, Fr. Lucian Powers. At first, it's thought that it was a suicide. Another monk, Brother Emerick Ottlesby, works with Odo to track down the killer.
Bar Chef by Christian Rollich and Carolynn Carreno, Norton, 352 pages, $35. Los Angeles bartender, Christian Röllich approaches a drink the way a master chef approaches a dish: he draws on high-quality seasonal ingredients to create cocktails for every occasion. In Bar Chef, Röllich shares 100 original recipes for drinks that are as beautiful as they are delicious, including the Quixote (gin and grapefruit); a Kentucky Sour (bourbon and homemade cola syrup); Eggnog for the holidays; and Röllich's signature drink, the Green Goddess. Tiki: Modern Tropical Cocktails by Shannon Mustipher, Rizzoli, 192 pages, $29.95. Shannon Mustipher's exotic cocktails offer a refreshingly modern take on tiki. With original recipes, techniques, tasting notes and recommendations, and tips on style and music, Tiki is an inspirational resource for cocktail lovers ready to explore fine Caribbean rums.
 

Glass and Gavel: The U.S. Supreme Court and Alcohol by Nancy Maveety, Rowman and Littlefield Publishers, 384 pages, $34.61. In Glass and Gavel, noted legal expert Nancy Maveety has written the first book devoted to alcohol in the nation's highest court of law, the United States Supreme Court. Combining an examination of the justices' participation in the social use of alcohol across the Court's history with a survey of the Court's decisions on alcohol regulation, Maveety illustrates the ways in which the Court has helped to construct the changing culture of alcohol. "Intoxicating liquor" is one of the few things so plainly material to explicitly merit mention, not once, but twice, in the amendments to the U.S. Constitution. Maveety shows how much of our constitutional law—Supreme Court rulings on the powers of government and the rights of individuals—has been shaped by our American love/hate relationship with the bottle and the barroom.
TV & Movies
Wine Country
A Netflix exclusive, Wine Country, is now available to play on demand. A group of long time girl friends meet for a birthday weekend in Napa Valley. What could possibly go wrong? Watch to find out. Based on a real life trip for Rachel Dratch's 50th birthday. Comedy starring Amy Poehler, Rachel Dratch, Maya Rudolph, Ana Gasteyer, Paula Pell, and Emily Spivey with cameos from Tina Fey and Cherry Jones. All actors play themselves. Directed by Amy Poehler. Written by Emily Spivey and Liz Cackowski, who plays a sommelier. The wineries that played a part in the film are Artesa in Carneros, Baldacci Family Vineyards on Silverado Trail, and Quintessa also on Silverado Trail.
It Starts With Wine
Catena Zapata Winery in Argentina is presenting a new series streaming on Amazon Prime Video. The series titled It Starts With Wine is hosted by Dr Laura Catena. The series features winemakers, chefs, and wineries. The first three episodes featuring the wines and terroir of Uruguay, Mendoza's Uco Valley, and California are available now.
Burgundy: People With a Passion for Wine
This film explores the vitality and joie de vivre lifestyle of the local people against the backdrop of the region's oldest, traditional wine celebratory events of the annual Trois Glorieuses, including a rare, intimate view of the renowned Christie's Hospices de Beaune auction; Le Paulee de Mersault the exclusive wine tasting luncheon with some 700 winemakers; the wine brotherhood gathering at the prestigious Chateau de Santenay; and in depth comments by local wine experts and Michelin starred chefs. The film won an award at the International Wine Film Festival in 2017. Well worth viewing and worth doing a repeat if you saw it before. Streaming online on demand at https://rudigoldman.com/burgundy-people-with-a-passion-for-wine/.
Harvest Season
Harvest Season is now playing on PBS stations. The documentary film chronicles the contribution of generations of Mexican Americans to the California Wine industry. It follows Gustavo Brambila, who worked in the vineyards and finally his own vineyard; Rene Reyes, a migrant worker; and Vanessa Robledo, who found her own way in the industry when her family refused to let a female work with Wine. The film shows how Mexican Americans have been a part of the industry since it began.
Paris: Wine & Romance
Isabella is the ambitious new owner of her family winery in Oregon. Her uncle enters her first vintage of Pinot Noir in the Grand Prix de Vins in Paris. When she arrives, she meets a handsome young man named Jaques, who turns out to be her biggest competitor, their lives intertwine and as the wines are rated, complications develop. The story can only end in one way. Starring Jen Lilley and Dan Jeanotte. Now playing on the Hallmark Channel and YouTube.
Oops! Were you Looking?
Game of Thrones fans were aghast at the mistake in the episode celebrating the victory at the Battle of Winterfell. As the camera panned the medieval dining hall, an unmistakable paper coffee cup with a plastic lid could be seen sitting on the great table. Suddenly, it was a coffee cup that burst the bubble and made the show seem unreal; not the fire breathing dragons. That was the last straw! Well, not exactly. When the much hyped series finale played, a plastic water bottle could be seen sitting next to a leg of the great table!
Politics & the Law
Brexit Costs Diageo Tax Bill
As the UK approached Brexit, the EU was concluding an investigation of a tax program started in 2012 by Chancellor of the Exchequer, George Osborne. The program was designed to control inter-company loans by international corporations. After the 18 month audit the EU has cited 50 large companies. Among them is Diageo which could owe the EU ₤278 million in back taxes.
photo courtesy of raw pixel.com via pexels.com
Suds for the Unemployed
Pabst Blue Ribbon distributed Pabst Easy, a low calorie Beer to furloughed government workers during the January government shutdown.
Aussie and UK Governments Trade Agreement
The governments of the UK and Australia have signed an agreement similar to the current Australia-EU deal. The deal will allow Australia to continue shipping wines to the UK without interruption. The UK is the world's 6th largest wine market and Australia's #1 export market for Wine. Shipments were more than $380 million in 2018.
EU Import Tariffs
In the ongoing trade wars, U.S. representatives have threatened adding tariffs amounting to $11 billion on imports of wine and cheese from the European Union in protest over subsidies that give Airbus competitive advantages over Boeing.
U.S. - China Trade War
The U.S. tariffs on $200 billion of Chinese imports were raised from 10% to 25%. The U.S. administration threatened new tariffs on $300 billion more Chinese goods. Chinese officials announced that they would enact retaliatory measures. The tariffs ere increased after the two countries were unable to reach a trade agreement. The new tariffs will be paid by U.S. consumers in higher prices on imported goods. U.S. imports affected most will be electronics and auto parts. Chinese imports affected most will be Wine and pork. In the past Chinese tariffs on Wine have given a sales advantage to Australian Wines and those produced locally in China. As of June 1, 2019 Chinese consumers will face a tax rate of 44% on U.S. Wines plus a 54% tariff for a total upcharge of 98%.
Tariffs Hit U.S. Wine Business
Foreign tariffs, particularly in China have taken a toll on U.S. Wine. Total wine exports were down 4.8% in value and 1.2% in volume with a total of $1.47 billion. Exports in 2018 to China and Hong Kong were estimated down 25%. Top importers of our wines in 2018 were EU $469 million, Canada $449 million, Hong Kong $149 million, Japan $93 million, China $59 million, and Mexico $27 million.
Tariffs Hit U.S. Whiskey
U.S. Whiskey exports have been hit hard in the trade war. In the first half of 2018 Whiskey exports were up 26.1%. The countries started imposing retaliatory tariffs; 25% in the EU, Mexico 25%, China 25% more than the previous tariff, and Canada 10%. Exports for the second half of the year normally are more than the first half. In the 3rd quarter sales stalled and in the 4th quarter exports were down 13.1%.
Just before we went to press, the U.S. revoked the tariffs on aluminum coming from Canada and Mexico. Two days later those two countries revoked tariffs on U.S. Whiskey.
Border with Mexico Closed?
As the debate over the current immigration policy continues, the President has threatened to completely close the border with Mexico. If the border is closed the impact on the industry will be heavy. The U.S. will run out of avocados and tomatoes in about 3 weeks; goodbye guacamole. We will run out of limes within a month; there go the Margaritas. Our thirst for Corona will be unfilled within a month. Our Tequila supply will probably last a little longer, but forget about price promotions.
Industry Execs College Pay-to-Attend
The country has been rocked by a scandal involving celebrities, the wealthy, and business executives who paid bribes to get their kids into college. Among those arrested were beverage industry members Marci Palatella, owner of Preservation Distillery in Kentucky; Gregory Abbott, chairman of New York distributor, International Dispensing Corporation; and Agustin Huneeus Jr, President of Huneeus Vintners in Napa Valley. Huneeus resigned his position and was replaced by his father, Agustin Huneeus Sr. Huneeus is alleged to have paid $50,000 to have his daughter's entrance exam corrected to raise her score. She was then supposed to be given entrance to USC as a water polo athlete. He is currently out of custody on a $1 million bail. Abbott and Huneeus will plead guilty.
Seagram's Heir Convicted
Clare Bronfman, heiress of Edgar Bronfman Sr., late chairman of the Seagram's company pleaded guilty in a New York court for being involved in a sex slave cult. She had been living with a woman brought to this country illegally and held as a slave. The group, known as NXIVM, held young women for the cult's leader, Keith Rainiere. Bronfman was fined $6 million of her $200 million fortune and could face up to 2 years in prison.
Tiger Woods Sued
Tiger Woods has been sued by the family of Nicholas Immesberger, who worked as a bartender at The Woods Restaurant and Sports Bar in Jupiter, Florida. The restaurant is operated by Woods' girl friend, Erica Herman. On December 18, 2018 Immesberger finished his shift and then stayed on to drink at the restaurant. After being served to the point of intoxication he lost control of his car, crashed, and died at the scene.
Notorious RBG Beer
Samuel Adams is releasing a limited edition Belgian IPA dedicated to Supreme Court Justice, Ruth Bader Ginsburg. The Beer is labeled When There Are Nine, which was her famous response to the question "When will there be enough women on the Supreme Court?"
Wine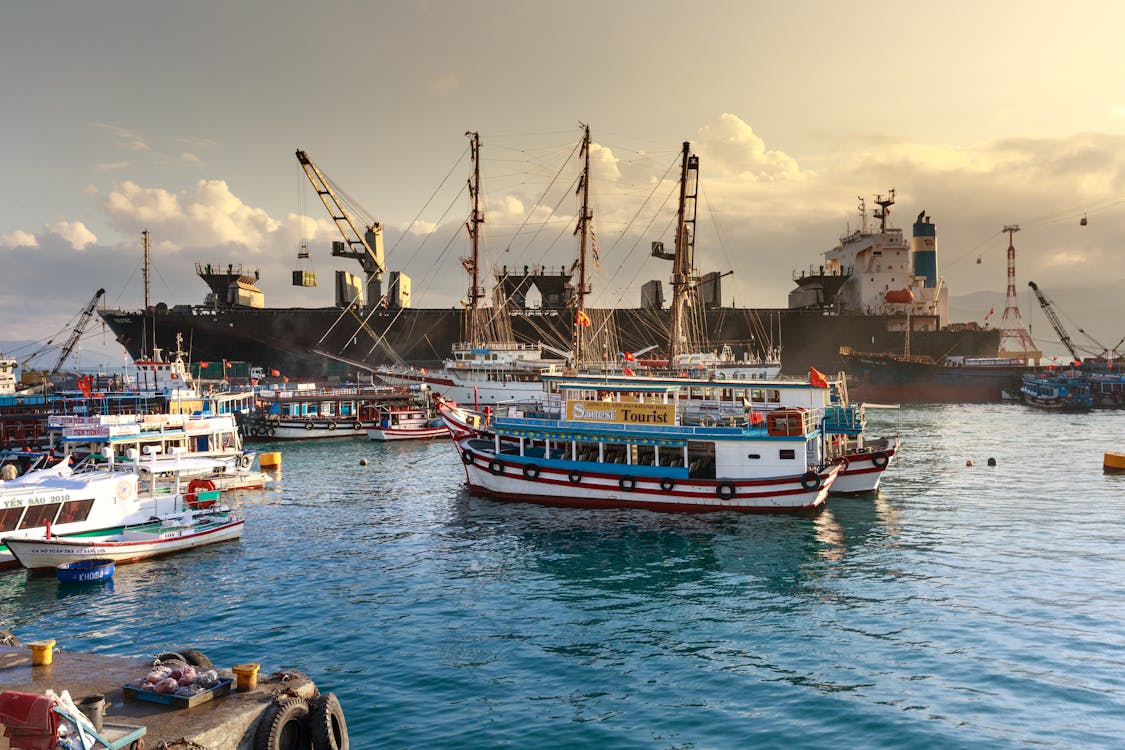 photo courtesy of Quang Nguyen Vinh via pexels.com
Wine Salvage Tour
Cookson Adventures has organized a salvage operation/tour of a sunken ship off the coast of Cornwall, UK. The tourists will be accompanied by marine exploration company 10994 Ltd. In the project. The ship was a freighter that sailed from Bordeaux with a cargo of Wine, Champagne, and Brandy destined for the UK that was torpedoed by a German U-Boat in 1918. The cargo of 100 year old bottles is a treasure worth millions today. An initial survey showed that most of the cargo is still intact. When the bottles are salvaged, several will be opened to check their potability. Then some will be sent to the University of Dijon for further testing. The National Maritime Museum of Cornwall has expressed an interest in having some added to its collection.
Wine Tainted by Name
Bin Laden Manor, a Napa Valley vineyard founded by Awad bin Laden in 1894, is now covered with weeds. The property ad been inherited by the founder's grandson, Osama bin Laden, the founder of Al Queda. The Merlot won the Wine Spectator Reader's Choice Award in 2009. With Osama's passing in 2011 the property was virtually abandoned. Recently Osama's son, Hamza bin Laden has been seen surveying the vineyard. Will it be sold or rejuvenated? Will the name be changed?
Himalayan Wine
California student Mike Juergens is introducing viticulture to the Kingdom of Bhutan in the Himalayan foothills. He is planting five vineyards with the help of investors and the local government. The varieties planted include Merlot, Cabernet Sauvignon, Cabernet Franc, Syrah, Pinot Noir, Malbec, Sauvignon Blanc, and Chardonnay. The vineyards are located at elevations that vary from 1,000 feet to 5,500 feet.
Man Pleads Guilty to Stealing $1.5 Million of Wine
William Lamont Holder pleaded guilty in a Maryland court for stealing $1.5 million from his clients. Holder owned Safe Harbour Wine Storage in Glen Burnie, MD where he stored customer's Wines in his warehouse. According to the indictment, although he was not licensed he had sold and shipped the Wine to retailers in other states. Sentencing is scheduled for July 1 and will include 18 months in federal prison and restitution.
Climate Change Threatens Oak Barrels
Climate change has created a major uncertainty for the cooperage industry. The industry supplies wineries with oak barrels. An oak tree takes 150 years to mature to the point where its wood is suitable for barrels. Three varieties of oak trees account for most barrel staves. Pendunculate Oak in Europe and White Oak in the U.S. are not adapting well to climate change. Pendunculate and White Oak trees seem to grow faster with the higher temperatures and higher levels of CO2 in the atmosphere. The faster growing wood is more porous and lacks structural strength. Sessile Oak seems to be doing the best so far. Most of the Sesille Oak forests are located on land controlled by the French government.
Climate Change Threatens Traditional Varietals
Viticulture consultant, Dr Richard Smart, says that the future of the wine industry in France depends on the planting of hybrid grape varieties. The problem is that the French have a "sentimental attachment" to traditional varieties that are not suited to coming weather patterns. He says "Climate change is bringing a multitude of new threats and pernicious vine diseases to European vineyards." The old varieties are susceptible to pests and diseases that thrive in higher temperatures and will devastate them in the 21st century. New hybrid varieties offer the only solution. Four new varieties: Floreal, Vidoc, Voltis, and Artaban are all resistant to powdery mildew. But AOC regulations only allow the traditional varieties.
Phyloxera Spreads in Australia
There have been two recent outbreaks of phyloxera in Yarra Valley, Australia at St Andrews and Coldsteam. Maroondah has already been designated as a phyloxera infested zone. The new outbreaks are the same strain of the pest as already in Maroondah. Vineyard owners are being warned about guarding against the pest being spread on equipment or visitor's shoes. There are currently 83 strains of phyloxera in Australia. The country's vines are planted on their own root stock which makes them susceptible to infestation.
Fraudulent Sommeliers
The Japan Sommelier Association has warned restaurants to be wary of untrained sommeliers. The association awards certificates and lapel pins to somms who have 3 years work experience and have passed written and tasting tests. The problem is that counterfeit lapel pins are being sold online. The going price for these fake pins is more than $300 and more than 100 have been sold over the internet.
Wine Crush up in 2018
The California Agricultural Statistics Service reports the 2018 grape crush was up 7% from a year earlier. The crush totaled 4.28 million tons; highest since 2013. The biggest crop increases came from the Central Coast and Northern Interior. In the Lodi area many vineyards are just coming into full production.
Gallo Provence Rose' Sales Expand
Gallo's Fleur de Mer Provence Rose' has been racking up impressive gains. In the past year sales have grown 62% at retail and 48% in on-sale. The wine is made by Les Maitres Vignerons de la Presqu'ile de Saint-Tropez, a cooperative. Gallo markets the wine in the U.S. in the $15 range and has recently introduced it in the UK.
Dali Champagne Lamps
The Victoria & Albert Museum in London announced that it now has a set of two lamps by Salvador Dali made out of gold painted Champagne glasses. Dali made the lamps in 1938 along with artist, Edward James. The only other pair made is owned by the Edward James Foundation.
2 Million Bottles of French Wine in Fire
A negociant warehouse in Carbon-Blanc, France caught fire and 2 million bottles of wine were destroyed in the blaze. The warehouse belonging to Sovex Grands Chateaux caught fire at about 3PM during the daily operations. 80 employees were evacuated safely while 60 firefighters tried to control the flames. When the ceiling collapsed, wine bottles were crushed or rendered unusable.
Bollinger's Special Barrels
Bollinger will have about 25 new barrels added to its aging cellars this year. The barrels are special because they are made from four 100 year old oaks that were cut from Bollinger's own forest property. The wood has been aged for 3 years and the staves were worked by Bollinger's own in-house cooper. New barrels impart a heavy vanilla flavor to the wine, but these will only represent less than 1% of the total number and have little effect on the finished product.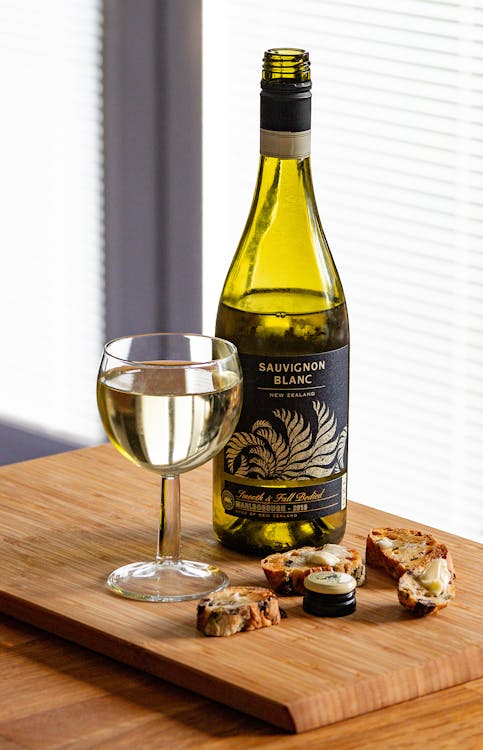 Oops! Which Bottle?
A diner at the Hawksmoor Restaurant in Manchester, UK got his money's worth hen he ordered a bottle of Pichon Longueville Comtesse Lalande 2001, price ₤260 (U.S. $330). The waiter mistakenly served him a bottle of Chateau Le Pin 2001, price ₤4,500 (U.S. $5,700). It was their mistake and the customer was billed the lower price. The management forgave the waiter because the labels were very similar.
America's Smallest AVA is for Sale
Did you ever want to own an entire AVA? Now you can. Cole Ranch AVA is for sale for $3.3 million. The ranch consists of 150 acres with 55 planted in Cabernet Sauvignon, Reisling, and Merlot. It produces about 130 tons a year. The property was certified as a separate AVA in 1983 because it is cooler and wetter than surrounding vineyards. Also included are several service buildings and a residence. If you're interested call Tod Renfrew at California Outdoor Properties, (707) 455-4444.
Graffestival
The Graffestival was held in Valparaiso, Chile earlier this month. The festival featured 16 local wineries. Each winery sponsored a graffiti artist; but couldn't tell him what to paint. The result was spectacular and the crowds reveled in the wine. The activity was centered around the hill called Cerro Mariposa, with the WineBox Hotel perched at the peak of the hill. The WineBox Hotel is a quirky structure dreamed up by New Zealand winemaker, Grant Phelps. The hotel is made of 25 former shipping containers that were used for wine. The container/rooms are luxurious and decorated with art from local artists.
Poor Mileage with Sauvignon Blanc
...and finally. Prince Charles of England was given an Aston Martin DB6 on his 21st birthday. In 2008 he decided to have the car made to run on bio-fuel and be environmentally friendly. The factory said the change would ruin the car, but went ahead with the conversion when Charles insisted. The car now runs on a mixture of English White Wine and whey and gets about 1 mile per gallon. The car's exhaust has an interesting bouquet.
Beer
photo courtesy of rawpixel.com via pexels.com
Craft Beer Competition Grows
Figures from the Brewers Association, show there were 7,346 U.S. craft breweries in 2018, up 93 percent from 3,814 in 2014.
AB/Inbev Recycles Waste Alcohol
AB/Inbev has found a use for the alcohol removed from its low and no alcohol Beers. Each week the company's European operations are trucking 3 tankers containing 75,000 liters of waste alcohol to Alcogroup in Belgium. The Belgian company converts the alcohol into biofuel. The alcohol removed from 85 cans of beer is enough to make 1 liter of biofuel. (Editor - Could Prince Charles car run on Beer?)
Boston Beer Buys Dogfish Head
Dogfish Head Brewery is being merged into Boston Beer Company. The deal is valued at $300 million. Dogfish founder Sam Calagione will get 406,000 shares of Boston Beer, Dogfish shareholders will get $173 million. Boston Beer already produces Samuel Adams, Angry Orchard, and Twisted Tea.
Carlsburg Beer is Better
Carlsburg has reformulated its Lager Beer and is promoting it with an advertising campaign that admits a quality problem. The new ads read "Our Beer is probably not the best Beer in the world ...until now."
Beer Braising
Coleman Natural will be introducing five flavored seasonings for meat this summer. The mixes all feature Budweiser Beer to give the meats the rich and full flavor of Beer braising.
Miller/Coors Sues AB/Inbev
Miller/Coors has sued AB/Inbev for the ads that were shown during the Superbowl. The suit says the ads were misleading consumers to believe that Miller Lite and Coors Light contain corn syrup and high fructose corn syrup. Corn syrup is used as a fermentation aid, however, there is no corn syrup in the finished product.
Patagonia Clothing Company Sues AB/Inbev
Patagonia Clothing Company, which also produces 2 Beers, has sued AB/Inbev for copyright infringement over the introduction of AB/Inbev's Patagonia Beer. The new Beer has a mountain on its label similar to the mountain logo used by the clothing company. AB/Inbev is also promoting the Beer and giving out free clothing items at ski resorts where Patagonia sells its clothing.
What Did You Do for Lent?
Del Hall, who works for Fifty West Brewing Company in Ohio fasted during Lent by only drinking Beer and water. He got the idea after reading about a group of monks who consume nothing but a Belgian Style dopplebock as their sole nutrition. Hall drank 2 to 5 Beers a day and lost 40 pounds while on his special diet. He says he has lost his taste for Belgian Style Beer and won't have any more for a long time.
What's in Your (Alligator) Wallet?
...and finally. Randy Stratton was arrested after shopping for Beer at a Jacksonville, Florida liquor store while carrying a 5 foot alligator under his arm. Stratton chased other customers out of his way with the animal. Later, when he was arrested, he said he had just "forgotten" to leave the alligator home and didn't realize he was still carrying it.
Spirits
What is the World's Most Valuable Liquor Producer?
Is the world's most valuable liquor producer Diageo or Pernod/Ricard? The Wall Street Journal reports that it's neither company. Chinese liquor company, Kweichow Moutai, with a market value of $162 billion is worth more than Diageo and Pernod/Ricard combined. The company makes Baijiu, a spirit made from sorghum. The drink is a favorite of the rising Chinese middle class. Baijiu, at least in its present form, is not suited to western tastes.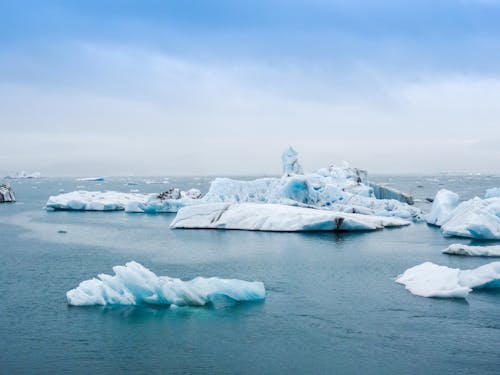 photo courtesy of Guillame Falco via pexels.com
Iceberg Water Stolen
Thieves drained 30,000 liters of iceberg water from a tank at the Iceberg Vodka Company in Port Union, Ontario. The water would have been used to make 150,000 bottles of Vodka. The water is valued at between $9,000 and $12,000 Canadian. CEO, David Meyers said he had no idea what the thieves would do with the water. (Possibly they thought they were draining Vodka fro the tank.) The company harvests iceberg water during a short break in the weather each spring as the icebergs flow out of the Arctic.
Wm Grant & Sons Loses Trademark Battle
Vivek Anasane founded a liquor company in India in 2017. In 2018 he decided to expand to the UK and filed an application to sell Glenfield Scotch. Grant sued Ansane stating that the Glenfield name and label were similar enough to Grant's Glenfiddich label as to cause confusion. The Intellectual Property Office ruled against Grant and the sale of bottles of Glenfield Scotch will begin.
Get a Whisk(e)y Education at Home!
There are several online courses available to get a Whisk(e)y education. Here are a few:
The Edinburgh Whisky Academy offers a 10 hour online course Introduction to Whisky for about $370. A Scottish Qualifications Certificate is available if tests are taken at a Prometric Test Center in the U.S for about $145. There are several centers in the L.A. And San Francisco areas.
The Distillery University offers about 50 hours of online video. Students can watch and learn at their own pace. Access to the videos is available for $49 for 1 month, $249 for 6 months, or $499 for lifetime access.
The World Masterclass of Whisky offers guided tasting modules for more than 100 Whiskeys. All you need is a bottle and a shot glass and you can cue up a module and start studying. How many modules can you do at one sitting? That's up to you. Cost $149.
Make Your Own
Smart Spirits is selling a machine that is similar to a Keurig coffee maker to make drinks in your own kitchen that taste like spirits. The machine owner starts with neutral spirits and/or water and adds a flavor capsule. The capsule make the resulting liquid taste like 30 different spirits like Bourbon, Scotch, or Gin. By controlling the blend of water and neutral spirits the machine owner controls the ABV of the end product. By using neutral spirits, the consumer can save money that would be spent on name brands of liquor. The machine sells for $215. Flavor capsules range in price from $5 to $7.50 per 6 pack.
Pabst Blue Ribbon Whiskey
Pabst Blue Ribbon has reached back to the past and will be copying the company's founder, Jacob Best. When he started the company in 1844, he brewed Beer and distilled Whiskey. Pabst Blue Ribbon Whiskey will be distributed nationwide this summer. The product is made from a blend of grains that would have been available at the time including corn, oats, and wheat. There is no requirement for product age to call it Whiskey. But it must touch wood to use the name. PBR will be aged 5 seconds and just pass through the wood.
Diageo Trains Female Coopers
Diageo has women working in every division and phase of the company from top management through the ranks. The company has hired two women in the current class of 16 coopering apprentices. Angela Cochrane is a local, while Kirsty Olychick came from Canada for a career in Scotland. They are learning to build and repair casks without the use of glue or nails; how to calculate the depth, ratio, and measurements of oak; and other skills involved in coopering. Apprenticeship lasts four years and it takes 10 years to master the art of a skilled cooper.
Other Foods and Beverages
$1200 Steak
The MB Steak restaurant at the Hard Rock Hotel in Las Vegas serves a 16 pound, 7 bone, tomahawk steak that feeds 12 generously. It has to be ordered 3 days in advance so chef, Michael Morton, can marinate overnight it in mustard seed, French sea salt, toasted coriander, and Worcestershire sauce; then slow roast it for 5 hours. The steak is carved at the table and served with sides of lobster mac and cheese, maitake mushroom goat cheese, truffle Gouda, and creamed spinach. A party of 12 always seems to have lots left over to take home. Only $1200 plus a good red wine, tax, and tip.
 
Rose' Mustard
Maille is producing a new Dijon mustard flavored with grapefruit and (why not?) Provence Rose' Wine.
Giant Dodger Dog
It's baseball season and stadiums are offering new temptations that will catch your eyes and fill your stomach. The LA Dodgers have a new Going Yard Hot Dog for those that find a Dodger Dog just isn't enough. This one is a jalapeno cheddar sausage that looks like a log, is over 16 inches long and big around. It's grilled and served on a big bun. Topped with corn, grilled onions, avocado, and sour cream. It'll take two hands to carry it and it will cost you $21.
The Changing Market
Military Beer and Wine Sales
The Department of Defense (DOD) is deciding whether it will add Beer and Wine to the product mix at military commissaries. A commissary operates as a grocery store for military personnel and is different and separate from a base exchange which operates as a department store for the military. Many base exchanges carry Wine, Beer, and also sell Spirits.
Military Sales
DOD ran a sales test in 12 selected commissaries during 2018. Now DOD is deciding if it will add the categories in 226 other commissaries. The commissaries offer military families a lower cost alternative to grocery shopping off base. The selection is very limited, but designed to give customers a shopping experience and choice similar to shopping elsewhere. Pricing is about 5% lower than Walmart or Total Wine. In addition military customers don't pay local and state taxes. In California that means the military customer could be buying Beer or Wine for 15% to 20% less than at off base stores. The commissaries do not deal with beverage wholesalers. Instead they draw product from stock at the local base exchange. Top sellers in the test stores were Bud Light, Miller Light, Coors Light, Apothic Red, Stella Rosa, and Roscato.
End of Payless Shoes
Payless Shoes has been under bankruptcy protection since 2017. Now the company will be in liquidation. All 2100 stores are holding clearance sales and will be closed within the next few months.
Whole Foods Raising Prices
The Wall Street Journal reports that Whole Foods has raised prices on hundreds of items to offset increased costs. This is happening after a major campaign to show that Amazon was working to make natural foods more affordable for everyone. The company stated that it "continues to expand promotions we offer to give our customers better value."
Brexit Uncertainty
The BBC reports that 30 leaders of major UK food retail and manufacturing companies signed a letter to the Environmental Secretary Michael Grove, stating that the uncertainty associated with Brexit and the possibility that it could be a no-deal Brexit leaves them unable to cope with the situation. Whatever decisions are finally made will be disruptive to the food industry and the uncertainty makes planning impossible. They result could be food shortages in, as yet, unknown categories.
Private Labels Dominate Growth
Private label products are growing at a rapid rate in major chains. The growth is driven by millennial's who don't care about brand names as long as the item at hand is cheap and convenient. Example: Costco's Kirkland Signature sold $40 billion in 2018. That's more than Campbell's, Kellogg, and Hershey combined.
Recipes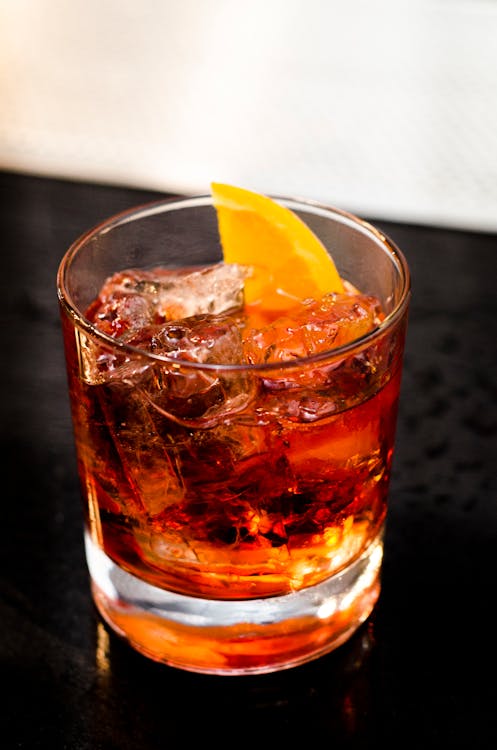 photo courtesy of Isabella Mendes via pexels.com
Negroni
2019 is the 100th anniversary of the invention of the Negroni. One summer evening Italian Count Camillo Negroni asked bartender, Fosco Scarselli to mix him something stronger than an Americano. The bartender obliged with the drink that he named Negroni for the Count. It was bitter, sweet, dry, and refreshing all at the same time. For the bartender is was easy to make. Here is Scarselli's original Negroni recipe:
1 ounce Gin
1 ounce Campari Bitters
1 ounce Sweet Red Vermouth
Pour all three ingredients into a shaker of crushed ice. Shake, strain into an old fashioned glass over ice cubes and garnish with an orange twist.
Dark & Stormy
A Dark & Stormy got its name from the British Navy's practice of giving each sailor a daily ration of Dark Rum. The navy also had a bottling plant where it made Ginger Beer to issue to sailors to encourage temperance. Given the choice of Rum or Ginger Beer, the sailors chose both. Why the lime? It prevents scurvy! Here's the recipe:
2 oz Dark Rum
3 oz Ginger Beer
Juice of half a lime
Pour the ingredients over crushed ice in a Collins glass.
Health
Volvo Sobriety Test
Volvo's new model cars will have an onboard camera system that automatically checks driver behavior and will detect driving under the influence of alcohol. The car will slow down, pull to the side of the road, and stop. The system also monitors eye movement to see if drivers are distracted by using a cell phone and taking their eyes off the road, take their hands off the steering wheel, or fall asleep. The system warns the driver. Drivers who fail to respond will be contacted by Volvo's on call assistance center.
Does it Taste Bitter?
Dr Daniel Hwang of the University of Queensland conducted a study on the perception of sweetness and bitter flavors in 1,600 people from Australia and the U.S. His findings were published in the Behavioural Brain Research Journal. What Dr Hwang learned was that people with larger brains found bitter tastes like quinine less intense and more palatable. (Editor – Does this mean drinking Gin & Tonic are brainy?)
Free Samples of Hangover Cure
A new product called PreEvent Hangover Cure claims to prevent hangovers before someone starts drinking. Free samples are available by filling out the form online at list.preevent.club/free1.
Tasting Notes
Each month we are out there looking for wines that "over deliver"; wines that offer more than others in their category and price level. We search out the wines that you can buy to help build your business; wines that make customers happy and keep them coming back. These are wines we rate as good buys and best buys. Check our notes. The opinions in the reviews are our own and unsolicited. We receive no compensation from wineries or brokers. This month there were several wine tastings that showed some very nice wines available at reasonable prices. The prices shown are approximate retails.
World Malbec Day
We tasted several excellent wines at World Malbec Day:
Bodega Luigi Bosca Icono 2009. 50% Cabernet Sauvignon, 50% Malbec. 15.0 ABV. Harvested from 90 year old vines. Dark ruby, good nose, full body and elegant. Can be served with a fine dinner or will stand alone as a great wine to be enjoyed for itself. $175. Imported by Frederic Wildman, available through Southern Wine and Spirits. Contact Diane De Luca 310-995-9463 or d.deluca@fredericwildman.com.
Susana Balbo Benmarco Expresivo 2016. Full body, dark ruby, 13.5% ABV. $35. Imported by Follow Wines. Available through Youngs Market. Contact Chloe Dickson at 818-621-5370 or cdickson@followine.com.
Argento Pinot Grigio 2017. Bright and fresh, clean and clear, slight spritz. An easy drinking wine that we rate as a best buy. $7.50 retail.
Argento Malbec 2017. Full body, dark ruby, good nose, chewy. An excellent table wine wine that we rate as a best buy. $7.50 retail.
Distributed by Phenix Wines. Contact Brent Erickson at berickson@phenixwine.com.
Spring to Loire 2019
Spring to Loire showed some bright, fresh, and pleasant wines. The wines reviewed below are all easy drinking, fun wines, that should make your customers happy.
B&G Rose' d'Anjou 2017. Bright pink, fresh and lively, 10.5% ABV. $12. Available through Southern. Contact Jessica Kott (503) 354-4027 or jcott@sur-ent.com.
Muscadet dela Batardiere 2016 Breussin. Sparkling Vouvray. Bright with good bubbles. 11.5% ABV, $12.50.
Crement de Loire. Pale pink, bright, pleasant, good nose, good bubbles. 12% ABV. $13.75.
Contact Nathalie Bertat at 323-782-7060 or sales@cruwines.net.
Chateau Montcontour Crement de Loire Brut. Sparkling Rose', light pink, good nose, pleasant taste, light fine bubbles. 12% ABV. $18.
Chateau Montcontour 2017. 100% Chenin Blanc. Light, semi-dry, good nose. 11.5% ABV. $18.
Grenouille Muscadet 2015. Light and dry. 12%ABV. $12.
Imported by The Wine Source. Contact Dominique Sachs at 818-836-1304 or dominique@thewinesourceinc.com.
Kimberly Jones Selections
Kimberly Jones Selections is always one of the best wine offerings. Every wine is true to type, well balanced, and spot on. You can't go wrong. For the wines reviewed below and more contact sales at 213-483-5888.
Beekeeper Cellars Sonoma Zinfandel Montcillo Vineyards 2016. Full body, deep berry flavors, dark ruby, good nose, a big wine. 95% Zinfandel, 5 % Petite Sirah. Aged 15 months. $65. 14.5% ABV.
Beekeeper Cellars Sonoma Zinfandel Secret Stones Rockpile 2016. 80% Zinfandel, 20% Petite Sirah. Aged 15 months. Full body, rich flavors, dark ruby, good nose, a big wine. 14.9% ABV. $75.
Contact 707-939-5611 or zin@beekeepercellars.com.
Casino Mine Ranch Tempranillo 2016. 100% Tempranillo. Dark ruby, good nose, full body, delicious. 14.2% ABV. $35. Contct 209-330-0965.
Crocker & Starr Napa Valley Cabernet Franc Blend 2016. 60% Cabernet Franc, 28% Merlot, 12% Malbec. Dark ruby, good nose, balanced. $90. Contact Pam Starr at 707-967-9111 or pam@crockerstarr.com.
Dyer Cabernet Sauvignon Diamond Mountain 2015. 87% Cabernet Sauvignon, 8% Cabernet Franc, 5% Petite Verdot. 14.2% ABV. $89. Contact Dawnine Dyer at 707-942-5502 or dawnine@dyerwine.com.
Bride Valley English Sparkling Rose' 2014. Bright, fresh, balanced, chalky, good bubbles. 85% Pinjot Noir, 10% Chardonnay, 5% Pinot Meunier. 12% ABV. Made by Steven Spurrier and imported by Jean-Charles Boisset. $89.
Industry Calendar
5/13 Kimberly Jones Selections – LA
5/14 Kimberly Jones Selections – San Diego
5/20 Oliver McCrum Wines & Spirits - SFO
5/21 Infinity Imports - SFO
5/22 Oliver McCrum Wines & Spirits – LA
5/22 Wine Industry Network – Santa Rosa
6/2 Bergamot 7% Solution – LA
6/3 Epic Wines – Santa Barbara
6/3 APVSA - LA
6/12 Vini d'Italia en Primeur – San Diego
Promotional Calendar
May
May 4 National Homebrew Day (First Saturday in May)
May 5 Cinco de Mayo
May 7 National Cosmopolitan Day
May 9 National Moscato Day
May 10 Mexican Mother's Day
May 12 Mother's Day
May 13 World Cocktail Day
May 16 Mimosa Day
May 18 World Whiskey Day
May 20-24 American Craft Beer Week
May 21 Chardonnay Day
May 25 National Wine Day
May 27 Memorial Day
May 30 Mint Julep Day
June
June 4 National Cognac Day
June 5 National Moonshine Day
June 8 Rose' Day (2nd Saturday of June)
June 9 National Gin Day
June 10 National Iced Tea Day
June 12 National Red Rose' Day
June 14 National Bourbon Day
June 14 Flag Day
June 16 Father's Day (3rd Sunday in June)
June 19 National Martini Day
June 21 National Smoothie Day
June 27 National Orange Blossom Day
June 30 National Mai Tai Day
New Legislation for 2019
Our industry has more laws controlling it than most industries. The State
Legislature and the ABC give us license privileges and can take them away. New alcoholic beverage laws were passed that are effective in 2019. Many critical issues are pending. Do you know about them and are you prepared for the changes. Is your business safe? Members are encouraged to look through the Legislative Bulletin. If there is a new law that is a problem for your business, call the association office now. The CBRA is your voice in Sacramento. If you are not a member, join today. The CBRA is your only voice when it comes to new beverage laws.
Brands and Comments
The CBRA Newsletter has not accepted any payment from any of the brands mentioned
in this edition. The editor, Ron Ziff, welcomes comments at ron@cbraliquor.org
CBRA Membership Remains Open
Now, more than ever, access to your industry is important. The CBRA is California's
only statewide association of licensed retailers, and our membership continues to be
open for the first time in 20 years.
At CBRA we deal with licenses and regulations that affect the beverage business on a
daily basis. That's why CBRA offers practical solutions, unique products, services,
information, and timely advice for both large and small beverage businesses. With
reasonable fees, superior service, and associates that are easy to reach, CBRA helps you
to run your business better and easier. One of the most valuable services we offer is that
call to the ABC to ask your question. We can ask that question and keep you anonymous. That's something you just can't do yourself.
Join or renew your valuable membership today. You can't afford to delay.
California Beverage Retailers Association – California's Only Statewide Association of Licensees. We're #1!
If you would like to be removed from this email list, please email to
ron@cbraliquor.org with UNSUBSCRIBE in the subject line.